image not
available
anymore
Artist:
Efrim Manuel Menuck & Kevin Doria
Title:
are SING SINCK, SING
Format:
LP
Label:
Constellation Records
(@)
Distributor:
Secretly Distribution
Rated:
"We started playing together in the dark winter of 2017. 6 oscillators and 3 large amplifiers. Drove thru hella blizzards and/or heatwaves just to land in small rooms, vibrating. A series of short tours, a process of figuring out while exhausted while hurtling while worried. Everything illuminated everything destroyed. We landed in Mexico City last fall, wrote this record quickly while the police drove round and round. First song is self-explanatory. Second song a statement of intent. Third song is an empty space between two highways. Fourth song is about a murdered forest. Fifth song insists that we will win. Hold on. Tho these times are dark times. Hold on".
These are the statements of Efrim Manuel Menuck and Kevin Doria, at the time of the release of their debut album, entitled "are SING SINCK, SING". The duo composed by post-rock guitarist of Godspeed You! Black Emperor and the veteran of ambient music, already a member of the seminal band Growing, was born in 2017/18, when the first asks to the second to collaborate in the preparation of the concerts for the tour of his latest album "Pissing Stars". From that moment the two began to compose a series of songs helped only by the presence of a few synthesizers and three large amplifiers.
What was born from these recording sessions that the two artists shared is a set of five pieces of a devastating fragility, capable of sinuously moving in the waves of the oscillators, riding drones buzzing and releasing a brightness full of anger and hope difficult to describe in words.
Surely we can affirm to be close to a sort of meditative and transcendental ambient/drone, formed by very few notes, but which are extremely powerful and resonant.
Dense sounds that linger long in the air, exhausting it of all its roughness and making the listener navigate in the emptiness of his mind. Meditation is the key word and in half an hour the two artists give a timeless moment to bask in the essence of the purest sound.
The result is a sort of psychedelic inspiration but strongly introspective, as if the Flaming Lips met at a party organized by the M83, Spaceman 3 armed with synthesizers, but without percussion. "Joy Is On Her Mount And Death Is At Her Side" is the perfect example of all this, in her being a slow and psychotropic march, capable of hypnotize anyone thanks to the lanky voice of Menuck, a true anti-fascist preacher in these five songs, who does not lose the opportunity to once again express his poetic hatred of capitalism and modern society, as he reaffirms his love for uncontaminated nature.
"Efrim Manuel Menuck & Kevin Doria are SING SINCK, SING" suggests contemplating the world through the eyes of the poet, distraught by the ugly realism of modernity, but consoled by the spiritual vision of life that helps him win his battles every day.
Artist:
Locust
Title:
Green
Format:
12" vinyl + Download
Label:
Medical Records
This second release in a series of EP's from Mark Van Hoen as Locust is a four-pack of 130bpm-ish techno with a relentless, semi-aggressive and purposeful bent. It makes heavy use of chiptune-style and lo-bit synth sounds but rounds it off with thick rich kicks and percussion sounds to fill the sonic space and sound current.

Both "Promise" and "Current" make strong use of the trick of having some of the synth arpeggiators and patterns running at different pattern lengths to the 4/4 beat, meaning the root of the melody is constantly shifting and making relatively simple repetitive patterns suddenly more complex in just one move. "Staircase" is more melody heavy, taking a six-note melody and transposing it at unusual and tension-inducing intervals to keep you on your toes.

"Arch Enemy" is the black sheep of the pack, switching to a lighter rhythm that's in the direction (slightly) of downtempo, upping the emphasis on melody and with good use of vocal ahhh noises for character and texture.

Medical Records continues to grow a strong track record of techno releases with a twist and this is another solid example.
Artist:
Anders Vestergaard & Finn Loxbo
Title:
Saint Erme
Format:
CD + Download
Label:
Gikt Records
After collaborating as a duo for a few years with larger arsenals of instruments, guitarist Finn Loxbo and drummer Anders Vestergaard have stripped their approach back to a much simpler arrangement- an acoustic guitar, two drums, an analogue feedback system and a sine wave generator. "Saint Erme" is a single 46-minute piece, premiered in October 2017, with its second-ever performance at the Stockholm Jazz Festival, telling you roughly where this sits.

The press release says Vestergaard & Loxbo "have mainly worked with improvised music", but it's ambiguous as to whether this has an improvisational element. Certainly it feels improvised- centred as it does around short impulsive bursts, single unexpected drum hits, long silences followed by a handful of acoustic guitar notes, it has that consciously arhythmic, anti-call-and-response tone to it. Tiny melodic motifs repeat and then dissipate in ways where it's hard to spot the underlying motivation. Leaving the longest silences before the hardest drum hits feels like contrarianism at times.

The drums and the guitar are dominant throughout, with the feedback and sine wave generator providing some additional texturing at very subtle levels- often so high-pitched and so faint that they become almost tinnitus-like, fading into nothing if you're listening in a non-silent environment. Towards the end of the work, a long bass sine wave note arrives in force- a crescendo of sorts, a speaker-showcasing hum of marvellous purity and a real neighbour-shaker.

It's experimental and improvised (I think) jazz at some of its most stripped back and minimal, this is a release that draws you in and which is certainly appreciable- but if seeking fresh musical turf or a 'wow' factor, then you may want to look elsewhere.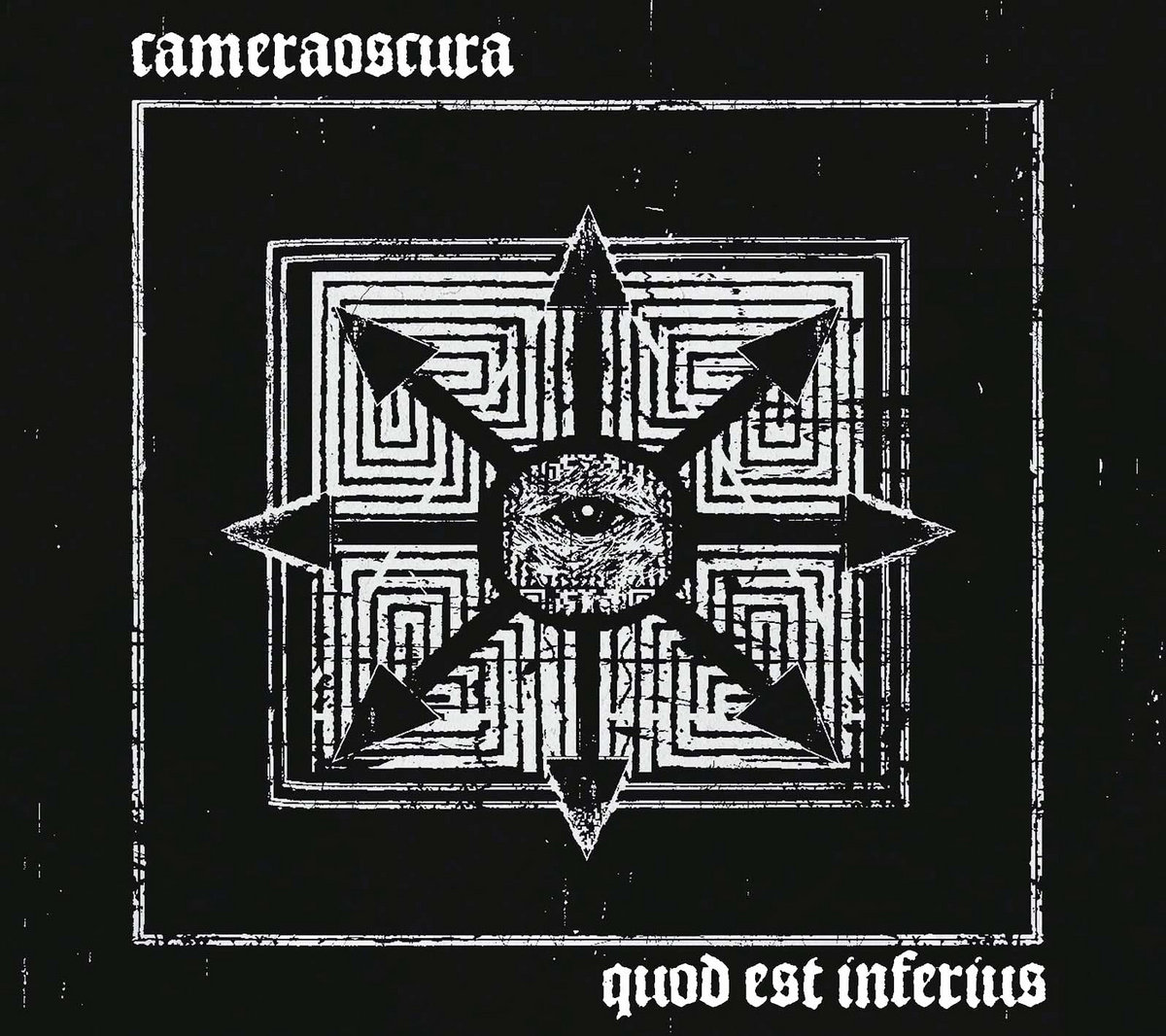 "Quod Est Inferius", or "what is most in depth": a kaleidoscope of minimal obscurity by Marco Valenti(owner of Toten Schwan Records) and Eugenio Mazza (Pavor Nocturnus, Sognomeccanico), who for this occasion united their minds under the name of "cameroscura".
Seven performances that represent a real alchemical process, through a continuous pulsation of liquid and evanescent sounds, which slowly pour into the depths of the listener.
The basis on which the compositions of the two artists rest is rooted in the darkest and most obscure environment, well represented by the first two tracks ATANOR and ADMIXIO, capable of creeping threateningly into the psyche to release their poisons in just over ten minutes.
The atmosphere begins to undergo the first changes starting from the piano that opens V.I.T.R.I.O.L., followed by the first industrial pulsations of the disc, which mark a martial and inexorable gait.
The ambient opening of INERITUS then betrays on the final, the love that Marco and Eugenio have for electro, creating the most "danceable" song in the album.
The greatest ability of cameraoscura is to create songs with different facets, but that know how to balance ambient minimalism (SOLVE) and industrial-noise explosions (ATTERA) with mastery.
The heart of the entire album then finds its most exciting beat in ULTIMA NECAT, which closes the album in the most raw and intimate manner, bringing the listener back towards the end of the transmutation path represented by the previous tracks.
"Quod est inferius" distorts reality and disorientates those who listen to it, making any cataloging unnecessary, but leaving only to its own perceptions the task of interpreting the album, which is configured more than ever as a sensory rather than a strictly musical work, capable of to bring the listener out from this world for half an hour to catapult him directly into the meanders of a timeless hell in the middle of the unknown.
A black and nihilistic sound manifesto, full of a last drop of human hope.
ANN in this instance is an acronym alias, that has been used for almost a decade as the nom de plume of an undisclosed number of anonymous musical experimenters (possibly just one), any number or none of whom may or may not actually be called Ann.

For this release, ANN offer up seven tracks, each one named after a colour, and each with a diverse and distinctive musical make-up. The prominent style, for the purposes of pigeonholing, is dark synthetic atmospherics- long rumbles, echoes and hollow soundscaping with a tendency towards bleakness. It's offered up in fairly pure fashion on opener "Crimson" and in a scratchier and slightly more sci-fi way on "Grey".

However it's also a cousin of minimal techno, with gentle and slightly oblique rhythm patterns underpinning tracks like "Ocre" ('ochre'?), which relies on the tried and tested technique of pulling a fairly fast and complex rhythm pattern against arhythmic atmospheric noises. Final track "Yellow" takes a similar approach, melding deep lung-like rumbles with seemingly random high-pitched beeps and squeaks. "Purple Hue" is also techno, on a technicality, but with a more laid-back and contrary mood infused into it.

Personally I found "Orange" a bit of a highlight, as it takes its techno and electronica elements and points them in a slightly more playful and retro direction, resulting in something that sounds faintly Radiophonic Workshop-ish. However there's something just a touch nondescript in some of the sounds and moods here, with tracks like "Vermilion" arguably a little wishy-washy and lacking any kind of distinct selling point, so don't hunt this out if looking to be challenged or illuminated.

I'm British (for better or worse) and probably the most difficult thing about reviewing this release is remembering to type "Colors" instead of "Colours" in the title. Everything else about it is very easy and enjoyable. Dark yet leisurely deep electronica.