Artist:
Hadamard
Title:
The Ass In Bass
Format:
12"
Label:
Solar One Music
Rated:
Active since mid 00's Janko Bartelink released since then eight 12"s and two digital albums under his Hadamard moniker for labels such Transient Force, Bunker Records, Mighty Robot Recordings, Black Montanas and Last Known Trajectory. On this new EP, Hadamard bring three old tracks that we already had the chance to check on the "Love Songs" digital album ("A Walk In The Park", "All I Think About" and the title track "The Ass In Bass") which was released by Transient Force back in 2010, plus "My Cool". If you had only the chance to check the "We Go Into Space" album or the first releases, well, since then Janko turned his sound into a mix of electro funk with a robotic approach. Try to imagine an harder version of Egyptian Lover with in front bass lines and beats with badass filtered vocals. On this EP he sounds like a 70s pimp who has been shot from the streets of New York right to the outer space and from there he shouts his needs for girls. The lyrics might piss off feminists as we have lines like "A beat with no basses is like a bitch with no ass", "I got titties and asses reflected in my glasses, bitches going crazy when the master passes" or "Every time I see you, you turn me on. Every time you walk in, until you're gone..." but I see it as a recreation of an era more than an offence. You know, it's like a blaxploitation movie on vinyl. Hadamard's "Ass in Bass" EP is the third part of SolarOneMusic's "Elektronische Werke Series", after Dynarec and Q-Chip and... it kick asses! Check it here https://soundcloud.com/solar_one_music/hadamard-ass-in-bass-ep
According to the press notes 'Xumla likes to produce naivety within sound' and, instead of being a catchy phrase for marketing purpose, is the most pure definition for this release. His musical outcome is similar to the ones released by artist like Sawako that remains in a fragile balance between experimental sounds and an outcome similar to the heritage of watercolor paintings.
The small sounds of 'Morni' introduce the listener in a quiet environment and 'Neverphone' continues the journey with grace and 'Dancin' dust' sounds like a form of avant-garde carillon. The drones of 'Statix' mark a development in the release so 'Roof talks' continues the search for a musical model where calm doesn't mean static. The rhythmic noises of 'Another sky' begin the second part of this release where the musical parts of the first tracks start to evolve in a new form. However 'Chinese toy' returns to more familiar paths and 'El sol y de gran altura' and 'Atoms heart' continue the use of drones. While 'Zima' and 'One-eyed girl' reveal some drum'n bass influence. 'Outro' quietly closes this release with sparse notes of piano.
Perhaps this release isn't ground breaking but sounds like a warm blanket in a winter evening, a sort of reassuring charming entity. A really nice release.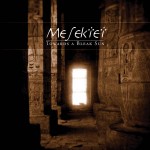 Artist:
Mesektet
Title:
Towards A Bleak Sun
Format:
CD
Label:
Cold Spring
(@)
Rated:
This album is presented as an 'Ancient Egypt inspired, monolithic drone/dark ambient' but the drones features in this release seems too focused on their exterior impact than in a proper musical meaning that tries to emerge in a field with too many artists working with the same palette.
The deep drone of 'Aken' opens this release evoking an void habitat and 'Silent Giants' and 'Sea Of Dust' continue in this musical path revealing a musical research completely focused on sound. 'Burial Of The Sun' starts to reveal a form of musical development while 'Hollow Monoliths' return to more static soundscape. In the same vein, 'Forgotten Tomb' closes this release.
Technically well constructed, this album is perhaps too focused on minimal timbral development than on a focused musical development or in an engaging soundscape. Only for fans or collectors.
Another release which I cannot but fish from the crowded pool of techno stuff I'm toothcombing comes from the acknowledged Joachim Spieth's Affin label, one of the most prolific of the scene with almost 150 releases in less than 7 years, which launched the debut of Rismu, a new project from Marseille-based M.A.D.A.. The opening "MST" combines trapping chords, a sort of obscure draft, a subterranean gurgle, a bouncy kick-drum, cushioned claps and the typical dynamics of a well-forged dark minimal techno tune, whose technoid elements got emphasized on The Plant Worker's remix, whose slapping claps sound like sparking signals for the progressive erosion of the retentive tone. The vibe becomes even more sinister on the following "S3" whose distant chords sound like getting closer to his prey. The Plant Worker sounds more technoid again by stressing the pounding beats and giving an edge to the other gears of the original engine.
Artist:
Magic Panda
(@)
Title:
Life Is Elsewhere EP
Format:
Download Only (MP3 + Lossless)
Label:
Knopje
(@)
Distributor:
Beatport
Rated:
I wouldn't be surprised if this lovely EP by Norwich-based producer Jamie Robson aka Magic Panda, which got released by small Dutch indipendent label Knopjie, came as a prize for insomniac videogamers, who managed to a dreadful slobbery monster of the final level of an high-phantasy game such as Child Of Light, The Legend Of Zelda or similar ones after cramping phalanges by convulsively pushing buttons on controllers. Well-balanced textures of bittersweet lulling melodies, cherubic chorales, 8-bit chirping tunes and sparkling cadences with charming swings on the downbeats and upbeat of "Life Is Elsewhere", the delicately reverie of "The Floating World", a track which has been conceptually connected to "Ukiyo", the Japanese word referring to the buddhist concept according which nothing in life is permanent and that life is made up of fleeting and transient moments of beauty, and the wilder sad love poem to the ocean "Maunsell Sea Forts", inspired by "the haunting robot-like towers whose rusty shells remain in the Thames estuary, looking out to the open sea" push listener's mind towards honeyed daydreaming. The cherries on top of this release are the remixes by label boss Roi Koch, who emphasizes the hypnotical hooks of "Life Is Elsewhere", and Van Did, who shines a crepuscolar light on "The Floating World".