I should have known it, I really should have guessed that Donovan Tate was behind this. When I last encountered Mr. Tate, it was a few years ago with his 'Scrapbook' album. At the time, I recall saying ' I can tell this guy has some talent; it's just a bad mistake to not distill the best of what one is capable of into a few well-composed and well-recorded tracks'¦it may be time to get a new 'Playbook'. Apparently did get a new playbook, and that playbook is'¦the Bible. Yes, Donovan Tate has found religion (or maybe it found him) and he injects it whole-heartedly into 'A New Beginning'. Arrgghh! I have nothing against people worshiping at the church of their choice but for the love of '¦..please, please, leave it out of the music.

Tate's vocal warbling has not improved, making this a difficult listen even for the devout. No amount of electronic processing can improve it. Synths and keys employed here are strictly old school with a heaping amount of noodling. Also, a hip hop influence has crept in, making it even weirder. Gregorian chant ('Glorify, Purifty') can't save this, sampling Gang of Four and Depeche Mode ('Two Strangers') can't save this, and getting your kids to sing ('You Ain't Getting In') certainly can't save it. This is just a mediocre bedroom recording made even worse by Tate's vocalizing and religious prattle. It's a shame really, but all you can do is accept or move on. So I'm moving on.

Artist:
Christian Kobi
(@)
Title:
r a w l i n e s
Format:
CD
Label:
BTDA
(@)
Rated:
Many reviewers could offhandedly label this release as an assay of extreme reductionism, but I'd rather say it's something different in sooth. On this second chapter of a trilogy for solo saxophone that Swiss musician Christian Kobi started with CANTO - released by Cubus Records four years ago -, he seems to extend the sonic range of this instrument by means of close mic and unconventional way of interaction (hands of mouth without blowing). Some moments of "Rawlines" could let you envisage very strange images: for instance, the second track could let you think he's trying to turn his tenor saxophone into a sort of popcorn popper, whereas the opening track could sound like a test for the research of air holes on the instrument or its fathoming for recognition of residual salivary drops in its body and their following ejection out of saxophone's bell, but this kind of exfoliation of saxophone from any trace of melody, harmony, rhythm and even from the possibility of interaction with other instruments and even surrounding space sounds more like an investigation around its elemental constituents so that the only moment when its sound meets Larsen effect on the fourth track, its hisses could resemble pure sonic frequencies and white noise.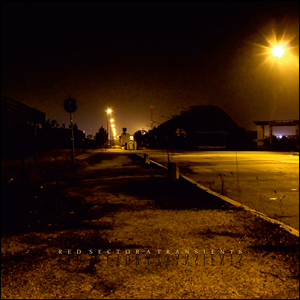 Artist:
Red Sector A
Title:
Transients
Format:
CD
Label:
Silentes
(@)
Rated:
Active since the mid 90s, Red Sector A, released four albums for Minus Habens where ambient dub was meeting techno rhythms. Under the Subterranean Source moniker, Andrea Bellucci, the guy behind Red Sector A, released two CD albums in the U.S. Desolation House, a Relapse sub-label and before starting the Red Sector A, he was active in the dance scene as composer. 'Transients' is Red Sector A's fifth album and the first for Silentes. On this one, Andrea, is bringing to fans of electronic music, ten new tracks born in collaboration with many well known musicians of the Italian and international scene. Andrew Lagowski, Teho Teardo, Retina.it, Dean Dennis (ex Clock-DVA), Giorgio Ricci (Templezone), Eraldo Bernocchi (also member of Sigillum S) and Fabrizio Modonese Palumbo of Larsen joined him helping enriching his sound. Listening to "Transients", I can't tell exactly what the guests did as their contributes are merged into the strong rhythmical texture which is the main element on the mix. We have a sound built by different layers which interact but kinda live on their own, also. As I said, the rhythms are king as there are so many beats made using glitching sounds, drums, synth noises that at first listening, those are the first thing that pops out. Under that, there's an underworld made of drones, tiny noises, loops and stuff that you'll discover them little by little. Also, you'll notice the clean mix which is helping listening to every sound. If you love i.d.m. as well as sound research and Warp, Rephlex are two labels you love, "Transients" is an album you'll enjoy.
Artist:
Emanuele de Raymondi
(@)
Title:
Ultimo Domicilio
Format:
CD EP
Label:
ZeroOKilled Music
(@)
Distributor:
Rough Trade
Rated:
Process scheduling of music market is sometimes unintelligible to me as the second release by Italian sound artist Emanuele de Raymondi arrived weeks after its release date. Anyway such a delay cannot prevent me from advise it after we appreciated his debut album "Buyukberber Variations" a couple of years ago, where he delvered some improvisations by Turkish clarinet virtuoso Oguz Buyukberger by discosing a remarkable "fluency" with different musical languages. On "Ultimo Domicilio" (Italian for "the Last Domicile"), Emanuele's sonic arts got interlaced with the photographic set by Lorenzo Castore, who developed the concept of individual and collective memory (or I'd rather say individual and collective oblivion...) by some snapshots taken inside 5 forgotten or abandoned domiciles in 5 different towns (Finale Ligure in Italy, Fontenay in France, Brooklyin, Sarajevo and Krakow). His pictures got assembled in a 18-minutes lasting documentary by Daniele Spano', while the musical translation of these five places got committed to Emanuele: his meticulus textures of samples, piano and guitars - in-between chamber music, acousmatic and ambient - manage to render the overlap between places and non-places of memory and oblivion as well as the emotional core of memories by alternations of lulls and "waggles" of different sonic inputs, as if he tried to translate the effluence or even the metempsychosis that emanate from portrayed objects. Check out the documentary on the web in order to have an idea of the relevance of his sonic cameos.
Artist:
Himiko
(@)
Title:
Dethnoizzz
Format:
CD
Label:
DTrash Records
(@)
Rated:
If you've followed the evolution of Japanese electronic music artist (and sometimes jazz pianist) Himiko, now based in Alberta, Canada, you know that she's gone from the beautiful to the absolute hideous. If you're only familiar with her early work on such albums as 'Mai, 'Mungen', and 'Shippo o Tsukame' you'll be in for quite a shock with 'Dethnoizz'. While her stint with Heavy Metal Jazz Concepts was an interesting exploration of fusion, avant-garde, free jazz infused with heavier rock elements, it doesn't even begin to approximate what you'll hear on this recording. Even as noisy as 'Heavy Metal Wannabe & Electronic Jazz Cat' was at times, it never approached this. 'Fuck Off' (2011 DTrash), her deconstructed thrash metal mashup EP was at least listenable and weirdly amusing, but 'Dethnoizz' has taken a left turn off the beaten path into sonic mayhem of the most extreme kind.

There are 11 tracks on 'Dethnoizz' but it blurs the line between album and EP because the tracks are so brief and it's over so quickly. Take Digital Hardcore, Speedcore, Death Metal, Grindcore, Goregrind, Gabber, and Breakcore, toss in a blender and set to puree, and you'll only begin to get an idea of what's on this recording. Himiko's vocals here are a mix of processed barks and shouts, and vomitous screams. It is indeed frightening stuff. If I didn't look into Himiko's musical background prior to this review, I would have slagged this off as the worst shit I've ever heard in my life. (Even my cat ran and hid when the sound hit the speakers!) But now I get the idea of what it truly is ' anti-music, and actually very well done anti-music at that. Himiko rips apart every pre-conceived notion you ever had about music, chews it up and spits it back in your face. With track titles like 'Fuel Rods Up Your Ass', 'Butchered, Mended and Butchered Again' and 'Raped, Killed and Raped Again' you can imagine this is going to be one fucked-up terror trip, and it certainly is. Brutal as the music may be, it takes a lot of work to slice, dice and shred it into something as explosive and corrosive as this, and I respect that.

I can't say I'm a fan of this kind of sonic torture, but I know there are those out there that really dig it, so I have to rate it on its merit, not my own personal taste. For what she's trying to achieve on 'Dethnoizz' Himiko definitely succeeds. Although I much prefer her earlier work, you can't fault an artist for veering off the straight and narrow and following their experimental vision. Even Himiko's look has changed from demure Asian beauty to Goregrind Diva. No doubt there is a limited market for this kind of material, but one wonders, where does she go from here? With Himiko, you just don't know until she gets there.