image not
available
anymore
Artist:
Alexander Robotnick
Title:
Vintage Robotnick
Format:
12"
Label:
Medical Records
Rated:
Exclusive Record Store Day LP presented on high-quality 180gram tri-color transparent blue/purple colored vinyl and limited to 2000 copies, "Vintage Robotnick" is a selection of eleven tracks coming from Maurizio Dami's (a.k.a. Alexander Robotnick) archives which have been released on vinyl for the first time. Recorded during the years 1982-1984, the tracks have been previously available on CD on the 2003 'Rare Robotnicks' compilation, except one track from 2005's 'Krypta 1982' ("Appuye Sur Le Champignon" and one other track culled from 'Robotnick Archives' ("Minore Terzo"). The album opens with 'I Wanna Believe', a single released under the Gina & The Flexix moniker back in 1985 on the Fuzz Dance label (an Italo Disco sublabel of Materiali Sonori). It's a song with lush atmospheres, nice melodies and catchy female vocals. "Les grands voyages de l'amour" is a great track which combines danceable rhythms, great synth melodies and a bit of melancholy in less than three minutes. Also "I remember Kamchaka" and the following "Soundtrack" follow a similar path but with "Celle Vache De Ma Mere" we pass on a different atmosphere made of mystery, sensual melodies and ironic lyrics. "Araba" mix middle Eastern melodies and robotic sounds while on "Ambient Robo" we have the robotic melodic sounds only (try imagine to Kraftwerk on a trip to Florence). "The Vampir" is a really good song which mix eerie sounds and danceable rhythms. "Appuye Sur Le Champignon" is really italo disco sounding with mid 80s guitar riffs. 'C'est La Vie' was a 7" released in 1987 and the song is a really nice synthpop fresh danceable one. The album closes with "Minore Terzo", a track which is in balance from Detroit techno and acid. Great release!!!!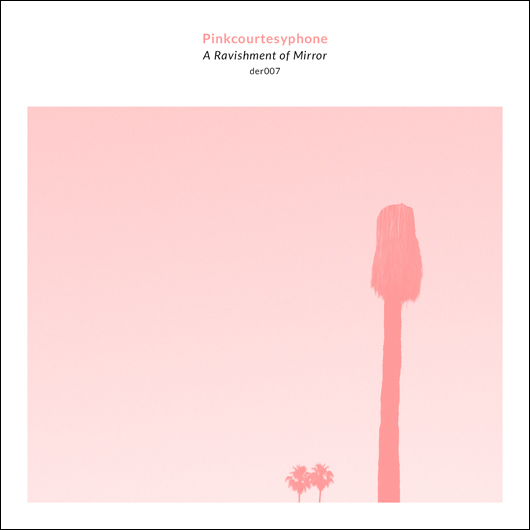 Artist:
Pinkcourtesyphone
Title:
A Ravishment of Mirror
Format:
CD
Label:
self-released
Rated:
This album is full of warm ambient tones that surround the listener, yet fall short of providing a lush atmospheric space. Instead, there is a pink noise that leaves one feeling unsettlingly enveloped by emptiness like a broken rain sound machine. According to the artist's statement, the album is supposed to be conceptually wrapped up in the plastic world that is Los Angele. Like a Tati film, its grand, ethereal criticism of the modern 'Hollywood' decadence is not at all lacking in humor. There is a sort of irony involved - like a New Age guru enticing the listener into meditation over reasonably priced self-help DVDs. This is not an album for a relaxing background soundtrack but rather an interesting experiment in binaural noise and concept.

Artist:
Bruno Bavota
Title:
La casa sulla luna
Format:
CD
Label:
self-released
Rated:
Upon first listen, Bavota's simplistic chord progressions and melodies appear to be rather trite and repetitive. This may be so ' however, upon closer look this simplicity is not lost on the listener who longs not only for something merely digestible but, also finds the moody environment of La casa sulla luna a meditative one. Even the album artwork is playfully stylized as if it were drawn directly from a children's bedtime tale. With each depression of the piano's damper pedal, one is drawn into the feeling of the performer - hushed tones and swelling melodies surround. This is precisely why I am loath to label this 'neo-classical' because its roots are firmly embedded in the Romantic tradition of the likes of Liszt ' whose own use of melody, at times, is that of simplicity wrapped in the grandeur of large tonal clusters. There are no deceptive cadences here and one can assume an entire piece's progression with confident assurance. The Italians have always possessed a nature of unabashed celebration of pure aesthetic experience without the weightiness of conceptuality as a burdening factor. While the notion of 'endless melody' is embraced here, this is no grand Germanic Gesamtkunstwerk - form and content merge with the playfulness of a Rossini. The album leaves just as it entered: without pretentious posturing of self-explanatory affect. It is as if Bavota has let his self flow freely, from feeling to fingers, bypassing 'heady' conceptual dwellings altogether.

Artist:
Arturas Bumšteinas
(@)
Title:
Epiloghi
Format:
CD
Label:
Unsounds
(@)
Rated:
Many zealous composers and academics delving into aesthetics, composition and musical history know that Renaissance and Baroque music anticipated many elements of contemporary music that the most of people is not able even to imagine down pat. That's just one reason why this interesting bridge that esteemed Lithuanian composer and sound artist Arturas Bumsteinas established between that period and the dawn of noise music and bruitisme by composing six possible epilogues for Jacopo Peri's lost opera "Dafne" and by matching the six primary passions (desire, love, hate, sadness, joy and wonder) that Descartes distingued in his notorious philosophical treatise "Passions of the Soul" with groups of noise-sound categories according to the interesting taxonomy that Italian futurist painter and composer Luigi Russolo, one of the forerunners of noise music, proposed on his manifesto "The Art of Noises" in 1913 seems to be an attempt of linking two key moments of music history by gliding through that hip-like label of so-called retro-futurism. The strategy that Arturas followed in order to render this metacultural and somehow "spiritual" connection is really amazing as he combined the sound of the progenitors of Russolo's Intonarumori, those Baroque noise-making machines, which were used in theater performances to illustrate mainly natural phenomena such as thunder, wind, rain, storm and so on, that Artusas recorded in several historical European theaters, with some instrumental parts, which come from different melodic and harmonic materials he grabbed from a selection of almost two hundred popular melodies from the 16th to the 21st century, while "Zang Tumb Tumb", the poem by Filippo Tommaso Marinetti which gives name to this amazing sound work, has only been explicitly quoted on "Epilogue 2. Hate - Noises Obtained by Beating on Wood". Besides "Epiloghi. Six Ways of Saying Zangtumbtumb", the release includes "Night on the Sailship", another remarkable assay of concrete music, where theater noise machines, stage prop and coulisse machinery have been used to render a sort of nocturnal soundtrack from an old galleon. I cannot but admire Artuars' figments of imagination.
Artist:
Lahka Muza
(@)
Title:
Byt Tvojim Zrkadlom (To Be Your Mirror)
Format:
CD
Label:
self-released
Rated:
Slovakian darkwave band Ľahká Múza has been around a long, long time, going all the way back to 1984, and releases as far back 1989. 'Byť Tvojím Zrkadlom' ('To Be Your Mirror') is now their 8th album, this one self-released on their own EXcentriX Records label. If you're American, you probably never heard, or heard of them. If you're from Europe, chances are you have, and know what an iconic group this is. The core of Ľahká Múza is Gudrun Snake (vocals) and 677 (guitars). Their sound could be described as a cross between earliest Dead Can Dance and Siouxsie & the Banshees, though sounding specifically like neither. Gudrun has the power of Lisa Gerrard's vocals, but with a more shamanistic, witchy twist, and 677 makes use of that Banshee signature flanged guitar sound, alternately with heavy sustained fuzzy distortion. This became the hallmark sound of many '90's goth groups in this vein, but Ľahká Múza has it down to a tee. There is nothing 'pop' about the music of Ľahká Múza; it is dark, ritualistic, mysterious and oh so foreign to Western ears, yet somehow familiar. All songs are sung by Gudrun in the Slovak language, and sometimes just sounds more than words. This has a very dramatic effect, even if you don't know what she's singing about, which for those unfamiliar with the language (most of us) can be very compelling. (Hey, Gerrard's vocals in DCD often weren't decipherable, but no less compelling.)
Although there are drums and percussion, 'To Be Your Mirror' isn't in any way typical dark dance floor fodder. For one, the percussion (presumably drum machine) often carries a martial beat in one form or another. Reverb swathes the vocals and guitar, and there is an often present bass drone in the background. Gudrun's voice often has an operatic quality; in fact, at times she sounds like two different singers ' the operatic diva, and the witchy evil sorceress. Her vocals soar to uncanny heights, then swoop down low like a raptor after its prey. The music is heavy and thick with atmosphere, and though you may swear you've heard something like this before, you really haven't. 'To Be Your Mirror' maintains its austerity throughout, never deviating from the unworldly aura it presents. Quite uncompromising is Ľahká Múza, and live Gudrun presents herself as a stark fetish figure, the dominatrix supreme. This isn't what I call casual listening; it literally demands your attention. There are some keyboards here and there (most notably on final track 'Symmetry') but the music is primarily guitar-based, and none the worse for it. Definitely worth seeking out, 'To Be Your Mirror' seems as a refinement of the band's previous musical efforts. (You'd probably have to order the CD directly from Ľahká Múza on their website because I don't think their distribution extends to the U.S. yet.) Gudrun and 667 also have a side project called Hieros Gamos (please, please send me the CD to review), the main difference being that the music is more keyboard/synth and fetish oriented, but no less austere. (A little like Die Form in a way.) I only wish they could perform in the U.S., for if they did they would certainly enthrall the lovers of dark music among us.