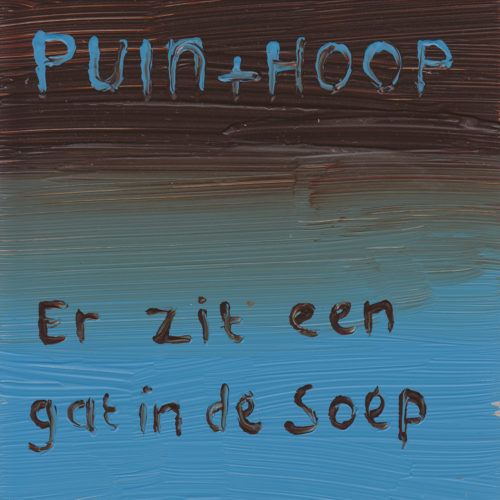 Artist:
Puin + Hoop
(@)
Title:
Er zit een gat in de soep
Format:
CD
Label:
Narrominded
(@)
Rated:
According to the linear notes this album starts as a live album that would explore a new live recording setup for a concert in Amersfoort. As the recording of the gig failed, the band remained with the recording of the test takes that is the content of this release. The musical result is a sort of EAI (electroacoustic improvisation) that, rather than showing his roots in free jazz, has his most evident influence in the meditative leafs of krautrock.
The drone of 'er zit' opens this release suddenly developing in a quiet noise and finally juxtaposing the two poles of this track: the bright drone and the dark noise. After an impressive first part where the layers of sound start to overwhelm the listener, gentle notes of synth takes 'een gat' in territories where a unstable, as the rhythm moves slowly, mood of meditation is the gravity center evolving in the last track 'in de soep' that closes this album juxtaposing drones and noises creating a mesmerizing mass of sounds.
This album, rather to search new grounds, evolves the genre in a new form juxtaposing elements with a clear view of the overall result escaping the void meditation of drone and the dull unilateral dimension of noise to reach a form that always change remaining the same. One of the records of the year.
Artist:
Sum of R
(@)
Title:
Lights on Water
Format:
CD
Label:
Utech Records
Rated:
Lights keep on shining in the dark according to the incisive stylistical concoction by original Swiss musician Reto Mader aka RM74, who releases the second full lenght album of his side-project Sum OF R together with Julia Valentina Wolf after the tidbit "Ride out the Waves" on Storm As He Walks. "Lights on Water" sounds maybe less visceral and more geometrical than the above-mentioned EP as if some structures had been conceived in order to ease "compatibility" with possible live stages and some sonic contrivances are often easily reproducible, but their sound remains tremendously hard-hitting and cliffhanging. In order to give you an idea of their strking sonic strategies to melt doom metal, noisy hooks and ritual guise, the sepulchral chords, which got gradually saturated before exploding, on the initial "Rays and Line Segments" could be thought as a mixture of tricks by Cranes, Death In Vegas, Starfish Enterprises and GYBE; the ominous "Not Today and Maybe Not Tomorrow But Soon And For the Rest of Your Life" seems to follow the same path before the guitar gets dried and when you would expect a sort of depressive ballad, Mader's drumming coerces guitar into discharging cathartic and electric crimping and foretelling a curse. After the pre-apocalyptic medley "Birds Were Fallign From The Sky" and the caustic compressions of "In Mirror Arms", where doom metal vein by Sum Of R can be easily palpated, "Nobody Wants To Trade Uncommons For Uncommons" is maybe the track which includes more bromidic tricks, but they soon boost liking by the creepy scuffs of "Vela" and the final "March Out of Step When Crossing a Bridge", where their proper winning feature that is the balance between frail and blasting by means of a concatenating element - on this occasion a march-like tempo - is by far more appreciable.
Both explorative visitors and resident Liverpudlians have maybe experienced the peacefully beautiful setting of St.James cemetery nearby Anglican Cathedral in Merseyside, where you can easily relax and enjoy the surrounding grandeur of nature and history: Liverpool's first public park was originally a quarry, but its secluded and somewhat cloistered position which could inspire relax, ravishing and daydreaming contemplation was supposedly known by those who named t.James hill Mount Zion. Its maze-like amalgam of arbours, gravestones, Victorian monuments, recesses and tunnels inspired this lovely release by Ashlar, the collaborative project by Wil Bolton and Phil Edwards, who combined field recordings grabbed inside and nearby St.James' Gardens and instrumental brush strokes, which got recorded at Cathedral Chambers. They managed to render a sonic virtual tour in the gardens by highlighting the emotional inferences and even historical memories: the initial "Winding Nature" emphasizes the wind gusts which blow into gardens and seems to recall the windmills at the edge of the quarry by means of billows of acoustic and electric guitar and graceful electronics, but then the enchanted sonic ablutions seem to respectfully crouch on the following "Monuments" by making an ideal connections between gravestones, memorials and more or less illustrious buried people by feeding cogitations whose sacredness got rendered by sunken guitar phrasing. This virtual tour ends on "The Oratory", where quiet synth-bubbles and soothing arpeggios mix sonic inputs up with Neoclassical architecture of the Oratory while descendants of Liver Bird supposedly try to socialize with Tracey Emin's little bronze bird!
image not
available
anymore
From Killscreen Recordings comes the album 'Forward in Time E.P' by Jim Wheatley, also known as the artist Fractals. Long a presence on the DJ and mashup scene in the UK, Fractals claims the 'influence of Blu Mar Ten, Metalheadz, Marcus Intalex and Breakage', according the Killscreen liner notes. There are four tracks in this album for a total running time of 22:42.

The first of these is 'In Time' and this begins with a strong percussion line ' a feature common to all the pieces in this album. A high whooshing sound is heard that contrasts with a low growling bass line. This mixture is interspersed with the occasional processed vocal followed by a fading echo. This combination produces a partly ominous and partly declarative feeling to the music and the net effect is that the track feels like an amalgam of announcement and warning ' the present in anticipation of the future.

'Ego' follows, and starts with a clearly heard processed vocal: 'The definition of fractal...' High dreamy sounds contrast with a characteristically strong beat and sharp, distinctive percussion. More vocals with echo are heard ' but hard to make out. Bass guitar with distortion adds to the beat and the relentless drive of this piece, making a statement on the pace of contemporary life.

'Dark Matter' is the third track and begins with high staccato percussion and a dance-like rhythm in the guitar. This morphs into a more alien, pulsing sound with 'technology' repeated in the processed vocals. The dance rhythm reappears and forms a marked contrast to the 'technology' sounds as if expressing nostalgia for the past combined with an apprehension for the future.

'Electron Dub' is the final track and this features syncopated rhythm, shooting guitar riffs combined with high soft sounds. Now a solid arcade game texture emerges, but still with the continuous dance rhythm. The contrast between the feel of the dance and the more technological sounds produces an effective sense of tension that is shared by the other tracks.

This album is a solidly framed work that makes a statement about the uncertainty of the future in our 21st century. The mixing and editing of all the tracks are excellent. For those who like their rhythm strong, clear and straight ahead, 'Forward in Time E.P.' delivers.

Artist:
Beata Hlavenková
(@)
Title:
ΘΕΟΔΩΡΟΣ
Format:
12"
Label:
Minority Records
(@)
Rated:
The first beautiful full-length album "Joy For Joel" was dedicated to her first born son Mathias Joel and featured many talented guests. this second album followed her second son Theodor Eli that she conceived with her beloved husband, the Czech guitarist, composer and producer Patrik Hlavenka (Patrick Karpentski), but this time gifted pianist and composer Beata Hlavenkova decided to play on her own and the final result is really amazing and meaningful. this welcomed new arrival inspired Beata to celebrate every single instant of life and I'm pretty sure tat she could have made a composition for every single second, but she limited to a track for each month of the year. According to Beata's own words, "the Greek name Theodoros means "God's gist", like Mathias in Hebrew. When I starte to compose I realised that God's gift is life to me. It is formed of years, months, days. it was thus absolutely natural that compositions will be named after the calendar months. Musical circumstances resulting in this album were however different. They are based on the fascination from a song and its simplicity. the opposite pole to the first musical world. Theodoros draws from both and absorbs these paths through my musical perception". The astonishing dynamics of her style, which combines minimalism, French impressionism and modern jazz technique (particularly for some voicing techniques), the neatness of her phrasing, the remarkably spontaneity of her way of flying over piano keys, the ability of linking melodies together by means of both left and right hand, which seems to alternate in sustaining melody, and above all the spellbinding balance of her music will let you hope she could carry on a new pregnancy as soon as possible! Strongly suggested listening!