Artist:
Endif
(@)
Title:
Carbon
Format:
CD
Label:
Tympanik Audio
(@)
Rated:
From the outset Endif's latest release "Carbon" is a hard hitting onslaught of industrial powered electronica. The musical alter-ego of Jason Hollis, Endif is one of the newest additions to the ever increasing Tympanik Audio family, whose releases are no stranger to my reviewing. While Tympanik Audio specializes in dark electronic music, each of its artists approach the aesthetic in different ways. Endif, like its label mate Pneumatic Detach ventures into harder rhythmic territories utilizing heavily distorted beats supplemented by various electronic effects. However, Endif departs from Pneumatic Detach in its incorporation of more traditional synth leads found in mainstream European electronica. This is evident on the tracks "Churl" and "Between Two Worlds." This mixture of influences makes the album much more accessible on the first listen, as opposed to more noise laden albums that need time to grow on you. However, make no mistake, Endif is not some wishy washy techno act, as it is rather abrasive at times which is clearly apparent on such tracks as "Peeling the Layers" which booms, crashes, and hits like a munitions factory and "The Answer" which is a disorienting onslaught of noise that I must admit made feel rather queasy as it blasted on my headphones. If you were a fan of Metropolis Records in its late 90's early 2000's glory, then Endif's Carbon is for you as it offers a much more fluid and updated version of the dark electronic sound popularized by that label.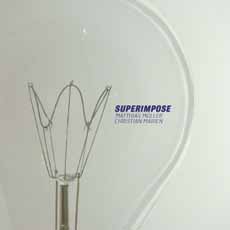 Artist:
MULLER, MARIEN
Title:
superimpose
Format:
CD
Label:
Creative Sources
(@)
Rated:
Berlin based duo playing the free impro salsa, it's on Creative Sources and it belongs to the category of this label devoted to jazz but just the way a Creative Sources performer can mean/play it. Beside that, consider, as pointed out many times by many improvisers/musicians both coming from the latin area and from the north European scene, improvised music coming from the mittle-upper Europe is more fragmented, choked to the extent it may sound aphasic to an untrained ear. But we're not untrained and according to our opinion "superimpose" is not aphasic at all, nay it arrives to sound really physical at times, I mean they barely articulate what could be the scrawl of a free-jazz attempt. As many other improvisers on this label they're not afraid to eliminate every trace of melody and emotion from the crime scene. What's left is the picture of an intransigent radical performance which have dynamic ups and downs where the duo passes from strangulated notes to autistic nervous playing. The good thing about their "modus improvvisandi" is these two gentleman sometimes focus on a phrase and start exploring it's significance just as much as they need to give it a "meaning", the bad thing in the other hand is that while refusing every compromise with traditional playing they surrender to some ordinary free-improvising solutions. They are really intense when they catch the right train, but the risk as usual is to sound really ordinary in they rebelling to traditional music, but what happens when the "norm" is not the norm anymore? I think that's the most interesting question. They offer a great range of sounds which is a great result considering we're talking about a duo and during this live recording they avoid the use of any additive effect which I'm sure will attract all of the fans of the pure acoustic sound out there.






image not
available
anymore
Artist:
THE TENTH STAGE
(@)
Title:
Grand Guignol
Format:
CD
Label:
Crash Frequency
Rated:
A year after their debut album The Tenth Stage present to their audience and to the lovers of electro/theatrical goth music a new work titled GRAND GUIGNOL. As on the previous album, the duo formed by John Von Ahlen and Roberto Missaglia, is delivering a perfectly produced album with a top notch graphic work. This time we have a sort of concept album focused on the last decades of the 19th century: the graphic work, the themes and some songs' atmosphere (mostly on the ballads) recall that age. Mixing genres like on the other album, The Tenth Stage for each track use different sets of instruments. They span from ballads with accordions and bass guitar ("Eldorado") to joyful tunes with tambourines and strings ("Cinderella's revenge"), electro pop songs ("Travelogue" and "Early morning prayer"), dark piano ballads with catchy vocals a la Tears For Fears ("The ballad of the decomposing man"), stripped down to clean electric guitars/drums/synth NIN like songs ("Sex is bad Eddie", song that is inspired by Ed Gein. One of the few exceptions to their 19th century theme), dub tunes ("Sends my regards to hell"), etc. Eclecticism is a quality and also a weakness for a first listening, so you need a little of time to fully appreciate GRAND GUIGNOL. The catchy tunes aren't missing, so you can start from those ones first.
Artist:
HOUSEMEISTER
Title:
Who Is That Noize Remixes
Format:
CD
Label:
All You Can Beat
(@)
Distributor:
Neuton
Rated:
This is the first time that Housemeister allows someone to remix his tunes. The first time had to be a blast and blast it is. On the eight remixes (a ninth track is remixed by Housemeister himself) we have Siurismo, Boys Noize, CLP, TokTok, Alexander Kowalski, Neo Filigrante, Dirty Doering and Unsportsmanlike. From the album the remixers re-worked on "What You Want" (Siriusmo did a great electro pop instrumental version of it and Dirty Doering did a minimal techno/ambient tune), "Inordertodance" (on this one we have Boys Noize, Housemeister, Alexander Kowalski and Unsportsmanlike. Respectively they did a techno orchestral version, an analogue Detroit like version, a sensual techno/house edit and a minimal 8bit like hip hop version), "Who Is That Noize" (CLP looped different parts of the track and did a robotic/hypnotic lo-fi version), "We like the arpeggiator on" (TokTok make it starts like an hip hop minimal sample thing that isn't too interesting but after a while an electro like synth is added and the track changes totally, turning into an electro Kraftwerkrish tune. It's a bit repetitive but nice). The last tune left is "Das Leben Ist Herrlich" and on this one Neo Filigrante did a good work by giving to it a good melancholic electro sound. If you already have the original album you could find interesting and totally different arrangements or the aforementioned tunes.
Artist:
ACID JUNKIES
Title:
Crane Dance EP
Format:
Download Only (MP3 only)
Label:
AJ Records
(@)
Rated:
Active since early '90s the Dutch duo known as Acid Junkies are bringing to the acid techno lovers a new digital EP titled CRANE DANCE. The EP opens with "Chica go sexy", a track that starts with a drum rhythm and sampled vocals just to explode 50" after with an analog acid synth line. The main melody starts and stops different times and hypnotically bring the listener to the end of the track after about six minutes. "Haunted melodies" is a bit less acid and is based on a distorted snare drum that is coupled soon after by a syncopated hi-hat/bass drum rhythm. On this one acid influences are present on the use of vocal samples. After a while the track turns into a techno/electro tune thanks to the energetic synth bass line/female vocals combination. "Wave up" is the a nice retro electro tune with a funny trembling bass line and it is the one I prefer along with the second one. You can check all of them at the band/label website.