Artist:
The Silicon Scientist
Title:
Sinister Street
Format:
7"
Label:
Anna Logue Records
Rated:
After three years from the release of the second album "Poly", Stefan Bornhorst a.k.a. The Silicon Scientist is back and this 7" containing two songs serve as appetizer before the release of the new album "Outside The Night". On side A we have the main track "Sinister Street" with a different mix compared to the version that will be included into the album. The song is an upbeat melancholic tune with many melodic synth layers sustained by a bouncing bass line coupled by a 4/4 drum machine rhythm. Vocals, as usual, are filtered and this tune could be an underground hit like Stefan's "Submarines" contained into the first The Silicon Scientist album "Windows On The World". On side B we have "Sights", a song which will be available only on this 7". It is a bit more cold sounding compared to "Sinister Street" and it has also a dancey attitude despite its dark atmosphere. Both the tracks are perfect for a single and after listening to them here http://annaloguerecords.bandcamp.com/album/sinister-street I'm sure you'll consider the purchase...
Artist:
Mario BJM Bajardi
(@)
Title:
Glass Orchestra EP
Format:
Download Only (MP3 + Lossless)
Label:
ONDE
Rated:
This second release by the brilliant Italian composer and sound artist Mario Bajardi - check his biography in order to understand his value and the resonance of his sonic research - after his acclaimed album "Archives" on ONDE Electronic Contents, a division of Paolo Bigazzi's imprint Iter Research, hits the cinematic heart of the label on the nail as each track of this short, but amazing "Glass Orchestra EP" sounds remarkably evocative and somehow dramatic. The title track got quite notorious on YouTube as it was composed for "Sound of Wine", an awesome and very original way that Sicilian wine company Tasca D'Almerita chose to promote their delicious products by inebriating the sense of hearing which isn't involved like olfaction, taste and sight during a wine tasting. That amazing video, which got signed by viral media company Mosaicoon, shows Mr.Bajardi in the act of conducting a bizarre orchestra of 10 young players of bottles and glasses and the general chiming sound of this funny experiment is a pleasure for eardrums. The notoriety of the above-mentioned track doesn't outshine the good make of the other tracks: "All" seems to tap from dub and space rock springs whose refreshing waters spring the lukeworm psychedelic intertwining of digital processed sounds, splinters of violin and twinkly synth glares; the outlandish reverie of "San Lorenzo" is a studio version of a subplot Mario played during a live concert as an electroacoustic improvisation; "Encounter" is maybe the most dramatic track, where the initial delicate strings sounds like the inner sparking which gradually cracks the shell of daily life before bursting into properly epic flames.
Artist:
Alberto Boccardi + Lawrence English
(@)
Title:
Split
Format:
12"
Label:
frattonove
(@)
Rated:
Even if this splitted release derives from Alberto Boccardi's recordings of Antonio Lamotta choir, both the cover artwork by Marco Galeazzi and the general aura of the first suite of this release reminded the final scene of "Nocturne", an old short film by Lars Von Trier: the flock of geese or crows on the ocher sky, the estranging obfuscation evoked by the gradual overlapping of a number of acoustic instruments (double bass, cello, French horn, autoharp, soprano saxophone), which could remind the horns of many maneuvering boats, the progressive saturation of the above-mentioned instruments over consecutive suctions, the clinical and vaguely stifling atmosphere rendered by the plumbean chorus, a sort of atrial flutter which disappears under a rising distorted guitar, the consequent silent coma and the entrancing final etheral delayed sound of "Drops, salt, ask me next life", the sonic path Alberto develops in three movements, could be vaguely associated to that 7 minutes lasting breathtaking short. On the flipside, you'll find "The Rocks That Tear The Ocean", a likewise absorbing suite, built by Lawrence English, who received Alberto's recordings in order to give him the possibility to freely manipulate them, and ideally consisting of four moments: "Thrones and Domains", where Lawrence reprised Antonio LaMotta choir, "Coronach Adrift" - the quotation of Scottish Galic dirge sounds apt to the evoked bleakness -, "Weathered Hymnary", where atmospheric agents seems to have been turned into proper voices and instruments, and the final upward motion of "Seraphim", where a seraphic unhuman chant seems to echo the previous keening choir and rise over the amalgamation of natural and human resounding elements. The final result is a proper mental journey, whose comparison with Land Art "in which a massing of micro elements create a macro feature" by Lawrence himself pertain to his compositional process.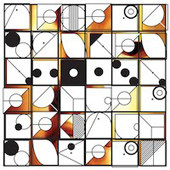 Buke and Gase are an upstate NY-based duo who make unconventional music with unconventional instruments. Together they come up with some of the most original and interesting music I've heard in a while, both on the record and on stage, and as is always the case in these rare circumstances, describing their sound is really challenging. If you can, imagine some sort of experimental post-industrial avantgarde indie rock... Odd meters, doubled melody lines, angular beats, intricate harmonizations and skilled used of distortion, pitch shifters, harmonizers and delays elevate the whole Buke & Gase experience to the level of something you've never heard of and that will keep you glued to them. Incredibly they achieve all of this with just the two of them and I've seen them doing it live. They are a power house and they don't even have a drummer or use any loops or pre-recorded material. Arone Dyer (woman) sings and plays a heavily effected Buke (baritone ukulele) and Aron Sanchez (man) plays the even more heavily processed Gase (guitarbase - a self built guitar looking instrument that has some bass strings and some guitar strings) as well as a modified kick drum with some tambourine jingles on the front of it.
Do yourself a favor and check them out yourself because describing them doesn't really do them much justice! They kick ass and you won't really know that until you hear what they do.
image not
available
anymore
Artist:
Deth Rok
(@)
Title:
Us & Them
Format:
CD
Label:
13th Planet records
(@)
Rated:
Deth Rok is the moniker used by NY-native Texas-based electronic artist Aaron Havill, a young electronic music producer, composer and engineer who has been working for Ministry's Al Jourgensen. Al's label is in fact the one who gave Aaron a chance and released his new CD "Us & Them" on his 13th Planet records. You shouldn't however except a Ministry clone or even an industrial-metal band. "US & Them" has no guitars or even distortions at all (except for maybe one track)... The music is more on the quieter side, although it has an underlaying sinister vein that pervades all the songs. Slow down-tempo electronica with a hoarse softly-spoken vocal parts whose themes fringe upon apocalyptic, political and cynical. The vocals actually are a pretty focal point here. Where most bands in the electronic genre might choose to hide their lyrics behind walls of saturation and screams, Havill makes the conscious choice of tackling uncomfortable topics and making sure what he thinks and says is actually intelligible and unadulterated. The sarcastic nature of the topics is futher exacerbated by samples of preachers talking about the end of the world, TV/radio commercials about medicine with really bad side effects and things like that. The slow pace and the articulation of his voice helps drive home the points he is making. Sure a lot of it is metaphoric and not necessarily matter-of-factual, but obviously the lyrics are important or the artist would not have chosen to include them in the digipack packaging.
If you are in the mood for some dark and sombre death-electronica give Deth Rok a spin, unless you are Eddie Kramer, you probably won't be disappointed!