Even if some sonic glint vaguely keeps a certain percussive ruggedness and the cover artwork could be a reference to "Songs About My Cats", listeners who mainly know Aaron Funk and his hard-edged outputs in the guise of breakcore sorcerer Venetian Snares could be surprised by his epiphany on this collaborative project with Toronto-based producer and music artist Joanne Pollock. They mainly recorded and created the music of Poemss in Aaron's house in Winnipeg, but the dwelling of their music has no walls and nophysical location at all: according to their own words "this record seems less rooted in a particular place or time, and seems more to be born out of out thoughts, dreams, and reflections" as it's clear since the beginning when the hoarse voice by Aaron and the gently pitched one by Joanna sing about the "hair follicle of an ancient pony, who was once known to save the children in distress" on "Ancient Pony". A delicate and somewhat childish reverie drenches the first part of the record and reaches the top on the fluffy whispered lullaby "Bedtime", which follows "Heads on Heads" where their music sounds like bouncing between IDM and Human League-like synth-pop within a zero gravity nursery room. The bouffant synths of "Moviescape", one of the most cherubic moments of the album, vividly mark the doorway into Poemss daydream, which carries on proper musical pearls such as the lovely lasing into the ecstatic rapture of "Miles Away", the sweet duet of "Gentle Mirror", where you're not sure if Aaron and Joanne sings "I could be your lie" or "I could be your light" as if they rendered the intimate duplicity that got evoked by the title-track, the analogue edulcoration on "Think of somewhere Nice", the metronomic heartbeats and their knotting to dream states of astonishing songs like "Losing Meaning", Hall Of Faces" and the intense emotional warmth of the final track "Think of Something Beautiful". After this master stroke, which follows Heterotic, the project by label boss Mike Paradinas and his partner-in-life and partner-in-art Lara Rix-Martin, I could conjecture that Planet Mu proved the point that the combination of masculine and feminine musical souls and their reciprocal "levelling" can result into really good outputs.
Artist:
DivIder
(@)
Title:
Minimal Distraction
Format:
Download Only (MP3 + Lossless)
Label:
Basic Unit Productions
(@)
Distributor:
Bandcamp
Rated:
Basic Unit Production isn't a new established label but both haujobb.-protagonists Daniel Myer and Dejan Samardzic are using this name to publish their very own musically efforts. Relatively new is the fact that they have recently decided to open the gates to foreign music-projects and to release some goodies in both formats, limited physically editions and of course to service the growing digital market. The first activities have been the release of a compilation entitled "Frost" in early 2013 as well as a debut-EP by DSX, the Experimental Electronica solo-project by Dejan Samardzic. Also DivIder isn't at all a bloody newcomer project, but a US-based Experimental EBM-project already active since the mid-90s. Actually they have been existed pretty much under the radar of higher recognition and could release, as I had to learn, three physically albums. As being kids of times when EBM/Industrial has had meaningful heydays, it shouldn't wonder too much, that DivIder's music is obviously infiltrated with a strong dedication to those nostalgic days. This digital-EP consists of two original tracks plus some fair remix contributions. The sound outfit already presented on the main track "Minimal Distraction (feat. Jasmin Yas)" reminds on some early-90s projects like Johnson Engineering Co., Electro Assassin, or FLA to their "Gashed Senses" era. Also positive to hear, that all remixes of this main track are trying more or less to pick up the vibe of the original, while they also include attractive ideas of their contributor. The 'Holm/Mirland Remix' for instance pushes the speed of the track to a higher level and adds a mind-blowing snare-drum. A second track entitled "Relentless At The Heart' featuring Martin Sax (T.W.A.T.) on the main vocals got featured too and is available in the 'Radio Edit' as well as in a remixed version by the prominent Aghast View follow-up project Aesthetische. While the 'Radio Edit' forges the steel through nailing old-school EBM-like bass lines, the Aesthetische-remix adds a post-modern vibe through fresher sounding, very dancefloor-compatible rhythm- and bass line parts. If I said this often enough to their predecessor project Aghast View in the past, this also counts for Aesthetische: the remix-abilities of this Brazilian project are always exciting and hit the nail! Even if this is meant only as an appetizer of things to come from DivIder, it is mouth-watering and filled with many ideas reflecting the often pronounced better days of EBM. Attention got awoken in high amounts for the upcoming album!
I should have known it, I really should have guessed that Donovan Tate was behind this. When I last encountered Mr. Tate, it was a few years ago with his 'Scrapbook' album. At the time, I recall saying ' I can tell this guy has some talent; it's just a bad mistake to not distill the best of what one is capable of into a few well-composed and well-recorded tracks'¦it may be time to get a new 'Playbook'. Apparently did get a new playbook, and that playbook is'¦the Bible. Yes, Donovan Tate has found religion (or maybe it found him) and he injects it whole-heartedly into 'A New Beginning'. Arrgghh! I have nothing against people worshiping at the church of their choice but for the love of '¦..please, please, leave it out of the music.

Tate's vocal warbling has not improved, making this a difficult listen even for the devout. No amount of electronic processing can improve it. Synths and keys employed here are strictly old school with a heaping amount of noodling. Also, a hip hop influence has crept in, making it even weirder. Gregorian chant ('Glorify, Purifty') can't save this, sampling Gang of Four and Depeche Mode ('Two Strangers') can't save this, and getting your kids to sing ('You Ain't Getting In') certainly can't save it. This is just a mediocre bedroom recording made even worse by Tate's vocalizing and religious prattle. It's a shame really, but all you can do is accept or move on. So I'm moving on.

Artist:
Christian Kobi
(@)
Title:
r a w l i n e s
Format:
CD
Label:
BTDA
(@)
Rated:
Many reviewers could offhandedly label this release as an assay of extreme reductionism, but I'd rather say it's something different in sooth. On this second chapter of a trilogy for solo saxophone that Swiss musician Christian Kobi started with CANTO - released by Cubus Records four years ago -, he seems to extend the sonic range of this instrument by means of close mic and unconventional way of interaction (hands of mouth without blowing). Some moments of "Rawlines" could let you envisage very strange images: for instance, the second track could let you think he's trying to turn his tenor saxophone into a sort of popcorn popper, whereas the opening track could sound like a test for the research of air holes on the instrument or its fathoming for recognition of residual salivary drops in its body and their following ejection out of saxophone's bell, but this kind of exfoliation of saxophone from any trace of melody, harmony, rhythm and even from the possibility of interaction with other instruments and even surrounding space sounds more like an investigation around its elemental constituents so that the only moment when its sound meets Larsen effect on the fourth track, its hisses could resemble pure sonic frequencies and white noise.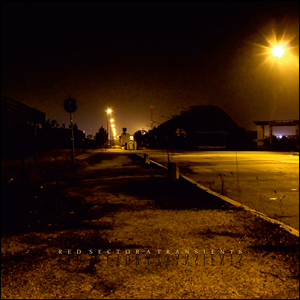 Artist:
Red Sector A
Title:
Transients
Format:
CD
Label:
Silentes
(@)
Rated:
Active since the mid 90s, Red Sector A, released four albums for Minus Habens where ambient dub was meeting techno rhythms. Under the Subterranean Source moniker, Andrea Bellucci, the guy behind Red Sector A, released two CD albums in the U.S. Desolation House, a Relapse sub-label and before starting the Red Sector A, he was active in the dance scene as composer. 'Transients' is Red Sector A's fifth album and the first for Silentes. On this one, Andrea, is bringing to fans of electronic music, ten new tracks born in collaboration with many well known musicians of the Italian and international scene. Andrew Lagowski, Teho Teardo, Retina.it, Dean Dennis (ex Clock-DVA), Giorgio Ricci (Templezone), Eraldo Bernocchi (also member of Sigillum S) and Fabrizio Modonese Palumbo of Larsen joined him helping enriching his sound. Listening to "Transients", I can't tell exactly what the guests did as their contributes are merged into the strong rhythmical texture which is the main element on the mix. We have a sound built by different layers which interact but kinda live on their own, also. As I said, the rhythms are king as there are so many beats made using glitching sounds, drums, synth noises that at first listening, those are the first thing that pops out. Under that, there's an underworld made of drones, tiny noises, loops and stuff that you'll discover them little by little. Also, you'll notice the clean mix which is helping listening to every sound. If you love i.d.m. as well as sound research and Warp, Rephlex are two labels you love, "Transients" is an album you'll enjoy.