image not
available
anymore
Artist:
Julian & Der Fux
Title:
Hin Und Weg
Format:
MCD (Mini CD)
Label:
Jhruza
Rated:
After the Ken Hayakawa collaboration on the EP "Uber Den Dachern", Julian & Der Fux are back with a batch of new songs gathered in the new EP "Hin Und Weg". During the last year, the duo did different gigs in clubs and had the chance to experiment on the audience their songs. The opening of this new release is "Without You" and it's the first with English lyrics. Musically, it moves between seducing house/electro atmospheres with a great attention on arrangements (as you can hear, the rhythm part is formed by a multi-layered web of tiny arpeggios, acoustic guitar pickering, piano chords that added, to the 4/4 beat structure, create a great effect). The main track is present with two versions, "Radio Edit" and a longer one. It is a nice song but in my opinion it doesn't succeed into coupling the awesomeness of the opening one as it moves between the same riff and the same atmosphere. "Magic String" is an instrumental which creates a suspension effect thanks to its melancholic touch. "Unglaublich", like "Hin Und Weg" and the following "Durch Die Stille", is a nice one but it's like a rocket ready to go which you won't see flying. It's strange to say this, but the fact that "Without You" had a richer arrangement and a wider atmosphere made the other songs look a bit weak even if they aren't. This effect will fade away after different spins, so don't be afraid. Check it with your own ears here http://jhruza.com/hin-und-weg/.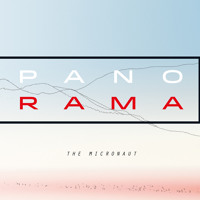 Artist:
The Micronaut
Title:
Panorama
Format:
CD
Label:
Acker Records
Distributor:
Kompakt
Rated:
Stefan Streck is the guy behind the Micronaut monicker and "Panorama" is his second album which comes after "Friedfisch" that has been released back in the 2012. On "Panorama" we find thirteen new tracks that already at a first listening, to me, sound more focused and efficient. On this one the tracks succeed into balancing melodies, atmospheres, rhythms and vocals (here as guests you'll find Arpen, Maria, Moritz Fasbender and Flipstar) and they convinced me at a first listening. If with the term "micronaut" Stefan was meaning a mix of micro and astronaut, that I read like a sort of traveller of tiny rhythms, sounds and atmospheres, well, this time to that term we have to add melody, because each track has layers of melodies which help a lot to get the listener acquainted to his music and to enjoy it immediately. Moving his sound between, electronica, dubstep, house, techno, electro and a bit of dub (like on "Light On The Scene") "Panorama" sounds perfect for whom loves lush atmospheres, rich sounds palette, upbeat rhythms and I think that it really fits well the catalog of its distributor Kompakt.
image not
available
anymore
Artist:
Halgrath
(@)
Title:
The Whole Path of War and Acceptance
Format:
Download Only (MP3 + Lossless)
Label:
Cryo Chamber
(@)
Rated:
Halgrath's new album on Cryo Chamber is depicted as an album 'where the artists shares her inner struggles of transformation after dramatic events in her life'. So there's a thing that perhaps only a collector could fully appreciate, the cover is evidently different from the one featured in "out of time", so reflecting a change in the construction of the album, a sign of the cure profused in the release.
The quiet drone of 'Acceptance of Inner Self' opens this release with a mood as calm as sad quietly doubled by a second drone and evocative field recording. 'Consecreation' features a meditative drone slowly and cleanly developed. Subtitling his description 'Afflatus ( Amanait Akhat )' features a female voice singing as in religious rites. 'The Opposite Mind and Mutuality' is based an oriental mood triggered by the beats and and arabic like female voice. 'Cold Breath of Mountains', the title more related with the cover picture, starts with a clear soundscape and evolves in a dark one, so giving a lecture path for the decoding of the cover image. 'Epic Journey and Oblivion' is a quiet and pastoral soundscape while 'Deep Immersion and Repose' starts with a peaceful drone and ends with a darker one filled with metallic noises. The drones of 'Your Soul is Just a Particle of Stars' ends this release with a sort of peacefulness that is even cathartic.
This album is so different from his predecessor that it gives the impression that it's really the picture of a particular state of the soul that is expressed in a remarkable way. One of the best release of this label, so it's recommended.
Artist:
Ithaca Trio
(@)
Title:
Music For Piano & Patience
Format:
CD
Label:
Home Normal
(@)
Rated:
Two balmy heart-rending long-lasting sonatas on a quiet piano which sound like coming from recesses of the memory characterize this release by Leeds-based sound artist Oliver Thurley whose moniker Ithaca Trio could puzzle as it's not a trio at all. "Music For Piano & Patience" is quite different from the delightful instrumental ambient music he disseminated on labels such as Hibernate, Under The Spire and his own label Coma Architects as he seems to focus on the research of beauty in decay: delicate piano loops got gradually decomposed by tape hisses, narcotic repetitions, occasional pitching, resounding specks which sound like detaching from the main phrasing before emerging from the bottom where the piano could be ideally placed on the first long suite "Lepidoptera, pt.II" and getting stifled by a swishing low-frequency and distant squawks. While the first track of this record seems to move downwards, the second track, "Just Skin", mildly draws upward diagrams by means of the same sound processing, where the mastering on 1/4" reels by Ian Hawgood acts like a proper instrument, almighty hypnotical warped whistles and blissful tonal trailing edges. Despite the title, this immersive record, whose cover artwork with typical hopscotch diagram smells like the "metempsychosis" of schoolyard memories, isn't nerve-wracking at all!
AntiQuark has been releasing albums and performing in the USA and Europe since 2001, created by Ant Dakini, an Italian keyboardist and sound-engineer. Vocalist Sergio O. joined the project in 2006, having sung in a number of rock and metal bands prior to AntiQuark. The music is an electro-techno hybrid with a certain 'quarkiness' to it. (One little side-note: our own Marc Urselli remixed one of their tracks, 'Planet X' from their 2009 'Skydancer' CD.) 'Rags to Riches' is the project's 6th release as far as I can tell, and although I've heard of, I'm not sure I've actually heard AntiQuark before.

The album starts out interestingly enough with a snippet of traditional Japanese (or Chinese?) music then charges into the body of 'El Bus' with Sergio wailing 'they patiently beat us to death' between nearly whispered verses over a driving dark-electro rhythm. It's a promising start. 'Medavog' has a Shameneque groove (think 'Ebenezer Goode') but nothing like those slap-happy EDM Scotts. Things pick up immensely with 'Shameless' (Floor Anthem Remix by Red Flag) , a track that could be equally at home at a huge rave or a goth club, not far removed from VNV Nation, Covenant, Assemblage 23, et al. Actually could have been a bit longer. 'The Man from Mars' (Lunar Remix by Electrovot) is somewhat along those lines as well; less vocals, more techno-electronics, and kind of trancey, but no less good. AntiQuark shifts gears for 'The Attaq' (Electronic Kraut Remix by Steve Morrell) with former vocalist Maren on lead here. It harkens back to the band's more experimental times; less big beat, more sequenced-synth driven, with an unforgettable terrorist-infused vocal line ' 'we did it for Allah'¦white face down'¦we did it for Allah'¦the white place down'. Simple but effective, and I didn't even mind the drum machine cowbells that I usually loathe. This is the track that actually made me really perk up my ears!

'Shameless' reappears with a Phantompowerdrill remix by Phantom Power, but I prefer Red Flag's more muscular interpretation. 'King Vulture' is given an Electro-lounge Remix by Hotrebor & Syrob, with a funky bass bottom and future synth chords on top. Kind of reminds me of Leeb's Noise Unit project. 'Model Zero' gets an Electro Remix by Hotrebor, somewhat similar to the previous track. AntiQuark switches gears again in the Like Lindsey Lohan Remix of 'Nuklear Suicide' by Don Bleezy and the Tleilaxu Music Machine. I cared for Bleezy's rappish style about as much as I care for Lindsey Lohan (which is not at all) so obviously this track didn't do it for me. 'Drawer 4' has a Hard Techno Remix by Traumahead Society that may actually be an improvement on the original with a relentless crunchy beat. 'El Bus' gets the Extended Mix treatment by Giulio Maddaloni, exempting most of Sergio's vocals. Neat dancefloor fodder that could easily be slipped into any DJ's set. 'King Vulture' has an Industrial/Terror Remix by Traumahead Society, and yeah, it's pretty much hardcore of the type that would be at home on the Industrial Strength label. Never heard the original but I doubt the remix bears little resemblance to it. There's one more brief (unnamed) hidden 13th track- solo vocal outtakes by Sergio from 'El Bus'.

While 'Rags to Riches' is essentially a remix album (a good amount of the material coming from their 'Skydancer' album), it is no less engaging and might bring AntiQuark to the attention of an audience who has not yet discovered them. Although there were a couple tracks I didn't particularly care for, the bulk of it is pretty damn good. You can find the album lots of places ' iTunes, Spotify, CDBaby, Amazon, and of course, the band's own website. Definitely worth checking out. I just hope they never lose their quarkiness.