Artist:
Kuhzunft
Title:
Slotmachine
Format:
10"
Label:
Gruenrekorder
Thirty tracks on a 24-minute, 10" release is not a misprint- although in principle it's 90 tracks, in a way. Thirteen different artists have collectively offered up 90 sonic ideas, all given single-word names and all but one of them between 45 and 50 seconds long, and Achim Zepezauer as Kuhzunft has grouped them together into packages of three layers that are run concurrently, each package forming one of the 30 named tracks. It's claimed that this is completely random- hence the slot machine theme- but at times you do suspect that a bit of curation or pre-planning has taken place, on the grounds that some of the tracks work very well together.

The sonic packages include some more traditional instrumentation- piano, harp, guitar, keyboard, and so on- and some truly leftfield elements involving warped found sounds, electronics and post-processing.

Notable results include the nicely mellow and buddly "Pearleaf Ploff Colorida", the slightly Planet Mu-ish "Loving Coffee-Chirps Invasion" and the dark prog-rock-ish "Cry Come-out Flying". "Lucky Godly Mantra" certainly sounds like an avantgarde trio that were performing in the same room, though I can believe (just about) that it wasn't.

Others, like "Rain Pipe Love-Story" with its harsh piano and glitch-meets-rain sounds or "Deadline Planing Port", are more abrasive clashes of ideas where the less-than-a-minute running time is probably a form of mercy.

It's a quirky concept that seems to put both some of the fun and some of the genuine experimenting back into experimental music, and yields an interesting and frequently but not wholly successful set of results.

The idea of mashing together three words also brings to mind the what3words navigation concept, leaving me wondering whether any of these three sets of titles might accidentally (or perhaps deliberately!) point to a specific area on the surface of our planet. Later, if I get time, I'll check...

UPDATE: After posting this review I was contacted by the artist, who pointed out that while the 10" release is not random, there is a website where several hundred of these short sonic layers have been collected, and you get the chance to listen to genuinely random overlapping elements over there, with many thousands of possible combinations. The 10" documents the website, I'm told, and not the other way around.
Artist:
VV.AA (@)
Title:
Merry And Bright
Format:
CD
Label:
Zaftig Research
(@)
Rated:
For a while, ever year Brett Lunceford would release a Christmas compilation on his label Zaftig Research. I believe the last one for a while was in 2008 then it came back in 2017 and now we have the 2018 version to review. I am not usually very good about reviewing compilations because it is tough to break down every single track but I wrote a short little blurb here about each one as I went through them, some two times to get it all in.

Conure: The Return of Ralphie is more sapling from A Christmas Story layered and chopped into an ever-growing noisy nightmare, excellent as expected from Conure!

Darmkwadraat: Electric Snow is a digital soup of synthesizer bleeps and bloops with a noisy edge on top. Great stuff from a pretty new act who as far as I can tell only has one release on Lage Landen Lawaai, which puts out super limited tapes. Lots of fun!

Dead Shall Not Have Died In Vain: Jingle Construct is the track I provided for this compilation, so I will not be reviewing it here ;-)

Goose: Sugarplum Dreams contains a beautiful winter landscape of drones and bells, you can hear the wind in the background and some bells jingling nearby, excellent mood music. A brief version of Dance of the Sugar Plum Fairy shows up at the end.

Praying For Oblivion + Skullwall: Stockholm Syndrome brings together two harsh noise masters with a track of layered chaos. Both projects released a collaboration at the end of 2017 and much like this split they bring in the sound from each project and mix together very well.

Jan-M. Iversen: Christmas Morn brings a beautiful drone piece that is so intricately layered and musical. If you know how prolific Jan-Morten Iversen is you will not be shocked by the talent behind all of his music.

Orange: No Presents For Christmas is another one of Brett's projects, this time though he brings in the Power Electronics to punish our ears, good old school dirty vibes.

Narishkeit: The Ant Eater. Narishkeit appeared on last years Christmas compilation and they also have a release on Inner Demons. This project from the Netherlands has not been super productive but what they are putting out there is pretty great. The project has some mystery behind it but hopefully, we will hear more from them in the future.

Phog Masheeen: It Will Be Christmas In Hell is a weird loungy track with spoken/sung "lyrics" on top of it. I have not heard any of their other work to know if it is like this but it is odd and I'm not sure if I like it.

Weeping Wall: Five Minutes With A Ten Dollah Ho Ho Ho brings a "noise" track that I wouldn't call harsh at all, it is like a broken digital sounding wash of static. Not many changes in the track but I dig it. I can't find much about this project out there, hopefully, more will turn up soon!

Survey Control: Salamajarvi National Park is an excellent stark track that sounds like someone floating through space attempting to make radio contact with someone out there. Gorgeous outer space drones! Sounds a bit like Bad Sector maybe?

Stolen Light: Boxing Day where Brett brings in the layering of noise and recordings from home maybe? Layered professionally and masterfully.

Bardoseneticcube: Ambioz is another classic ambient sci-fi sounding track as would be expected from this project. Never disappoints!

C/A/T: A Letter To Santa sounds like what we have come to expect from Ben Arp after all these years, classic Rhythmic Noise, I am happy to see that Ben is working on new material again!

Collapse: Happy Xmas (War Is Over) Revisited, the first part of that track name "Happy Xmas (War Is Over)" is a John Lennon song but I am not sure if that was the inspiration for the title. Collapsist is a project that I believe uses modular synths. Excellent repetitious waves of synthesizer sounds!

Overall this is an excellent compilation from Zaftig Research, I know Brett has more planned for the label which is very exciting for myself being a fan for years.

Artist:
Bewider
Title:
Full Panorama
Format:
CD + Download
Label:
Folk Wisdom
Piernicola Di Muro's work as BeWider on "Full Panorama" is an unashamed and pure album of instrumental synthwave and electronica with as broad and cinematic a scope as the title implies. Built almost entirely from crisp and quite pure sounds mostly from analogue modular synths, from which loops and patterns are set and then gradually twisted, there's an era-spanning attitude here where some distinctively retro synth flavours are mixed with some more up-to-date production touches.

For the most part it's very thoughtful stuff, quite brooding at times. Pieces like "No One Ever Became Wicked Suddenly" or the nighttime suspense of "Retina" seem custom-made to soundtrack a broody dystopian sci-fi movie. However in its more poppy moments such as the expansive opening track and the gentle "Latitude" it invites comparison with Jean-Michel Jarre or synthwave names like Power Glove, though never really scaling the same heights of memorable melody that would make it equal to J-M J. In amongst these you also get tracks like the boldly simple proto-techno of "Sartorius", and the slightly more drone-minded "The Episode".

With reviewing albums I usually try to wait a while between first and second listens to see if the appreciation of them changes. With this one, as soon as it was finished I clicked play on track 1 again. That's perhaps as much to do with being in the right mood as the quality of the album itself- which at a push I could describe as a bit wishy-washy- but it's a sure indicator of a big thumbs up as well.
Artist:
Original Past Life
Title:
Inference / Interference
Format:
Download Only (MP3 + Lossless)
Label:
Tone List
Three-piece Original Past Life use a combination of improvisation followed by studio reworking to craft a selection of quite gritty pieces that build thick and electronic atmospheres, drones and manipulations around an instrumental core of guitar, bass and drums to give a result that only hangs my a thin thread of connection to the conventional music those instruments are normally used for.

Michael Caratti's percussion work is fairly organic and live-sounding, complex drumming that provides an anchor to jazz and 'normal' music. Adam Trainer's bass work is generally quite languid, exploring long notes and sustains that work at a slow pace that pulls in interesting ways against the drums, while Warwick Hall's guitar seem to have freer reign to twist itself into odd noises, scratches and impulsive expression.

All three of performers are also credited for 'electronics' and in pieces like "Serpentform", the original instrumental work (if there is any) is so heavily processed as to be unrecognisable in a totally digital-sounding environment of rumbles and pulses. In its calmer and less distortion-washed moments it has shades of a moody M83, while "Blessing The Barn" has dub-like levels of reverb that feel nicely relaxed, compared to some of the other pieces which, while never overtly angry, sometimes come across as agitated.

It's a strong collaborative effort that never really feels like it has struck new territory, but is still rewarding with 43 minutes of moody texture.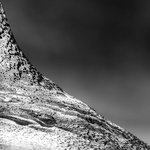 Artist:
Cuts
Title:
A Gradual Decline
Format:
CD
Label:
Village Green
(@)
Rated:
After the EP "A Slow Decay" already reviewed some time ago, Anthony Tombling Jr releases his debut album which is inspired by his concerns about the earth's fragility due to climate changes caused by human actiity. While "A Slow Decay" is something between minimalism and IDM, "A Gradual Decline" shows also ambient influences as there a certain use of drones and textures when there's not the presence of a beat.
"A Gradual Decline" is the only track present in both releases and starts quietly with loops starting sequentially until a beat underlines the rhythmic structure of the track and introducing its impressive melodic breaches. "Shattering Through" develops his synth melodic lines with a slower pace. The sharp distortions of "Polar" underlines its rhythmic structure. "From Here To Nowhere" is an ambient track based on piano chords and filtered female voices upon an ethereal soundscape. "Time Is Not Your Friend" and "Maboroshi" evolve from a drone to a melodic catchy tune. "Pollen" has a suspended atmosphere due to its use of resonances and echoes. "Beauty Collapsing" revolves around a mechanical beat. "Kernel Panic" alternate part based on complex beat to beatless and noisy ones. "Gravitational Loss" is a short drone interlude and "Fear Of Everything" is a long crescendo which proceeds by accumulation of sonic layers to create a soundscape of charming spectral density.
This release confirms the quality of sound construction hinted by the EP and will be enjoyed mainly by fans of IDM and ambient music and could even be listen among the releases of the year. Highly recommended.