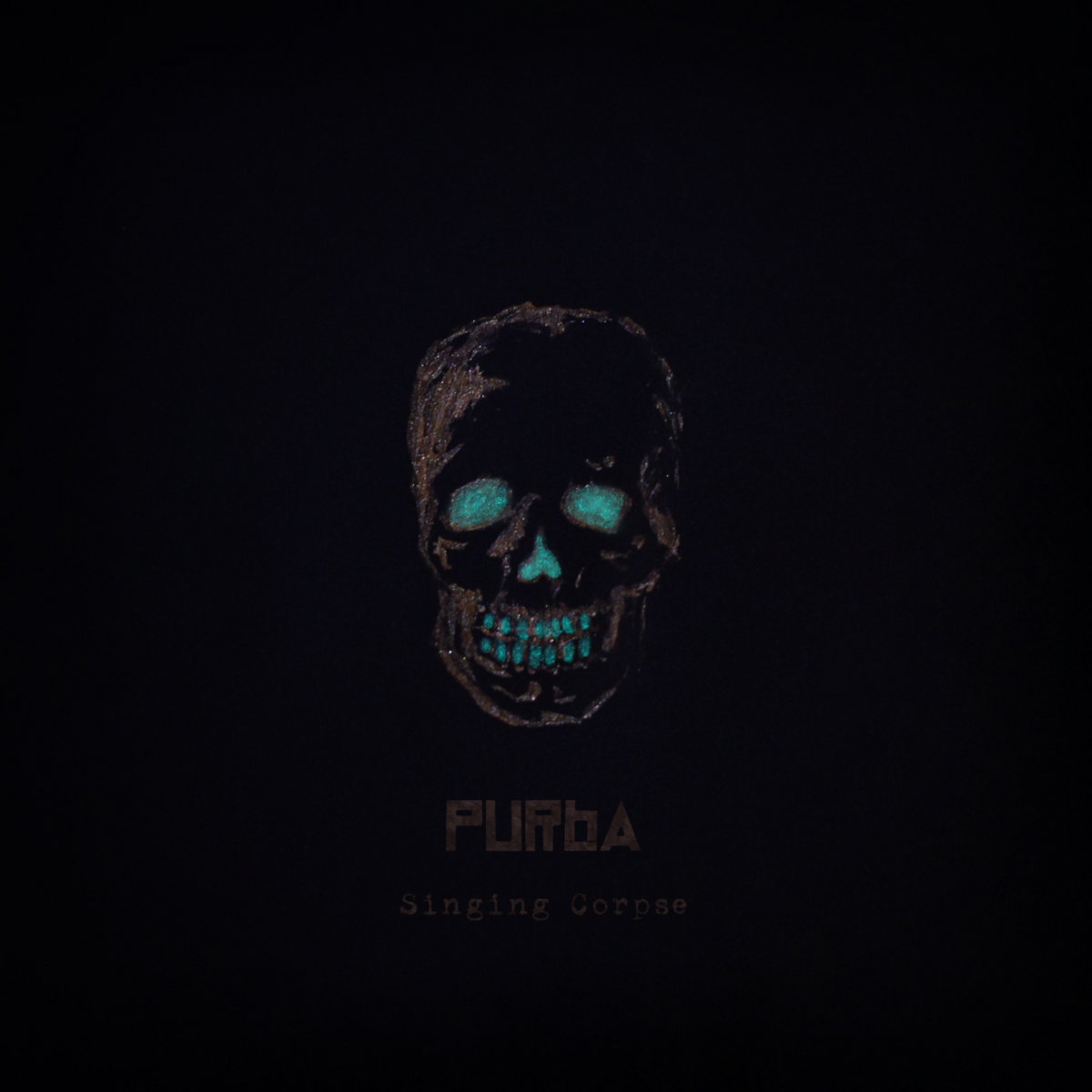 Artist:
Purba
Title:
Singing Corpse
Format:
CD
Label:
Black Mara
(@)
Rated:
This album is presented with a short tale about a men who found an old skull and asked it how he died; in the middle of the night the skull came to him in a dream and admonished him about how he didn't realized how the dead lived better than a king ad they lived without time or seasons. While now is the project of Svyatoslav Ponomarev, Purba started as a trio with Igor Yanchoglov and Alexey Tegin that will start Phurpa shortly after leaving the band. Approximately based on the same concept of the inspiration from Bon tradition and the use of Tibetan traditional instruments, instead of the philologic approach of Tegin's music, Ponomarev includes bits and pieces from musique concrete, noise and industrial, so it's far more varied and less demanding for the listener.
This release is composed by two rituals: "Ritual One" that immediately marks the distance from a strict adherence to the canon of the Bon tradition as it starts with string drone and a concrete beat, as if the drum was a stone, prior to introduce the Tibetan instruments. The ritual evolves in the alternation of noisy moments and subtler one where the exploration of isolated sounds immersed in silence or the overtone singing creates a sort of crossover between industrial and drone music while being neither of the two. "Ritual Two" starts as a more traditional track starting with a sort of gong and a wind instrument which create a meditative atmosphere; then it evolves with a section based on metallic percussion and in very silent part based on a bass percussion which introduce a long final part based on overtone singing and wind instruments which starts as a drone, evolves with evocative rhythmical structures and ends with the overtone singing.
The writing subtended to the execution of the rituals gives a remarkable variety to this release which feature a musical dynamics which is quite a rarity these days plagued with compression. It could be well received not only by fans of ritual or minimalistic music. Recommended.
Artist: Abstract Nympho
Title: Static
Format: 12" vinyl + Download
Label: Static Age

"The Static" is a short 5-track EP from the duo of Rahel Preisser (on vocals, trumpet, and "noise interventions"), and Ghazi Barakat aka Pharoah Chromium providing the rest of the psychedelic and drone noises. Thanks are given to "Gordon W." who contributes steady Eastern-sounding tablas. The result is an 18-minute package of 'un-pop' dreamwave, with organic-sounding drone and super-soft hand-drum rhythms, and Preisser's easy-sounding spoken-barely-sung vocal work front and centre.

After kicking off with a very trippy cover of "Silver Machine", we flow into the duo's first ever track, which sets a poem by Scardanelli (who happens to be Preisser's father) over some plaintive and exotic instrumental calls and a rugged textured synth bass drone.

The B-side starts with another disassembled cover version, stripping Jane Birkin's 1983 "Baby Alone In Babylone" back to essentially just a half-sung acapella with coincidental high-pitched drone and wind sounds. "Japanese Double Suicide" is a short suffix to this where the same electronic noises suddenly go a little loopy and the half-asleep vocal is replaced by manic reverb-laden trumpet squeals, There's a fluid segue so that digitally it appears as one track. It's the only track with a writing credit solely of the duo, and despite being so short, it hints at a different and much more agitated direction that the project could take musically if it felt so inclined. But instead of pursuing that, instead the final track is "Delirium", another German-language Scardanelli poem set to rough-hewn and dark atmospherics.

There's a slightly old-school attitude at play here, a confrontational experimental grittiness that recalls a few decades past, though the production quality is more polished. It will appeal to people who like their electronica deeply arty and best suited to edgy poetry recital events.
Neunau's "Concrete" work in 2016 and 2017 was based on sound research of a form of industrial archaeology, recording the sounds of a traditional ironworks that still involved hand working and old sledgehammers. This work was released as an album, and in turn was performed live inside a disused thermoelectric power plant, and a recording of that performance is also available already.

In effect this LP is a 'remix album', of sorts, because it uses those original sound recordings and reworks them, recycling them (in deference to the work's title) into a collection of mostly fairly minimal rhythmic electronica pieces that rub against the borders of other loose genre definitions as well- sometimes experimental, sometimes techno, sometimes ambient.

Highlights include "Movimento I", which begins as a fairly conventional sounding broken-kick-pattern electronica workout, much like the attitude-laden title track, but which unfolds into more energetic and playful (and at times quite squeaky) territory.

"Anomalia" is more drone-based, a fairly familiar-sounding sonic wash and melodic hum derived from processing and softening industrial sounds into harmonies, that serves as a form of interlude, but there are also grittier moments, including the aforementioned title track, and the impulse rhythms of "Nel Vuoto". The especially brutal distorted subbass of "Rullo Trasportatore" feels like it's only one breakbeat short of being the best track on the next Prodigy album, and it partners well with the slightly milder "Nastro Trasportatore" to form an intriguing little self-contained journey.

It's a very nicely presented limited-edition LP, with hand-printed typography that makes each LP's artwork fractionally unique. Even when detached from its thickly laden context, it definitely still works as one of the more intriguing and characterful pieces of electronica I've heard recently.
Artist: Kiwi
Title: You Want Her Too / Peeling Oranges
Format: 12" vinyl + Download
Label: Paradise Palms

Alex "Kiwi" Warren's first contribution to Paradise Palms' 7" series somehow squeezes a couple of 12"-length DJ-friendly house tracks onto a smaller piece of vinyl.

"You Want Her Too" uses the classic sound and structure of Chicago House, complete with piano and husky repeated vocal refrain, but slowed down to 105bpm for a more sultry and jazzy groove.

At around 120bpm, "Peeling Oranges" is more upbeat, built around a slightly Moroder-ish rolling synth bass groove with a slightly quirky synth-flute melody dancing over the top, again in quite jazzy fashion. The long drop-out of the bass synth extends the mellowness, then plonks back in to satisfying effect.

It's a nice warm pair of grooves that's old-fashioned dance music, in a good way, and should do well at infusing a sense of foot-tapping peace and satisfaction on sophisticated dancefloors.
Artist:
Nikos Stavropoulos
Title:
Micro-lieux
Format:
CD + Download
Label:
empreintes DIGITALes
There's a strongly academic approach at work in UK-based Nikos Stavropoulos' first album (perhaps unsurprisingly for someone with a Doctor title). It's a compilation of eight works dated between 2003 and 2017, each typically between seven and eleven minutes long and each accompanied by their own independent explanatory paragraph that describes or justifies it with reference first to its title, then by the musical process by which it was reached.

Despite being a compilation spanning works over more than a decade though, this still holds together with the consistency of an artist album, because of a relatively singular and persistent approach. Predominantly, this is electroacoustic music with quite a bubbly nature, transposing biological data and rapid but arhythmic organic noises into fragile-sounding synthetic tones. It's frequently scratchy, but interspersed with occasional thicker and wetter bass noises and rumbling percussive grumbles that add an unpredictable drama. The result is both atmospheric and alien, with a generally intimate, sometimes almost claustrophobic tone.

Pieces like "Ballistichory", despite being inspired by seed dispersal, sound organically alive in a way that is unlikely to appeal to anyone with phobias of crawling insects, sounding as it does like angry ant colonies microphoned up while they strategise and attack. Other works like "Nyctinasty" and "Granatum" are drawn from very similar source remedies but are a little mellower, despite still being rapid- like a sonic interpretation of what vegetables would sound like if they could tweet like songbirds.

"Granicus" stands out as an exception, by drawing from ancient-sounding Eastern European and Asian dance rhythms that are contrasted and contradicted against themselves to some degree, but which for the most part hang together as a dramatic piece worthy of a dusty, desert-based, before-the-battle-tension scene for a non-existent movie.

There's something a little over-familiar about the release as a whole- the combination of wet and bubbly organic grain noises feel a little like an electroacoustic staple and it doesn't feel like any new ground has been identified with it here. To its credit though it is a polished and accessible example of it, with accompanying texts that serve well as an introductory process for new or sceptical listeners.