Describing their sound as "fortean" (i.e. "pertaining to extraordinary and strange phenomenon and happenings"), Satori present to the fans of devilish atmospheres a CD reissue (containing also a bonus tracks titled "Pavor nocturnus") of their vinyl album released in 2007 by Dogma Chase. The title KANASHIBARI is a Japanese term for sleep paralysis (literally "bound or fastened in metal") and this made me recall the times I had a sort of o.b.e. experience when I was a youngster. You feel your body heavy while it's like you're staring at yourself from outside your body. You'd like to move but you're like made of cement. "Hypnagogic state" and "Nocturnal fury" create a nightmare atmosphere similar to the first moment you realize you aren't able to move, while "Unseen force" sound like an horde of demons that are rumbling because someone is evoking them. Justin and Neil are good at creating these anxious scenarios where horror and magick meet. Try them...
image not
available
anymore
Available as free download at the Autopsia website, FACTORY RITUALS is a soundtrack they did for an exhibition held in Belgrade back in 1989. The seven tracks of the album bring me back to the sound of the early Autopsia releases (the "Palladium", "The Knife" and "Death is the Mother of Beauty" years") when they used choruses, industrial sounds and military rhythms. I really appreciated this release as the tracks are able to create an hypnotic atmosphere (see track IV for example with that looped strings/blows orchestra) avoiding the boredom effect. Mind you, Autopsia isn't offering these high quality mp3s for free because they aren't worth a CD release as all the seven tracks are good ones. Download them all while they are available!
image not
available
anymore
Artist:
LE][X
Title:
Quarantine
Format:
Download Only (MP3 only)
Label:
Dead Channel
(@)
Rated:
This isn't surely the freshest release around released and marketed by the influential Russian Dead Channel label and promotion group. I was holding this thing for a while, have had some email correspondence, but totally forget about to take care on it. I recently came back on it while cleansing some emails, I gave it a spin – and I'm totally impressed! One thing's for sure, I do never again underestimate a release and the musically abilities of an act from where it hails – LE][X is a mysterious Electro/Industrial project hailing out of Ufa, a bigger Russian city with a population of more than 1.000.000 people, very near the Ural mountains. Musically I would to throw this act in similar shelf of the musically direction, which has made acts like the Swiss SWAMP TERRORISTS that famous. "Quarantine" offers not less than 20 tracks of a massive Electro/Industrial assault with dark synth bass-lines, pounding and hammering rhythms, which often integrate D'n'B and Breakbeat influences, accomplished with a diverse sounding sample work. Vocals got provided on only a few tracks and then in Russian language, while most of the tracks have English titles. I must say, that this one is real firework full of diversity and entertaining from the first to the last track. A big talent hides behind LE][X and I even can't name the artist behind it, because the attached artwork of this free downloadable release doesn't offer too much info. Too bad, I even can't tell you if this act meanwhile has started to present itself through a MySpace-account. However, this album is a great discovery and worth any download (licensed under Creative Commons rights), and I hope to hear more from this act. Check the above named link to the Dead Channel group for more info.


I can't say I have fully enjoyed this album, because Prurient's THE BLACK POST SOCIETY is perfect for causing damage to your hearing. Behind a sort of new primitivism attitude (the info sheet talks about the depression of the hunter after he kills his prey) Prurient aim is to keep the adrenaline level high by creating a saturated wall of sound where behind distorted vocals you can find echoes of melodies and structured layers of industrial sounds. Having a sort of black metal approach to sound, Prurient recorded vocals that are at least 10dB higher than the rest and then built tracks that could be interesting if decrypted. "Rose comet" for example has a first part where vocals are kinda balanced and then you can listen to the industrial dark ambient texture he created. The same goes with the following tracks "Wooden weapons", "Mask of the boys" and "Month lengthening into years" and actually if you are into this genre you can like the maniacal atmospheres he proposes. Lyrics are kinda hermetic as their structure recalled me haiku where flashes of phrases are given to express a situation.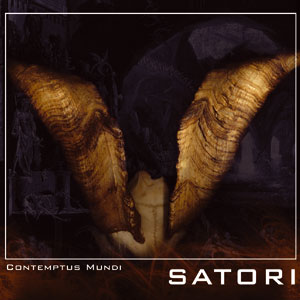 Artist:
SATORI
Title:
Contemptus Mundi
Format:
CD
Label:
Cold Spring Records
(@)
Rated:
Originally formed in 1987 (at the time of their Broken Flag tape) by Dave Kirby and Robert Maycock. After Maycock's departure, Justin Mitchell joined in early 1994. Satori disbanded in 1996. A decade later Mitchell resurrected the project with Neil Chaney (Pessary) and soon after they released a split live album recorded in Japan with Sutcliffe Jugend. CONTEMPTUS MUNDI is the third release of the new Satori incarnation (before that they released on April 2008 an album titled "Kanashibari", reissued now on CD by Cold Spring) and it sees the collaboration of Magus Peter H Gilmore, High Priest of the Church Of Satan reading his writing. The main track is based on an adaptation of an the essay "Pervasive pantywaistism" published on Peter H Gilmore's book titled The Satanic Scriptures published by Scapegoat Publishing. On the essay Gilmore criticize the weakness of the modern world and it remembers me Boyd Rice when talk about new Darwinism issues. Musically the track convinced me as it creates a thick mix of magmatic sounds with distant drums, treated chants and creepy atmospheres which seem coming from the bowels of the earth. The second track of the album is a revised instrumental remix of the first one (for this reason I cut half star from my rate).