Artist:
Formaldehydra
(@)
Title:
Hag Harbor
Format:
3" MiniCD
Label:
Inner Demons Records
Rated:
I could not find a whole lot on Formadehydra, except that the bandcamp page states that the hail from Lakeland Florida. I finally found an Instagram page that links to Dylan Houser, so it seems that this is another project from the same person. I had previously reviewed Houser's "Thunk," which I described as "a chaotic mess, which is everything that noise should be," so I figured that I would be in for some noise. This disc departs from Thunk's clanking, rumbling feedback-laden composition in favor of a wall of rumbling noise. This is pleasant listening for the noise aficionado, but as I have stated before, I like some variety in my noise. Thankfully, this is well balanced, with bits of high end quietly emerging from the staticy bass rumble. I enjoyed it enough on its own, although I would have liked a lot more to happen in a 22-minute track. What makes this particularly interesting is listening to it and considering the exterior sounds that interrupt as part of the composition – the planes flying overhead, the dog barking outside, the people talking outside of my window. One can easily think of this as a noise version of John Cage's 4:33 where the audience must contribute to the composition. This album weighs in at 22 minutes.
Artist:
autoclav1.1
(@)
Title:
Overtime EP
Format:
3" MiniCD
Label:
Inner Demons Records
Rated:
I had previously reviewed autoclav1.1's "Daylight Saving EP" and enjoyed it a lot, so I was interested to see how this would compare. "Daylight Saving" was heavy soundscapes, and "Overtime" keeps this going. "On Call" kicks it off with almost peaceful, slow moving synth drones. This is reminiscent of some of the dark ambient work that Cyclic Law has put out over the years. "Housebound" switches it up, with a more ominous bass drone and metallic chimes in the distance. Bits of scraping noise come in at times to break it up. great composition that keeps things interesting. "Released" takes us further down the rabbit hole with an orchestral track with muffled martial percussion. This is not quite as bombastic as Phragments or In Slaughter Natives, for example, but it is in the same ballpark. Another solid release from this artist. This album weighs in at around 18 minutes.

Artist:
This Is What I Hear When You Talk
Title:
I Really Want Brett To Like This, But He Probably Won't
Format:
3" MiniCD
Label:
Inner Demons Records
Rated:
This Is What I Hear When You Talk is the harsh noise wall project of Dan Fox, the driving force behind the Inner Demons label who also records under the names Loss, FFI Digital, Fail, and a host of ever-expanding projects. I have reviewed a few discs for Chain D.L.K. under this name, which gets us to the title. First off, let it not be said that all of the people recording in the HNW scene take themselves too seriously. I laughed heartily when I saw this disc because I am the Brett he is talking about. The title is a reference to a review I had done of one of his discs under this moniker that I wasn't really into. That particular release was a bit too static for my tastes. I like some variety in my noise, and that release just didn't seem to go anywhere. Now that we have that disclosure out of the way, let's get into the disc itself and get to the burning question on your mind, considering the title of the disc: "did he like it?" The answer is yes, I did. This is comprised of four 5-minute tracks that each function as a series of exercises in repetition, but there is much more going on then 20 minutes of white noise. It was either Friedrich Nietzsche or Gloria Estefan who said "the rhythm is gonna get you," and that plays out here, as rhythm plays an integral part in each of these compositions and functions as the thread that ties all of these tracks together. "I" starts us off with stuttering feedback and hum, that keeps things moving along. You keep waiting for the feedback to overpower the track, but it keeps being pushed down by the staccato static. "II" brings to mind an off-kilter machine trundling away in a factory. Just as you settle into the track, it shifts gears once again and we move into "III," a rhythmic track that starts to mess with your head over time. Unlike the previous tracks, this is not a percussive beat, but rather a syncopation in the sawtooth waves that gives a sense of movement. Still, as you listen you could swear that things are shifting ever so slightly, even as the rhythm reminds you that you are still swaying to the same dissonant beat. "IV" closes the disc with a nice grinding slab of crackling noise. Once again, there is a rhythm buried in the layers of static. Overall, if you have found HNW to be too boring, this disc avoids those pitfalls, while retaining the repetitiveness that many find soothing. Well worth checking out. This disc weighs in at 20 minutes.
Artist:
Siavash Amini
Title:
Serus
Format:
12" vinyl + Download
Label:
Room40
In four-part, 33-minute work "Serus", Iranian composer Siavash Amini offers up "an ode to night"- from a composer whose, by their own admission, intoxication and lack of sleep led to being hospitalised by a nervous breakdown. But this is not the sound of a nervous breakdown. Primarily this is calm part-acoustic ambience, soft and sedentary, but with occasional touches of cold and texture that open up thoughts of dreams and other gentle disquiets- but if these are nightmares, they're extremely mild ones.

After some crisp rumblings, hollow-sounding echoes and a prevalence of space in "A Recollection Of The Disappeared", "Semblance" initially has a brighter and more melodic atmospheric piece initially, but one where sharp digital squeaks and short metallic noises gradually encroach, like angst edging into a dream.

"All That Remained", in two parts, is a little more wave-driven, with different sounds washing gently over you in minute-long audio curves. It's here that the contributions of Nima Aghiani on violin and Pouya Pour-Amin in electric double bass are more noticeable, the arrangements being given a soundtrack-like and cinematic feel by association thanks to the plaintive and drawn-out long violin notes in particular. As with the pieces before it, more awkward and harsh tones are waiting in the wings as the piece unfolds, before themselves fading away for a more settled resolution.

Although it's tinged with unsettled thoughts- and in the current global political climate, let's face it, who isn't?- and although it has a background in serious levels of insomnia and borderline mental health issues, the sonic end result of this expression is rather sedate. It's laced with enough texture and detailing to be appreciated in focus, but it's also level enough that you can let it wash over you if you prefer. A very well-balanced piece of work.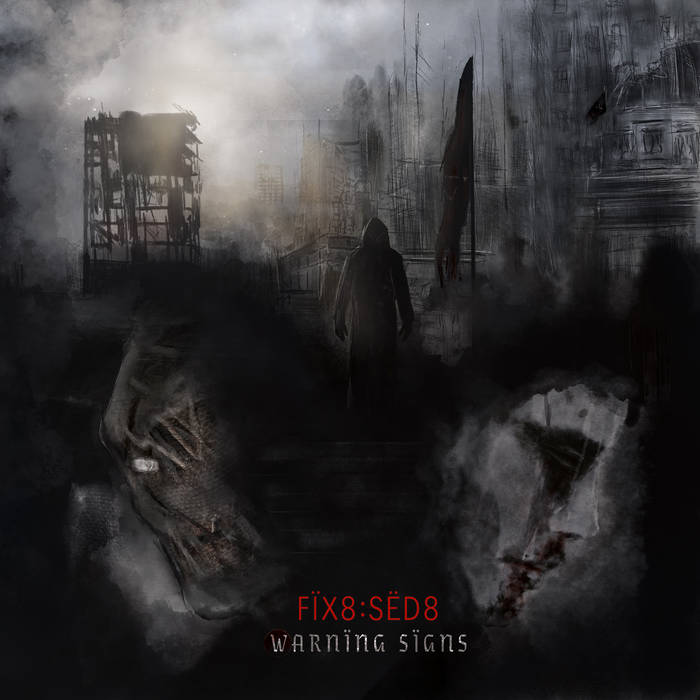 2019 seems to be generally a perfect year for friends of true and authentic Dark Electro music just if you look on the latest releases of the such hit-spotters like FLA, Amnistia, Statiqbloom, or the upcoming comeback of the Canadian legend entitled Numb. Martin Sane's solo-project Fix8:Sed8 isn't an exception and also not at all an undiscovered fellow on our site here, as this young German fellow produces his classic, verteran-styled kind of Dark Electro music since 2006. A funny as well as sarcastic interview with him can be read here: http://www.chaindlk.com/interviews/Fix8Sed8/ .

Meanwhile, after being a loner with his first two self-released albums "Humanophobia" and "Dormicum", Martin has signed a contract to the rising German Dependent label. In 2017 his third album "Foren6" has seen the light of the day and with its success he has approved his status as being propably the best-fitting "official" heir of the sound ideas taken of the Skinny Puppy and/or Mentallo & The Fixer fame. His style and personal preference is pretty much based on that retro Dark Electro sound of these obviously idols - so much that one could easily confuse Martin's outfit to them. But actually also Martin developes in his retro-oriented but still unique sound. He always works hard to add a fresh breeze through multiple vocal effects, he eplores more and more into a melodic and atmospheric facets with various layers, ominous-sounding pads und richly programmed drum patterns so that the listener needs to invest some time and concentration until the content of his musically expression creeps completely into mind.

This is it where it also starts with "Warning Signs", Martin's all new 4th studio album. After his excursion into the wide and thrilling field of medical forensics, the album "Warning Signs" thematically deals with the ongoing dystopic downturn of our societies. But actually if I nowaddays switch-on my TV set to watch such a simple thing like the daily news I am far away to rate what I see as "warning signs". According to the latest world-wide politically happenings, Martin should finally consider to name his album "Shrilling Alarm Sirens" as this title would unfortunately fit better.

The starter track "Embolism" is a bone-hard, slow stalking monster track with various different sound vocal effects and raw-cutting noise layers thrown into the mix. For sure an ideal opener of purest agony. The tone gets slightly smoother, as both following tunes, "Parasite Paradise" and moreover the over 7 minutes clocking impact entitled "Empyrean" point out a more catchy outfit with breathtaking thick synthesizer pads and cold effective layers. Most of the album tracks are based into the mid-tempo field and only a few bring back memories on his debut release "Humanophobia" on which Martin has explored a more danceable side. "Within Cells Interlinked" stands representative for this straight direction and offers from the start a punchy and fast-pacing outfit which is able to set fire under the dancefloors of all dark clubs. Maybe this track will be discussed controversially within his fans but to me this is definitely one of the highlights on this album. Ripping bass line sequences and furious lead sounds remind a lot on one or another Front Line Assembly-related idea, but also to place this rather unusual track at position 6 and so right in the middle of the whole album turns out to be a perfect decision.

It follows a track simply entitled "Love" and with this one I had hopes to find that very one special element I was longing for: The combination of the very different elements between the dark and brooding Puppy-an sickness with the melodic and fragile magic which Martin has offered us before with such timeless hymns like "Killing Fields", "Minotaurus" or "Hiob". Let's rate it fair, "Love" is another brillant Fix8:Sed8 mid-tempo track with perfectly installed vocal samples, but at least it isn't the pearl I was lurking for. Actually this special pearl isn't available on "Warning Signs".

This is maybe that tiny point of criticism because the experienced Fix8:Sed8-listener gets a perfect constructed Dark Electro album pretty much in that style as expected. With the exception of the already mentioned "Within Cells Interlinked" this album avoids unforeseeable style variations. Most of the fans would rate this as a quality. I tend to say that after 4 studio albums a form of known routine has taken impact and there's the danger that any upcoming release will be more harder and challenging for Martin to avoid repetition.

But however if you look on Martin's latest efforts with various concert trips (in South-America for example), invitations to renowned festivals like the German "Familientreffen" or "Amphi Festival" and his ongoing club tour, this all has brought more and more attention to him and his output. The times where he was relatively shy and felt not ready prepared to leave his studio or to give production-related things away into third hands are defintely over. "Warning Signs" offers pretty much everything you would expect of a post-modern produced Dark Electro release, nearly in a compareable vein of the beloved colleagues like Pyrroline, Object or Tri-State. Get it, this one is not to be missed!