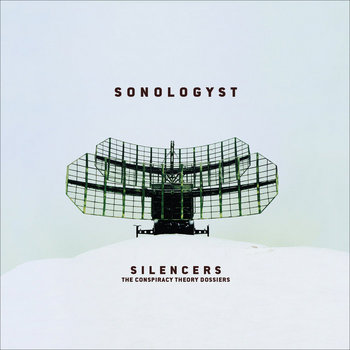 Artist:
Sonologyst
(@)
Title:
Silencers
Format:
CD
Label:
Cold Spring
(@)
Rated:
This new release by Raffaele Pezzella is introduced by the long story of the booklet which informs the listener of the story of the so called "Men in Black". As the underlying theme, the alien invasion, is a canonical topic of sci-fi even today, there's a risk of déjà-vu in the overall project and this is overtaken with recurring structures along the tracks so there's a sense of a concept album which is usually absent in the genre today.
The drone and the loop that are the main elements of "Singularity", the quiet track that opens this release, introduce the listener into an audio space vaguely reminiscent of certain sci-fi atmospheres. A pulsating noise is the glue that tie together the elements of "Monotape" so the transition from drone to noise has a narrative while "Nocturnal Anomalies" begins to have a more structured approach instead of relying on the nuances of sound. "Deep Black Programs" is a guitar, processed to sound like a synth, interlude to "Silencers" whose juxtaposition of drone and loops create an evocative atmosphere which is menacing and quiet while "Close Circuit" with his use of processed string is more oriented towards drama. "Anamorfismo" is a slow but implacable crescendo while "Infrared" with his use of oscillators is a link to the tradition of this sound. With his use of voice declared in the title, "Secret Societies. The Kennedy Speech", is the more stratified and interesting track of this release. "NASA Classified Tapes" closes this release as a coda of the previous track.
The main quality of this release is the use of sound as a function of the message and the imaginary evoked in the booklet of this release. Instead of a relentless research of a cool sound or a sonic special effects, this is a tale. Recommended for fans of the genre.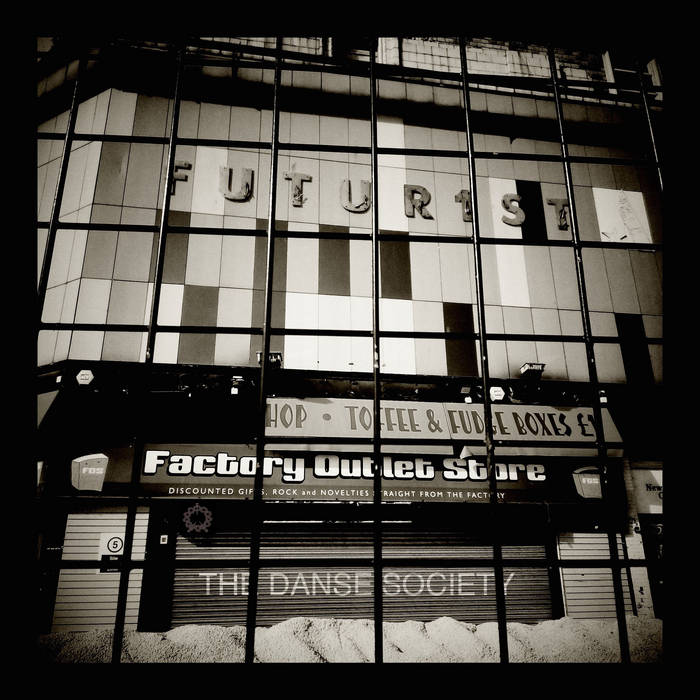 Artist:
The Danse Society
Title:
Futur1st
Format:
Download Only (MP3 + Lossless)
Label:
Society Records
Rated:
Released as a digital only single, "Futur1st" is the newest release for The Danse Society. While waiting for the conclusion of their seventh album's recordings, this single is available on Bandcamp to help raise funds for The Sophie Lancaster Foundation and contains the cover of N.I.N's most famous song "Hurt", plus " One thought in Heaven" and "Scream". Being covered also by Johnny Cash, who did an incredible version which in my opinion is better than the original, it was difficult to top that. The Danse Society did a good job with their version taking a bit of inspiration from the Cash's one by starting with a whisper and then exploding in the final part. Maeth reached her darkest memories of abuse and gave a good performance on the song. A curious note, Danse Society choose not to follow exactly the melody of the verse and this is giving a distinctive character to the track. The following two tunes are really nice: "One Thought In Heaven" is a classic song in the style of the reformed band which is redefining their dark sound adding somehow a bit of rock and "Scream" is sounding a bit new wave and has echoes of Siouxsie And The Banshees with some 00s flavour. Nice release that you can find at the band's Bandcamp page (https://dansesociety.bandcamp.com/album/futur1st) and at a the main digital stores.
"Hippopotamus" is a compact 34-minute album of mostly relaxed, dubby, sub-bass heavy beats in complex, dancehall-like patterns, built with low-end sonics reminscent of Leftfield or releases on labels like Hyperdub, over which relatively simple synth chord progressions and digital atmospherics roll steadily and confidently.

Sebastian Schnitzenbaumer (BELP) was born and now lives in Munich but partially grew up on the Seychelles islands, and there are dual European and African influences on show here, as there are the dual influence of classical music training and an obvious love of deep dub and beats.

It's almost entirely instrumental, with minor exceptions, such as the spoken word material on the opening track. Ending the first side with one minute of pure opera in "By Beauteous Softness" is a confident and effective touch.

Highlights include the rubber-bassed weirdness of "Clinging To A Cloud", the sci-fi-dancehall crossover of unimaginatively titled "Space Dub", and the atmospheric jazzy tones of "Time And Again".

It's a really well-formed release that doesn't outstay any welcome. Certainly a release worth appreciating in an environment where you can really enjoy the bass, people who like their electronica dubby and deep should put this right at the top of their wishlists.
An overt fusion between Northwest African traditional sounds and rhythms and sci-fi synth production, Sofyann Ben Youssef's album as Ammar 808 is a bold bit of confident sample-driven electronica with a fresh-sounding and enjoyable vibe.

The time signatures are a blend as well. Some tracks, like "El bidha wel samra", follow traditional 3 / 4 and less DJ-friendly patterns, and I'm not even sure what time "Layli" is in. Others, like "Alech Taadini", have a 4 / 4 arrangement that would allow them to place easily in a broad-minded mix.

"Kahl el inin" is a prime example of the album's harder-edged moments, that really justifies the use of the 808 in the name- thick, pure, subbass rumbling in a sort of ethno-techno- while by contrast tracks like "Boganga & sandia" have a more celebratory tone that is inherited from the vocal source material which, as far as I can tell, is treated with reverence and left structurally intact while the beats are built around it.

Over ten tracks, almost all under four minutes, it's a tightly-packed collection of energetic dance numbers that doesn't outstay its welcome. While it's not going to win any awards for clever musical fusion, it's easily carried by a feel-good factor and a deserved confidence in its own quality that definitely deserves a thumbs-up.
Describing himself as an audio-visual artist, Tom Hall's instrumental album "Spectra" sits somewhere between conventional synth-electronica- with hints of symphonic synthwave- and more experimental and drone tones, but with a reverent attitude to tonality and melody that prevents any of the pieces from stepping too extensively into the latter category. Hall openly references a broad set of influences from musique concrete to 'quasi-pop' and it's an interesting melting pot that produces results that, while not revolutionary, certainly have a quality taste.

The release doesn't retain the energy it begins with when opener "One Fell Swoop" starts, settling down into more atmospheric territory over time, but it's not without its energetic elements- "Remain", for example, has strong hints of the rapid-cut granular synthesis heard on BT releases like "This Binary Universe".

The 'one track to listen to on Spotify to see if you'll like the album' track would probably be "Intersect", which gives you a strong idea of what's going on here. The organ drone of "Ebb" could pass as the experimental final track on an EBM album, with some parts sounding like an early Chemical Brothers release with the beats taken off- last track "Last Retreat" reminds me, rightly or wrongly, of a beatless "The Private Psychedelic Reel". "Flow" runs on similar lines but with some more unusual, ethnic-sounding bowed elements that give it a more distinctive profile.

Working with digital synth sounds commonly found in synthwave and pushing them into slightly more improvised, soundtrack-like and experimental directions, without losing track of their primary associations, "Spectra" is pretty successful without being eye-opening.