Artist:
Feldermelder
Title:
The Sound Of Remixes
Format:
Download Only (MP3 + Lossless)
Label:
-OUS
"The Sound Of Remixes" is an unfortunately glib title, reminiscent of supermarket-level "best dance music ever" compilation CD's, but since Feldermelder's EP was actually called "The Sound Of", then the title is at least justified. And make no mistake, this is nowhere near supermarket music.

There's a total of three reworkings. Both Zavaloka's version of "Another Place" and Shao's remix of "Shanghai" are short affairs, little packets of broody beat-electronica. The former feels like bold and atmospheric intro music to an EDM album, while the latter sounds like scratchy, suspenseful in-game music, mapping out a heartbeat rhythm under gritty strings and synthesis that feel like they're conscientiously not going anywhere.

More than half the release is filled by Feldermelder's own self-reworking of "1st _ 62nd", a nine-minute exposition of fairly frantic but lightweight industrial beats under rapidly washing metallic-sounding atmospherics that gradually twist and bend their shape.

It's a strong example of chin-stroking electronica from the borderlands outside dance music, but there is a slight sense of it bringing nothing new to the party, featuring too many sounds you've heard before and somehow just falling slightly short of gripping.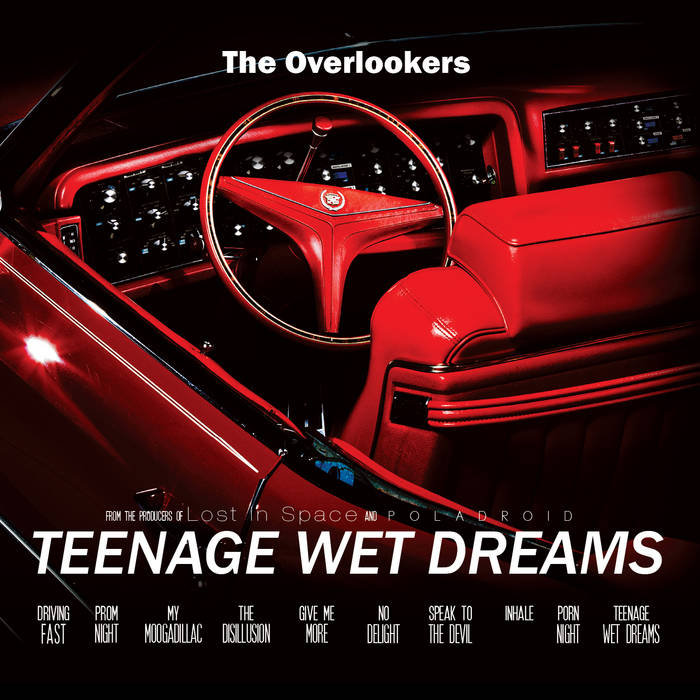 Artist:
The Overlookers
Title:
Teenage Wet Dreams
Format:
CD
Label:
Boredom Product
Rated:
Anticipated by the E.P. "Driving Fast", The Overlookers are delivering to the electro-pop lovers, their first album "Teenage Wet Dreams". Containing ten songs (well, that's nine if you count "Porn Night" as a "Prom Night" reprise) of which four we already checked with a different version on the E.P., the album will please the Depeche Mode fan but not only them. Formed by XY (Foretaste) and JB (Dekad), Overlookers took the fifties aesthetic made of sexy cars/girls and transposed it to the 21st century with a blink to the 80s. The duo got inspiration by 80s synthpop/ebm and if you check their other projects, I'm pretty sure you'll find something else you may like. The quality of this album resides in the fact that it's catchy since the first listening and it won't annoy you after a couple of times: the duo did a great job by packing the album with upbeat songs and dark ballads full of catchy melodies, great synth sounds, and top production work. Some tracks will recall some atmospheres and melodies a la Depeche Mode but The Overlookers' sound is personal and doesn't copy the one of the Basildon boys, luckily. If your preferred Depeche Mode period is going from "Black Celebration" to "Violator", what you won't get from Depeche Mode anymore you'll be able to get from The Overlookers! The album is available on streaming, digital download and deluxe six panel digifile CD.
Artist:
Angelina Yershova
Title:
CosmoTengri
Format:
CD + Download
Label:
Twin Paradox Records
Established Kazakh composer Yershova has a strong list of collaborations under belt and has worked with symphony orchestras, However this release is entirely her own work, with Yershova credited as writer, recording artist, producer, mixer and masterer of her own destiny here, in an album that sounds close and introspective, but which avoids sounding small. The result is an incredibly versatile showcase for a multi-talented artist, with a lot of breadth of moods and styles.

Opener "Korgau" (for which there is a YouTube video) is an expansive work of scratchy and discordant string with an old-school experimental feel, supplemented by thick damp-sounding atmospherics and very sparse use of vocal chords, and it truly shines and is understandably the album's lead.

It's not averse to a bit of rhythm either. "Tumbleweed" introduces a lovely sparsely-laid rubbery bass note, and some familiar-sounding curt electronic glitch-click rhythms that don't feel particularly original but which integrate well. The heartbeat and whispered vocalisations of "Kamlanie" that unfold into more urgent-sounding electronic rhythms definitely feel 'done before' but are nevertheless well handled. After that, "Jelsiz Jel" takes a decidedly modern trip-hop twist, before the title track hybridises organic instrumentation that teeters onto 'world music' with mellow drone atmospherics. This mood flows smoothly into "Khan Tengri" which brings shades of dark electronica and just a shade of what is possibly throat-singing into the mix for something darker and more suspenseful, before final track "Ecstatic Dance" channels quite a strong gaming-style sense of underscored drama.

As a curriculum vitae for film score, compositional or production work it is exemplary. And almost as a bonus, it works pretty well as a listening album too, bringing forth thoughts of soundtracks to picture and long-form story-telling. An album with real character.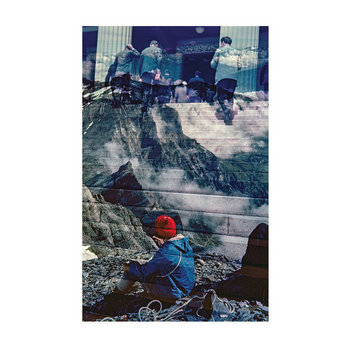 Artist:
Mark Vernon
(@)
Title:
Magneto Mori: Kilfinane
Format:
Tape
Label:
Canti Magnetici
(@)
Rated:

Mark Vernon is a Glasgow-based artist whose work is inspired by the experience of radiophonic listening as an acoustic experience. "Memento Mori" is based on a vision of tape as a storage for memory so "Kilfinane" is the name of an Irish mountain town and the sounds where recorded there. The constructivist aspect of this composition is highlighted by the fact that the recordings were cut and spliced into the piece in random order so the listening experience is free from a narrative aspect. To further add an element of fragmentation the tape was buried to obtain a degraded sound which have a dialectic with the clean digital recordings which are the other element of this opus.
The first side of tape, called "unadorned" is made out of field recordings of the town and the result of the editing and the process is a sort of dialogue between the clean voices, presumably digitally recorded, and the dirty recordings of the everyday sounds so a sort of nostalgia for a place which emerges as a memory appears to the listener. The other side, called "embellished", is based upon radio archives so it covers, according to the liner notes, almost twenty years of the town history; while it could have been predicted as more verbose than the first side, it's instead sonically more elaborated than the first side as it almost features no dialogues and the field recordings from the community events creates the impressing than it was a more lively place than it is now.
A rather impressive work which requires a certain imagination from the listener to figure the criterion of the choice of the fragment and these days is important that an artist remind to the audience that we record thing as an aid to memory not to exhibit them on a social. Recommended.
Artist:
m1nk
(@)
Title:
m1nk = em one en kay
Format:
12" vinyl + Download
Label:
Seja Records
(@)
Rated:
Man, it's been a really long time since I've heard any good, new trip hop music, and while m1nk's debut album (the title of which is to get you to pronounce their name correctly, instead of calling them "mink") isn't exactly classic trip hop, it's still downtempo and noirish enough to be genre receptive, and remind you of the best things such as Portishead, Massive Attack, Anne Clark, Bowery Electric and the like. Erika Bach's voice slithers snake-like coiling in the darker recesses of your brain while Barry Snaith's instrumental Pandora's box unleashes all manner of strange in a soundscape you can't escape. There are times Erika's voice is just so Beth Gibbons, but her lost soul persona wanders in terrain far darker than Gibbons' milieu. One of the tracks on the album is titled "Psycho Erotic," (third track, actually) but that could be applied to the music on this album in general. Most of the music (instrumental portion) is more atmosphere than any traditionally defined music form, but that's what makes it work so well. You might be able to dance to some of it in a hipster, Audrey Horne, Twin Peaks roadhouse sort of way, but it's more conducive to an opioid stupor (not that I'm promoting that sort of thing; neither are they I imagine) than any potentially strenuous activity. Erika Bach (aka Lola Demo) is from Ithaca (Greece, not New York) and Barry Snaith is from Wakefield, UK, but they sound like they could be from anywhere...Soho NYC, Berlin, Paris, Slovenia, wherever, that has a passion for the underground. As slow as this stuff moves (and it is very downtempo and sloooowww) the ten tracks over 47 minutes go so fast you'll wonder where the time went. It is rare that a debut album is so deviously, perfectly delicious that it shoots to the top of my chart like a carnival high-striker, but 'm1nk = em one en kay' is such an animal.

UPDATE: When I originally posted this review I though the format was CD & download (likely because what they sent me was a CD, but it's actually Limited edition (300) VINYL (12") and download, with a bonus CD added with a vinyl purchase. This is sort of better in my estimation because vinyl definitely trumps CD, but you get the CD anyway. You just can't loose, and since this is as good as it is, I wouldn't expect stock to last very long.