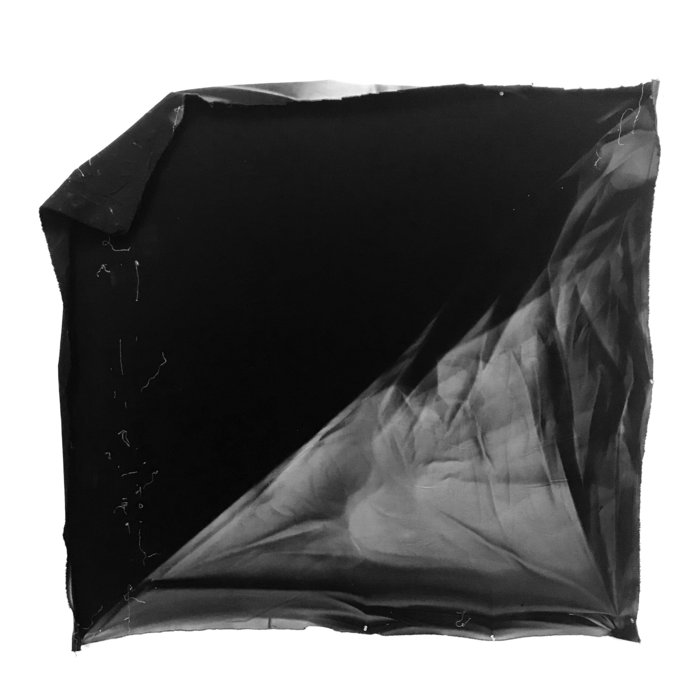 Artist:
Geneva Skeen
Title:
A Parallel Array Of Horses
Format:
Download Only (MP3 + Lossless)
Label:
Room40
(@)
Rated:
The title of this release is borrowed from a geological phenomenon in which mineral veins are able to completely separate rock blocks, and it's a metaphor for a society divided by elements of precocity. The aim of this release is the depiction of a sort of being in the world as an exercise of presence instead of action, a matter of understand prior to modify. From this summary of the liner notes, it's almost evident how Geneva Skeen could be placed among the artists whose opus is driven by a conceptual focus and is inspired by philosophical concepts.
As the first track, "The Sonorous House", starts with field recording of an house during a monsoon which gives a background noise, the other element slowly unfolds and are stacked until the synthetic sources, based on oscillators, develop a trajectory form isolated sounds to a sonic continuum. "Los Angeles Without Palm Trees" uses nightly sounds as a background for a drone which slowly emerges after a percussive part moving in the binaural field. "A Parallel Array of Horses" seems a drone track but it's instead a juxtaposition of continuous tones whose timber create a meditative atmosphere. "Frain, Refrain" continues in the same vein but using filtered voices instead of drones taking advantage of countability. Closing a circle, "Flutter in Place", starts with a drone which slowly fades in a field recordings of singing bats mirroring the structure of the first track.
This is release dealing with familiar musical structures to those accustomed to experimental music based on drones, however the remarkable sound quality and sense of writing makes this one a release that could be enjoyed. It's worth a listen.
Opening with an ominous, low-end rumble that builds with subtle overtones that suggest impending doom, we have BedouinDrone's title track, "The Border" that sets both the mood and theme for this mostly ambient-drone release. The Border is also comprised of field recordings of traditional hand percussion and wind instruments while shouts of Allah-hu-Akbar (God is great, in Arabic) are discerned through the atmospheres. While nowhere explicitly listed, the ghost of the late Bryn Jones aka Muslimgauze haunts The Border and perhaps this could be a tribute to the late great artist. Those familiar with Muslimgauze music can discern similarities such as the use of field recordings of Muslim cultural practices or Islamic worship like Arabic recitations of the Quran or the Islamic call to prayer, which are distinct from one another yet both are in "Adhan" (which 'means call to prayer'). Tracks like the powerful "Mishmishan" suggest The Blue Mosque album for its industrial grade, mechanical yet rhythmic loops and the psychedelic "Tulk Arm" recalls segments of the Sandtrafikar while "Susah" feels like a blend of Sandtrafikar and Re-Mixs 1 & 2, all albums by Muslimgauze. One also notes other similarities like the dedication (almost all Muslimgauze albums have a dedication) which in this case is "Dedicated to all refugees in this world". The album and track titles further reference the Muslim world and attendant political conflicts. Even the artist identity is kept a mystery, with no photos, not even a real name, which at least Muslimgauze releases had. But to interpret these tracks as mere Muslimgauze knock-offs misses the point because they are thoughtful, well-done, and on the balance of the release, BedouinDrone stands out on his own. "Marawi" opens with a kind of Steely Dan style intro, then goes into what could be a field recording of an arcade as a disquieting drone build up a la Twin Peaks' sound designer, Dean Hurley, broods over the piece like a dark cloud. "Birak" too has that Hurley feel to it, but "Raysayil" is its own kind of gem, a dark beloved cloud with Arabic phrasings. There are also remixes of "Faqat" and "Birak", which are bit on the experimental drone side, but sound excellent, dark and moody. BeduinDrones might be mixing Islam with Muslim cultures, such as calls to prayer with musical instruments, or Islamic elements like calls to prayer and Quran recitations, which are also separate things. The Border is a pleasant nod to Muslimgauze, but also a proclamation of a distinct talent willing to acknowledge an influence but not be overwhelmed by it and most importantly, willing and able to forge out into his (or her own) distinct sound.
Artist: Ellen Fullman & Okkyung Lee
Title: The Air Around Here
Format: CD & Vinyl
Label: Skovbolaget

This collaboration between American Ellen Fullman, playing her 'Long String Instrument' (a 26-metre string instrument spanning the whole length of the performance room), and the Korean Okkyung Lee playing cello, was recorded in February 2016 as part of the Edition Festival for Other Music in a former bakery in Stockholm. Although recorded live and in a large space, the sound is exemplary, allowing the long drawn-out notes from each set of strings to draw delicate patterns and envelopes across a relatively neutral space.

Across two numbered twenty-minutes-ish parts, there's gradual changes in emphasis and attitude, but generally it's the long string instrument providing a gentle and elegant drone, while the cello offers up a more speculative collection of sounds, sometimes also droning and playing second fiddle (as it were) but sometimes wandering towards more overt and abrupt performed sections with a dynamism that's enhanced by a percussive approach to tapping and hitting the instrument. The character of the bowing is powerfully shown as well.

It's a lovely texture, settled and mesmerising, where the strength is in the details.
Artist:
Benjamin Finger / James Plotkin / Mia Zabelka
Title:
Pleasure-Voltage
Format:
12" vinyl + Download
Label:
Karlrecords
Driven by Oslo-based Benjamin Finger, this is a new outing for a trilogy of performers with a strong pedigree in dark ambient and electronic soundscaping. Across two twenty-minute pieces, it's brimming with ideas, as different environmental layering and structures work their way into audibility and then drift away to be replaced by other sections and ideas that feel like they don't so much evolve as just flow sequentially.

At times this is exceptionally abstract stuff, long drones and atmospheres washing free across the sonic plain, but at other points it veers slightly closer to a coherent sonic structure, particularly when the icy piano or noisy guitar elements involve themselves in a more traditional fashion. The distant rock beat and more overt electric guitar 17 minutes into "Hostile Structures" may prove problematic for soundscaping purists, wandering quite close to M83 territory.

Rich and familiar soundscaping with a shade of emo, it's an immersive and high-quality release for sure, but across forty minutes it somehow fails to grab me or convince me that it's got a unique selling point.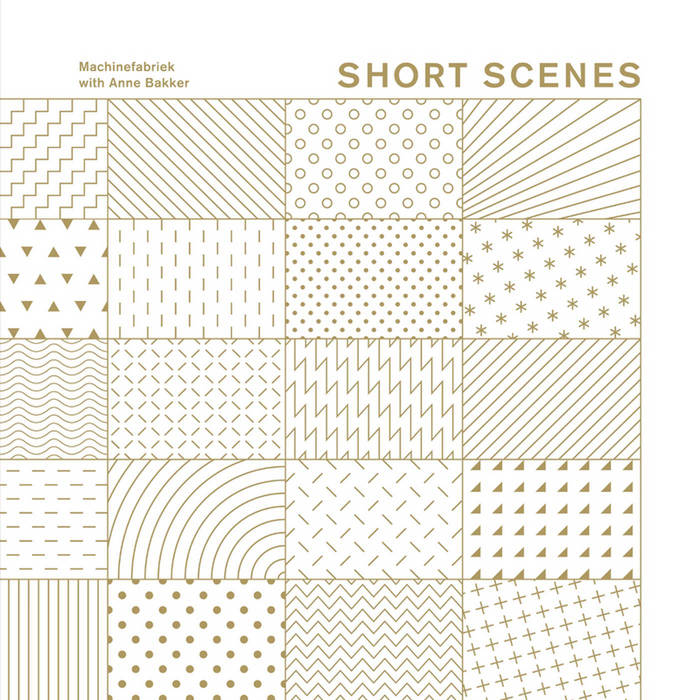 Artist:
Machinefabriek with Anne Bakker
(@)
Title:
Short Scenes
Format:
CD
Label:
Zoharum
(@)
Distributor:
Alchembria
Rated:
While being rather prolific, the average quality of Machinefabriek's is quite high and so it balances the recognizable sound palette of most of his releases with excursion in other territories as this one. This release is based around the reconstruction by Machinefabriek of the musical phrases played by Anne Bakker on violin and viola; reasonably the original music was tonal and almost classical in nature. While this collaboration started for a soundtrack, Rutger Zuydervelt recorded a series of improvisations and then he reworked them to obtain a more concise form.
The twenty scenes which compose this release are very short, usually under two minutes, and the main concern of Rutger Zuydervelt is the arranging of the lines in the aural field and the underlining of the long notes seldom used as a background for the phrases. There's also in many scenes an impressive use of silence to prepare the rise of the notes and something similar to the crackle of the vinyl to give an evidence to the listener that this is recorded music. As the scenes goes by there's a sense of a journey because, with every scene, there's a slight modification in the obviously rather monochromatic sound palette oscillation between drone based moments and more melodic ones.
This is a release that will perhaps be better received by fans of modern classical compared to other classes of listeners, and they will be exposed by far more subtler sounds masked by a rather familiar melodic framework. It's worth a listen.