Artist:
VV.AA.
Title:
Sea-Watch
Format:
Download Only (MP3 + Lossless)
Label:
Shameless
This is a charity record, with all proceeds from the downloads going to Sea-Watch. To copy-and-paste what's in front of me, "Sea-Watch is a non-profit organization that conducts civil search and rescue operations in the Mediterranean Sea. Politically and religiously independent Sea-Watch is financed solely through donations." There is absolutely no denying that the dangers of cross-water migration causing so many lost lives in the Mediterranean is a worthy cause, and frankly, even if the music being sold here were absolutely terrible, I would still tell you to go and buy it in order to contribute to the cause on a 'name your price' basis.

It's a bonus, then, that the music is not terrible at all. Eight artists have each contributed thoughtful standalone pieces of mostly-instrumental, mostly-electronica. Given the Sea-Watch theme, of course this is sincere downtempo music and not party time, but as a 46-pack of brooding modern music, it's really rich. It feels like some acts have seen it as a chance to put out tracks that may not fit into their own longer releases, with interesting results.

It starts fairly accessibly. Julian Lars Gosper's "44,448" has a somewhat underwater feel to it in its atmospherics, which does feel like it borders on the inappropriate, but that's just quibbling. Boris Hauf's "On The Pulse Of Morning" sets a long Maya Angelou speech respectfully centred in a thick atmospheric soup. It also ends in gentle fashion, with Superposition's slightly trip-hoppy piano-driven "Peak Data" giving quite a cinematic and high-quality flavour.

It's not all electronica though, and "African Flower" from These Things Happen is pure sax-led melancholic jazz, sitting somewhere between lounge and avantgarde for a curious and captivating tone, while Didi Kern & Philipp Quehenberger's "Hope" has the slow laborious plod of noise-rock, but coupled with tuned atmospheric pad melodies that make it a much more interesting beast.

Neither is it all accessible easy listening. The wilfully inappropriately named "Classic Rock" from Brent Gutzeit is a five-and-a-half minute workout in complex glitch, taking some jazzy source elements and twisting them in a heavy-handed manner until it almost sounds like raw data. It runs smoothly into Steve Heather's "Exposed Jerry" which is sonically not dissimilar but which grows around an enjoyably awkward rhythm abstract. Boris Hauf's second appearance on the compilation is in a collaboration with Max McCormick on the unusually textures "Port", littering processed found sounds over a relentless engine-like click rhythm in a manner that I'd describe as dub music's estranged electronic second cousin, who has a mental breakdown towards the end.

You should be giving to this charity, you know you should. The convenience of this Bandcamp method, plus the fact you get eight really interesting Shameless tracks into the bargain, means you should do it by buying this.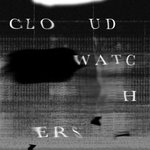 Artist:
CloudWatchers
Title:
s/t
Format:
Download Only (MP3 + Lossless)
Label:
Unexplained Sounds Group
(@)
Rated:
CloudWatchers is a group formed by Andrés Alonso, Iván Cebrián, Coco Moya and Jaime Munárriz whose music is mostly based on analog synth which is played by all members. While they use also electric guitar, bass, voice and laptop, the use of the same instrument by all members is a glue which tie together musical lines improvised upon an initial small idea.
The first track, "Piece 1", starts quietly in a suspended atmosphere and slowly evolves in a crescendo where background noises and guitar line, more or less psychedelic oriented, introduces the second part of the track where the female voice introduces an oriental element as the singing style is closer to the harmonic chant rather than occidental one. "Piece 2" continues along the same path but it features a synth line and a synth line which moves the overall result towards a experimental view of ambient house. "Piece 3" lasts for almost the half of the release's length is a complex track that has four sections: a quiet and long introduction based on vocals and continuos tones, a short crescendo based on repetitions of short melodic lines, a suspended part based of slowly evolving drones and noisy resonances and final part which reprises the beginning of the track.
This is an interesting release hanging in the balance between ambient, psychedelia and experimental music. It couldn't be a perfect equilibrium in some moments but it's always enjoyable and could be well received by fans of the genre. It's really worth a listen.
In order to have an idea of what you can expect before starting the listening of this self-released album by self-taught sound artist Kenneth Kovasin, I could refer to something in between the outputs of Helixes Collective's imprint Aural Hypnox (considering both of them come from Finland or from some inter dimensional gate in that area of the planet!), Phurpa ritual performances and the atmosphere of tracks like Jocelyn Pook's 'Masked Ball' (the track of most famous lodge scene of 'Eyes Wide Shut'), to pick something more generally known. The above-mentioned references are just clues to find more or less the statistical area on the wider map of what could be labeled as experimental ambient or dark-ambient, but Kenneth's project, called [ówt krì] (the phonetic writing of the word 'outcry'), has its own peculiarities, in spite of any possible similarities. Honestly he doesn't show any relevant instrumental skill, but as far as I know, Kenneth doesn't describe himself as a musician. He prefers to focus on human voice on this act, that he manages to place with some interesting conceptual fences. The title of the album is a reference to Ximenes de Cisneros, one of the more controversial and extremely austere reformer and inquisitor of the Spanish catholic church. During his life he promoted massacres of Muslims in Southern Spain and crusades during which his army killed and enslaved thousands of African Muslims, but he hardly criticized the spreading of slavery between the American natives after the "discovery" of Americas by Colombo and prosecuted some Catholic Spanish priests, who didn't observe the compulsory celibacy and preferred to convert to Islam and escape to Africa instead of breaking their unions. Such a bizarre duality gets mirrored by the dynamics of the album that departs by the sinister obscurity of tracks like "Sacra Tenebris" and "Resurrexit Dominus" to the gradual ascension of "Salve Regina" and the oblique catharsis of "Ad Caelum", passing through tracks like "Parce Domine" or "Veni Creator Spiritus", where Kenneth gets closer to the style of the above-mentioned composition by Pook. All lyrics got taken from historical catholic chants.
Most of the lovers of "exotic" techno scenes (out of the notorious circuits, like the ones of Berlin and Detroit) know the peculiarity of Japanese underground techno movement. Besides the techno-euphoria of producers like Ken Ishii - maybe the real first pusher of J-techno out of his boundaries - or the flirt with housey sonorities by Satoshii Tomie, many techno producers (unlike most of Berlin related ones) features an almost maniacal obsession for forging precise digitally cut sounds through mixing technique and Bitta boss and skilled promoter of Future Terror party Dj Nobe, one half of this forthcoming output on the Belgian imprint TOKEN, is one of the best knights riding this style. The other leg of this brand-new techno freak they named Nobusawa is Katsunori Sawa, co-founder of 10 Label and also a leg of Steven porter project with Yuji Kondo and BOKEH with Anthone. Ideally joining together the east and the west coasts of Japan (being Nobe from Chiba and Sawa from Kyoto), the release features four tracks (two collaborative ones and one by each half). I preferred to listen to the solo ones before that the collaborative tracks in order to appreciate the stylistic weigh of each forger: Sawa seems to opt for a limited set of elements that he melted over the length of the track on his "Call Scope" - a sort of squeak that pierce the engine, based on a fast but pretty flat kick and some distant percussive echoes, riding and flowing respectively on a slightly elasticized sub-bass lead sequence -, while Nobu prefers a softer way of kicking listener's mind along the 7 minutes of "Peppercorns" by means of homogeneous gills of muffled metallic hits, a sort of flanger filter that could surmise some industrial techno stuff by Riou Tomita and a kick that gradually gets less and less cushioned. The bicephalous tracks are the one that I prefer, and they are also the more aggressive: inspired by warehouse spaces, the opening track titled "Raspberry" is the darker one, blending together menacing computational gurgling, which they gradually vaporize in the first half of the track before turning them into blunt crystal clusters, while the closing "Decorative 17" fits to mad main rooms by a feast of FXs on percussive units (including a sort of "ghostified" clapping that could be really hallucinogenic in the dance hall) and a sort of acid babbling.
Artist:
Minim
Title:
Construct
Format:
Download Only (MP3 + Lossless)
Label:
Kasuga Records
"Construct", from Bucharest-based artist minim, is as the name implies, a reductivist exercise in sonic disassembly in which source noises are digitally processed so extensively that what's left is a fluid series of clicks. At times pattering like moderately heavy rain, at other times sparse and intermittent, sometimes blatantly random and at other times sounding structured like an unknown language, it's these clicks that carry the entirety of the work- varying just enough to maintain interest and dynamic, whilst lowering the listener's heart rate overall.

In eight numbered parts, 31 minutes overall, there's relatively little variety. Part 5 takes an unexpected step into a more regular rhythm, introducing an extremely low sub-bass that sounds like super-slow techno is happening in an apartment three floors below you. If you ever find yourself in a "my techno is more minimal than your techno" competition, this is a trump card. In part 6, a bass tone of the same pitch sounds more like distant industrial drilling than dance music, but it's a subtle distinction.

It's rare to hear a release that's quite so bold with its stripped back approach, but there's an elegance to it that's hard to dispute. A release best suited to listening in a very isolated sonic environment, as it's only there that the atmosphere here reaches its full immersive potential.

Incidentally, the primary format for this release is an SD card, which ChainDLK's database doesn't currently list as an option; but it is available as a download as well.