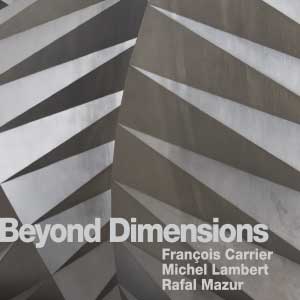 Artist:
François Carrier, Michel Lambert, Rafal Mazur
(@)
Title:
Beyond Dimensions
Format:
CD
Label:
FMR Records
(@)
Rated:
It's not the first time that François Carrier (alto saxophone), Michel Lambert (drums) and Rafal Mazur (acoustic bass guitar) play together as a trio, so they have an recognizable sense of interplay. As they usually improvise, this release was recorded live and collects four track played in Romania. Their music stands along the path of free jazz where the harmonic structure is reasonably thin to make all player has a lead role in certain sections of the tracks.
The first track, "Open Dream", opens this release with the saxophone in the foreground which is sustained by the bass which sometimes takes the lead of the improvisation with the remarkable work of the drums which underline the sections of the track being more sparse when the bass is in the foreground and more dynamic during the sax's sections. "Namagiri" is instead focused on sax but there's a constant dialectic between its lines and the rhythmic section which sustain them instead of simply accompany. "Unseen" is the shortest and perhaps more harmonically fragmented track of this release where all instruments have equal musical space. "Beyond Dimensions" closes this release with Carrier that creates a melodic framework where Lambert and Mazur sustain or contrast depending on the moment.
This is an enjoyable release where the idea of improvised music as a way to escape the constraints of a score, intended as a role imposed on the instrument whether soloist or supporting, is reclaimed in an equilibrium between all player. Recommended for fans of avant-garde and free jazz.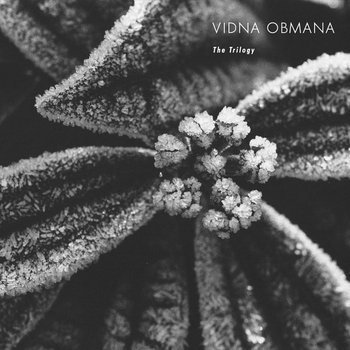 Artist:
Vidna Obmana
Title:
The Trilogy
Format:
3 x CD (triple CD)
Label:
Zoharum
(@)
Distributor:
Alchembria
Rated:
After his initial release oriented towards industrial music, Dirk Serries began to define his perculiar vison of ambient music. This reissue collects the first three movements of this journey: "Passage in Beauty", "Shadowing in Sorrow" and "Ending Mirage" which were long out of print. Even if they were already collected a single release, each one has a distinctive quality which made it a step in a process of discovering the art of Vidna Obmana.
The first one, "Passage in Beauty", is centered upon "Awaken in Floating Colours" which is presented in three compositions and it's the most drone centered and perhaps has the slower development even it's the brighter of all three e.g., the resonances of a track like "Mood in Pears" doesn't almost appear in the other chapters of this trilogy. "Shadowing in Sorrow" is a darker and sharper release starting with a track like "One Charming Delight" which immediately marks a change of direction towards a more drier sound even if the form is similar and this create a sense of blurring of the sound spectrum. "Ending Mirage" closes this trilogy with a process of rarefaction of sound which few similarities even with other Serries' opus, so while the other chapter and especially the first where practically based on a fullness of the spectrum which enchanted the listener, this one begin to use silence as a pillar of his sound, so this was a true development of the form marked by the impressive dynamics of a track like "Luxurious Fragment (in Two Parts)" which requires a particular commitment of the listener to catch all the small nuances of the sound which border lowercase music which will be formalized years later.
This are true masterpieces which have written a piece of history of ambient music so it's an essential release for those who haven't this albums in their collection. Absolutely recommended.
Artist:
dormir dans la chambre froide ?
Title:
Taboulet Razzia
Format:
3" MiniCD
Label:
Inner Demons Records
Rated:
The band describes themselves as psychedelic / no wave, and their biography states, "Oublie tout. Ce sera mieux que de tout oublier," which Google Translate tells me means "Forget everything. It will be better than forgetting everything." So let's get into this and see how this translates into sound. If the description was supposed to set us up for weird, I was a bit unprepared for the level of weirdness I was about to encounter. "Le Monde A Grandi" opens the disc with a slow moving, grooving track. Slightly distorted spoken word (in French?) permeates the track, as the bassline is punctuated by analog sci-fi bleeps and squalls. "Rewind Me" keeps the weirdness coming with more of that analogue goodness with a heavy dose of reverb for good measure. It sounds like they decided to sample an old 8-bit video game soundtrack and reconstruct it in new and different ways through a circuit bent Casio synth. And, of course, there is the obligatory cassette rewinding sounds in the middle. Overall, this is a lot of fun, and fun is sometimes in short supply in the experimental scene. All I can tell you is that I had a smile on my face listening to this, and I suspect that they put on a great show. The closest comparison that I could come up with here is The Residents. I totally didn't expect to find something like this among the Inner Demons roster, but that is certainly not a bad thing. For a good time, pick this up. This album weighs in at around 19 minutes and is limited to 42 copies.
Artist:
The Dead Yesterdays
Title:
Waiting For The Lightning
Format:
3" MiniCD
Label:
Inner Demons Records
Rated:
The Dead Yesterdays hail from Scotland and describe themselves as "4 spring sonic mayhem for the musically disinclined." Sounds promising. This disc consists of two tracks. The first, "Waiting For The Lightning," is a plodding, noisy walk through an post-apocalyptic landscape. But this isn't the wall of noise that I expected from the description. Instead, we have here the best possible elements of noise and dark ambient coming together. It's noisy, but not really noise. At times, the noise peeks through the surface, but never really comes out in full force. It becomes increasingly distorted toward the end. The track moves well into the next track, "Wayward Souls," which is more rhythmic than the first track, but the rhythm does not stay consistent. Instead, this is like a machine whose gears have long ago worn out but the power keeps it running anyway, even as parts fall off occasionally. This is much more in line with the noisiness that I expected, but this is still pleasant and enjoyable, and almost hypnotic. Overall, this reminds me of James Keeler's (of Wilt fame) descriptor "dark noise." Well done. This album weighs in at around 21 minutes and is limited to 42 copies.

This is my first encounter with Columbia, Missouri based CPTN Uzncwz, but they describe themselves thus: "Organic locally sourced HNW about nature and spirits or some shit." I love a band that doesn't taken themselves too seriously, so that bodes well. They also explain that "This album is dedicated to Dr. Kary Mullis, creator of the Polymerase Chain Reaction, God of intuitive practice of the sciences." I had to look up Polymerase Chain Reaction, and evidently it is a way to generate millions of copies of the same segment of DNA. In some ways, then, this actually seems like a decent homage to this process. This is 21 minutes of low end, rumbling bass noise. It almost feels like the same segment of noise was looped over and over for the entire piece. It was pleasant to listen to, and even with headphones I found my mind wandering away, and then coming back again. Still, as I have said with some other works, I prefer to have some variety in my noise, so this didn't really work for me as it stands. I could see this working well as part of an art installation though. This album weighs in at around 21 minutes and is limited to 42 copies.