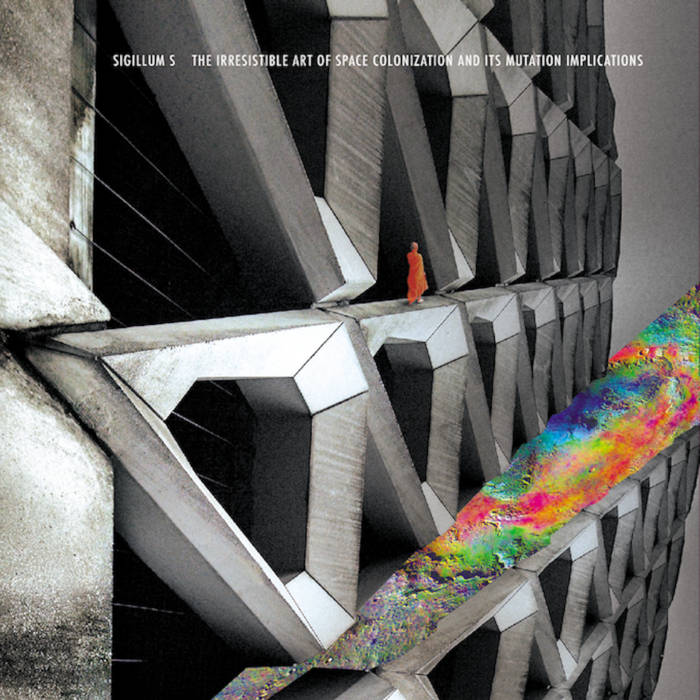 Artist:
Sigillum S
Title:
The Irresistible Art Of Space Colonization And Its Mutation Implications
Format:
CD
Label:
Transmutation LTD
Rated:
Sigillum S two years ago celebrated their 30th anniversary (one year later, because they started in 1985) by releasing three albums printed on CD, LP and tape. That moment was important for them not only because they raised the glasses to salute three decades of sonic terrorism and sound research, they also celebrated a new band member: Bruno Dorella. Bruno, owner of the label Bar La Muerte, is also member of the following bands: Bachi Da Pietra, Lava, OVO, Ronin and Wolfango. He started to play live with them but with the new album "The Irresistible Art Of Space Colonization and Its Mutation Implications", it's the first time that we have the chance to check how he helped Eraldo Bernocchi and Paolo Bandera to redefine their sound. As usual, the titles of the new album are recalling to me the works of people who had an impact on visual arts or culture in general: I mean people like Ballard, Burroughs, Cronenberg, etc. We have titles like "Occult Storage For Pan-Dronic Glossolalia", "Wrong Proto - Matter Gravitation", "Genetically-Engineered Insects", "When Comets Become Organic Households", "Through The Endless Streams Of Satellite Euphoria", etc. Musically Sigillum S always evolved and if on their beginning their music could have been defined as ritualistic and industrial, since early 00's they started to include into their music also elements of the sound that they had on their side projects. Eraldo played and collaborated with many people such as Mick Harris, Bill Laswell, Tony Wakeford, to name few and explored different genres from dub to guitar drone (as on his album under the Blackwood moniker). Paolo with Sshe Retina Stimulants, NG5361, Komplet his other projects and collaborations always explored the folders of noise electronic sounds. In my opinion, the album where they started to redefine their sound has been "23/20". It was featuring sound contributions from long time Sigillum S collaborators as well from artists they estimate. People like: Bill Laswell, Toshinori Kondo, Professor Shebab, SH Fernando and WordSound, Martino Nicoletti, Lorenzo Esposito Fornasari, ZU, Xabier Iriondo, Ephel Duath, various members of Crisis , Mark Solotroff, Thomas Fehlmann, Gudrun Gut, Andrea Marutti, Claudio Agostoni and many others. Anyway, let's start to talk about the new album. On this one, we have a sort of orchestral sound effect as we have several kind of sound layers, as well as several influences and I hazard to say that we have also a sort of melodic structure that wasn't really used before. All these layers are dosed in the mix, creating the effect of a whole orchestra using unconventional sounds. The kind of rhythms, ambient sounds, noises, vocals may sound familiar, but they have been used in a different way. Take "Through The Endless Streams Of Satellite Euphoria", for example: we have a dub bass, synth treated bleeps, a semi dub drum (I might be wrong but this is one of the few times that Sigillum S are using a real drum) and then a trumpet like sound. The first time I listened to this track I immediately thought about 23 Skidoo and I don't remember I ever thought about them while listening to Sigillum S. Sigillum S have been ritualistic but they never been "funk" and this has been a great surprise. We have the tracks mostly based on drones and noise and we have the ones where rhythm has an important part and it could be a normal drum, a treated one mixed with synthetic beats, it doesn't matter, because the tracks evolve and change one from the other. This is another thing that I liked a lot: the variety of atmospheres and sounds. A perfect example of what I mean could be the closing track "Celestial Heliocentric Cultures", which is the one that I felt connected to the cover made by Petulia Mattioli, because it gives me the impression of being influenced by Tibetan music but played by a mutant which filtered it with industrial soundscapes. It's like the cover: a Tibetan monk walking on a metallic landscapes made by an unknown species. The album will be out on the 14th of September on CD, LP and tape. https://sigillum-s.bandcamp.com/album/the-irresistible-art-of-space-colonization-and-its-mutation-implications
Artist:
Furtherset
Title:
Drawings Of Desire And Hate
Format:
Download Only (MP3 + Lossless)
Label:
-OUS
Furtherset's latest EP continues to explore the underside of mainstream electronica production, taking patterns and production values that wouldn't sound out of place in some of today's post-dubstep radio-electropop, but stripping away any overtly pop elements- and any drums- to revel in the synth basslines and the effects and atompsherics found underneath.

"Studio False Start" employs some nice dawning synth-string pads that give it something of a computer game intro flavour, while "Spring Training" wouldn't sound out of place on Planet Mu. The frantic, faintly Glass-like arpeggios and odd breathing rhythm of "Falling Makes Way For Rising" are a quirky third part that's harder to pin down.

A nice bit of chinstroking electronica, but with three tracks averaging four minutes each, it feels more like a sampler for a more extensive work than a fully-rounded and coherent EP.
Artist: LOR
Title: Lunar Orbit Rendezvous
Format: LP
Label: LOREC

After a few EP's, Lunar Orbit Rendezvous' debut album feels like the natural step forward. It's a combination of synthwave and quite retro analogue electronica noises. There's an early 90's trance flavour at times, with synth soundings evolving gradually in waves while steady drum machine beats clap out complex but consistent patterns with a light touch, and some of the tracks have almost Jean-Michel Jarre-esque synth lead melodies to roll along with.

It's instrumental apart from occasional NASA-style soundbites, making it quite reminiscent of Public Service Broadcasting's "Race For Space" at times, but with a more modest musical ambition.

There are poppier offerings like "Journey" and the frankly quite cheesy "Command Module", and the interlude "Dreams Under A Stellar Roof" is a nice bit of low-bitrate sound design. Tracks like "In Approach" go a little deeper into the 70's style squelchy noise generation and at points come out sounding not totally dissimilar to some of Kraftwerk's more out-there moments. "Exploration" takes a twist towards being almost sleazy before final track "Return" brings up some surprise gritty techno kicks, by which point you're so immersed in the retro flavours of this release that it starts to feel like foreshadowing instead of channeling something already well established.

The whole thing feels very much like it's been done before, drawing heavily, almost exclusively, on existing musical ideas and forms. But it's done with a measured confidence and a simplicity of purpose that means that it still works, and is really quite endearing and enjoyable as a 54-minute journey into synth-space.
Artist:
PRO424
(@)
Title:
Before Immunity
Format:
12" vinyl + Download
Label:
Lamour Records
(@)
Rated:
PRO424 is Stockholm (Sweden) based artist and producer Maximilian Karlander who also happens to be a bioengineer. 'Before Immunity' is PRO424's followup to the 2015 'Immune' album which is actually a prequel, as evidenced by the title. This is techno to be sure, but of a richly melodic sort of techno. My first impression of it was "prog-rock goes ambient," but that really doesn't tell you much of anything, except perhaps that it's quite busy (many sequenced notes) and that it has an ambient-esque flavor. In a sense, this is one long piece consisting of five parts - The Human Condition, Improvements, Time Will Tell, The Happiest Days of Their Lives, Life Finds a Way. There is some nodding reference to Richie Hawtin and Tangerine Dream with seemingly endless synth arpeggio repetition, but I'm sure you could come up with a dozen other artists this may remind you of as well. The music is highly rhythmic but not necessarily beat-focused, although that does come into play. The whole album has a certain blending flow to it, and a somewhat psychedelic hypnotic effect (bordering on trance) that most should find fairly pleasing. We don't seem to get enough of this kind of music released on vinyl nowadays, so obviously that would be the preferred format. Good for sunny day spacing, or the walk of life.
Artist:
Duskmortym
(@)
Title:
One Night over the Baltic...
Format:
CD + Download
Label:
self-released
Rated:
Any time we get a metal album in, we always need to make sure that it's either gothic, industrial or both. Some (but not all) black and doom metal qualifies (if it's bizarre enough), but that's usually up to the reviewer. There is an awful lot of good stuff that gets sent to us that just doesn't qualify for Chain D.L.K.'s genre parameters. Duskmortym makes the cut on its sheer outrageousness, its refusal to be confined to a genre and its generally gothy tone. The band is actually one man- E. S. Bowles, originally from Victoria, BC but now farther north of Vancouver Island in Nanaimo, BC. Bowles does it all - electric and acoustic guitars, bass, keyboards, drums, vocals, plus artwork and design for the CD and recording and mixing. 'One Night over the Baltic...' is Duskmortym's debut album, originally released in 2014, but re-released in 2016. Don't know why it's taken so long to reach us. A lot of it is extreme metal, which Bowles calls symphonic black metal. (Think of bands such as Cradle of Filth, Dimmu Borgir, Emperor, etc.) Like the Borg of black metal, Duskmortym has assimilated an amazing amount of metal tropes and styles (Speed and Thrash included) and everything is played with accomplished expertise. Problem is, Bowles can't seem to to stay in one area long enough which makes for rather schizoid continuity. One minute you're getting gothic organ, the next- speed metal guitar riffs, then intricate classical acoustic guitar in a medieval folk style. The album seems to be more of a showcase for this talented musician than an album of well-composed and structured songs. There is a theme though - a journey across the Balkans with encounters with the occult creatures of the night, not to mention some Greek and Indian Goddesses. Song lyrics are quite poetic, whether they're spoken, pitch-shifted (down to demon range) or screech-growled in that stereotypical black metal mode. The only other musician on this album is Sara Robinson providing some voca. (Some sections reminded me of early Mortiis.) I think if the album was a little more focused I might have rated it higher but don't underestimate it. 'One Night over the Baltic...' is bound to impress black/gothic metal fans no matter what I think.