Artist:
Break/Eastcolors
Title:
So True VIP/Watch Out (Enei Remix)
Format:
12"
Label:
Symmetry Recordings
(@)
Rated:
On this little kicking knick-knack, Symmetry Records serves the reshuffles of a couple of tracks, which got already released on the label-sampler "The Other Side" I already mentioned on the occasion of the chat with label-owner and composer Charlie Bierman aka Break. On side A, Break himself waxes the roaring engine of "Love So True" in order to make it more luscious by breading sonic golden plastic, tanned skin, elastic percussive slips and a relaxed bassline on original version without tampering with a certain tropical crispness, while talented Russian producer Aleksei Egorchenkov aka Enei nukes "Watch Out", the impressive debut track by Andrey Terekhov aka Eastcolors on Symmetry, by means of cutting extrusions, blown synth and crackling hats which mined the original pattern in an enjoyable manner. An alternative option for all those (many) djs who are massively playing original versions during their sets.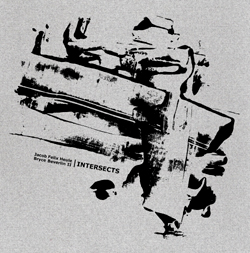 Artist:
Jacob Felix Heule & Bryce Beverlin II
(@)
Title:
Intersects
Format:
CD
Label:
Eh?
(@)
Rated:
This was an interesting one. At first I was concerned about what I was hearing. 'Intersects,' a collaboration between Jacob Felix Heule and Bryce Beverlin II, is a live recording of 2 longform improvisation pieces which begins with sporadic drums and percussion that seem to have little rhyme or reason, which had me reminiscing of a certain scene from 'Joe's Apartment' where Joe makes a less than spectacular drumming debut in a band called 'SHIT.' However, the rocky start is not the only thing this release has to offer. It slowly builds, the percussion tightening and falling in line with Beverlin's random, yet focused arrangement of noises. There is a point where the audio drops to almost complete silence, at which point some electronics are introduced, allowing some droning bass tones to set a backdrop for a little ambient horror, and it's quite wonderful. As time elapses, the noise creeps back in, this time somehow a much more relevant context. The second performance opens with what sounds like a growling bear and an input jack static loop. It grows and grows to a huge monstrosity (using the term in the most endearing of ways I assure you) that fills the senses with waves that bring about a very primal feeling to the core. I think this piece is far stronger than it's counterpoint; at the same time it's also noisier, grimier. It does have its point where it slowly becomes more ambient, and those parts are just as good as the louder movements, however, throughout both pieces, in several spots over the duration of the record, it seems as though volume drops have been employed to suggest a quieter, more ambient atmosphere than perhaps was naturally occurring. I'm not sure if this was on purpose or the fault of a heavy handed compression at mastering, but it can be a bit distracting. That and the intro aside, 'Intersects' is a fine example of longform improve (which I am a huge fan of) that at its peaks doesn't disappoint.
image not
available
anymore
Artist:
The Ebertbrothers
(@)
Title:
Engine Eyes
Format:
CD EP
Label:
Mindwaves Music
Rated:
The Ebertbrothers have put out a release entitled 'Engine Eyes' which contains 4 new songs, and 3 remixes from their 2011 effort 'Susten Pass.' The record gives a solid start with the two new songs 'Sunset Car Chase' and 'Rusty Black Bike' which both have a pretty great sound to them. They manage to combine smart, modern beats and rhythms, which extremely chill synths and pads to create these wide open, airy textures. Some of their synths have a bit of a retro feel, but with modern production value. Sometimes they can feel a bit novel, or even ill conceived (synth line in the latter tune), yet despite that they still manage to have a very appealing, and even comforting sound and feel; very strange in a good way. The next set of songs on display are three remixes by Karsten Pflum, Lackluster and Badun respectively. Pflum takes on 'Black String' and offers a less stark, far more funky yet structured approach. 'Feature Film' is reinvented by Lackluster has created a far more chill, yet somehow (occasionally) more sporadic mix, with more of a groove to it. Then Badun sculpts a smooth, spacey rendition of 'Sympathy Changes.' To close the disc two more new songs remain; but are definitely good, but not really noteworthy in comparison to rest of the disc. 'Engine Eyes' treads a lot of different water, but manages to mix it all together in an overall pretty solid record with funky electrogrooves, chill tones and retro synths, and even a moment or two of sweet Massive Attack vibes.
image not
available
anymore
Artist:
Luca Sigurtà
(@)
Title:
Bliss
Format:
CD
Label:
Fratto9 Under The Sky Records
(@)
Rated:
Open: Rich, textural ambient begins to pour from the speakers (or headphones I suppose for most); there is an underlying washing of noises and field recordings. A deep bass slowly creeps in. Very oceanic, almost glacial. And so begins 'Bliss' by Luca Sigurtà from Frattonove (aka Fratto9 Under the Sky). While 'Bliss' contains just 5 untitled tracks, it clocks in at over 41 minutes, each one full of rich, pristine tones, textures and sounds. One of the only signs of melody is discovered at the intro of the second piece in the form of plucky koto or similar instrument, but as the texture slowly fills in around it, it quickly melts away. A very quiet, but delicious track overall. The third movement fades quickly in, filled with lush, almost orchestral walls, which very slowly, and very stealthily mutate into dissonant chords by the end of the piece. Track 4 is far more sparse, with soft static living just beneath a slight tension, which eventually gives way to the final chapter of this aural journey. A crisp ringing drone almost tricks the mind into believing its surrounded by crickets; maybe sitting calmly out in a cool, spring night's air. Until the static returns, much more than before, followed by the sounds of a dungeon or cave, echoing through said night. 'Bliss' has it all, from those beautifully rich, thick textures, to its robust tones, to its underlying noise and field recordings, it is just a well-executed, well-written page in the ambient history books.
image not
available
anymore
Artist:
The Exaltics / Elec Pt.1
Title:
The Exaltics Meets Elec Pt.1
Format:
12"
Label:
Solar One Music
Rated:
After four months here we are again talking about a new volume of "The Exaltics Meets" series. This time on side B we have Elec Pt.1. Behind this moniker there's Andreas Gehm, a producer from Koln, Germany who produced since 2006 different releases for Bunker Records (five EPs), Panzerkreuz Records (two albums), Abstract Acid (an album and an EP), Snuff Trax and Abstract Acid. This isn't his first time on Solar One, as he already took part to the latest label's compilation "SOM5" with the track "It Feels So...". Since, as reported on The Exaltics interview I did some months ago, "The Exaltics Meets" is a serie where Robert Witschakowski produces tracks according to the genre of the guest musician, this time on side A we have two tracks ("The Midnight Connexion" and "Nichts Aber Auch Nichts") which are inspired by acid techno. As you may know, The Exaltics produces dark vibrating tracks which takes mix elements of techno, electro, ambient and acid and each time we have more or less of each one. The fist tune mix melodic ambient pads, 4/4 upbeat tempos and raving acid leads. The dark madness finds its top on "Nichts Aber Auch Nichts" thanks to grinding TBR303 lines and fast drum machine lines. Stops and go plus some pad enhance the dramatic moments. Side B opens with "Drei Chinesen Mit Dem Acidbass", a track where leads and bass lines follow the typical crazy acid arpeggios while drum machine patterns are built creating a sort of obsessive 4/4 beat where hi-hats, claps and ride sound like fighting. "The Player" sounds a bit darker but the style is quite similar to the previous track. Vocal inserts plus synth noises and tiny melodic lines help characterizing the tune making of it a nice hypnotic tune.