image not
available
anymore
Artist:
Aus Decline
Title:
Fluxion
Format:
12"
Label:
Synthetic Shadows
Rated:
I reviewed Aus Decline back in 2007 as they released a CD anthology of their live and studio recordings. Now, it's time to talk about them again because Synthetic Shadows is releasing a great LP titled "Fluxion" which contains all the studio recordings coming from that CD plus, on side B, the first band demo released in 1982 titled "Radiox". The tracks of Side A, as I already wrote for the CD review, are post punk influenced tracks with cool synth lines and guitar riffs in balance from clean and distorted sound. They used dissonant melodies and tense atmospheres just like other bands of that era (see Frigidaire Tango and Gaz Nevada). Just like on the CD, on "Fluxion" you can find "Five Years Life", song included on the first and only compilation issued by Mask Records in 1982. All the tracks are really good as I already knew. Now, let's talk about the six tracks of the first demo. "News On New" (already issued on the 10" sold with the book "Vinile Italiano: Indice Del Nuovo Rock Dal 1977 Al 2010"), "City House", "Exit", "One Chance To Face You", "Human Dicotomy" and "Auburn" are a bit raw sounding but they confirm the quality that the band showed with the stuff recorded the following years that we already knew. Post punk influences, nervous riffs, a bit of feedback, upbeat tempos sudden energy explosions are already there. If you love the italian sound of the early 80s, you have to check this out and you can do it here:
http://syntheticshadows.bandcamp.com/album/aus-decline-fluxion-ss013
image not
available
anymore
Artist:
Morrowyellow
Title:
My Colours: 1985​/​1988
Format:
12"
Label:
Synthetic Shadows
Rated:
Founded in Verona, Italy, in 1983 after the split of the band Eva Brown, Morrowyellow lasted about five years. Born as a collaboration between Mauro Marchesi (keyboards and electronics) and Joyello Triolo (vocals and guitar), the band recorded several demos with this line-up. "Dance And Tears" in 1984, "The Lovers", "Only This Pain" and "Four-Leaved Clover" in 1985 and "Bamboo" in 1986. On those years they also collaborated with avant-garde theater and contemporary dance companies composing tracks in balance from italo disco (like "Dance & Tears"), introspective wave (like "Only This Pain" or "Taste Of Dust") and synth wave (like the live recording of "Live Eyes Myth"). None of this material has been covered by the reissue released by Synthetic Shadows. The LP "My Colours: 1985'/'1988", focus the attention of the following two demos "My Colours" (released in 1987) and "Demo" (released the year after). I read about another tape titled "Last Recordings" but I don't know if it was a compilation or not. Anyway... On this period the band changed a bit the sound thanks to Massimo Turco, who joined them in 1985. Songs like "Wakefulness", "No Secrets" are new wave tracks that recall me a little of Weimar Gesang as they are melancholic as well energetic. Some traces of experimentation they used for the theatre soundtracks are still evident on "3000 Days". Tracks like "Don Juan" are in balance from post punk and new romantic (a sort of Aidons La Norvege meet Spandau Ballet mix) while the closing "The Wheel (Shaman's Rose)" and "This Film" are nice wave ballads a bit like Stranglers of the "European Female" fame period. Nice release that you can check here http://syntheticshadows.bandcamp.com/album/morrowyellow-my-colours-1985-1988-ss012
Artist:
Acclimate V.1
(@)
Title:
Noise Pigs
Format:
CD
Label:
Samboy Get Help!
(@)
Rated:
Acclimate is back, now as Acclimate V.1, cousins Artemis Kowalski and Phillip B. Klinger (PBK) with their first new release together in eons titled 'Noise Pigs'. While Artemis is based in New Zealand, PBK resides in Flint, Michigan making them now an international project, of sorts. I know I've heard the name Acclimate, but I don't know if I've ever heard this project before, so I can't compare this to anything previous by them. According to the one-sheet I got with the CD, PBK relates the concept behind 'Noise Pigs' ' ''¦is a life where all you can strive for is piggery; there's no benefit, no reward, only struggle and an unyielding future of oppression and slaughter. When the State destroys the workers' rights and dreams, all they can do is grunt'because they are cattle, they are pork'to be fattened on their obsessive demand for pop culture'¦' It goes on from there but you get the gist. On the first listening I had no idea of the political undertone, but now it makes sense.

In a sense, 'Noise Pigs' is a rich pastiche of everything you've ever heard in the industrial noise genre, and some things you've never heard in it. There is a aura of excess, of so many elements, so many permutations, so many different facets that you really can't pin this album down. For a noise album, this isn't quite as noisy as you'd think. Much of it is industrial and post industrial ambient, not necessarily harsh, although there are times'¦ There is a fair amount of musicality, interesting rhythms, and (mercifully) brief dialogue samples that enhance many of the fourteen tracks on this album. 'Noise Pigs' is somewhat experimental because it treads on terrain no noise project I've ever heard before treads, such as the Middle Eastern motif of the last track, 'Born of Ancient Longing'. There are elements of tribal, ritual, electronic glitch, gamelan, neoclassical, baby lullaby, and other sub-genres sprinkled throughout; one can not want for variety here.

For some noise purists, 'Noise Pigs' may be just too much'¦all over the map, not noisy enough over all, too much sonic effluvia, etc, etc., but for me, this is one of the ultimate noise releases I've ever heard. It has everything you could ever want from a hybrid noise-ambient-industrial project, and then some making it very appealing for replay. 'Noise Pigs' was engineered/mastered by Martin Bowes of Attrition fame, and also features vocals as well as a remix by Bowes. In addition, the album also features vocals from Hakim Paulsson of both Sanctum and Azure Skies, as Katrin Radman, formerly of Coptic Rain. So bring your sonic appetite, and feed at the trough of 'Noise Pigs', as Acclimate V.1 prove they're at the apex of their game. That swine on the cover of the digipak is just begging you to dig in.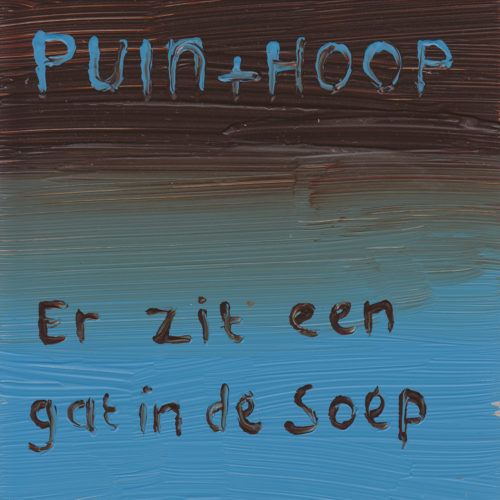 Artist:
Puin + Hoop
(@)
Title:
Er zit een gat in de soep
Format:
CD
Label:
Narrominded
(@)
Rated:
According to the linear notes this album starts as a live album that would explore a new live recording setup for a concert in Amersfoort. As the recording of the gig failed, the band remained with the recording of the test takes that is the content of this release. The musical result is a sort of EAI (electroacoustic improvisation) that, rather than showing his roots in free jazz, has his most evident influence in the meditative leafs of krautrock.
The drone of 'er zit' opens this release suddenly developing in a quiet noise and finally juxtaposing the two poles of this track: the bright drone and the dark noise. After an impressive first part where the layers of sound start to overwhelm the listener, gentle notes of synth takes 'een gat' in territories where a unstable, as the rhythm moves slowly, mood of meditation is the gravity center evolving in the last track 'in de soep' that closes this album juxtaposing drones and noises creating a mesmerizing mass of sounds.
This album, rather to search new grounds, evolves the genre in a new form juxtaposing elements with a clear view of the overall result escaping the void meditation of drone and the dull unilateral dimension of noise to reach a form that always change remaining the same. One of the records of the year.
Artist:
Sum of R
(@)
Title:
Lights on Water
Format:
CD
Label:
Utech Records
Rated:
Lights keep on shining in the dark according to the incisive stylistical concoction by original Swiss musician Reto Mader aka RM74, who releases the second full lenght album of his side-project Sum OF R together with Julia Valentina Wolf after the tidbit "Ride out the Waves" on Storm As He Walks. "Lights on Water" sounds maybe less visceral and more geometrical than the above-mentioned EP as if some structures had been conceived in order to ease "compatibility" with possible live stages and some sonic contrivances are often easily reproducible, but their sound remains tremendously hard-hitting and cliffhanging. In order to give you an idea of their strking sonic strategies to melt doom metal, noisy hooks and ritual guise, the sepulchral chords, which got gradually saturated before exploding, on the initial "Rays and Line Segments" could be thought as a mixture of tricks by Cranes, Death In Vegas, Starfish Enterprises and GYBE; the ominous "Not Today and Maybe Not Tomorrow But Soon And For the Rest of Your Life" seems to follow the same path before the guitar gets dried and when you would expect a sort of depressive ballad, Mader's drumming coerces guitar into discharging cathartic and electric crimping and foretelling a curse. After the pre-apocalyptic medley "Birds Were Fallign From The Sky" and the caustic compressions of "In Mirror Arms", where doom metal vein by Sum Of R can be easily palpated, "Nobody Wants To Trade Uncommons For Uncommons" is maybe the track which includes more bromidic tricks, but they soon boost liking by the creepy scuffs of "Vela" and the final "March Out of Step When Crossing a Bridge", where their proper winning feature that is the balance between frail and blasting by means of a concatenating element - on this occasion a march-like tempo - is by far more appreciable.