After the remarkable series of reissues made from Zoharum (the second volume of the 'seeds in the tide' series has just been released and will be reviewed soon) this is the first release of new material from Robin Storey and is presented as 'about the area grew up in in the UK. ['¦] surrounded by the sea when the tide was in and surrounded by endless mudflats when the tide was out'. This image is translated in musical terms with slowly moving drones with small or no movement to the point to graze pointlessness.
The drone of 'East window lights' opens this release and is colored by sparse noises. 'Solace' is menacing soundscape with a sort of ritualistic sample at the mid of the track and some piano notes in the end. 'The gold of salvation' is a gentle drone carefully constructed in his timbres. 'A heavy door locked' is based around processed loops in the first part and evolves with synth lines and ends with a drone. 'Sunset' is based around the juxtaposition of a couple of drones as 'An angels breath' even if this track features an evolving beat in his final part. 'To west and blue' features the loops above the quiet drone so seems more ritualistic and evocative and is the best track of this release.
This album is a little disappointing as it seems more an exercise of style rather than a new release from one of the crucial artist of industrial scene. Only for collectors.
Artist:
Jacket Weather
Title:
When Shadow Move
Format:
12"
Label:
Synthetic Shadows
Rated:
Timothy Gassen has always been an eclectic kind of guy. After playing with Jacket Weather he changed musical style and formed Reptile House and then Marshmallow Overcoat (a psych garage punk band active since mid '80s). He's also the responsible for the garage punk bible "The knights of fuzz", a book that put under the magnifying lens the movement of the second garage punk wave (after the fist garage band movement of the '60s in the '80s all around the world a lot of new bands started to play again the raw music of bands like Chocolate Watchband, Electric Prunes, The Seeds, Blues Magoos, etc, starting a scene, that since then, never faded out). Anyway, Jacket Weather where the first band where a young Tim moved his first steps into the musical world along with Lee Joseph who later formed Yard Trauma and Dionysus Records. The band in 1982 and 1983 released only a tape titled "It's A Wonderful War" and a six tracks E.P. On this LP Tim collected the six tracks of their 7" "When Shadows Move" plus all the remaining tracks coming from the same recording session on late 1982/early 1983 at the Cerius Studios in Phoenix. The band had a particular style because of their use of two Casiotone keyboards played by Tim and Debra Dickey, drums (Howe Salmon) and a bass guitar (the aforementioned Lee Joseph). They had no electric guitars at all and thank to this particular blend their sound, which could be described like a minimal wave influenced by English post punk (see Joy Division) and Devo, where the detached vocals and raw synth lines contrast with pounding real drums sound. If you think about the Arizona desert and listen to this music, you'll picture immediately the contrast. You can check the whole release at the label's bandcamp page http://syntheticshadows.bandcamp.com/album/jacket-weather-when-shadows-move-ss09
Artist:
Papillon
Title:
s/t
Format:
12"
Label:
Discrepant
(@)
Rated:
"Unquestionably the greatest adventure of escape ever filmed", the stentorian voice for the trailer of Franklin J. Schaffner's screen adaptation, starring a young Dustin Hoffmann and a magnificent Steve McQueen, of the notorious memoir "Papillon" by Henry Charriere about his incredible escape from a penal colony in French Guyana after he was wrongly convicted of murder in France. Besides the dispute regarding the truthfulness and the authenticity of that story, as many critics argued that some episodes could have been the fictional adaptation of other fellow fugitives of the alleged author, Discrepant label manager Goncalo F.Cardoso takes a stab at turning that best-seller into sound by means of his lo-fi synthesizers with the precious support of edited acoustic recordings by Laurent Jeanneau aka Kink Gong, Cedric Stevens' raw and digitally treated analogue modulators and David Naan, who sprayed his drums on the visionary "La Cavale Des Chinois" after the psychedelic recordings of a sung poetry from Khmu, Laos by Kink Gong. Many moments of that fascinating and fantastic quest for freedom, its dramatic turn of events, the incredible vicissuteds and the (treu and simulated) psychological fallouts of the fugitive Papillon who tried to escape from confinement whose exotic location sounds like the better paroxysm of the assumed moral preening of Western civilization got rendered by a wide selection of cracked noises, augmented field recordings, amazing foley art effects, sudden synth jams, modular synthesis and sinister echoes, which reaches remarkably high peaks of quixotic and visionary power, so that listeners could feel themselves like having been immersed into a mesmerizing pool where shamanism, esoteric hallucinations, fever deliriums, lucid dreaming and near death experiences have been blended into a sonic cauldron or a possible sensory overload, which is going to hold your breath and feed your imagination from the initial claustrophobic feeling of reclusion of "Un Radeau Dans Un Tombe" till the final illusory emancipation of "Le Chemin De La Pourriturre".
Another next big thing from fibrillating Mancunian drum'n'bass scene, which is recently kicking up its heels, comes from newborn label NB Audio again, which fires a good shoot by enlisting the debut release of Nian Dub, a two-headed project by O'Neill brothers, Rory aka Runes and Tim aka iLLtone, who showed an excellent four of a kind down by means of four talented collaborators on this special occasion: the venomous mc and lyricist Mr.Fox, who spits fire over the flagged title-track on a foggy dub-spotted tune, whose knappering sonorities could remind some stuff by Stereotyp and The Bug, Gareth "Semiotix" Leeds, who coals the fast-running percussive train of "Antaeus", Dan Tasker, who paws the gorgeous "Jazz Craft", the typical dnb tune which let your hands in the pocket before straining knees and neurons, and, last but not least, rasta singjay Kuntri "Lion King" Ranks, who brings his voice on the markedly dub song "Almighty Dub", but dancehall lions will loudly roar on dnb arena on the tracks with no feats such as the massive "Deliverance" where Nian Dub sounds like having passed the mic to an angry neurasthenic cat after surrounding him by means of a deluge of breaks, which evoke those golden age when people like Goldie or Bad Company melted dnb with furious junglism soups, and "Step Out", where haunting electronic dub primers trigger an interesting miscelleanea of sonic contaminations.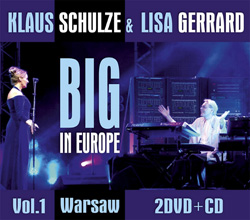 Artist:
Klaus Schulze & Lisa Gerrard
Title:
Big in Europe Vol.1 Warsaw
Format:
CD + 2 x DVD
Label:
Mig Music
(@)
Rated:
I can't really tell you shortly what Klaus Schulze achieved in his 44 years career. He played a big part into Germany's krautrock history by playing with Psy Free, Tangerine Dream, Ash Ra Tempel, The Cosmic Jokers (to name few) as well as having a huge solo career that started in 1972 with his 'Irrlicht' album and produced about forty albums since then. In the 1990's Schulze recorded several electronic interpretations of works by classical composers (most notably Wagner) as well as collaborating with opera singers and other classical music performers on his own albums. He also started collaborating with German ambient/techno artist Pete Namlook in the series "The Dark Side Of The Moog" on the latter's Fax label and steered the Wahnfried project into a more modern techno and trance inspired direction. In 2007 he contacted Dead Can Dance's singer Lisa Gerrard because he was a huge fan of the band and proposed her a collaboration. She visited him and, without rehearsing, in few days, they produced their first album 'Farscape' which have been released on Synthetic Symphony the year after. In 2008, when Lisa knew that Klaus was in the line up of the Germany's "Loreley" festival, she offered to sing without being paid as she wanted to live that experience with him. On 2009 they collaborated again and released 'Come Quietly' for Gerrard Records. In brief these are the facts and I can start to write about this first out of three volumes of the 'Big In Europe' live series. This first volume contains the entire performance they did in Warsaw, Poland on September 17 2009. It was a concert dedicated to the 70th anniversary of the Soviet invasion of Poland during World War II. The package contains two dvds and a CD containing the whole concert (on the first DVD and on the CD) and a documentary titled "Moogomentary" which shows the different stages of the preparation to the event with interviews to the Klaus Schulze crew, the press conference, the gear packing, etc. The track list contains five tracks: 'Voices Of Wielun', 'Kampania Wrzesniowa', 'Selbsterkennende Ganzwerdung', 'A La Recherche Du Printemps Perdu' and 'The Da Varsaw Code'. Lisa Gerrard sings on track three and five and she arrives on stage dressed and acting like an opera singer by improvising her chant following Schulze's melodies and arpeggios with ease and passion (on these tracks Schulze used few rhythm sequences and mixed synth pad layers with synth arpeggios). She doesn't sing as she uses her voice as an instrument by making the solos that he didn't play. Into the interview Schulze explained their alchemy by telling that they didn't never talked about music or about what to play and how. They only did it and he was amazed as much as the audience was. This is one of the few occasions you have to watch a live concert by Schulze as after the 2010 Japanese tour, he decided to quit on touring. A note: at this event, a promotional disc was available, containing a new studio Klaus Schulze and Lisa Gerard track titled 'Hommage A Polska' which isn't included on this release.