image not
available
anymore
Artist:
Asmus Tietchens
(@)
Title:
Fahl
Format:
CD
Label:
Farmacia901
(@)
Rated:
In the liner notes the author, one of the key figure of experimental music, states that this release is "the result of a never ending recycling (not remixing!) of one and the same structure recorded deep in the past". So this idea of recycling takes upon a concept that "active listening (opposite to passive hearing) is the basic requirement for analytical perception'. This a statement on how create something new from the hidden shades of sound.
"FmF 4" quietly opens this release with sounds at the edge of perception so there's a call for a full concentration on the listening environment that is gradually filled until returning to silence. "L10RC" is based on a drone that is sometimes juxtaposed by samples and small noises. After this volumes, "L10RC" seems loud as it's full of evocative sounds.
Headphone listening is truly recommended for a work of brief listening time but full of sound details. Truly recommended for fans.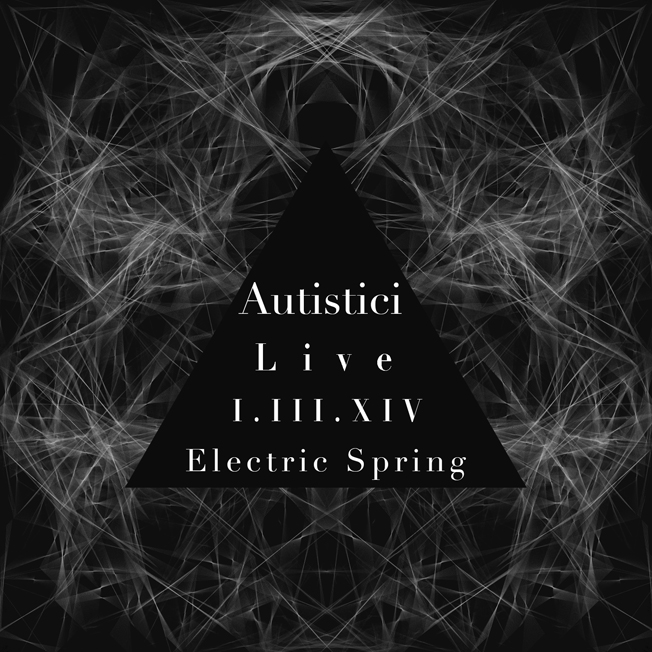 This new release from Autistici is a live set where his works are condensed into a single track constructed upon audio elements taken from his recording or his own body so creating a relation between diffusion and performance and a reflection about listening and perception.
The first track, "Live At Electric Spring", is the recording of a set starting with a breathing and noises and evolves with gentle synth notes until a sort of glitchy beat enters. When it stops, string samples form the structure of a small part that takes the listener to a meditative one based on drones and resonances. A loop ended by the return of the breath of the beginning of the set marks the second part of the set focused on reverberated tones studded by samples used in the first part giving unity to the set. The noises are balanced by a the quiet soundscape used as main element of the ending part closed by a juxtaposition of samples ending with a heavy drone under the starting breathing.
The second track, "Questions For Autistici", is a Q&A session acting as a commentary to the set.
Perhaps a little bit too long, this set could be an introduction to body of work of undoubtable quality and the starting point to another phase of his carrier. Recommended as a starting point.
The smoking black splinter on the cover artwork could ideally come from the notorious black monolith, that landed on Earth and changed the course of events of a community of monkeys in the subtly ironic clip of Kubrick's "A Space Odissey", and the cinematic intro "Black Ballet" of this release by Indiana-based producer JLin could foster such a fancy and let you think of footwork as a sort of blessed cosmic stoning against eartlings! Besides any possible whim of your imagination, her definition of footwork, a style which keeps on getting squeezed by many music innovators and was constantly followed by an enlighted music mind like the sadly departed DJ Rashad, could reasonably be considered the state of the art of the genre and not only for the amazing clips where she inserted the menacing voice of notorious fighting videogames ("Flawless Victory" and "Suicide" -!- announcing on "Infrared (Bagua)" obviously got taken frm Mortal Kombat, as well as the "Round 1-Fight" in the middle of the precise cuts of "Mansa Musa" - named after a benevolent ruler of the legendary Mali Empire - will go frakking wild many Street Fighter fans) and the likewise amazing percussive juglling that spread over the album, as one the main feature of her sound is the lack of samples from old funk or soul records (it's about freaking time!!!). After the praises she received for "Erotic Heat", a banging track that was inserted in the list of the second volume of Bangs & Works, the compilation by Planet Mu, which tries to collect the best of Chcago Footwork, this album clearly shows that she could be one of the real pioneer of this evolving genre. I could guess that smoking splinter landed on Gary, JLin's hometown in the neighbourings of Chicago, which saw the birth of Jackson 5 and hosted many Steel Mills - including the one where JLIn works - and some fumes reached her nostrils to enhance her inventiveness. A mysterious godsend for lovers of bass-driven sonorities!
Artist:
Hotel Neon
(@)
Title:
s/t
Format:
CD
Label:
Home Normal
(@)
Rated:
Footsteps on a wooden floor, two sonic waves (a low frequncy which seems to get longer and longer and a higher one which sounds like something a seraphic choir and a feeble murmur), a sort of heartbeat on the threshold of audible hearing levels feature "A Lament", the opening track of this release by which brothers Andrew and Michael Tasselmyer ignited their debut release Hotel Neon in the summer of 2013 on a striclty limited edition of 100 copies on cassette. A couple of years later after the first edition of "Hotel Neon" begun to circulate by means of word of mouth within a cosy huddle of ambient lovers, Ian Hawgood decided to re-release it by remastering the original version, that Tasselmyer Bros. mainly moulded by using cheap equipment (a usb recorder, cheap guitars, an effects processor and a computer). The title of the following track "Dust and Drag" seems to describe the sound processing, where listener could hear an undefined frequency which get finely pulverised before getting stocked by somber stretched tone and a mechanical loop, which sounds like a clock, while "The Crushing Weight" is the first exposure of the listener to more peacefully ethereal radiations and likewise smooth frequencies keep on shield listener from the rumbling sub-tones of "The Eye's Mind", which precedes the ecstatically narcotic reels of "Deprivation" and the entrancing subtle buzz, which flows through the heart of following "Confines". Distant thunderstorms attempt in vain to disrupt the heavenly ataraxia of "Lowly", the track which closes a release that perfectly matches the tagline of Hotel Neon: Restraint over haste, Perception over presumption, Awareness over intent". The Zen fingerprint on the a test tube filled with amniotic fluid.
Artist:
Core Shift
Title:
Far Beyond The Stars
Format:
3" MiniCD
Rated:
Core Shift is a project started by Mike Kramer, based in the Netherlands. He's the initiator of the (h)ear foundation, an organization that support electronic music artists by putting up events such as lectures, workshops and exhibitions. Mike Kramer's founded Core Shift in early 2013 as an output for his electronic and ambient music production. His latest offering under this pseudonym is reminiscent of the ambient techno of the nineties. Think Basic Channel, Aphex Twin (Selected Ambient Works), Fuse, The Orb and B12. There is only one track on this mini album, called 'Far Beyond The Stars'. The track features all the ingredients of ambient techno music: lush pads, pulsating 808 rhythms, flickering synthetic riffs and the occasional sampled dialogues. Mike Kramer describe Core Shift's music as 'Dance for the mind' and rightly so, as his music is both beat based and has enough layers of sound textures to keep your interested all the way through. The track ends with a more twisted, noisier and darker tone. I have the feeling that it could have lasted way longer and it's almost a shame that the track ended so abruptly. It sounded like a live improvisation that had to cut short, which is really sad. However, it's still a good piece and it's well done electronic music. 'Far Beyond The Stars' is certainly not the most original music out there, but it's a real pleasure to listen to. This mini album is limited to 50 copies and is self released.