Artist:
Dag Rosenqvist & Rutger Zuydervelt
(@)
Title:
Vintermusik
Format:
CD
Label:
Zoharum
(@)
Rated:
This album is a reissue from a CDr from Rutger Zuydervelt, known as Machinefabriek, and Dag Rosenqvist that sounds as an experiments of contemplative and evocative music that sounds unfinished but, so, incredibly honest and childish in his developments.
'Frost / Vries' opens slowly this release with static layers of drones evoking a snow that falls with the brightness of the light reflections. 'Gräs Som Bryts Och Går Av / Gras Dat Knakt En Breekt' starts an exercise on isolationism and ends as a quiet ambient track. 'Blåsa Rök / Rook Blazen' is based upon a guitar lines upon a soundscape and a distant drum that evolves in a static drone and ends with an old recording sample that ends with a stylus fault. 'Ljus I November / Licht In November' starts as the noisier track of this album as it's focused on the guitar distortions but ends as the most ethereal one as the child's field recordings and the piano creates a romantic atmosphere. 'Tappad Vante / Verloren Want' sounds as an introduction to 'Islossning / Ijsbreken' that closes the original release with layers of drones carefully constructed to quietly close the release.
'Feberdröm / Koortsdroom' is a bonus track from another CDr and is based on resonances and filters to create a meditative atmosphere.
This release could not be as remarkable as the latest releases from Machinefabriek but it's so emotive and appealing that sounds as a christmas' gift to his fans. A nice release.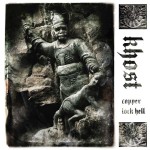 Artist:
Khost
Title:
Copper Lock Hell
Format:
CD
Label:
Cold Spring
(@)
Rated:
This new release from Cold Spring is debut from a duo that is presented as band presenting 'an intense wall of sound' and is touring with Godflesh. So the noisy soundscape of 'Copper Lock Hell' opens this release as an introduction to '14 Daggers' whose cello introduces the listener to a slowly developing juxtaposition of heavy guitar upon a distant voice. The oriental flute of 'Hypocrisy Banality Possession' acts as a chill out moment before returning to the heavy mass of guitar lines. 'Amoral Apathy Suppression' is even heavier in his searching for a deep guitar drone made out from a drop guitar tuning. The first part of 'In The Nest Of The Red Throat' is interesting as it drops the low frequencies guitar drone that reappears after three minutes hiding the drum part. 'Drain' features the most experimental moments of this release while 'Pacify' closes this release with his slowly guitar lines as '14 Daggers (Kevin Laska Remix)' is a remix trying to enlighten the moments buried in the mix.
This release seems too close to his models (Sunn O))) and Godflesh) as the mixing is perhaps too focused on the guitar and takes all other elements in the background but it seems as has some ideas how to evolve this model. Waiting for the next release.
The cover art of Crickets Were The Compass depicts beautifully in ink and watercolour a grainy, post-apocalyptic landscape strewn with grim, colourless debris. A solitary dog stands in the foreground, dolefully glancing about; after an unspecified disaster, life has inevitably found a way. As much is reinforced by brief elaborations upon each of the tracks' titles, such as 'It Haunts Her' ("She was scared. The storm outside hammered the walls and lit up the sky. We found solace in sound.") and 'Crickets were the Compass and the World Goes 'Round' ("Directionless I listened for something to guide me. The crickets called from all directions at once. I stood still."). Combined with the album's images and compositions, these brief passages give the impression of survivors or travellers in desolate and unwelcoming places, faced with the numbing challenges of life in the wake of massive and abrupt change.

The music itself contributes to this setting in various layered articulations of thick, distorted drones, live instrumentation and gritty textures. The chief (but by no means sole) source of each of these appears to be the guitar. Alongside producing low-end grimness, it also often takes on a cleaner role, with lonesome, aimless picking delaying into the distance on several of the pieces. Analogue synthesisers and unidentifiable samples provide additional texture. A running evocation, sometimes impersonated and sometimes probably directly sampled, is that of radio, now vacant of living broadcasters and transmitting only the stiff indifference of empty frequencies; the sound of the absence of others. As it crawls along, the record's style is definitely consistent and strongly focused on representing its themes. Despite this, each piece has something of its own characteristic arrangement. 'It Haunts Her' opens the album with a buzzing, slow warble rather resembling a siren - drearily and dutifully continuing to sound out long after the dust has settled. 'People Keep Asking And I Say You're Well' begins with radio-like feedback manipulations, gradually accompanied by a slow, shapeless synth motif and introverted guitar twangs. 'There Isn't A Day That Goes By' stands out particularly, portraying a dance of looped quavering feedback and undulations of slow-attack lead noodles. The whole thing rolls about in a murky mid range, but retains a lighter tone than the other pieces. "But there are moments", reads its subtitle.

Besides periods such as this, the relentless and discomforting gloom of it all makes for quite a dreary listen. Chvad SB manages well to soundtrack a forlorn, speculative narrative of life after disaster that recalls literature such as McCarthy's The Road. The album's limited source material and resulting sameness of texture hammers home a sense of entrenched desolation and destitution, unlikely any time soon to change significantly. The world painted has lost much of its colour and, in a slightly disconcerting way, has entered its own kind of relaxed state. There is, of course, a suggestion of allegory. "[Of] coming to terms with fond memories", as the press release puts it, "& letting them go."
Artist:
Urs Peter Schneider
Title:
Kompositionen 1960-2012
Format:
3 x CD (triple CD)
Label:
Cubus Records
(@)
Rated:
I'm quite sure that if you met Urs Peter Schneider by chance in the street, you would surmise he could have inspired the character of the old priest in Age Of Empires or you would associate his nice aspect to the cliched one of a hermit who decided to have a walk to buy a tinder for his pipe after centuries of studies in an abandoned tower in order to discover the secret language to access to mystical experiences. Jokes apart, this assumption could be partially true as this interesting collection of works that Swiss label Cubus released on the occasion of his 75th birthday includes many compositions with a plenty of open references to Christian mysticism, such as the quotations by German Domenican frier Henry Seuse in "Kreuze", a really bizarre ensemble that Schneider derived by turning the events of Good Friday into sound where besides the illusion of nails hammered into wood, all musical parameters got structured in the form of a cross, to the references to Meister Eckhard's "Granum Sinapis" on the impressive "Senkforn", even if the meaningful intersections that this interesting and almost unknown Swiss composer are wider by far; spirituality together with a certain sense of humor plays an important role to understand Schneider's wide repertory as well as the "semiotics" and the connection with language of his compositions. For instance there's a strong sense of humour in "Familie" (2010-2012), the composition which ends the first cd and a bizarre series he named "Vier Familien", in the triggering by means of a poem about animals by Franz Josef Czernin, or in the confused tangle of male and female tone combinations and in the choral octophony of "Androgyn". According to the explanation you will find on the booklet, "most of these productions do not content themselves with being a collection of various compositions; they are programmes that are composed right through, in which single pieces depend on each other and make up a whole cluster of meaning, comparable with the structures that are effective in single pieces of work.". This concept of composition should be constantly kept in mind in order to appreciate his variegated productions, as some moments of this collection (particularly of the second cd, which mainly includes ensembles), ranging from operettas to early electronics, quasi-algorithmic sequences to proto-drones, could sound quite boring or gibberish to untrained listeners.
Artist:
KMFDM
(@)
Title:
Our Time Will Come
Format:
CD
Label:
Metropolis
(@)
Rated:
I have lost the count of the number of studio albums by evergreen German industrial rock band KMFDM whose energetic enamel doesn't seem to know erosion even if they have been active for more than thirty years. A solid fan-base as well as the pervasively nefarious political dynamics of our age which fed their angritude could certainly be the most relevant factors for their inflexible creative force so that a title like "Our Time Will Come" sounds like athe definitive self-mockery about their longevity, even if the cover artwork that got traditionally designed by Aidan "Brute!" Hughes (another key factor of KMFDM logevity!) could let you surmise a possible paraphrase of the well-known slogan "Our day will come". In spite of the electronic nuances and the occasional dashing of funkier riffs on tracks like "Get The Tongue Wet" and "Shake The Cage!" (not a cover of Morning Parade' sond for PES2015...) they inoculated in many moments of this release, they kept the sonic distinguishing marks of KMFDM sound almost intact and I might even say that "Our Time Will Come" is maybe the album which includes more similarities and consonances to their first steps on Wax Trax! that particularly resurfaces on the lines of songs like "Brainwashed", "Playing God", "Blood vs Money" - a track where Sascha Konietzko sounds like singing over the same hoarseness of Killing Joke's Jaz Coleman on "Democracy" - or "Respekt" (ft.Tom "Tritoxin" Stanzel). Someone could surmise it's a clue of a vague lack of originality, but I honestly can not imagine that KMFDM could throw something different from what they're actually forging. They would be something else and I'm pretty sure they would not have lasted so long...