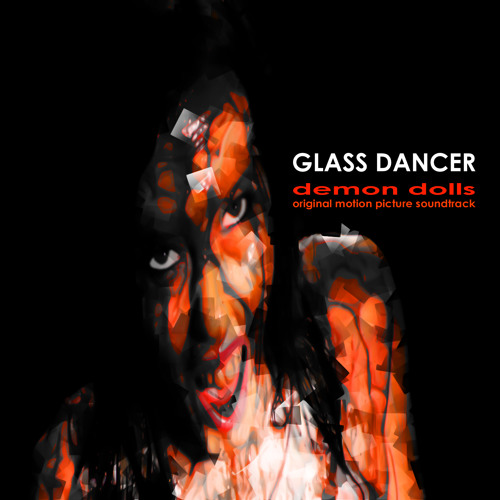 Artist:
Glass Dancer
Title:
Demon Dolls (Original Motion Picture Soundtrack)
Format:
Download Only (MP3 + Lossless)
Label:
House Of Analogue
Rated:
After Empire State Human disband, Aidan Casserly didn't lose his time and started immediately to work on a new project called Glass Dancer. The movie director Dustin Ferguson called him for composing the soundtrack for his remake of the 1993 Todd Jason Falcon Cook film 'Demon Dolls' and this has been the perfect opportunity to focus on new music. Composed in two weeks during the October 2014, "Demon Dolls" contains ten tracks included on the movie, plus three bonus tracks. I thought that this was an instrumental album, so I was curious to check what kind of atmosphere Aidan would create without using his vocals and I was surprised when I found out that he sung on "The Raven" and on "Open Up The Gates". Anyway, the album is a good mixture of ambient electronic with elements of synthpop and late 70s/early 80s electronic soundtrack atmospheres and I'm pretty sure you already know the name I'm going to do, which is... Yes: it's Carpenter. Aidan succeeded into creating a dark atmosphere without forgetting the use of catchy melodies and if on tracks like the opening "Dark Sunset" he focus on the ambience to create, on "Doll Intro" or "Dowtown Lament" there are echoes of his past, when he composed instrumental songs for Empire State Human along with Lar. I liked the album and you can find it at the major digital store, but if you want to check it first, you can listen to it on Spotify or Deezer.
Stupid and not so far-sighted sanctions against Russia thankfully don't stop circulation of good music from that fascinating country, where there are a plenty of really skilled musicians who makes music in their home studio. Maxim Yudin, the guy behind Cutworks moniker, pushed some interesting stuff on Daniel Clarke's NexGen catalogue from Zheleznodorozhny, a small town nearby Moscow, and this awesome EP shows the brilliant way he manages to melt liquid funk, regular fit drum'n'bass movements and a series of funny sonic dodges to make his track more easy to reach listeners' memory. The noise of a fast running car on the initial "Away With You" is maybe not so original, but the way he shaped a likewise fast rolling track and some sonic embellishment is really good; the straight cuts of the following title-track "Soulroot" got wisely counterbalanced by an elegant jazzy sample, which makes it fitted to futuristic tabarins and could remind some similar amalgamations by some Brazilian and German d'n'b producers, which got hyped up in dancehalls in the first years of new millenium. The slower motions over lush synth pads on "Last Day Venus", my favourite track of the EP - it somehow brought my mind into the notorious ocean of Solaris by Tarkovsky -, and the amazing crossbreed between bouncing computational and vaguely bhangra-banging patterns of "Algorithm" complete this tidbit.
Artist:
General Magic & Pita
Title:
Fridge Trax Plus
Format:
2 x 12" vinyl
Label:
Editions Mego
(@)
Rated:
Someone could imagine that a synth, a drum machine or other electronic devices should have marked the dawn of most glorious labels of the scene. Some labels actually build their catalogue on the sounds some artists squeezed from specific synth or drum machines, but not so many listeners would surmise that a fridge could have been even more influential than a synth, as testified by this re-release of the very first outputs by one of the most appreciated electronic music label like Editions Mego, whose huge catalogue got started by an EP - "Fridge Trax 12" - and an album - "Live & Final Fridge" - from the electronic music eggheads of Peter Rehberg aka Pita and General Magic, the well-known duo by Andreas Pieper and Ramon Bauer, who entirely made these amazing releases (13 tracks both, but I imagine they recorded more than 13 ones and some could have been left unedited) by processing sounds they grabbed by putting a microphone inside a fridge. I'm not sure they imagined their experiment would have been so influential to the point it can be considered one of the records that fostered the inoculation of abstract sonorities within dance music structures, but all those youngster who are just approaching to the wide world of sound will be so delighted by the funny sonic freaks they made from a bunch of icy and sometimes defrosten sounds that I won't be surprised if a museum will exhibit Mego's fridges or other useful modern electric appliances alongside Mozart's score or Beethoven's comb for the devotional pleasure of future generations. That's a wise way to celebrate the first 20 years of existence of the Wien-based label.
Artist:
When
Title:
The Black Death
Format:
12"
Label:
Ideologic Organ
(@)
Rated:
The sonic rendering of the pestilential wind that according to some ridiculous conjectures by so-called doctors about the origin of the so-called Black Death, which almost caused the extinction of humans in the fourteenth century, was attracted by a planetary conjuction from the depths of the earth before getting pushed back on Earth with the venomous recipe that God added to it - it seems incredible, but it's true - opens this old record - it was recorded at Sound Sector in Oslo with the support by sound engineer Bernt Kanstad in summer 1992 - by which Lars Pederson translated into sounds Theodor Kittelsen's "Svartdauen", a sort of dark poem inspired by Black eath in Norway, which killed almost two thirds of the populations, including the whole medieval aristocracy - Norway had no heirs to throne in those ages! -. Both the macabre theme and the astonishing sound-collage by which he rendered it, including gnawing rats, whining horses, moaning people, grinding wood, Death's snigger and quotations from traditional Norwegian folk music and dirges, turned Pedersen's solo-project When and this release in particular into a sort of cult listening by fans of Norwegian black metal scene - not so many people know that Varg Vikernes aka Count Grishnackh (the man behind Burzum) as well as many other black metal musicians of that scene considered this When album an essential listening in the heydays of burning churches in Norway -. In between environmental sound poems by Luc Ferrari and Nurse With Wound's dadaist studio experiments - even if When's "The Black Death" reminded to me some really obscure less known stuff from Laibach such as their disquieting album "Krst Pod Triglavom - Baptism" -, this listening experience should be listened while reading Kittelsen's Svartedauen - I read it last year on the occasion of the issue of an Italian translation which followed the celebration of 100 years from the death of its inventie author and illustrator -. Check it out and beware of the rat fleas!
Artist:
Charlemagne Palestine + Rhys Chatham
(@)
Title:
YOUUU + MEE = WEEE
Format:
3 x CD (triple CD)
Label:
Sub Rosa
(@)
Rated:
Sub Rosa recently completed a sort of trilogy of collaborative recordings by mellifluous and polyhedral musician Rhys Chatham, who after moving his first steps in music as a piano tuner for La Monte Young and harpsichord tuner for Glenn Gould, Gustav Leonhardt and Rosalyn Tureck and studying under the wise teachings by electronic music pioneer Morton Subotnick and La Monte Young, became one of the most influential voice of avantgarde scene to the point he could be the real link between New York Downtown composers of the late 70ies and the so-called NoWave by developing a musical and sonic language with a plenty of connections between experimental music and rock. Following the collaborative recordings with Z'ev and Tony Conrad, this release with Charlemagne Palestine highlights the intensely ritualistic hooks that essentially feature Palestine's performance during which he surrounds himself and his piano using stuffed animals, drinks cognac and smokes a plenty of kreteks, the Indonesian clove cigarettes. During the listening of the three long-lasting tracks - one for each cd -, you'll get easily absorbed by the exceptional emotional and sometimes even mystical or ecstatic strain - while the first one is quite febrile, a sort of blissful standstill is going to tickle listener's eardrums on the one-hour lasting second recording before the heavenly and highly suggestive titillations of the third one -, that got rendered by Charlemagne Palestine by means of a Bosendofer piano, a Yamaha orgue and even his voice, while Rhys keeps on drifting towards soulful elongation on a looping trumpet and a psychedelia-driven electric guitar. An entrancing musical alchemy.