Artist:
iVardensphere
(@)
Title:
Dark Science Trilogy - Part 1
Format:
Download Only (MP3 + Lossless)
Label:
Metropolis
(@)
Rated:
Almost synchronized with the recent release of their awesome album "Fable", Canadian duo iVardensphere, the brainchild of Scott Fox and Yann Faussurier,tries to scout different stylistical area and sonic declension on this relatively minor release - the first part of Dark Science Trilogy -. Both some obscure references - there are many similarities with the framework of the above-mentioned "Fable" - and the heavily scorching industrial wire drawing of their sound endure this skin-shedding output, but forget any grasp by means of what could resemble the form of a song as well as furious tribal drumming and EBM shredding and grating: even if the guessed voiceover, which is similar to the ones of more or less tendencious video-documentary or educational videoclips for science classrooms, is an element they used in Fable, the dirty metallic sounds of initial "Aether" move towards a sort of distorted dubstep and the disquieting choirs on "Blight" are similar to the ones you could hear in "Millian Year Echo", the opening track of "Fable", whose trait d'union seems to be the dystopian vision both tracks evoke, but those choirs sound like a disturbed interference in between the harsch distorted electric buzzes of "Blight", a track which prepares the ground for the gargantuan burp of "Lapse". I'm curious about future steps of the forthcoming chapters.
One year and half after the previous EP "Kids' World", released on Belaten, Blitzkrieg Baby are releasing, always on Belaten, their new tape EP titled "Cannibal Commando". Containing five new songs repeated also on side B, the EP sees Kim Solve's project reaching a perfect mix of industrial, electronic and a special "vision" of pop. Focusing the lyrics on a crude vision of reality made of cannibalism, war crimes, pre-pubescent murderers, world domination, and the end of civilization, the tracks sound balanced and powerful. The intelligible clean vocals are working as a counterpart to the drums and all the distorted blasting which are giving the rhythm. So... where's the pop stuff? Well, the pop element could be found into the small melodic parts which are able to work as a hook for the listener. A great comeback which you can check at this page! https://belaten.bandcamp.com/album/cannibal-commando
Artist:
HATI
(@)
Title:
Metanous
Format:
CD
Label:
Zoharum
(@)
Distributor:
Alchembria
Rated:
In this release, based on recording made in 2011-2012, HATI performed as a trio with Robert Darowski and this change from the usual duo formation permits the insertion of wind instruments with the usual barrage of percussions. As RafaÅ IwaÅski and RafaÅ KoÅacki are now the only members of HATI this album is mainly a document however it's an hypnotic release as the insertion of Dabrowski's drone creates a particular musical configuration.
When "Cascades" starts, it's almost clear that the rhythm is the basic elements of this release but, instead of being a fixed element, it's slowly but inexorably moving. "Thalu" is instead based on a didgeridoo used as a canvas colored by the metal percussions. "Passage" is an almost silent track that uses resonances of the bells and quiet rattles. The flute and the didgeridoo of the first part of "Alpha at Omega" are mirrored by the cymbal and bells of the second part. "Fusion" is a dialogue for didgeridoo and percussions. "Wangga" is a dialogue for didgeridoo and flues in the first part, for didgeridoo and rattles in the second part and for percussions and horn in the third part. "Purga" is an exploration of the resonances of metallic percussion above wind instruments.
An hypnotic and charming release revealing how percussions could create a sort of spiritual music environment and escape the feeling of repetitiveness with the use of flute and the didgeridoo but mainly treating the rhythmic pattern as something to evolve rather than something to follow. A must for fans of the genre.
image not
available
anymore
Artist:
Randal Collier-Ford
Title:
Remnants
Format:
CD
Label:
Cryo Chamber
(@)
Rated:
This new album from Randal Collier-Ford on Cryo Chamber is presented shortly as an album able to "soothe the listener into a black whirlpool of unexpected evolving sound design", but in fact is a clever reworking of the usual dark ambient format of this label. The form is consistently altered to search an almost new path in soundscape construction.
The stereo field is used as an element of bearing in "Monument", "Horns of Eden" uses small fractions of silence. "Remnants" is focused on rhythms in their relationship with drones. "Dies Illa" is a sort of reworking of martial removing all the rhetoric. "Suspension of Icarus" is based on ebb and flows of the drone pitch. "Eye of the West" uses a drone as a glue for the sample. "Black Garden" lets the samples emerge when the drones ends. "Pale Horse" is the more aggressive track as it uses noisy samples. "Decaying Sun" has a sort of sci-fi influence as it uses sharp samples. "Revelations" closes this release with a sort of dance beat.
The remarkable use of dynamics, the craft in sound construction and the variety of musical path earn this release a spot in the end of the year's list as it's an example on how to renew a genre using influence of other musical paths. The use of headphone is truly recommended to enjoy all the musical subtleties of this release. A must to hear.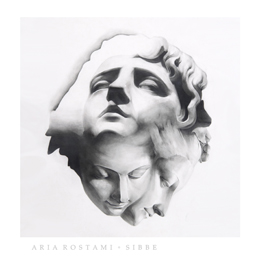 Artist:
Aria Rostami
(@)
Title:
Sibbe
Format:
Download Only (MP3 + Lossless)
Label:
Audiobulb
(@)
Rated:
As stated in the liner notes, this album is based on the relationship between America and Iran from the viewpoint on the artist's status of being a child of immigrants from Iran. This is related to the concern that his viewpoint is based on how Iran is narrated from other immigrants or media. So, this album is partly based on field recordings sent to Aria Rostami from Tehran or other Iranian cities and it's a demonstration of how technology can connect different cultures.
The gentle texture of "Delta" introduces the listener in a sonic environment centered on little bells suddenly covered by noise samples until their return in the final part of the song. "Sibbe" features recordings of folk iranian music, or so it seems. "Sibbe II" is developed from layers of samples and "Sibbe III" is a static soundscape featuring small distant beats. The sequence of the three part of this track reveals how some sounds are culturally associated to media's vision of middle east. The first part of "Nosferatuva" is based on a sample played as it's a punctuation mark while his second part is a quiet but dark soundscape. "Vietnamoses" is based on field recordings used as an introduction of a sort of oriental beat or the occidental perception of it. "Crwthrúd" closes this release reworking that sound of string instruments mostly known to be present in the OST of some iranian movie.
This is a release which reminds how sound is bound to some cultural codes of habit based on what is absent in another one. So, this is not only an enjoyable release but also an important one. It's really worth a listen.