Artist:
Kiwi
Title:
Mountains Of Dew
Format:
12" vinyl + Download
Label:
Disco Halal
"Mountains of Dew" is an unusual single- well technically they've called it an EP, but with a radio-length version, a B-side and a club mix, that pretty much the definition of a good old-fashioned single to an 80's kid like me.

The main version of opening track "Pine Marten" is a really unusual blend, with a 105bpm groove that's slightly 80's funk meeting some unorthodox Celtic atmospherics and some quite cinematic and slightly synthwave-y melody work that feels a bit heroic.

"Daubenten's Bat" is in more familiar territory, around 125bpm with a steady house beat over which sampled tribal chanting and folksy guitar loops gradually fade in, and filter and effect themselves up, before the 'real' house beat and faintly acid bassline kicks in three minutes in to strong effect.

The club mix of "Pine Marten" also pulls it up to around 125bpm, with a heavier beat and turning the bass synth pattern into something quite Moroder-ish- or reminiscent of Vangelis' Blade Runner theme- but retaining everything that's good about the melodic heart of the track.

Described as a tribute to the highlands of Scotland, you might be hard-pushed to identify the cultural origins of a lot of these sounds- you could even argue they sound more sun-drenched and African and Ibizan in parts. But for a nice bit of dreamy mid-set house meandering, this is a nice package.
Artist:
Territoire
Title:
Alix
Format:
CD & Vinyl
Label:
Humo
Oscar Arson, as Territoire, serves up a dark, slow-techno concept album based around the titular character being born into slavery. Not that you'd realise it was a concept album from the lyrics, as there are barely any. Instead what you get is seven slices of gothic-tinged bass rumbles, slow heartbeat-like kick drums, sinister whispered vocals, low gated and processed synth pads and atmospherics.

More conventional instrumentation- guitars, tuba, clarinet- are worked into some tracks but in nicely understated ways that add to the palette of those tracks without sounding like novelty- in some cases you may be hard pushed to distinguish that instrumentation from its synthesized setting.

After the very bold and attention-grabbing polished sound of opening track, erm, "Sourd", "Esclvvv" begins a steady, not-too-heavy pounding that's imbued with plenty of both fear and attitude. Things go a little off the boil with "Soumission" and "Chant" which settle into slightly less dramatic, industrial-ish rumbling. "Exil" is a bit more vigorous initially but unfolds into an almost ambient conclusion, which segues nicely into "Meta/Xim"'s broad and fairly empty rumbling into nothing. Final track "Quatre siècles de privilèges" sounds at first like the beginning of a new dawn- certainly not a happy ending but certainly slight hints of optimism rather than fatal finality.

At 37 minutes it's quite short, but that helps to excuse the slight lack of sonic variation. The concept may not shine through but as a hybrid of some very dark techno with also-dark soundscaping and atmospherics, it's got a polished sincerity and a powerful mood-changing tone.
Sonae's 8-track "I Started Wearing Black" is a deeply melancholic collection of stripped-back and glitched electronica sometimes bordering on techno, pairing sometimes-there-sometimes-not soft subbass kick drums with thickly layered polyrhythmic and arhythmic electronic effects into something very focussed and quite intense.

"Majority Vote" is quite a forthright opener, but the pace lets up a little with bell-toned "Rust" and the decidedly more melodic "Dream Sequence", a definite highlight with its cello tones (maybe?) and a sense of building into grandeur. From that peak, "Soul Eater" and the title track are consciously rougher-hewn and more insular, with the title track's spontaneous reintroduction of danceable rhythm making you wonder whether the first 20 minutes has all been a spectacularly elaborate intro. "White Trash Rouge Noir" pulls the same track, with a muffled industrial rhythm kicking in from nowhere halfway through an otherwise very sparse arrangement. "System Immanent Value Defect" is a prettier piece, with long sustained piano tones and light, glitchy rhythm programming underpinning gradually growing pad sounds that become quite lush towards the conclusion. Final track "We Are Here" ends on a downbeat, an odd broken-lullaby melodic tone falling away into increasingly random noise.

It's a very smart and polished bit of very deep electronica, earnest and definitely worthy of attention.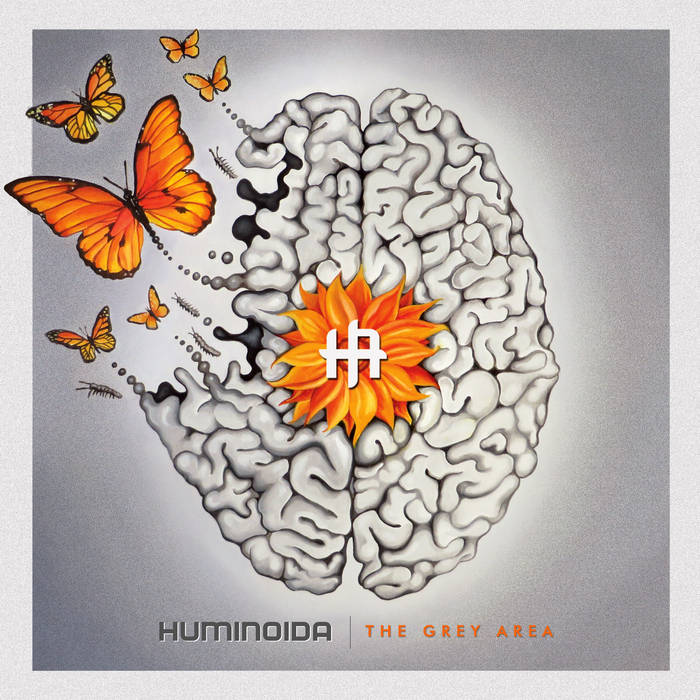 Artist:
Huminoida
Title:
The Grey Area
Format:
CD
Label:
Out Of Range Records
Rated:
Arriving four years after the previous release titled "Intoxicating Spring", "The Grey Area" is the newest album by Finnish synth electronic project Huminoida. Containing nine new tracks, the album is focused on the dark synthpop side of Kimmo Karjalainen and if "Intoxicating Spring" contained also some powerful upbeat tracks, this one doesn't as most of them are mid-tempo songs where Kimmo's vocals are upfront and the synths are creating the right ambience for his lyrics. Released on CD, vinyl plus CD and digital, "The Grey Area" is a very personal album where music is an outlet for Kimmo's feelings and thoughts. As stated on the presentation leaflet, the last years have been difficult for Kimmo and these songs are just reflecting that. I received the CD to review and it is housed into a beautiful package which is including a 7" twelve pages booklet with all the lyrics and some photos. As represented by the cover, Huminoida is transforming ideas into something else and ideally these songs are the butterflies flying away from his brain, just to be able to show their beautiful colors to people and, hopefully, live longer than a butterfly. Lyrics, like the ones of the opening track "Thoughts Like Insects", are setting the theme of the whole album, where Kimmo is writing down all his bitter experiences: "The little things I've loved in life are now in decline / Many values I've admired are being despised / And the things made just for fun are denounced unproductive - and that's a big no-no!". In balance from 80's/90's synthpop and new wave, "The Grey Area" is a nice collection of songs and for sure it's worth your attention. You can check it here https://huminoida.bandcamp.com/album/the-grey-area-2 and you can make you tempt by the gorgeous orange vinyl edition.
Artist:
Bad Stream
Title:
Bad Stream
Format:
CD & Vinyl
Label:
Antime
Though he describes his work as equal parts rock and electronica, Martin Steer's debut album as Bad Stream is closer to the latter than the former. With expansive synthetic but cinematic atmospheres, dark Rob Dougan-esque vocals, dramatic breakbeat drumming patterns, the guitar work is just one element in a very richly textured album with an extremely high production value. This is the sound of a very accomplished producer- less surprising when you find out that Steer is or was a member of Frittenbude.

Some tracks are more driven, with pulsing patterns that underpin tracks like "Already Dark" and one of the rockiest tracks "Megafauna", while others such as the opener "Transition" have a grumblier and less urgent tone to them. "Nervous Love" pushes that contrast within itself, playing a steady confident walking-techno beat in the 'verses' against angry relentless drum crashes and louder guitar work in the sort-of-chorus.

I've very enamoured with this album, which is certainly going to get repeat plays above and beyond the reviewing process, but if I was scrabbling to find criticisms, I might suggest that consistency is its downfall. Across 71 minutes there's a lot of epic mood atmospherics that hit mostly one particular pitch, and for that kind of running time, you could possibly find the sheer epicness of it tiring and wish for a little bit more variation. That's not to say there is none- the almost house-piano elements in "Black Weed" being a great example, the long spoken-word samples in "Transition II" a less distinctive one- but it does appear that Steer has stayed somewhat in his comfort zone at times, which is a shame as the production touches are so deft that you do wonder if he could have been more ambitious in his scope.

As well as having a definite appeal to fans of the accessible-rock-music-with-electronica that seems to come out of Germany in satisfying quantities, this release is an absolute most for fans of UNKLE that I've already mentioned, but also Hybrid, M83, Ulrich Schnauss and beyond.