Artist:
Ernesto Diaz-Infante (@)
Title:
Manitas
Format:
CD
Label:
Kendra Steiner Editions
(@)
Rated:
This new release by Ernesto Diaz-Infante is a structured improvisation where he tries to achieve, using his words, "a spectral way of playing" and was inspired by ecil Taylor's 'Air Above Mountains'. While his latest releases were based on strumming, this release is based on guitar lines without a tone center. This makes the first minutes of this release hard to follow for those unacquainted with this kind of musical development. The second part of this release, starting at approximately 10 minutes, is based, more than on the strumming with whom it begins, with the guitar as a sound source rather than on his traditional use so it's even noisy. The final part, beginning with another strumming, returns to the free form territories as if the structure called for a circle.
It's noteworthy how, instead of closing himself in a cliché, he decided to explore a different territory without resorting to the usual contemplation of guitar sound with strumming but entering a dimension closer to free improvisation exploring another level of guitar sound. Even if this could frighten a fan used to hear more or less the same music from a known artist i.e., have his expectation fulfilled, he's reminded how listening means being exposed to the unknown. Recommended.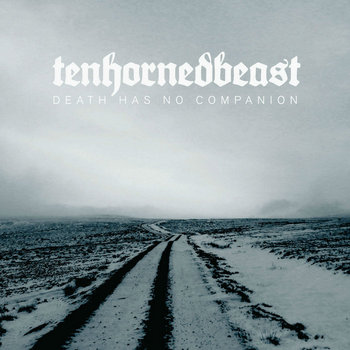 Artist:
TenHornedBeast
Title:
Death Has No Companion
Format:
CD
Label:
Cold Spring
(@)
Rated:
Even if it's not a really known name, the project of Christopher Walton has already a considerable discography and it's based upon a form of dark ambient based on drones with some noises to color the plain audio field. This new release collects three long track where it's the quality of the writing the real center of this release rather than experimentation.
The beginning of this release is set by "The Wanderer" a long track based on drones which ebb and flow creating a sense of something changing but, at a closer listening, there's a work of perspective as when one drone is on the foreground, the other act as an accompaniment and this procedure is enacted as a loop with an hypnotic effect. The silence in which "The Lamentation Of Their Women" is immersed when the initial loop emerges creates a sense of tension that is further enhanced by the noisy samples, that are drones of short duration, used in loop until in the final part of the track the elements are juxtaposed creating a sort of false catharsis. "In Each Of Us A Secret Sorrow" closes this release mixing the structure of the first two tracks creating a track that in his stillness has a sort of narrative that capture the listener's attention.
Whilst it's a release deeply rooted in a known form, there's a work upon it that creates something that escape boredom in every way. A remarkable release.
Artist:
Electric Bird Noise
Title:
The Moonflower
Format:
Download Only (MP3 + Lossless)
Label:
Silber Media
Confusingly, the latest Electric Bird Noise release is simultaneously both the imagined soundtrack to a Philip James Fox play, and a 'greatest hits' release gathering together extracts from previous Electric Bird Noise releases.

Across the fourteen short pieces there's a diversity which reflects the diversity of the project. From more straightforward meandering solo guitar pieces like the opening few tracks, some of which have somewhat drunken-sounding filters over them, to more fully-rounded shoegaze-type stuff like "Welcome To Static Beach" and "I Come From The Earth", to fast punk workouts like "I Miss Those Hardcore Kids", to the synthwave tones of "Carnegiea Gigantea", it certainly tries to encapsulate a lot.

The diversity isn't so broad that you would think "I can't believe these all come from the same artist", but it's certainly a neat and versatile range that has the dynamic changes that make sense if you think of it as a soundtrack album. Alternatively it's a decent sampler advertising Electric Bird Noise's longer and more consistent previous works, but either way, it's worth checking out.
Artist:
Afredo Costa Monteiro / Miguel A. Garcia
Title:
Aq'ab'al
Format:
CD
Label:
Mikroton
This is the first published collaboration between these two experimental improvisers. In it, some familiar stalwart sounds of dark experimental ambient music including drones, industrial noises, feedback, white noises (and other flavours I think), analogue modulations and glitches wash and wave, sometimes fairly slowly, sometimes abruptly, as you're taken into an alien environment that's complex, immersive yet largely unwelcoming.

Though packaged as 4 tracks, each around 10 minutes long, it's a relentless work with little distinction between the sections. Things do mellow out briefly towards the end of second piece "Und", but it's a temporary reprieve. The hollow tones at the beginning of "Toj" have a slightly more horror movie flavour for a while, while parts of "Sappnicran" feel like they've been pumped through a plastic tube.

It's abrasive but over time it gradually becomes quite compelling, with a sort of sonic scouring effect. Particularly on headphones it's somewhat cathartic. It doesn't peddle anything particularly new or distinctive, but as a well-wrapped dose of experimental noise it develops its own sense of function.
Artist:
The Negativity Bias
(@)
Title:
Whatever You Want
Format:
CD
Label:
Audiophob
(@)
Rated:
A rather mysterious release with a serious lack of information, 'The Negativity Bias' is an electronic project by German music producer Chris Dupont (real name Christoph Lemke) and 'Whatever You Want' is the project's debut release. According to the Audiopho label, The Negativity Bias is "inspired by the musical output of SCUBA, Marcel Dettmann, Planetary Assault Systems and S.W.Z.K.," and "works as an emotional bridge between artist and listener. Warm Deep House structures are combined with cold effects known from the Industrial/Noise sector." Okay, well there are a lot of influences here in this cross-genre project - IDM, techno, psy-trance, quasi-industrial, etc. The beat-richness of the compositions make for some decent danceability, the techno aspect should please the technoheads, and the psy-trance element should delight the spacers. 'Whatever You Want' is likely a truer form of IDM than most stuff that gets called IDM. There is little attention to melody in these compositions, and rhythm is the dominant factor. After the jittery opening track titled "Black Coloured Trauma" most of the following tracks take on a groove-oriented motif that generally stays throughout when the beats begin. (The wobbly, synth-effluvetic "Neon Light Force" is one exception, but even that has its own groove.) I should mention that Mr. Lemke is no newcomer to the scene, being involved in projects such as Kleqq, MRDTC, Mr. Dupont, NordarR, and others. One track, "Sweet Little Pershing" features Blac Kolor, a likely enough ally for this type of music. 'Whatever You Want' is the kind of music you'd expect to hear at raves and at EDM clubs when the crowd is rally worked up. So if you're that kind of DJ, you should really check this out. Another exception though is the patently weird "The Wind Carries," a beatless track that goes through a number of strange permutations with industrial sounds and warped strings that sound like a sick mellotron. But most of the album is inspired beat-o-tronics meant to move your body and maybe even your mind. Not my favorite mix of genres, but exceptionally well done.