I could guess that Austrian composer Fadi Dorninger aka Hun-Fa-Di, one of the men together with John Fitzpatrick behind the curtains of The Smiling Buddhas, could have an instinctive penchant for the research of something above the lines and the challenge against altitude sickness that he gushes on this release both under the musical viewpoint and the "conceptual" one, where elevations of his native country got linked to the attempts of overtaking stylistical fences by flavoring his sonic explorations (or I'd rather say his sonic translation of a journey in the native region of Austrian Alps) by means of the audible impressions of his experience in the field of OST and music for theatre: for instance on the opening track "Snow Melt and Wet Avalanches", he turns an imaginary xylophone-like sound that could come from crystal drops over icy keyboard into a dub-oriented dance of electronic bleeps, where the majesty of Alps peeps out of a mellow drumming before getting compeltely unveiled in all its scenic splendor by sturdy synth-boom on the contemplative "Wintersun". The Smiling Buddhas renders the vertigo and the excited palpitation which precedes a ski slope into sound on "Seconds Before Skiing Down Steep!", the concern for intense electrical activity and a vague sense of disorientation nearby the safe mountain refuge of Studlhutte on the cushioned techno song of "Thunder and Lighting near Studlhutte", the creaking of wooden celing of an isolated hut under heavy snow drifts on "Snow Snow Snow", a thrilling skydown with Firngleiter on "Skiing Down Grosser Sonnblick (9941 ft.altitude)" and the rocky behemoth of Eiger notorious northface on "Nordwand", whose choirs and acid techno lines evoke its mortal shadows - many climbers died after they fell from its steep walls - , while the final track "Falling" is a soundtrack of Fadi's only fall into the rope experience, where you can vividly feel his levels of adrenalin!
Feel No Other is a project combining the electronic productions of one Brian Lea Mackenzie (Electric Bird Noise) with the muscular voice of Claudia Gregory (Exhaust the Fox, Claudia Versus the Queen of Hearts). The result is an album of somewhat uncharacteristically electronic americana/folk rock. Overall, this effect is more one of production than of voice. The usual instrumentation - guitar, piano etc. - is enlisted throughout, without hesitation. However, imposing compression lends a thickness to the sound, voluminous but rigidly full, with little breathing space. On the beatless 'Eclipse', for instance, Gregory's lyrics punch tangibly into the bed of strings courtesy of side-chaining. Elsewhere, overdriven thumps on 'Gunslinger' blast through the rest of the composition, managing quite well to illustrate the song's title. These methods might seem to cause a bothersome wrestle of frequencies, but along with an EQ heavily favouring the upper-mids they certainly associate the album with 'electronic' styles, even with the overall texture feeling quite lo-fi. Moreover, they give the whole thing a kind of brash, noisy urgency.

A gritty lo-fi song originally by Remora, 'My Brother's Guns and Knives' is an elegant cover, assuming the role of a stirring electropop lead. Unbridled and catchy, theatrically it trudges beneath Gregory's glum vibrato along a rousing progression punctuated by a wilting synth solo. This style is never quite revisited; the song favours looping hooks over outright balladry. On the other hand, the rest of the album seems to opt the other way, leaning between outbursts and quieter passages.
Balladry, of course, is mainly what fights the 'americana' corner. On 'Winter is All Over You', a trickling motif on banjo and piano dances beneath a familiar C-G#-F-G chord sequence. Meanwhile, Gregory's lyrics seem to follow the tradition of lacing tales with emotive, hyperbolic and slightly perplexing imagery ("Saw your mother at the department store / She looked innocent like a stillborn / But all I could think about was the sting"). On 'La fiance de l'eau', she sings in French, lending a further Continental theatricality to the whole thing. It's great.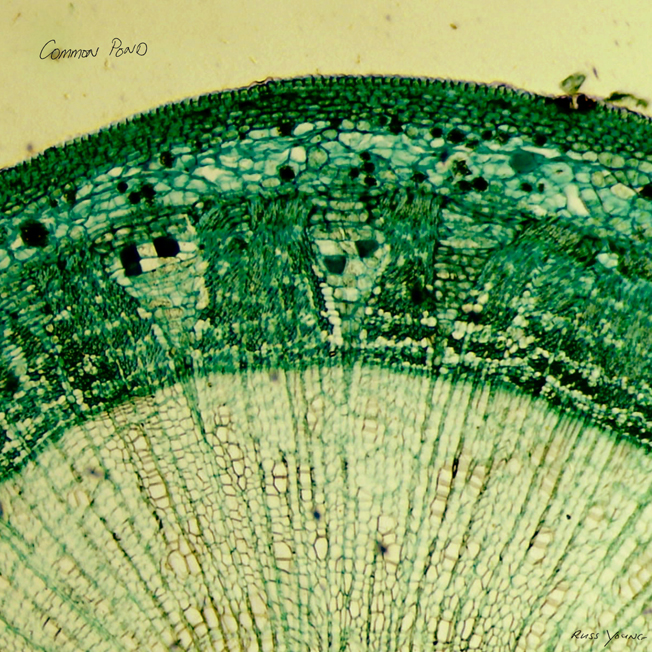 Artist:
Russ Young
Title:
Common Pond
Format:
Download Only (MP3 + Lossless)
Label:
Audiobulb
(@)
Rated:
This new, download only, release from Audiobulb is from an UK producer that introduces himself as someone "trying to create forms out of found audio" i.e., everything recorded in some form. According to the linear notes this release "try to create an image by assembling manipulated audio sources" that is a engaging statement as, in order to express image, there's a necessity to use strongly recognizable sources and a way to made the references clear to the listener. Unfortunately this is not always obtained through all this release.
The gentle sounds of "Cricket Pitch" and "Hewson Road" opens this release depicting a quiet landscape using two elements: a drone acting as a canvas and found sounds creating forms. "Lamy's Sound & Light" is a static soundscape while "Belmont Transmitter" is based on a single loop with little variations. "Common Pond" and "East Bight Stones" return to the form of the first tracks while "Phil's House", entirely based on field recordings, sounds as the only track that properly fulfills the linear notes' premises. The drones of "John's Bike" acts as a prelude to recording of a starting bike and "Observatory Roof" closes this release with small samples and sounds gently closing this relase as it started.
Due to the variety of sources and musical development it sounds more like a compilation than a proper album but this acts a costant reminder for the listener, only with headphone is possible to note the layers of small noise creating the textures of the track. Not only for fans and collectors.
The obscure abrasive bass, the dragging on drums and the menacing saxophone vents on "Dust Devil", the opening track of this astonishing release which got recorded in 2012, premiered at the 2013 EFG London Jazz Festival and released on late 2013, even if it recently reached my desk as a part of the pack of records coming from University of Huddersfield's CeNeReM - The Centre For Research In New Music -, could evoke some stuff from adjoining stylistical fields like the obscure trip-hop by Sofa Surfers or some excellent outputs by Dj Krush, but the following tracks of "Silent Spoke" render the elegant sonorities that this fourtet masterfully explores by drawing elements from doom metal, free jazz and electronic wells. Cymbals and winds keep on saturating the sonic sphere like an odourless poison gas, a subtle trepidation shines through the faint electronic blanket of their music, curvy stretches of dark tonal roads got slowly climbed by trumpet and clarinet with occasional accelerations, propelled by octopus-like drumming over broken grounds such as on the astonishing "Mobile Piece" makes this listening experience really adventurous, while hanging in the balance between haunting delicate beauty and obscure billows. The prowess by Slice in feeding this catchy musical procession got easily explained by the background of their members: the name of Canadian composer and performer Pierre Alexandre Tremblay (bass guitar, electronics), founding member of the no-tv collective, which preaches a life without tv-sets, should be known by all those ones who follow my reviews for a release on Empreintes DIGITALes I introduced and is strictly connected to University of Huddersfield where he teaches Composition and Improvisation; the name and the style by Norwich-born Dave Smith (drums, percussion), one of the co-founder of Loop Collective, is mainly known for his work with traditional Sabar drumming from The Gambia, Afro-Blues group Juju and Robert Plant presents the Sensational Space Shifters; French saxophonist and clarinettist Robin Fincker (tenor saxophone, clarinet, guitar amp), who also co-founded Loop Collective, got described as a dynamic "project instigator and in-demand sideman" and such a reputation got confirmed by the impressive number of projects he belongs; last but not least, British musician Alex Bonney (trumpet, trumpophone, electronics) is a leg of a critically acclaimed improvising duo with bassist Dave Kane, often appears as a sideman in several London-based bands (Brass Mask, World Sanguine Report, Nostalgia 77 and many more) and works as a producer and mix engineer for several record labels. Highly recommended listening experience!
A sense of playful naivety makes a splash since the very first minutes of this release on Japanese label Schole, which derives from a soud-visual performance by visual artist Koichi Nakaie, whose curriculum got filled by a plenty of experiences as a stage producer and fashion brand designer, and composer Kaname Suzuki, a classically trained pianist and keyboardist whose roots in the fields of jazz, J-pop and progressive tunefully resurface on Akisai. The sprightly rhyhtmical patterns, a seemingly innocent candor, the iridiscent variations they weaves over simple melodies could be vaguely associated to a possible crossbreeed between the compositional freshness of Keigo "Cornelius" Oyamada, who sounds mirrored on the brisker moments of this album like the opening "Line", the graceful weaving of a melodious guitar with a simple four beat-based pattern and a lively keyboard on "Synchrotronica" or the low-pitched sounds of "Yumecasy", some piano-driven acts of French electronics such as Nova Nova and some UK chilled electronica acts like Middleton's Amba or Bruce Bickerton's Alucidnation. It could be interesting to check how Suzuki's music reacts to Nakaie's visuals, but the way of rendering the abstractness of "emotions" by means of a multicolored bouquet of melodies results into a pleaseful listening experience in any case.