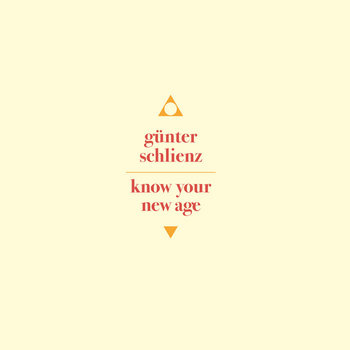 Artist:
Günter Schlienz
(@)
Title:
Know Your New Age
Format:
CD
Label:
Zoharum
(@)
Distributor:
Alchembria
Rated:
While his previous release on Zoharum, "autumn", was a kind of ambient music close to modern classical with its melodic framework, "know your new age" is a little bit more canonical in its construction and more meditative as it makes heavy use of field recordings to place the sound into a rather familiar environment for the listener.
This release has two faces: the first one is an almost direct follow-up of the previous release with its discernible melodies and the use of acoustic instruments which adds a catchy element to the whole composition which develops half way between ambient and pop; the second one is a more abstract palette, especially in "More Beautiful", that hints a movement towards a wider use of timbres instead of melodies which creates a more rarified athmosphere. However the music is always far away from an intellectual arrangement of sparse sound as a pictorial quality of the composition is always present.
This is a release that could keep its promise to heal the soul of the listener if the quietness of the music balances the urge for speed of modern life and point to a simpler one. Listen in a quiet environment.
A yin/yang four-track release by PCM, Milan-Italy's trio of producers, Francesco Perra, Matteo Cantaluppi and Matteo Millea who alternate tracks that emotionally range from the pits of sheer angst to elevation of tranquility to dread again and then ascension to sublime wonderment. Quite the emotional wave for just four tracks, you may get vertigo from the sharp rise and falls. Title track "Attraverso" has a sense of elevated angst-ridden tension from keyboard/organ that builds gradually to greater angst and intensity. When you feel things cannot get any more dim or dark, the tones continue until you feel you are in a chamber where water enters, rises, and realize there is no escape. "Attraverso" eerie keyboard/organ resonances are joined with wisps of heavy wind that skitter over tracks like rats treading afloat as flood waters continue to rise, fill and then spill beyond the confines. As apprehensive as the track may feel, there is also a certain kind of resonating beauty to it as the piece progresses and the listener is fully enveloped in layers of waves. The following, "Atraves" deeply contrasts with gentle, pensive, spacious, strumming tones later joined by a compliment of sparse yet mellifluous electric guitar notes and shimmering tones that hover. Somehow this piece conveys romantic overtones, with a hint of wistful longing and mystery. Once more we return to angst ridden territories with the steadily modulating, galloping synth tones that continue into a kind of crescendo panic attack accented with sparse guitar notes that streak by like angels who survey a procession of the damned. The fevered pitch continues for about ten minutes without letting up, rather going through a gradual rise until components of the piece finally dissolves. Capping the release is "Par", a mellifluous ambient counter to all angst to an orchestral sweeping finish with a slightly wintry feel, with lovely guitar notes that instill a sense of nocturnal, wind-swept landscapes, gentle guitar notes, with an occasional pulse-hum and a magical, uplifting finish. Though there are a mere four tracks, Attraverso feels more like an album for the variety of intense moods and emotions expressed.
Artist:
Rudy Adrian
(@)
Title:
Woodlands
Format:
CD + Download
Label:
Spotted Peccary Music
(@)
Rated:
New Zealander Rudy Adrian has been making electronic and ambient music for quite some time now, with albums that go back to 1999, and 'Woodlands' is his 6th release on the Spotted Peccary label. What Mr. Adrian accomplishes here is 13 tracks of pure enchantment, using a variety of drones and atmospheric electronics to present an impressionistic view of a natural environment, the wild forests and planted parks of Dunedin. It is a slow moving album that evolves over time, allowing the listener to become entranced within the domain created on 'Woodlands'. Each of the 13 tracks is different, yet there is a thread of similarity running through them that ties them together. "Postcard from Karnak" employs deep, slow, measured percussion and some of the drones that weave in and out sound almost human, or even godly. The babbling of a brook opens "Deep Within Forbidden Mountains" and the Asian style flute provided by Nick Prosser speaks of a realm far older than one might imagine. Other worldly voices haunt "Fields in Evening Light," in a mysterious, but not spooky way. If fact, most of the album has an aura of mystery to it, in spite of simple track titles such as "Treetops," "Moonrise," "Autumn in a Forest Glade," Hidden Pond," etc. Of course, what you make out of it comes from your own mind, but Rudy gives the listeners a lot to work with, in spite of the album's seeming simplicity. The drone textures are often complex, and frequently changing over time. Subtle additional electronics also alter the environments as well. Through the careful use of applications of reverberation, the environments often sound spacious, sometimes even vast without coming across as artificial. Twinkling higher frequency synths suggest starry nights, or even elsewhere, a gentle rain. I was a little taken aback by the real human male voice on the final track, "Three Views of a Japanese Garden" but somehow it fit and it wasn't like it was dominating, just added ambience. 'Woodland' is a contemplative work, good for meditation and relaxing. I imagine one could get quite carried away by it in the right frame of mind. Kudos to Rudy Adrian for another fine ambient album.

Artist: Roman Jungblut
Title: Back To Where It Never Started
Format: 12" vinyl + Download
Label: self-released

Established musician and sound artist Roman Jungblut mainly works in bands or on soundtrack and sound design work, as well as teaching, but his 'proper' musical releases have been very scarce, especially in the last decade. This is his first solo release to appear in his own name, without an alias, and it's a distinctive set of sketches that draws from a variety of different sounds and genres, fusing some more classical composition elements with quite an angry and raw electronic melody work that generally sits front and centre and grabs all the attention.

"Detox - Retox" opens almost like a piece of EDM, atmospheric tension getting cut through by a gutpunching, bass-rich power note full of drama- but as it proceeds, this lead note starts meandering, almost drunkenly, like a rant that has made its point nowhere to go. "78-7-8" transplants a not dissimilar distorted and wailing melody onto a much more conventional piano arpeggio base, for the most accessible piece of the set. "Einsicht" also adopts a piano but far more sparingly, letting the classic contrast between gentle bell notes and screaming abstract electro-distortion (this time with hints of vocal noises) play out in confusing fashion.

It's a short 23-minute EP, almost half of which is accounted for by final track "Two For Tooth", which is much gentler, with warm synth arpeggios and wistful pads playing out a much less harsh affair. Some crisper sounds appear as it proceeds, but it's always much more settled than what preceded it.

It's synth work with character, particularly where it's interjected with a fury and edginess that's coupled with synthwave-ish sounds that are more often used to sound glib or confident. It's clearly from an experienced and cutting-edge sound designer, and although it does feel a little more like a production showreel at times, it does stand out in its field.
German act Simpatiek's second release on the Tanzgemeinschaft label is a solid slab of upbeat techno that wins you over from the off.

"Auwey" is a positive, driving track that has a little bit of everything- bright piano chords (used sparingly), ethnic song samples that feel like a Deep Forest throwback but in a good way, bouncy synth arpeggios and a really endearing bassline. It doesn't try to take on too much, plotting a steady and DJ-friendly course perfect for a mid-set smile.

BinaryFunction offer up a remix of "Auwey" that really seems to reflect the remixer's Manchester roots, feeling like a modern techno update of that early 808 State and Hacienda sound that's now evolved into timelessness. It's a darker turn, stripping away a little of the positivity and making the chanting a little more aggressive, for some serious acid dancefloor business.

"Dawn" is a simpler affair, the same essential groove but pushed along by a strong, show-carrying bassline and a slowly appearing plinky melodic synth pattern that feels laidback wthout being lazy.

I'm still not convinced that two tracks and a remix qualifies as an "EP" but that's just pedantry about the naming, since if trying to find fault with the tracks, it's difficult to fault them. They're workmanlike rather than genius, yes, but what a great job they do.