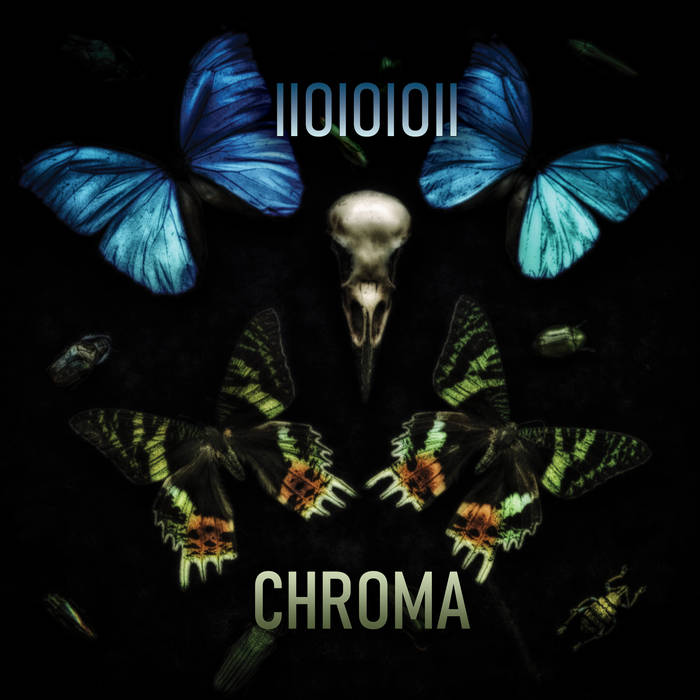 Artist:
IIOIOIOII
(@)
Title:
Chroma + Chromatic
Format:
2 x CD (double CD)
Label:
AnalogueTrash
(@)
Distributor:
Bandcamp
Rated:
Formed in 2012 in Charlotte, North Carolina, IIOIOIOII (simply pronounced I.O.) is the solo project of the Electronic musician Chris Gurney. After the self-released debut "Reflect" in late 2012 he could enter a deal with the British Juggernaut label to release his highly acclaimed follow-up album "Sun", which can be surely named as a highlight of this far too early disbanded label. After getting signed in 2016 with the Manchester-based Analogue Trash label and the release of the third album "Post Brimstone (Expanded Edition)", Chris nowaddays returns to provide his fourth album "Chroma + Chromatic" and this is undoubtly his most matured and coherent sounding album so far.

This all new album can be seen as classic double-CD release. "Chroma" presents the listener 10 completely new compositions, while "Chromatic" acts globally like the remix companion release although it has its very own flavor. IIOIOIOII's musically influences taking inspiration out of all forms of darker-minded Synth-Electronica although the globally mood behind Chris' outfit is fragile and in some cases sentimental. Over all musically influences stands generally Synthpop with Downtempo- but also Ambient-like ingredients. Chris impresses the most with his well-sorted compositions, as they follow clear structures and guidelines.

Same counts for his crafty programming skills. Let's pick out one of the true pearls of the 10 new "Chroma"-tracks, "Haloed Eyes" for example. It's an adorable moody Synthpop tune with fabolous Synth-pads widely thrown into the stereo field and a catchy chorus. Generally I prefer the rather layered and sentimental tunes over the ones which tend to build dancefloor-compatibility. It may belongs almost to his calm vocal performance that this album gives out a sedating impression. It is definitely more suitable to get consumed under a good pair of headphones instead to get dropped into the anonymity of the club-fodder arsenal.

If this crafty and beautiful produced album needs a word of crticism, well, Chris' kind to integrate his vocals into the track follows to my taste a bit too often the same register. His calm timbre sounds well but also relatively foreseeable, at times a bit too monotonous and could need here and there a bit more emotional outbursts to surprise.

Also the second part of this DCD package entitled "Chromatic" needs some introductional words. First off you'll get the usual doze of remix contributions to the original "Chroma" tracks by such projcts among others like Grendel, Adoration Destroyed, Glass Apple Bonzai, or The Rain Within.
Especially the refreshing Grendel remix of "Haloed Eyes" with its saxophone inserts sets a high level and transforms this track to well usable dancefloor tune. Also quite enjoyable are those rather Synthwave-influenced remix works of Glass Apple Bonzai ("Cyan Dream") or The Rain Within ("Digital Moon"). Although most of the remixes here are radical reworkings of the original songs I still think that those contributions only work well regarding business relations. To me the original compositions of the artist are more important and reflect better the musically talent behind. Luckily you'll get rewarded with two further original tracks, "Over" and "Path to Lose".

There's nothing wrong with a purchase of this well-thought produced album and it features a lot of attactive ingredients of Chris Gurney's musically development throughout the years. And since I am quite late (again...) to review it, I must admit, that it perfectly fits from its mood to the beginning of the autumn days. Stuff to sink in under headphones or in front of a fireside.

Artist:
Felix Lee
Title:
Inna Daze
Format:
CD & Vinyl
Label:
Planet Mu
Felix Lee's debut album treads an interesting line inbetween dark, faintly gothic male-vocalled synthwave and the more cerebral, slow and sub-bass atmospherics more commonly associated with Planet Mu.

It avoids any temptation towards retro sounds, with fresh and sharp production, and complex beat work. In terms of sound space, it often goes big, with tracks like "Void" with its thick chord pads going very dramatic, "Smoke" with its gutbusting subbass and kicks, and a really nice interplay between driving synth urgency and sparse beats on "Still Torn" and the attitude-and-distortion-laden end track "Slow Decay".

But it also retains a strong sense of introspection, mainly thanks to underplayed vocals, which can be heard in play in tracks like a slightly Infusion-ish "Headless", or thoroughly pessimistic opener "KOH". Slightly sparser instrumentals like "Unified" help out with this too.

Most of the tracks are vocal, around half of them with guests, and some connect with the sound better than others. In "Focused", a distinctly grime-centric rap from Yayoyanoh changes the flavour, reducing the music to a backing pattern, and while there's nothing wrong with it, it ends up being the least successful part of the album. On the flip side to that, Gaika's still low-energy but more melodic contribution to "Sangre" is a much better fusion of sounds, and is nicely emotive.
Okay, as soon as I saw the name(s) on the return address label on the package holding this CD, I knew there was going to be trouble. Squid/Bugs Crawling out of People doesn't exactly inspire good feelings and positive vibrations. Then again, most of what we review here at Chain D.L.K. doesn't come from happy bunny land, so while not totally bizarre, the name is a bit unusual for a record label. 'Endless Meaningless Unhelpful and Uncalled for Drivel' is a collaboration between it-clings (Squid) and Nerve War (Brandon Duncan). it-clings supplies the vocal rants, and Nerve War supplies the electronic sonics. That's pretty much it...oh...you were expecting some sort of review? Commentary? Evaluation? Pffft...well, if you really need one... it-clings' ranty agenda is fueled by angry, cynical sarcasm ranting about everything and nothing all at once, over the entirety of 10 tracks for a duration of 37 minutes. All the while Nerve War provides an unsteady stream of minimal industrial electronics and rhythms (synths and drum machine) which is fairly effective as accompaniment to these diatribes, but would be worthless alone. After a few minutes of this verbal onslaught you will probably thinking to yourself- "Is this guy fucking serious, or is this some sort of sick joke?" it-clings would likely answer affirmatively to both. Social/anti-social commentary as entertainment, and entertainment as social/anti-social commentary.

Sewn throughout it-clings rants are grains of truth as well as a big heaping helping of bullshit. One particular passage on the track "Other People" goes "...they're always greeting people, wishing people well and good times ahead; their rotten blank lives of smeared shit-stained irrelevance...and how are you? and how are you? and how are you? Everyone wants to know how everyone is, but everyone just wants confirmation that everything and everyone shares their same meaningless bland upbeat contentment. Everyone is good. We're fine. Everyone hides cringing behind this shallow lie of mild satisfaction..." Ain't that the truth, or something like it. There are no 'sacred cows' in it-clings world; neither the good, the bad, nor the ugly are spared. Fans of it-clings are scourged as mercilessly as the people, places and things it-clings hates, and even it-clings himself is beaten-up in the process, with an unhealthy does of self-deprecation and self-loathing upon occasion. To a certain extent it-clings exhibits all the charm of an insult-clown at a carnival dunk tank booth, and might be really good at it too, but it seems unlikely that Squid could muster up the enthusiasm or reliability for such an undertaking. There is nothing new about this kind of nihilistic verbal tirade and it-clings admits it as well. (This is actually it-clings third album release, and he's had upteen guest appearances on the projects of others. Brandon Duncan has about 14 releases himself under various project names.) In fact, this country has a pretty nasty ranter-in-chief in that big White House, and although his spiel is markedly different from what we have here, it still, goes on and on and on every single fucking day of the year.

So I suppose we're in the age of rants, or rantz of you prefer, and it makes perfect sense that somebody, somewhere (Toronto, Canada, if you're interested) had to put something like this out. Also, it happens to be in all formats - Vinyl, CD, tape and digital, which I think is fairly surprising. I also know people who would absolutely LOVE THIS, being largely misanthropic and always looking for those who share their world view of contempt and loathing. For me, it's a little much, unless I'm having a really, really bad day, and truth be told, I'm trying to get away from wallowing in that sort of thing.

I'm not going to give this any kind of star (*) rating not because I don't like it, or think it doesn't have merit, or whatever, but just because I don't think you can put a value judgement on this. It is what it is, so to speak. The time and effort I've spent describing it is all the validation it really needs anyway. The interesting and amusing artwork is by Steph Dumais and the album was mastered by Famine, a highly capable and eclectic electronic music produced whose work I've reviewed here in the past. One thing further though- I strongly recommend you visit the Bugs Crawling out of People website. There you will find about 30 releases (including books) you can read about and audition (the audio ones, anyway), including these guys and Famine. It's worth the time spent, and gets my vote for the best fringe music site award of the year, if there ever was such an award given.

Artist:
Pip
Title:
Possible Worlds
Format:
CD + Download
Label:
Sofa
Pip- a duo whose real names have been left undisclosed- recorded "Possible Worlds" as one 66-minute-long live take, hopping between a variety of mostly acoustic instruments to offer up an unbroken but constantly changing soundscape that is at times folky acoustic guitar noodling, and at other times fully ambient or gentle drone. It's hard to believe the claim that it's not overdubbed, because it's often very rich in tone and feels like the performance of a larger ensemble- accomplished by playing more than one instrument at once, apparently.

The result is over an hour of warm audio comfort blanket. Soft fretless guitars slowly transitioning across notes, washed with calm reverb, soft bass hums, long synthetic pad sounds and gentle waves, are all the dominant order of the day. Some of the electronic elements and more experimental playing stages- for example around the 19 minute mark- add a certain amount of friction that stops it from all being plain sailing, but these moments do tend to relax promptly and without excessive fuss. Twinkling bells and other sonic sprinkles sometimes take things in a more New Age-y direction, around the 36 minute mark being an example of how at times you wonder whether this is music with yoga or meditation in mind.

But thankfully there is more diversity and intrigue in the texturing here, for the benefit of people who want to listen rather than just to relax. Around 43 minutes in, the rasping noises, which sound like what it would like if I passionately and totally failed to play a trumpet, are truly odd, and the bowing saw noises and bubbly tones in the last ten minutes certainly quirky as well.

It's an impressive and consistent single-track work, and quite an accomplishment in one take. It's all very nicely recorded, showing no outward signs of its live or single take nature, and coming across as very rich. It's gentle, but detailed, and it's quite rewarding, in a decisively laidback way.
Artist:
Quentin Sirjacq
Title:
Companion
Format:
CD
Label:
Schole
(@)
Rated:
By means of his 4th solo album, the Parisian pianist Quentin Sirjacq confirms his penchant for what some reviewers could keep on naming contamination, but that it's a proper meeting of different styles, almost as if he's making music to demonstrate the multiple possibilities by which a simple piano can be intertwined to something different from traditional registers. So that piano can be considered, as the title of the album seems to suggest, a proper companion for his musical travels, like the one of the opening "Variations", where the melodic line gets immediately followed by resounding elements (conga, marimba, electronic synths and entities squeezed by recognizable drum machines), that could sound quite disorienting before the mellifluous musical speech moves toward clearer and less asynchronous dynamics. You could wonder how Quentin together with a skilled team of occasional collaborators from the French scene such as Vincent Taurelle (Air, Tony Allen, Vincent Ségal), Julien Loutelier (Cabaret Contemporain, Emile Parisien), Steve Arguelles (Benoit Delbecq, The Recyclers) and Arnaud Lassus (Ensemble Kern, Percussions de Strasbourg) manages to make his apparatus of complex mutations and stylistic hybrids so accessible by a wise usage of simple melodies that paradoxically disguise transmutations and transition particularly in tracks like "Dance", "Carol", "Companion" or the awesome "Choral" (the best moment of the whole album due to the unpredictable cross of film music and free jazz). Mutations or hybrids between electronic music, neoclassical, Balinese influences, Afro poly rhythms, film music or even the above-mentioned free jazz moments have rarely been less traumatizing than in records like these, where Quentin almost acts like a wise anesthetist.