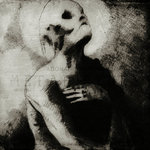 Artist:
Adonai Atrophia
(@)
Title:
Metahistory
Format:
Download Only (MP3 + Lossless)
Label:
Eighth Tower Records
(@)
Rated:
According to the short liner notes from the label this is an enhanced and remastered reissue of an obscure release form this Bulgarian project by Seraphim Veluvian. Inspired by esoteric and ancient religions, his music is an highly detailed idea of dark ambient, as the drone is just a unifying element for a series of elements borrowed mostly by '70s electronic music giving an unusual sense of variety to this release.
While "The Infinite She" seems to start an almost canonical dark ambient album, the relatively '70s oriented sound of the synth takes the track along the tracks of evocative music for film. "Al Awwal" revolves, instead, upon hypnotic and repetitive music figures hiding the complex soundscape which is the real focus of the piece. "Metahistory" is a crescendo from a quiet and islet part to a surrounding drone. To add another level of evocativness, "The First Sunset (Phosphorus)" uses samples from a sort of religious chant in latin. "Ain Soph Aur" is another crescendo for drones while the tonal compression of "Malah Ga-Mavet" creates the sense of black and white of the cover. "Nephesh" is a small interlude ending in a child's chant while "Egregores" closes this release with a detailed soundscape where various small samples are tied by a drone.
An impressive release enhanced by the remarkable quality of the production and the clear sound spectrum. Even without any ground breaking idea, the quality of writing reveals a talent to hear carefully. Recommended.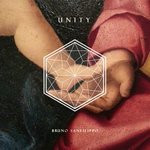 Artist:
Bruno Sanfilippo
Title:
Unity
Format:
CD
Label:
Dronarivm
(@)
Rated:
There's one problem with a release that has to be filed under the term "modern classical" which is the prejudice that it's nothing more than a nom de plume for a sort of nostalgic, if not reactionary, piano music more or less influenced by romanticism. This is not the case of Bruno Sanfilippo, which is a classically trained musician, as it uses elements of electroacoustic music to expand the palette of this genre of music and tries to avoid the cliché.
The first track, "Spiral", is an ethereal piece for voices and synth of remarkable atmosphere and clarity revealing also a sort of religious inspiration. Instead, a track like "One", dangerously borders the romantic borders of the genre luckily far enough from its shoal upon which the minimalistic framework of "Lux" docks. The violin line of "Simple" reveals an apparent simplicity to cover the complexity of the accompaniment while "Oneness" relies on the catchy melodic framework. The electronic treatments of "Entity" and "Cyclical" creates a lingering sense of suspension to balance the romantic piano melody. "Unity" close this release with a long and reasonably complex track where repetitive and hypnotic melodic elements creates a development ending in a ethereal final part close to canonical ambient.
The evident working on sound to juxtapose a patina of modernity to an overall traditional idea of music, as minimalism in this case is not based on repetitive figure but on a plain melodic plan, saves this release from the perilous courses of the genre but it could be not enough to earn something more. Perhaps not only for fans and collectors.
Artist:
Sean Julian
(@)
Title:
Sounds of the Birch Forest
Format:
Download Only (MP3 + Lossless)
Label:
Take It Easy Policy
(@)
Rated:
A while ago a guy dropped into my book & record store, and while perusing some of my more non-mainstream CDs, struck up a conversation about electronic music. His name is Sean Julian and he said he'd been working with a Buchla System (portable Music Easel model) and had made a recording at his cabin in the woods outside of Bath, N.Y. using synthesis in conjunction with field recordings of the surrounding environment. I promised I'd give it a listen and if conducive to our genre format, review it here. I should let you know that 'Sounds of the Birch Forest' is being distributed by the small Take It Easy Policy label out of Oslo, Norway. Originally available on cassette, the cassette sold out so now it is only available by digital download. 'SOTBF' is comprised of 16 (mostly brief) tracks that take some fairly expected field recording sounds (water, thunder, rain, birds, crickets, leaves rustling in the wind, footsteps trudging in the snow, crackling fire, etc.) and combines them with Buchla synthesized sounds. A number of the tracks are hinted at by the titles - "Thunder Beings," "Buchla Crickets," "Tending Fire," "Insects Swarming," etc., but there's still a lot left to your imagination. As for the synth programming, some of it is pretty basic synthesizer experimentation, and reminded me of the kind of stuff I was doing when I first acquired an ARP 2600 (long gone now). Some of it is a bit more elaborate employing sequencing and more advanced forms of modulation as well as overdubbing. Still, there is a minimalism here in the general simplicity of these pieces. Because of a certain musicality woven through a good number of these tracks I wouldn't call this work strictly ambient as some of it is melambient (my word; melodic-ambient) and other portions more or less experimental. The opener, "Thunder Beings" begins with the sounds of rain and thunder while an old piano plays a melancholy melody, and a bit later a voice comes in with a subtle recitation. The piano is the only real instrument I heard on this album and does not return; ie- not typical of the majority of the album. Later, a track called "Haunted" uses a Wendy Carlos style deep sawtooth bass riff (Think 'The Shining' soundtrack) while crows caw overhead and someone sounds like they're walking through the woods. A bit on the ominous side but welcome, and a good offset for some of the happier tracks. "Falling Leaves" uses Tangerine Dream style rapid multi-sequenced synth as its basis. Elsewhere on other tracks big bellish tones ring out (got that ring modulator working), melodic sequenced synth happily chugs along, high whistling tones swirl around, trilling, twittering and frequency sweep oscillators roiling, burbling, buzzing, zizzing, etc., etc. To some degree there is a touch of New Ageyness to parts of this work, but I wouldn't define it as New Age. Perhaps the high point on 'SOTBF' is the 9:10 "Night Sounds" track which is a neat excursion into darkside emanations. Overall though, I'm reminded of Wendy Carlos' 'Sonic Seasonings' album, a landmark ambient recording from 1972. That's definitely not a bad thing.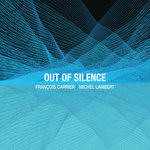 Artist:
Francois Carrier, Michel Lambert
Title:
Out Of Silence
Format:
CD
Label:
FMR Records
(@)
Rated:
As most release about improvised music, this is the recording a performance made in 2015 in London by François Carrier, on saxophone, and Michel Lambert, on drums and percussions. Roughly sketched, their music is mostly driven by saxophone which exposes the melodic parts with the drums essentially framing the segments of the performance.
The opening, and longest, track, "Out Of Silence", is developed upon the short phrases of the saxophone and the impressive works on dynamics of the drums which spans from quiet moments to furious underlines of the rhythm. While the saxophone, in "A Thousand Birds", plays almost relentlessly, the drums frames his most fragmented moments and the more continous ones. "For No Reason" is, instead, a more developed dialogue between the two instruments where Lambert begins to conduct his partner. "Soul Play" is the quieter and most lyrical moment of this release while "When the Heart Starts Singing" marks a return to faster playing. "Meadows and Shores and Hills" is marked by the drum parts which is practically a crescendo in dynamics in the first part with only a brief stop to give space to a quiet phrase of the saxophone. "Happy to You" closes this release with at least a small hint of catchy melody.
This is an enjoyable and well played release that could be well received by fans of classic free jazz as it's not as extreme as some output from free improvisation or EAI and has even some moments that borders into canonical jazz. It's really worth a listen.
Artist:
Kiwi
Title:
Mountains Of Dew
Format:
12" vinyl + Download
Label:
Disco Halal
"Mountains of Dew" is an unusual single- well technically they've called it an EP, but with a radio-length version, a B-side and a club mix, that pretty much the definition of a good old-fashioned single to an 80's kid like me.

The main version of opening track "Pine Marten" is a really unusual blend, with a 105bpm groove that's slightly 80's funk meeting some unorthodox Celtic atmospherics and some quite cinematic and slightly synthwave-y melody work that feels a bit heroic.

"Daubenten's Bat" is in more familiar territory, around 125bpm with a steady house beat over which sampled tribal chanting and folksy guitar loops gradually fade in, and filter and effect themselves up, before the 'real' house beat and faintly acid bassline kicks in three minutes in to strong effect.

The club mix of "Pine Marten" also pulls it up to around 125bpm, with a heavier beat and turning the bass synth pattern into something quite Moroder-ish- or reminiscent of Vangelis' Blade Runner theme- but retaining everything that's good about the melodic heart of the track.

Described as a tribute to the highlands of Scotland, you might be hard-pushed to identify the cultural origins of a lot of these sounds- you could even argue they sound more sun-drenched and African and Ibizan in parts. But for a nice bit of dreamy mid-set house meandering, this is a nice package.