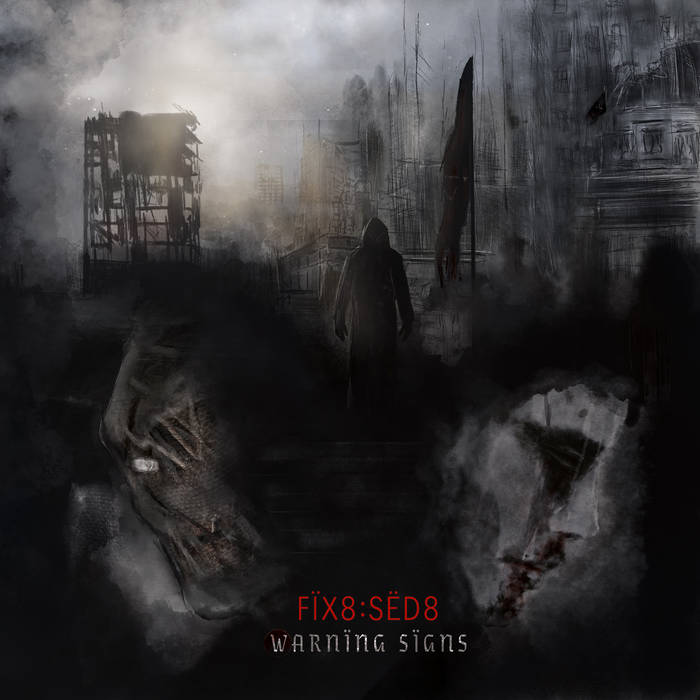 2019 seems to be generally a perfect year for friends of true and authentic Dark Electro music just if you look on the latest releases of the such hit-spotters like FLA, Amnistia, Statiqbloom, or the upcoming comeback of the Canadian legend entitled Numb. Martin Sane's solo-project Fix8:Sed8 isn't an exception and also not at all an undiscovered fellow on our site here, as this young German fellow produces his classic, verteran-styled kind of Dark Electro music since 2006. A funny as well as sarcastic interview with him can be read here: http://www.chaindlk.com/interviews/Fix8Sed8/ .

Meanwhile, after being a loner with his first two self-released albums "Humanophobia" and "Dormicum", Martin has signed a contract to the rising German Dependent label. In 2017 his third album "Foren6" has seen the light of the day and with its success he has approved his status as being propably the best-fitting "official" heir of the sound ideas taken of the Skinny Puppy and/or Mentallo & The Fixer fame. His style and personal preference is pretty much based on that retro Dark Electro sound of these obviously idols - so much that one could easily confuse Martin's outfit to them. But actually also Martin developes in his retro-oriented but still unique sound. He always works hard to add a fresh breeze through multiple vocal effects, he eplores more and more into a melodic and atmospheric facets with various layers, ominous-sounding pads und richly programmed drum patterns so that the listener needs to invest some time and concentration until the content of his musically expression creeps completely into mind.

This is it where it also starts with "Warning Signs", Martin's all new 4th studio album. After his excursion into the wide and thrilling field of medical forensics, the album "Warning Signs" thematically deals with the ongoing dystopic downturn of our societies. But actually if I nowaddays switch-on my TV set to watch such a simple thing like the daily news I am far away to rate what I see as "warning signs". According to the latest world-wide politically happenings, Martin should finally consider to name his album "Shrilling Alarm Sirens" as this title would unfortunately fit better.

The starter track "Embolism" is a bone-hard, slow stalking monster track with various different sound vocal effects and raw-cutting noise layers thrown into the mix. For sure an ideal opener of purest agony. The tone gets slightly smoother, as both following tunes, "Parasite Paradise" and moreover the over 7 minutes clocking impact entitled "Empyrean" point out a more catchy outfit with breathtaking thick synthesizer pads and cold effective layers. Most of the album tracks are based into the mid-tempo field and only a few bring back memories on his debut release "Humanophobia" on which Martin has explored a more danceable side. "Within Cells Interlinked" stands representative for this straight direction and offers from the start a punchy and fast-pacing outfit which is able to set fire under the dancefloors of all dark clubs. Maybe this track will be discussed controversially within his fans but to me this is definitely one of the highlights on this album. Ripping bass line sequences and furious lead sounds remind a lot on one or another Front Line Assembly-related idea, but also to place this rather unusual track at position 6 and so right in the middle of the whole album turns out to be a perfect decision.

It follows a track simply entitled "Love" and with this one I had hopes to find that very one special element I was longing for: The combination of the very different elements between the dark and brooding Puppy-an sickness with the melodic and fragile magic which Martin has offered us before with such timeless hymns like "Killing Fields", "Minotaurus" or "Hiob". Let's rate it fair, "Love" is another brillant Fix8:Sed8 mid-tempo track with perfectly installed vocal samples, but at least it isn't the pearl I was lurking for. Actually this special pearl isn't available on "Warning Signs".

This is maybe that tiny point of criticism because the experienced Fix8:Sed8-listener gets a perfect constructed Dark Electro album pretty much in that style as expected. With the exception of the already mentioned "Within Cells Interlinked" this album avoids unforeseeable style variations. Most of the fans would rate this as a quality. I tend to say that after 4 studio albums a form of known routine has taken impact and there's the danger that any upcoming release will be more harder and challenging for Martin to avoid repetition.

But however if you look on Martin's latest efforts with various concert trips (in South-America for example), invitations to renowned festivals like the German "Familientreffen" or "Amphi Festival" and his ongoing club tour, this all has brought more and more attention to him and his output. The times where he was relatively shy and felt not ready prepared to leave his studio or to give production-related things away into third hands are defintely over. "Warning Signs" offers pretty much everything you would expect of a post-modern produced Dark Electro release, nearly in a compareable vein of the beloved colleagues like Pyrroline, Object or Tri-State. Get it, this one is not to be missed!


Artist: The Cray Twins
Title: In The Company Of Architects
Format: CD + Download
Label: Fang Bomb

The second album from Paul Baran and Gordon Kennedy as The Cray Twins is an expansive and spectacular affair, featuring a broad range of instrumentation- synthesizers aplenty, but also organs, flutes, clarinets, occasional vocal work, casual interference of found sound, and more. These are respectfully arranged in a manner that seems to imbue narrative, and which allows each to have massive quantities of breathing space, retaining musicality for the most part but also allowing periods of structureless ambience. But it's never just lazy or over-comfortable- tonally there's always something being expressed.

The main piece is the 38-minute title track. Single chime sounds resonate extensively. Operatic soprano vocal tones are so distant and so treated that they sound like either field recordings or exhumed archive material. Under this runs a series of slowly shifting and evolving hums and warm drones that knit the otherwise fairly disparate sounds together. In the final few minutes it's bold organ chords that walk purposefully to the fore, adding to the sense of theatrical structure and sounding more than a little bit sci-fi to boot, particularly in the almost daftly gothic final crescendo.

Two additional tracks complete the work. "The Absence Of Architects" showcases a spoken word poem, under which runs spaced-out analogue synths and floaty synth work ploughing prog rock-ish melodic paths. "Anarchitects" also offers some spoken word context over lullaby-like chime sounds and slightly disquieting wind noises, before contrasting sharper-sounding synth arp noises against the soft vocal tones that seep through the wind noise.

The poetry in the second and third pieces didn't quite connect with me and it felt somehow unnecessary, but other than that one subjective detail, this is a refreshing open-minded musical approach that underlies this extremely polished and accomplished release that really stands out for both character and quality.
Artist: En Creux
Title: Default 0012
Format: 12" vinyl + Download
Label: SM-LL

On the same day En Creux contributed the tenth in the SM-LL label's "Batch" series, she has also contributed this, the twelfth release in the "Default" series. It's unclear whether there's a technical distinction between the two series, because in essence this release comes from the same sonic universe, though not perhaps from the same planet. An obvious thing both series have in common (with all other SM-LL releases) is the plain black artwork- this is not an error.

This is a half-hour pack made up of four live sonic performances which the accompanying press release at first seems to be excusing and blaming on "last-minute preparations" and "unfamiliar and faulty equipment", but it quickly becomes clear this is not an apology. Quite the opposite, this is the core purpose of this work. This is equipment-torturing noise work that revels in its own difficulty.

"WhiteNPlugOto17" is a cross-mix of actual white noise that seems to have been sidechained by impulsive, hand-triggered electric bell tone pulses that loop and attack unpredictably, but sometimes rhythmically.

Comparatively, "OscNoisePOto17" is less abrasive- again pulse driven, but this time using bass-rich and toothy oscillators that wouldn't sound out of place in dark acid techno. Knobs are gradually tweaked for a four minutes that disorients your stereo perception and has your ears forgetting what's normal.

"FbackRverbFlangIktick18" is similarly pulse-powered but more lightweight, with a slightly more playful tone that feels like it harks back to electronic experiments of decades past. A gradual acceleration in pace takes it through quirky territory before the initial core instrument fades away, subsumed by gated waves of oscillator attack that all sit over a sedate sci-fi drone bed.

Final track "Tai-giVolcaVoiceOto17" is quite a different beast altogether. It's constructed from spoken word samples that are bounced and retriggered rapidly, sometimes settling into loop patterns which sustain for a while before suddenly loop points shift and the synchronisation shifts, finding new settling ground for a few seconds before shifting again. It's a fascinating exercise and also a strong success, building rhythm where none exists. Also, for better or worse depending on your point of view, most of the track is only a bassline and a kick drum away from being a Josh-Wink-DJ-set-friendly bit of very deep house. The soft spoken tone throughout, which feels like it could potentially have belonged to a teach-yourself-a-language audio recording session due to how measured it is, also makes it a very accessible and genuinely relaxing way to finish a release which started so aggressively and noisily three tracks earlier.

It's an unusual set of live tracks where the inconsistency is a merit. Undoubtedly powerful live, in edgy experimental music terms it's a healthy buffet of ideas.
Artist: En Creux
Title: Batch 0010
Format: 12" vinyl + Download

Immediately after Vialan's contribution 9 to the "Batch" series, follows En Creux's, the tenth in the series of all-black-cover experimental electronica works- and although part of the same series, it's a very different work indeed. The latter, which I've just reviewed, is electronica with a slightly experimental edge, but this is a full-on devolution into sonic abstracts. Built primarily (or possibly purely) from mixer feedback, self-feeding loops and the textures of analogue inconsistencies, looped back on itself and heavily distorted, this is dense, dark electric noise work.

Out of the initial formlessness of "High(+15)" gradually emerges an awkward rhythm, almost 12/8 but not, which then impulsively drops to jump a thick, rubbery bass sound to the fore, before the pulsing elements gradually reappear and build systematically towards a tense, alarm-like pulsing plateau. The right side of the stereo drops out unpleasantly at times, forcing me to check my headphones weren't broken, and they weren't- it's a genuine sonic consequence of this approach that's both raw and clever at the same time.

The two short pieces "Aux1(U)" and "Aux2(U+3)" take the starting point of dodgy lead connections and feedback familiar to any sound engineer that's struggled with faulty analogue kit, and layers it up and wallows in it until it starts to become oddly comfortable. The latter track very much purrs its way into the emotional part of your brain.

This flows into final track "Low(-15)", which begins with softer, faster pulses that at times sound like hyperactive industrial techno sped and pitched up to absurd speeds; it will be interesting to see what it sounds like slowed down. Under this, distortions and twisted noises arrive in waves. It's a level of energy that feels over-sustained in a piece that's fourteen minutes long and which feels genuinely tiring by the end.

Hard-edged experimental for those who like their analogue sonic aural scrubs on the gritty side.
As stated by Lawrence English in the liner notes, "Sirens" was first presented at Berghain for CTM festival and it "documents documents the intensities surrounding the delivery and early days of his first child" with "a sense of deep affect". As this words suggest, this new work by a veteran of the electronic scene is widely different form his latest work e.g., The Bug, which are more urban oriented.
With the first seconds of "There is a problem", the listener is immersed in a sort of ambient music which has the canonical stillness but has an element of menace given by deep basses and noisy sections which underline the moments inspired by the complex circumstances in which his wife and his son had health issues. Even if almost all the track are rather short, under five minutes, there's a sense of continuum as the dub frequencies are the skeleton of this release so there's a clear musical path marked by the progressive release of the bass which has its apex with the final lullaby of "A bright future" which closes this release.
At first sight, this release could be seen as a return to the ambient form already explored in his Techno Animal days but, at a closer listen, it's really a step forward as it features the most carefully constructed sound of his career. Practically a masterpiece.