Artist:
Daniel Levin / Rob Brown
(@)
Title:
Divergent Paths
Format:
CD
Label:
Cipsela
(@)
Rated:
The third entry of improv-oriented Portuguese label Cipsela, the second I introduce on this webzine, comes from a couple of musicians that manage to show a significant talent in matching attractive dynamics and unconventional performative techniques. Hampton-born skilled saxophonist Rob Brown - the first time I listened to something by Rob was his second collaborations with well-known pianist Matthew Shipp - and cellist Daniel Levin from Burlington, Vermont, are good pals and shared their performative skills on many stages, so I won't say their paths entirely diverged on this release! The explanation of the title seems to refer to the hijinks by an airline company and the booking of a supposedly non-existing flight that struck the duo in Poznan, Poland, so that they had to delay this scheduled performance at Salao Brazil in Coimbra for two days. Such an experience could not have had but an influence on the frequent devious twists and turns by Rob on his alto saxophone that are often followed by that kind of tonal sequence by Levin that could be the perfect soundtrack for that kind of headache that could rise when you get stuck in urban traffic. Besides the last association, they cover a broad range of timbres, textures, gestures, chops and technical virtuosities, where they seem to look for matching points and harmonic and disharmonic balances by building more and more permanent bridges. A plenty of bridges that sound like collapsing over the 17 minutes of "Mutuality", the first improvisation, till a precarious equilibrium of "Match Point", the shortest improvisation after the long "Dialogue" in the middle of the performance. In spite of many "advanced" techniques, the listening experience they provided could be a useful introduction to "binary" improv sessions.
Once upon a time, the weirdly glorious cassette was almost a fetish for teenagers, and we could say that a similar importantly cohesive significance had some toy keyboards and first computers, which became a sort of medium of any kind of physical and mental disease in a rising capitalist greed society. Whether you consider such objects as shuttles for spiritual journeys or carriers of youngish escapism, many interesting stylistic languages got developed on the more or less hot ashes of punk and electronic music. One of the most unusual and less known ones emerged in the shadows of improvised cassette label and "nursery" of West Germany besides punk and krautrock by the inelegant fancy of really young rudimentary sound artists. This precious document belongs to that historical moment in the 80ies, when wave and industrial begin to meet synths in the rooms of well-fed and particularly skilled boys. You maybe won't imagine that the source of this 80-minutes lasting tape is the collection of formerly unreleased experiments on shoddy Casio synths, drum machines and synth emulators by many youngsters (mainly aged between 9 and 15...you will recognize their age by the teeny voices you're going to listen) that Grotesk, the tape label that Felix Kubin and his brother Max founded in their parents' house in Bergedorf when they were their mindless years as children of a supposedly opulent West Germany on Chromedioxid II 60 BASF cassettes. Considering their limited tools, you won't believe how cheeky babies - many reviewers labelled the scene as "Kinderbandszene" -, who named their neurotic and really bizarre experiments in likewise odd ways such as x2 - they signed some of the most incredible tracks of this collection, including astonishing intersections with "mature" classical music...tracks like "Bach", "Klavierstuck", "Gesang Badadam" are really excellent -, Intensive Styroporsymbole, Universalanschluss, Die Egozentrischen 2 - featuring a baffling stridency between the acerbic roughness of 8bit and electrocrappy sounds and the intrinsic meaning of their content - could have done...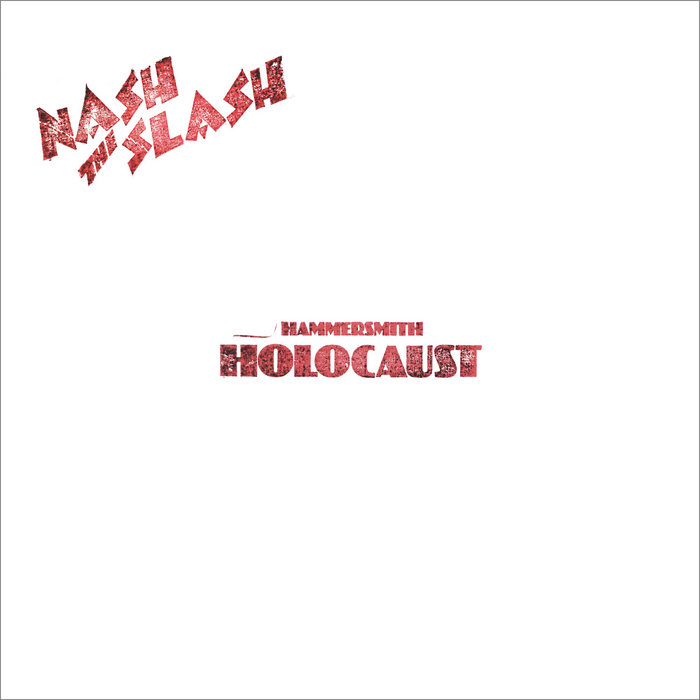 Artist:
Nash The Slash
Title:
Hammersmith Holocaust
Format:
12"
Label:
Artoffact Records
Rated:
Introduced by the GOD of wave GARY NUMAN this artist is something not possible to be missed. A lonely genius facing the audience like an elegant mummy or better to say like the invisible man in a public space. He was from Toronto and his guitar is hard to forget deepened in weird reverberation, it's possible to listen echos of the Jew Music coming from another eon. It's a real once in a lifetime listening. The cover of Smoke of the Water is a pure sublime trauma where sound processing and a sick voice scream in the name of the rock and roll but both are caged into a psychedelic hell. Nash the Slash is a milestone in the musical raping, nothing is sacred for him and everything is ironically sublime. Nash seems born from David Lynch's mind in a state of grace.
image not
available
anymore
Enfant Terrible with its sub-label Gooiland Elektro is about to release a new compilation titled "Noblesse Oblige" containing bands that are a perfect tool to explore EBM and techno made in NL. For those who are looking for a throbbing and strobing sound with harsh voices coming from the void of universe, this is for sure a safe harbor. Enfant Terrible presents, in this wild wild wild wake, bring to you LCN, Monocorpse, Profligate, Osty, Neugeborene Nachtmusik, and Future Blondes. Some are ruvid like Profligate, other are dance floor ready. This is definitely a cornucopia which vomits on us the indubitable fact the EBM and electro never dies and it is ready to infect and to bend brains and knees.
Artist:
e
Title:
The Levitation Syndrome
Format:
12"
Label:
Artoffact Records
Rated:
A limited edition of the seminal work of "e" which were early warriors of the PROTO-WAVE era in Vancouver, this vinyl includes all tracks from e's three releases, as well as a bonus and very TG-like track. Listening this masterpiece nobody seems changed and the TIME MACHINE effect is assured. Simple and sharp synth sounds often repetitive and hypnotic are dominated by edgy voices which sing straight in the face of the unborn god of New Wave, in that time. The Levitation Syndrome is a real gem and this limited vinyl edition in 200 copies has to be considered a treasure to be discovered and propelled again. The bonus track in the album is the E925 and for sure it will blast every expectation. My favorite track is Prime Cuts. In the house of the record is present also a text of Michael Wonderful which tells us the journey of this peculiar proto-wave band which had its strike in the '80ies in Vancouver.