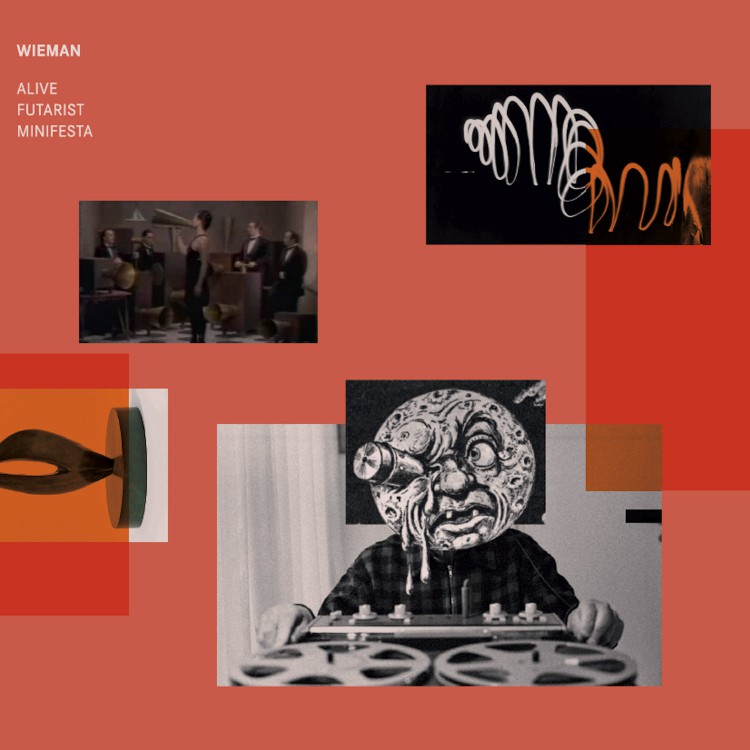 Artist:
Wieman
(@)
Title:
Alive Futarist Minifesta
Format:
CD
Label:
attenuation circuit
(@)
Rated:
This release starts from a performance in Tilburg to celebrate the 100th anniversary of 'Futurism' and, for this effort, the duo of Roel Meelkop & Frans de Waard was joined by Jos Smolders. From a musical perspective, Wieman sounds as a logical continuation of the path taken by Goem but, while this project was almost rigorous in their form, this release is seeking ways to sneak off from rigid structures with detours to other paths and "épater l'auditeur".
The sound of an airplane, under a pounding beat, opens this release and set the musical tone at the crossroad of futurist's fetishes and, obviously, noises. The second part of the track is a sort of dance interlude centered upon Smolders synth where a spoken work recording, mostly taken from 2001: a space odyssey, adds that sense of estrangement which is the character of last century's avant-garde. The third part is closer to the classic Goem form as it completely centered upon minimal beats and sparse noises that suddenly takes the foreground for an harsh interlude featuring in the background war sirens as a probable reference to upcoming war. Almost unexpectedly a meditative fourth part starts as a sort of danceable (?) interlude to an atmospheric part acting as a bridge to the closing noises that ends the piece.
It's another work that confirms the even creative status of this artists which continue to seek new ways to expand their now codified language. A remarkable work of art.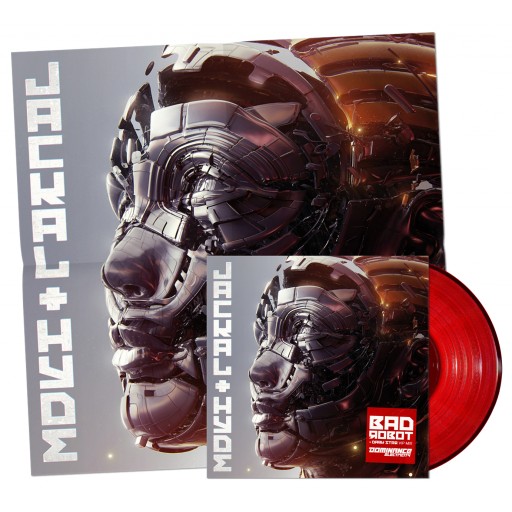 Artist:
Jackal & Hyde
Title:
Bad Robot
Format:
12"
Label:
Dominance Electricity
Rated:
"I'm the bad robot, the one that will destroy, I'm the bad robot, the future humanoid, my design is perfection, that becomes divinity, I'm the bad robot, I'll change the galaxy". This is the message of the newest Jackal & Hyde 12" and sounds like a promise! Active since early early '00s, the duo is formed by the electro veterans
Scott Weiser and Todd Walker of Dynamix II and Bass Junkies fame, respectively. Dynamix II is a legend of Miami electro and is existing since mid 80s, while Bass Junkies were active in the 90s. Both bands had releases out on Dynamix II Records. With a couple of albums and many 12"s on their back, Jackal & Hyde are bringing to the electro lovers a new upbeat tune which is a blast. "Bad Robot" gathers all the catchy things of electro: powerful rich rhythms, catchy melodies, synth stabs and glitches. All this packed into a sharp sounding mix. Also the B side is great one, even if it isn't a new tune: "Dark Star" is a new version of a track included into 12" released in 2004 which was shared with Dynamix II and Volsoc. While writing this review I listened to this single at least three times and I'm not tired yet. The 12" will be available on red vinyl with poster as well as on black vinyl, for Dominance Electricity. Give to it a virtual spin here https://soundcloud.com/dominance-electricity/badrobot
Artist:
Andrew Reddy
(@)
Title:
Spitting broken teeth and mistranslations
Format:
Download Only (MP3 + Lossless)
Label:
self-released
Rated:
Andrew Reddy the creator of this work describes this as an album of amorphous noisescape tracks and cacophonous minimalist drones. It is hard to argue with this, the listener is bombarded by an onslaught of manipulated electronic and guitar sounds dominated by fuzzy interference, harsh scraping, crackling and buzzing with the odd field sample thrown in for good measure. Some tracks veer to dark ambient and are more immediate and compelling allowing faint glimmers of reflection, but in the main the the overriding ethos is less dynamic, bleak and suffocating. However, a highly stylised and scientific approach is evident in the crafting of these cold, harsh sounds. The track " precession" is apparently created from a system of examining molecular structure using their resonant frequencies, in this case Hydrogen. Strangely enough this track portrays a more cavernous and eerie atmosphere more reminiscent of deep space ambient with its ominous tones and distant crackling emerging from its blackness. The overall sound is not an easy listen, this was never the objective, it's more suited to dedicated noise fanatics who could enjoy dissecting the various dissonant elements. In a more poetic sense however it could be the soundtrack to an ongoing fundamental, chemical process or experiment where random elementary particles scream, burn, explode and die.
Artist:
France Jobin
(@)
Title:
Singulum
Format:
CD
Label:
Line
(@)
Rated:
Electronic music composers get portrayed or portray themselves as icy mannequins, ataractic or ghostly entities or robotic hybrids. Even if there's always a reason of similar (self)portraits and more or less aware representations, a certain humanity could look like a disrupting element of such a cliche, particularly when the technical canon seems coherent to a desired idea of excellence. When Montreal-based minimalist composer and sound artist France Jobin will gradually make her way into your eardrums, she doesn't opt for brute attacks or epic introduction, but she lets a glimmering breathe of piano tones and light electronic buzzes peep out by a strategy that you'll be tempted to label as shy. But such a shyness got matched to a grace, that is going to magnetically attract towards her surprisingly interesting sonic world, where sonic particles gently flow till the moment they sound like sparkling a significant process in a rarefied environment. France's way to organize these fascinating sonic particles seems to have been inspired by quantum physics: in her own words, "quantum physics inspires me to draw a parallel between the fundamental building blocks of physics, sounds and music. I put field recordings through a series of editing and manipulation processes which result in very different sounds from their origins. These manipulations affect time, timbre, harmonics and the essence of each sound, whereas composition influences how they relate to each other.". I don't really know how these scientific matters influenced her sound, but I'm pretty sure that she managed to find a path by which minimal electronic music can gracefully sound even more immersive than over-stuffed sonic outputs.
Artist:
Daniele Brusaschetto
(@)
Title:
Radio Stridentia
Format:
CD
Label:
Bosco records
Rated:
Daniele Brusaschetto has been a staple in Italy's sad and ever-more-shrinking industrial/rock scene for at least 20 years now, and honestly I lost count of how many records he's made... he just keeps putting them out, as he should!
The latest one is called "Radio Stridentia" (full disclosure: I did master this CD) and is a collection of 6 songs, some in Italian and some in English, featuring guest drummer Bruno Dorella on two tracks, guest e-bow guitarist and synth-player Francesco Lurgo and guest synth player Marco Milanesio (of DsorDNE fame) on two tracks. This CD even has a Leonard Cohen cover, which I hadn't initially recognize.
Musically I would say Daniele revisited his darker and moodier songwriting and orchestration chops... the guitar is ever present, being his main instrument, and so is his peculiar vocal style, of course, but the surrounding instrumentation and arrangments are a bit less abrasive than in some of the previous releases, so the focus is back on the lyrics and the ambiance... The opening tune sounds like it is came straight out of one of the quieter Einsturzende Neubauten releases (think "Haus Der Luge" but with Daniele's languid, smooth and less atonal voice) but then turns into a mixture of that and a more nordic, almost Autechre/Boards of Canada sound. Right after that the fuzzy guitar comes at you strong to keep you on your toes and remind you what you just signed up for. This is maybe one of the hardest and harshest songs with a four on the floor almost techno-industrial beat that is subdued by the industrial fierceness and distortion. Then the strident radio tunes back into something initially more approachable, and by track 4 you even get a glimpse of a nylon string guitar (if not a first, definitely a rare sight in the Brusaschetto world). This is also the first track in English and it eventually turns into a drum'n'bass opus with a reverberated distorted synth line that kinda hovers over the interesting chord changes that evolve and devolve around the initial chord progression. Very interesting track. The punk roots of this artist sometimes shine through but never really make themselves known in a clear or obvious way or just hide under the noise-rock umbrella. When he goes from his low register to his falsetto singing and throws in clean arpeggios of electric guitar there are almost some echoes of Radiohead, or even The Cure (on track 7), but Brusaschetto always retains his harsher nature and his bedrock of industrial activity and art-rockerism, and he likes to remind you of that with a great closing track that has a bunch of guitar overdubs over some kind of repurposed and highly treated drum beat that carries one of his more melodic vocal performances.
If you are tired of the usual industrial rock or of the usual rock or of the usual industrial, and definitely if you are tired of the usual Italian music, you must check this guy out!