Artist:
Oren Ambarchi / Stefano Pilia / Massimo Pupillo
Title:
Aithein
Format:
12"
Label:
Karlrecords
(@)
Rated:
The name of the brilliant Australian composer and multi-instrumentalist Oren Ambarchi is maybe the better known name of this trio, having been one of the most incontinent musician in the last 20 years by means of an incredible number of collaborations - the most famous ones are maybe those with John Zorn, Phil Niblock, Sunn O))), Evan Parker, Jim O'Rourke, Keiji Haino, Z'EV, Otomo Yoshihide and Richard Pinhas - and solo works, but it could be a matter of statistics as the Italian virtuosos that grouped together Oren have a likewise enviable musical path. Electric bass player Massimo Pupillo was one of the founding member of jazz-core trio ZU and could brag about excellent collaborations such as the ones with Mats Gustafsson, Paul Nilssen-Love, Lasse Marhaug and both Brötzmann (father Peter and son Caspar), while Stefano Pilia worked on many awesome sound installation after a strong activism in the Italian punk and rock more or less underground area and grouping together two other big names of the contemporary scene like David Grubbs and Andrea Belfi. I could have been influenced by the inspiring cover artwork that Sara D'Uva made for the silk-screened sleeve of this release, but their guitar-driven blend in between progressive, avant-garde, post-rock and drone sound to me as a possible soundtrack for this sort of Kali Yuga that mankind is currently experiencing at the mercy of the numbing power of media and technology. A plenty of whirling emotions and thoughts are going to run over the 33 minutes lasting suite from the very first sonic slices of the first titled "Burn" - whose preface sounds like the one of a sci-fi movie - to the rising shimmering explosions of the last minutes of "Shine". Have a check.
Artist:
Technophobia
(@)
Title:
Flicker Out
Format:
12"
Label:
Working Order Records
(@)
Rated:
Technophobia is a dark electronic band from Washington, D.C. comprised of Katie Petix (vocals) and Stephen Petix (analogue synths, drum machines and programming). They began in 2013 I believe, playing live and sharing the stage with such acts as Skinny Puppy, Laibach, Douglas McCarthy (Nitzer Ebb) and others. 'Flicker Out' is their first full-length release. This is actually one of the few reviews that I've been able to post timed with the release date (July 17), since I'm always getting backed up here and much of the product sent to Chain D.L.K. central that's handed off to me arrives well after it's been released. (They sent this to me direct, which helps speed things up.) Anyway, prior to the album, a 12" single of the track "Negative Space" was released, and I also received that, but the record arrived BROKEN. Not to worry, I was still able to check it out on the band's site, but we'll leave that to later and go straight to the album.

Opening robustly with "Shame," Katie proves to be a stong and capable vocalist with a very good melodic voice. There are nice harmonies and a ballsy beat with a decent hook. Synthwork is oldschool, and that's reflected throughout the album. There's definitely an EBM vibe here in the music as it becomes more evident in "The Principle," with a copious amount of sequencing and synth sounds you've heard a million times before, but good melody lines and harmonies keep it from heading into clicheville. The instrumental titled "Siroccos" is a sort of dark ambient mood piece with a simple synth line. Very effective. As we move further into the album, I'm noticing one thing I really like about the songs on 'Flicker Out' is the lyrics. They're poetic and meaningful without being pretentious, and a cut above what you usually find in a lot of dark electronic music today. They were written by Kristy Lupejkis and Katie Petix. The songs on the A side of the record were pretty good. Let's turn it over on the B side.

First up is "Negative Space," the song that was released as the first single. I'm getting a strong Depeche Mode vibe on this one, but in a good way. There's this dialogue sample they use in this song from Jean-Paul Sartre's 'No Exit' - "you can't throttle thoughts with hands". (It took me a while to find the source.) Although "Hands" figures prominently in the song lyrics, I'm not a big fan of movie dialogue samples in music. The band uses them in other places on the album, but so far it hasn't really worked against them. (It will, soon.) Still, the song is about the best so far, and the obvious choice for a single. "Trapped" will carry you back the the 80's. Speaking of the 80's and dialogue samples, "Factory 1981" begins by bludgeoning the listener with the (manipulated) dialogue sample "1981 began with the spectre of violence..." and carries on with an apocalyptic theme. Enuff is enough though with the dialogue samples. The kicker on the album though is the revival of an old song by The Cure from their 'Pornography' album - "One Hundred Years". I never really thought much of the song, figuring it to be rather minor in the band's ouevre, but somehow Technophobia manage to inject a new vitality into it and make it theirs; a powerful version and an outstanding track on the album.

So now let's take a look at that "Negative Space" 12" single. First you get the album version which we've already discussed. Then there is the hERETICS iN tHE lAB Meaning Nothing Remix which gives the song a more industrial edge. The Void Vison Remix is full of distorted beats, echoes up the vocal and strips away most of the music replacing it with some high-pitched synth sound in places. Garbage. Hated it. The Alter Der Ruine Remix keeps the vocals and uses minimal beat and minimal synths to begin with, then just changes it into this sequecner-heavy mess. Didn't care much for that either. Final track is a different song altogether called "Passing People". It has a nice groove, but the only vocals are dialogue samples. Overall, I'd pass on this unless you're a rabid collector of colored vinyl. BTW, I forgot to mention that 'Flicker Out' comes on soda bottle green vinyl. Now that I'd recommend buying. Your money will go to a good cause too because this altruistic band is donating 100% of the proceeds to their charity project, Life Pieces to Masterpieces, an arts-based, youth development, and mentoring organization for African American males ages 3 to 25.

Some final thoughts - Technophobia is a band with a lot of potential. I think if they lean heavily on their strengths (melodicism, good lyrics, powerful vocals and harmonies), cut down or eliminate the dialogue samples and rely a lot less on the 1/16 note synth sequencer they could be a force to be reckoned with. As is, 'Flicker Out' is a pretty good album with more ups than downs and has the potential to grow on you.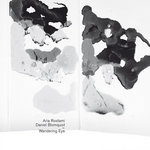 Artist:
Aria Rostami & Daniel Blomquist
(@)
Title:
Wandering Eye
Format:
CD
Label:
Glacial Movements
(@)
Rated:
This new release from Glacial Movement is the result of the collaboration between Aria Rostami and Daniel Blomquist whose working process lasted over a year and a half. The various sound materials which were created using sources as samples, filed recordings, piano and synthesizer were sometimes played live and sometimes constructed sending files back and forth. The result is something between ambient and certain modern classical, as sometimes they try to develop proper melodies rather than rely on the impact of a predictable structure for crafted sounds, and takes song titles by a paper which highlights the best places to observe space with sharpness and clarity.
The first track, "Dome A 80.37° S 77.53° E 4083m", juxtaposes a gentle melodic synth line and crackles from, perhaps, field recordings so the result balances the quietness of the sound with the movement of the noises. The first part of "Dome C 75.06° S 123.23° E 3233m" relies on old recordings of piano to generate a sense of displacement on the first part while in the second part relies on rarefied drones. "Dome F 77.19° S 39.42° E 3810m" tries some distorted sounds, probably guitar sounds, prior to return to quiet and clear soundscapes. "Ridge B ~76° S ~94.75° E ~3750m" starts with subtle windy sounds upon sparse note and seems to develop in a noisy track until they decide to act with subtractions instead of additions. "Dome B 79.0° S 93.6° E 3809m" is a gentle ambient watercolor until a background noise emerges to end the track in a dissolving silence. The first part of "Ridge A 81.5° S 73.5° E 4053m" is based on detuned samples whose small noises generate a sense of distance interrupted by the emergence of field recordings.
Quite impressive in the aspect of sound craft, it's able to give the impression to recreate the place where it was composed. Pure cinema for the ears.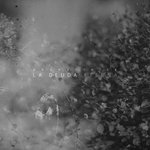 Artist:
Dramavinile
Title:
La Deuda [Eterna]
Format:
CD
Label:
manyfeetunderconcrete
(@)
Rated:
Dramavinile is the project from Vincenzo Nava based on a sort of Lo Fi personal aesthetic which refuses the crystal clear digital sound in favor of a warmer one influenced by the typical background noise of analogic equipment that creates some charming aural artifacts.
The soundscape of the first part of "La Deuda [Eterna]" which opens this release is an almost complex juxtaposition of drone, samples and small noises whose result oscillates between ambient and glitch while the guitar's insertions reminds to some electoacoustic's fields which are at the core of the meditative second part of this track that is based on small samples upon sparse guitar noted immersed in a relative silence. "UP-Nea" is instead a short track based upon a couple of drones and field recordings creating a sense of displacement. "Elephant" oscillates between quiet drones and distorted guitar taking the listener's attention. "Untitled" is a quiet soundscape while "Seven" seems to be his continuation until the guitar start as a reminiscence of a certain post rock. "Ropes" closes this release as an almost pure guitar track developed as the juxtaposition of long tones and melancholic phrases.
Whilst he reworks well known elements and forms, Vincenzo Nava tries to develop a personal form exorcising the ghost of his influences with a work focused on atmosphere and narrative which captures the listener's attention. Recommended.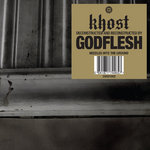 Artist:
Khost [Deconstructed And Reconstructed By] Godflesh
Title:
Needles Into The Ground
Format:
CD
Label:
Cold Spring
(@)
Rated:
This release is a reworking of Khost's material by Justin K. Bradrick of Godflesh, one of the key figure of modern music. The first three tracks are the result of the application of the formal structure at the core of Godflesh output while the fourth one is a new track by Khost, a duo made up of Andy Swanc and Damian Bennett, which left almost unchanged my opinion about them.
The first track of this EP, "Inversion", shows the main element of Godflesh music: a square and hypnotic rhythmic cage where all sounds are united in a thick mass. The noise element is, instead, the element which at the base of the relatively shelled form of "A Shadow On The Wound" that acts as an introduction to "Revelations Vultures Jackals Wolves" where the rhythmic articulation is applied to noise, so creating something distant from typical noise music that is close to the stream of consciousness. The Khost's track, "Deathsset", sounds as an homage to Godflesh being so close to the sound of this band to let the impression to be an outtake from one of their classic album.
These four track is a statement of a form which isn't aged in all those years perhaps because it was too personal to generate a scene and become popular. Another sure pick for Godflesh's fans.