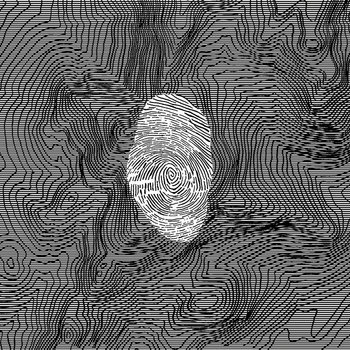 Artist:
Strom Noir / Micromelancolié
(@)
Title:
49°05'19,3"N 22°34'04,0"E
Format:
CD
Label:
Zoharum
(@)
Distributor:
Alchembria
Rated:
The coordinates of the enigmatic title "49°05'19,3"N22°34'04,0'E", according to Google Maps, refers to a place at the borders between Poland and Ukraine or it could be a place between Poland and Slovakia, the countries of the two artists responsible from this release, Strom Noir and Micromelancolié. The cover art is an hint on fingerprint as the theme of the release, not only cartography as it's based on an altimetric chart, so it could be a metaphor of security concerns related to migratory flux.
The first track, or part, of this release starts with a drone which is juxtaposed by field recording from something walking and a whistle introduces the first sparse note of the guitar of Strom Noir and suddenly the atmosphere became darker and a sense of stillness pervades the listening as something has to happen. In fact, there the depiction of the exploration of an uninhabited area or a moving from a city and, so, the track ends with sparse noise and the reverberated sound of the guitar upon a bright drone which slowly evolves and fades. The second part of this release starts with a drone that evolves on a crescendo while the underlying field recordings continues to generate that sense of exploration and, after its peak, it became to descend upon some metallic samples as someone plants a pole or a fence as this recording is present when the drone ends to close this release with the last beat on the fence.
The sense of work of art is on the ambiguity which alludes to something outside of it and challenges the listener. This release could be a report of an exploration or about a reflection on borders that are strengthening every day passing. This is obtained from a series of subtle interactions between samples, sound and artwork and it's something aiming to something else than a mere work on a codified form. Almost a masterpiece.
image not
available
anymore
Artist:
SiJ & Textere Oris
Title:
Reflections under the sky
Format:
CD
Label:
Cryo Chamber
(@)
Rated:
This new release from Cryo Chamber is a collaboration between Textere Oris and SiJ which could be classified in the path of the recent releases from this label as it's focused on illustration of musical story where field recordings have a key role. This kind of sounds are used as a way to portray something that could not be seen, an usual technique used in cinema.
The drones of "Near the Dam" open this release in a dialectic relation to small evocative noises. "Behind the window" is based on the development of static tones, rather than proper drones, so it's something closer to a form of meditative music or a blend of ambient and field recordings. The cinematic quality of this music is confirmed by "Lost" where birds' samples, drums and noises generate a movie without images. "In the Rain" is a quiet interlude, based on drones, to the second part of this release. The recording of a snowfall if the skeleton of "First Snow" whose sound evokes that sense or going to sleep evoked also by the bell sparsely heard. While "Ortuo" is focused on a slowly developing drone, "The End" closes this release with a drone acting as a background for a declaiming voice, perhaps from a priest's sermon, prior to the ending heartbeat.
An impressive release as the sound quality makes evident all the nuances of the field recordings and the musical development generates that sense of a story as it references a language close to cinema. Absolutely recommended for fans of this label.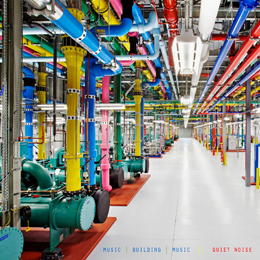 Artist:
Quiet Noise
(@)
Title:
Music | Building | Music
Format:
Download Only (MP3 + Lossless)
Label:
Audiobulb
(@)
Rated:
The follow-up of last year's 'Audible Life' is presented as "the story of a hard day's work" based on "the author's experience in labouring and carpentry" and is "a metaphor for our relentless drive for success". From a musical perspective this is something that could be classified as 'glitch-pop' or 'ambient-pop' as the experience is depicted with short tracks whose themes are absolutely catchy.
A track like "The Scenic Route" opens this release setting a musical structure where melodic appeal and rhythmic intensity sustain each other. While "Generating" develops the rhythmic elements using short samples, "Ideas of Steel Chord" develops the melodic element resulting in something between a pop song and an ambient track. A guitar loop is the main element of the first part of "Break it Down, Build it Better" while the second part is based upon the arrangement of short elements in a rhythmic structure. "Teamwork is Paramount" is almost a dance track while the guitar interlude of "Chiseling the Form" breaks a rhythmic development. The ambient miniature of "Need a Minute" is an introduction to "A Fresh Perspective" whose synth is a vague reminiscence of lost times. The aggression of the first part of "The Final Hour" is dissolved in a dreamy second part. "I Earned This" closes this release in a joyful mood.
This is that kind of release which is not ground-breaking, could not be in any playlist at the end of the year but it's something that it could be heard for month, it remains fresh and could be enjoyable by anyone. It's the magic of pop music.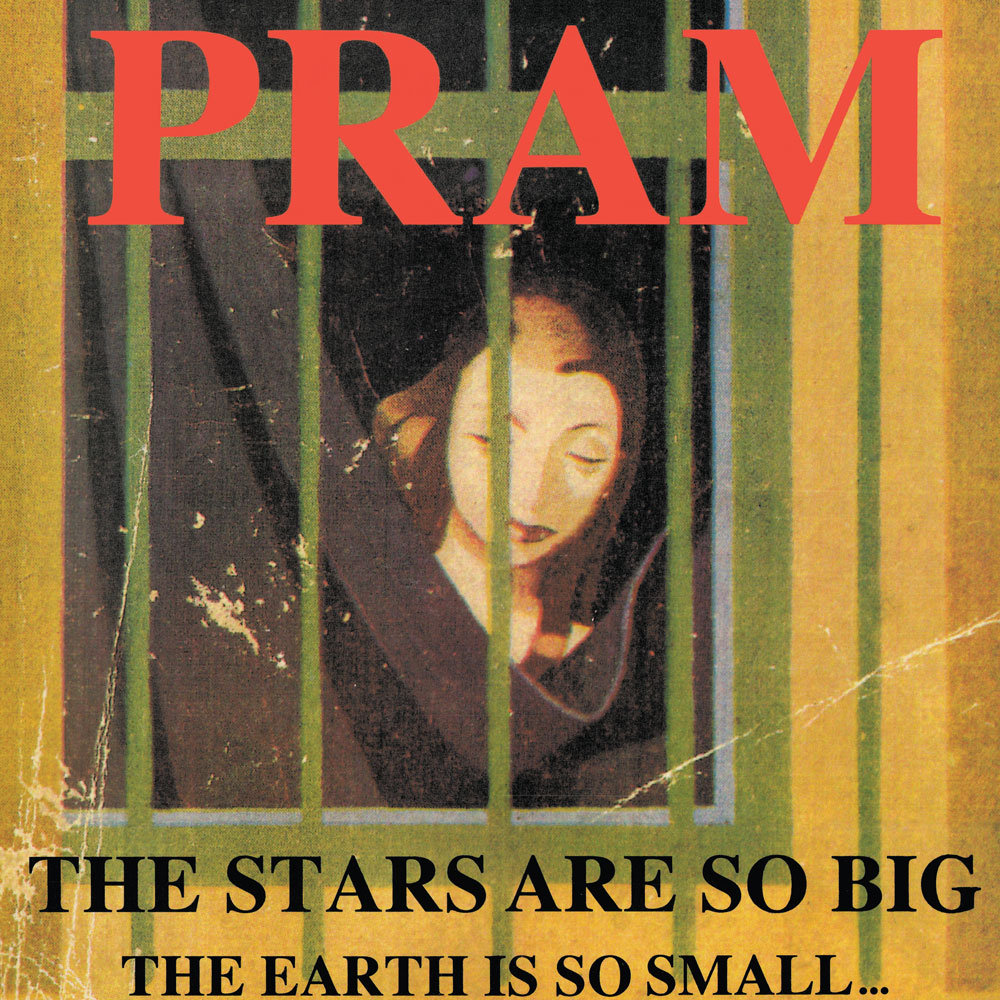 Artist:
Pram
Title:
The Stars Are So Big... The Earth Is So Small... Stay As You Are
Format:
12"
Label:
Medical Records
I missed this album the first time around, being four years old, and managed never in the years since to come into contact with the works of Pram at all. Now, thanks to present circumstances, I can at last get to know and enjoy this English band, who have turned out to be pretty superb.

First released in 1993 by Too Pure (also home to Stereolab and PJ Harvey), The Stars Are So Big... The Earth Is So Small... Stay As You Are was Pram's second LP. It's the first of two to have been reissued this year by Seattle's Medical Records, as part of a continuing project by the label to celebrate "seminal works" put out by Too Pure in the 1990s. In the case of The Stars Are So Big..., this reissue project takes the form of a red 180g vinyl repress, which I have not yet seen, but expect is a worthy labour of love.

Immediately evident when listening to this reissue is that it has not been remastered. This is distinct from some of Medical Records' other reissues, whose remasters have even been laudably restrained and clearly sensitive to the production of the original audio - showing taste and trustworthiness on the part of the label.
However, in this case, somebody involved decided a remaster wasn't necessary. The timbre of The Stars Are So Big... sounds soft and dated, muffled and a bit flat. It's possible that this sound was intentional even at the time, and that retaining it now is a conscious goal of the band's. I must agree, in any case, that there is no need to modernise these recordings. And this is likely true in most cases of reissuing music, however it was supposed to sound originally, unless we admit to participating in this period's fetishism for loudness and reappropriation, or devoting excessive energy to our commercial interests (if there's a difference). There is no 'right' way at all to do these things. But a listener's active acclimatisation to different kinds of recording and production styles, with their distinct historical and other kinds of grain, can be of great significance to the basic analyses and pleasures of musical experience. Both the process and any respect for it carry with them aesthetic as well as ethical importance.

To get to a more pertinent matter - the music itself - this album feels like a faintly twee, but rather opaque, mixture of dreamy art rock, kraut-like psychedelia and a little shoegaze. Through a filter of what sounds like no-budget, living-room production, the band's attention to detail and sonic experimentation are quite evident. Most generally, the album comprises distinct articulations of bass, guitar, electronics and drums, as well as the voice of Rosie Cuckson. On the opener 'Loco', she is nearly drowned out by noisy guitar and a throbbing, stop-start bassline. For the next tune, 'Radio Freak in a Storm', she spends the verses competing with a brilliant, metallic mallet synth motif; the guitar, this time, manifests as muted plucking. The sixteen-minute "In Dreams You Too Can Fly" is a splendid, relaxed jam. It falls quietly somewhere between jazzy stoner rock and what would later become known as post-rock, with horns provided by a guest musician known only as Verdigris. 'Milky' and the final piece 'Cape St. Vincent' are sweet and dreamy numbers, with Cuckson accompanied by cute melodies on glockenspiel, sprightly sinewave synth and, in the latter track, furry filtered piano.

Cuckson is often quite low in the mix on this record, a feature vaguely reminiscent of Belinder Butcher on MBV's Loveless. Another similarity is a prevalent emotional ambiguity, which at times Pram seem to take into outright obfuscation. Cuckson sings with an airy, aloof and shy manner, as if murmuring absently to herself. Particularly on 'Loredo Venus' and 'Dorothy', she conspires with the rest of the instrumentation to produce a beguiling, awkward and unsettling tone. It all feels fun and heartfelt, but also wry and quite uneasy. Somehow impenetrable, but deeply varied and enjoyable altogether.
Artist:
Big Hare
(@)
Title:
Hasyayoga
Format:
CD
Label:
Blowpipe Records
(@)
Rated:
Big Hare is the duo of Luuk Ottenhof and Tim Fraanje from Ultrecht, Netherlands. I reviewed their 'Evening Rites' EP a while back and found it interesting, but after listening to 'Hasyayoga' it appears as though they were only getting started. There are only 8 tracks on this short album, but it seems quite sufficient. Right out of the gate on "Tahiti" and "Yellow Eyes" they show a quirky, wry pop sensibility akin to the more experimental side of Goldley and Creme, albeit somewhat more whacked-out and lo-fi. "Black Tape" is electro-funky with a chiming guitar strum borrowed from Bowie's "Fame", along with some steel drum. "Fun Face" gets into an electro groove ala Yello as if produced by The
Residents. The Snakefinger-ish guitar on "An Amazon" would seem to indicate the boys of Big Hare spent a lot of time listening to Ralph Records artists. Nowhere does the Dadaist influence emerge more fully than on the recitation incorporated into "Scissor Dance". Beeheart and Pere Ubu wrapped in a Middle Eastern motif as if done by Barnes & Barnes. "Lend me your hands, I ain't go no hands, I've taken part in the Scissor Dance." The weakest track on the album may be "Treehouse" but at least it has some eerie oscillating synth. It all ends with the lengthiest track on the album, "Follow the Lines" which is kinda coldwave, kinda industrial, done almost like the earliest Human League, but of course with Big Hare's innate quirkiness. There aren't many outfits making music like this anymore; stuff that's fun but not necessarily funny, unconventional without being outlandish, but most of all, enjoyable.