Artist:
HenriFernand
Title:
The More I Learn
Format:
Download Only (MP3 + Lossless)
Label:
Future Relics
(@)
Rated:
The man behind HenriFernad is Ludovic Bordas, an "Has-Been" of the 90ies electro-trance French scene as it was one of the secret recipes of "Pills" alongside Anthony Sandor, whose debut album "Foundation" is still considered a masterpiece of that scene by many nostalgic lovers of those sonorities. Pills keeps on existing as a one-man band as Ludovic left it just before the release of their second album "Electrocaine" - it seems that divergent views related to artistic direction of this album caused the breaking of the artistic marriage between Bordas and Sandor - after having shaken French scene - they also performed at the very first public rave party in France alongside big names like 808 State, William Orbit and Underground Resistance - and his occasional appearances on some dance releases don't give the possibility to trace what he did after Pills experience. The sound that he explores on this release by a couple of nice tracks, a somewhat gloomy vocal electro-pop (the refrain "The more I learn/the less I know" got easily stored in listener's memory as well as the sneaking electro song of "I Feel Free"), could meet the tastes of followers of sonorities close to Trevor Jackson aka Playgroup and Bomb The Bass. Even if I'm not a fan of house music, Julien Lenoir remix is a quite good way of chewing original sounds, but I prefer Agaric's nine minutes lasting overstretched one by far.
Artist:
Kolectiv / Survey
Title:
A Bunch of Notes / Circular Logic
Format:
Download Only (MP3 + Lossless)
Label:
Plasma Audio
Rated:
The fourth ring of Melbourne-based Plasma Audio keep on exploring deeper and more exprimental side of bass-driven music by a couple of awesome tunes. "A Bunch Of Notes", the one by Sam Midgley aka Kolectiv, is maybe not so fitted to dancehalls, but its somehow cinematic dark intro, the perfectly shaped bass knocks and its Tech-hey nuance make it an enjoyable listening experience; the second tune got signed by Survey, the Berlin-based appreciated duo by Hardy Schulz and Stephan Albrecht - I already introduced their good EP "Chop Chop" not so long time ago -, and I can't say they didn't sharpen sonic cutlery on the following "Circular Logic", a quite sinister - but really enjoyable at the same time - mid-tempo tune, which is going to swing many spines, asses, heads and nerves on dancehalls as well. Have a check.
Artist:
Villem & Mcleod
Title:
Ain't No Way / Make Tomorrow
Format:
12"
Label:
Warm Communications
(@)
Rated:
One of the highest-quality (musical) marriage of contemporary drum'n'bass scene is undoubtedly the one by Ipswich-born producers Andrew Wilson aka Villem and Sam Mcleod, who recently puts another drop of firing tunes on Warms Communications growing catalogue. Similarly to other recent stuff by this bicephalous entity, "Ain't No Way" got focused on a rich percussive palette and adventurous dynamics, so that the opening rocky start got enhanced when these guys get it into higher gear before getting a break and keeping on marching again faster and faster over a carpet of whops. My favourite tune of this release came on the flipside where they involved Totem on the fast-rolling liquid breaks and the protective sub-bass-enhanced embrace of "Make Tomorrow". An alternation of dimmer lights and crispy grinding beats drench "Saved You", which comes on digital as a bonus track. The first 100 copies are going to be printed on white and red marbled vinyl for the chromatic delight of more fetishistic djs.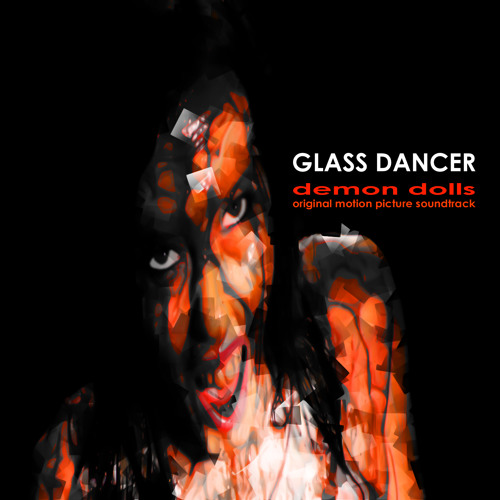 Artist:
Glass Dancer
Title:
Demon Dolls (Original Motion Picture Soundtrack)
Format:
Download Only (MP3 + Lossless)
Label:
House Of Analogue
Rated:
After Empire State Human disband, Aidan Casserly didn't lose his time and started immediately to work on a new project called Glass Dancer. The movie director Dustin Ferguson called him for composing the soundtrack for his remake of the 1993 Todd Jason Falcon Cook film 'Demon Dolls' and this has been the perfect opportunity to focus on new music. Composed in two weeks during the October 2014, "Demon Dolls" contains ten tracks included on the movie, plus three bonus tracks. I thought that this was an instrumental album, so I was curious to check what kind of atmosphere Aidan would create without using his vocals and I was surprised when I found out that he sung on "The Raven" and on "Open Up The Gates". Anyway, the album is a good mixture of ambient electronic with elements of synthpop and late 70s/early 80s electronic soundtrack atmospheres and I'm pretty sure you already know the name I'm going to do, which is... Yes: it's Carpenter. Aidan succeeded into creating a dark atmosphere without forgetting the use of catchy melodies and if on tracks like the opening "Dark Sunset" he focus on the ambience to create, on "Doll Intro" or "Dowtown Lament" there are echoes of his past, when he composed instrumental songs for Empire State Human along with Lar. I liked the album and you can find it at the major digital store, but if you want to check it first, you can listen to it on Spotify or Deezer.
Stupid and not so far-sighted sanctions against Russia thankfully don't stop circulation of good music from that fascinating country, where there are a plenty of really skilled musicians who makes music in their home studio. Maxim Yudin, the guy behind Cutworks moniker, pushed some interesting stuff on Daniel Clarke's NexGen catalogue from Zheleznodorozhny, a small town nearby Moscow, and this awesome EP shows the brilliant way he manages to melt liquid funk, regular fit drum'n'bass movements and a series of funny sonic dodges to make his track more easy to reach listeners' memory. The noise of a fast running car on the initial "Away With You" is maybe not so original, but the way he shaped a likewise fast rolling track and some sonic embellishment is really good; the straight cuts of the following title-track "Soulroot" got wisely counterbalanced by an elegant jazzy sample, which makes it fitted to futuristic tabarins and could remind some similar amalgamations by some Brazilian and German d'n'b producers, which got hyped up in dancehalls in the first years of new millenium. The slower motions over lush synth pads on "Last Day Venus", my favourite track of the EP - it somehow brought my mind into the notorious ocean of Solaris by Tarkovsky -, and the amazing crossbreed between bouncing computational and vaguely bhangra-banging patterns of "Algorithm" complete this tidbit.