Artist:
Richard Pinhas
Title:
Chronolyse
Format:
12"
Label:
Cuneiform
(@)
Rated:
The cemented collaboration between the excellent Washington DC-based label Cuneiform and the French philosopher, electronic music composer and guitarist Richard Pinhas brings another interesting output, the first-ever reissue on vinyl (white 180 gram vinyl featuring the original cover artwork) of Pinhas's superb output "Chronolyse", an interesting hybrid between progressive rock template and analogue electronics that he dedicated to Frank Herbert's sci-fi classic "Dune" more than 35 years ago. Besides the most known influences on sci-fi literature and movies (David Lynch's discussed cinematographic version was only the most popular one), "Dune" had a remarkable impact on the imagination of many musicians, but while Klaus Schultze tributed one long-lasting track in his album "X", Richard decided to tribute a whole album two years before the release of Schulze's album (1978). In spite of the fact "Chronolyse" has been released in the same year, Pinhas recorded it on tape between June and July 1976 after the purchase of a Moog P3 and a Polymoog that should work together a pair of Revox A700 he installed in his home studio. Even if entirely inspired, Richard didn't really want to strictly match it to the name of "Dune", so that he preferred to name it after the title of a novel by French science-fiction writer Michel Jeury, whose plot was related to time manipulations, which makes sense if you listen to what Richard did on this (maybe old-fashioned) output. On one side, you'll find seven short synth-a-delic swirling variations of the same theme, that could evoke the super powers of the so-called "witches", the female members of Bene Gesserit in the novel, whose highest acolytes - the Reverend Mothers - had greatest supernatural mental powers, including Truthsay - the ability to understand when someone lied by an attentive analysis of body language, speech and other biological clues -, the Voice - a tool to control human beings by selected modulations of voice - and a set of seductive powers, but mainly a weakness: the addiction to melange, a spice that was easy to find on the desert planet Arrakis - the set of Dune -.... any bizarre similarities with contemporary science? The track that closes the first side of "Chronolyse" was named after Duncan Idaho - another important character of Dune - and sounds like a summary of some techniques explored in the first seven short experiments, while the 30-minutes lasting "Paul Atreides" on B side is the moment where the above-sketched idea of time manipulation takes the shape of something closer to progressive electronic rock and some stuff of Heldon - Richard's Heldon mates provided drums, guitar, bass and further electronics in this extremely lengthy tribute to the heir of House Atreides, an aristocratic family ruling the planet Caladan in the novel and knowingly interpreted by a youngster (but already talented) Kyle MacLachlan (the well-known Detective Cooper in Twin Peaks) in Lynch's screenplay. "Chronolyse" can reasonably be considered the meeting point of the multifaceted universe of Richard Pinhas. According to Steve Feigenbaum, the founder of Cuneiform, it's "absolutely one of Richard's very finest works: half live Moog electronics that make fantastic use of stereo imaging and mix aggression with the repetitiveness of Phillip Glass or Terry Riley, and half with Heldon in a 30' King Crimson-ish stormy drone-epic of mellotrons, electronics, guitar, bass, & drums.".
Artist:
Oliver Yorke
(@)
Title:
Helion/Kali
Format:
12"
Label:
None60
Rated:
Following his exquisite "Into The Void" EP on Vandal Records at the beginning of 2015, West London-based producer Oliver Yorke - I introduced him on the occasion of a likewise good couple of tracks he released for Italian label Retrospective in 2013 - recently delivered a pair of tracks to Silent Dust's None60 imprint. His skill in handling patterns and bass-driven sonorities without being boring or excessively baroque in a somehow innovative way got highlighted in this output as well. Oliver squeezed a solarized catchy melody into a precisely cut cloud of drums and digital clicks in the opening tune "Helion", whose almost scientific approach to rhythm could vaguely resemble Photek. He decided to venture onto trap-tinged stylistic field on "Kali," where he manages to soak a grinding set of bass bumps and lo-hats into trapping webs of synth sounds, Atari-like buzzing tones and electro- hop's sonic hooks
Umanzuki is a three-piece act based in Florence whose new release is a 30 minute-long track recorded in an improv session. It's always courageous to conceive a work of this duration in times where people is used to hear music as beats and pieces, mostly when the reference framework is not the trend of the moment but a form now firmly dated. The most obvious reference which comes in mind hearing this release is kosmische music but it's a starting point rather than an exercise of nostalgia.
The track start quietly as a dialogue between an atmospheric synth and the sparse notes of a bass. His development could be described as the juxtaposition of the sustained notes of the synth and the percussive notes of a bass, or could also be a percussion, which also has the function to expose a sort of meditative loop which varies. So when the synth comes in the foreground, as the percussive element slows down, this release starts to evolve in a sort of drone release without the trivial sustain of a couple of tones but instead it develops a sort of melody at slow speed which sometimes stop to let the listener aware to the return of the percussive element and the insertion of a soundscape. The return of the synth marks the final part of the track based upon the complexity of the underlying beat which closes this release as an heartbeat.
As could be superficially simply decoded as derivative from well known form of kosmische music, it reveals instead some references from ambient language and rock which are merged into the result instead of being a trivial juxtaposition. With his long running time, it's not a release for everyone but could be a nice one for committed listener. Almost recommended.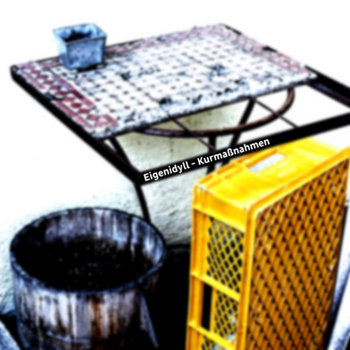 Artist:
Eigenidyll
Title:
Kurmaßnahmen
Format:
CD
Label:
attenuation circuit
(@)
Rated:
Eigenidyll is the project by Tobias Schmitt and Sascha Stadlmeier using guitar as sound source. As the guitar is heavily processed, it's not a virtuoso duo but the result is something closer to EAI as it try to let the guitar escape the cliché of rock to create an aural landscape where the listener has to find some sounds instead of having all notes fight to impose themselves.
The track start quietly as an interplay between a sort of drone and some sparse guitar notes, then it starts to evolve into a dialogue between notes and noises upon a silence which let emerge every nuance of sound. This part is the central part of this release and result in a meditative framework owing sometimes to some reductionism an, sometimes to certain form of noise. The introduction of bass, played by Stadlmeier, is the start of the final part of this release which ends with a sort of guitar strumming, heavily processed, sounding almost as a percussion as his metallic formant is exalted and it's ended by the sound of the bass.
It's not a ground breaking release as it rework an already codified language but it tries to escape the obvious trap of it i.e., boredom. For all fans of EAI it's something truly enjoyable and for the other could be an exercise for listening.
Artist:
Moving Units
(@)
Title:
Damage With Care
Format:
CD
Label:
Metropolis Records
(@)
Rated:
One of the funniest item coming out from the recent baking in the oven of Metropolis Records is the new album by Los Angeles-based former trio Moving Units, which seems to have come through the dispute occurred in late 2012 related to the fact that their singer and guitarist Blake Miller performed some solo shows by using the name of the band without the approval of other members by the simplest way possible: he left the band, but this output seems to be coming from a sort of temporary armistice! Licensed by Mark Blumenthal's label Kitty Play, "Damage With Care" is nothing revolutionary from the stylistic viewpoint, but it's nice the way he overlaps and interlaces funky-disco rhythmical patterns, guitar riffs and that "glamouresque" lewdness evoked by slapped bass together with a nonchalant attitude. I wouldn't label disco-punk, as lyrics don't really sound belonging to a rebel yell, as the way by which Blake inject a certain irreverence looks like pink spots on a leopard-skin upholstery than a spit on a radiant marble floor of a luxury hotel, so that I would rather say it's close to a rejuvenating declension of electronic rock, but it doesn't mean it's so close to banality. The best moments are maybe the ones when the band coast along some surf sonorities such as it happens on "Teacher " or "Wishful Thinking" (really cheeky and somehow baffling the repetition of "I wanna be alone inside" in a disco-tinged song as well as the strange mutation of Miller's voice, which sounds like Miki Berenyi of Lovelife-era Lush) and the ones where frenzy guitar riffs seem to reprise the brightest moments of dark and synth-pop ("American Infantile" - including a sample of Duran Duran's "Girls on Film"? -, "I Don't Mind", "Fragile Magic"). I would introduce this record as a possible musical translation of the chemical process to turn excess fat and cellulite into soap.