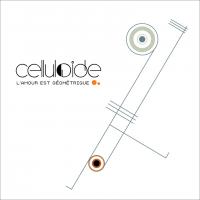 Artist:
Celluloide
(@)
Title:
L'amour Est Geometrique
Format:
CD
Label:
Boredom Product
(@)
Rated:
Ten months after their latest album 'Art Plastique', Celluloide are back with an album containing alternate versions or remixes of 'L'amour Est Clair', 'Le Basier Geometrique', 'Art Plastique', 'Gris', 'Le Salon Noir' (which now is a nice piano/synth track and it's titled 'Esquisses Preparatoires Pour Le Salon Noir') and 'La Guerre De Cent Ans'. To these songs we have to add three new ones: 'Intraveneuse' (a cover of the Bel Canto song), 'Reve Ideal' (a Eric Ferrand's song cover) and 'Gnossienne N°1' (a cover of a piece by Eric Satie). I'm surprised and pleased to notice that this album isn't a worthless remix album containing many versions of the same tracks made by people who doesn't give a damn about the original ones. It only contains two songs repeated in the track list ('L'amour Est Clair' and 'Art Plastique') and maybe it sounds more like a revamped version of the previous one, with a slightly different tracklist. Also the remixed songs ('Art Plastique' remixed by Missing Square, 'Gris' remixed by Orange Sector, 'La Guerre De Cent Ans' remixed by Opera Multi Steel, 'L'Amour Est Clair' remixed by Dekad and 'Le Baiser Geometrique' remixed by Foretaste) offer a new sound which add or change something compared to the original versions but are able to be true to them: they sound more like collaborations than remixes and this is a nice thing, as it allows to the track list to run smoothly without you wanting to skip anything. There's no track I preferred, because I enjoyed all the CD and for sure I would suggest it to everyone that already loved 'Art Plastique'.
Artist:
Echoes of Yul
Title:
The healing
Format:
CD
Label:
Zoharum
(@)
Distributor:
Alchembria
Rated:
This new release from Echoes of Yul is something between krautrock and doom, it's something atmospheric and heavy and evolves from perhaps few ideas but developed with a clear vision of how to write this release.
A drone opens "Ester" and introduces a meditative track based on a psychedelic guitar. The first part of "The Trick" is focused on the accordion while his second part is based on heavy guitar notes. "Diorama" is a piano based interlude to "Apathy Rule" whose meditative first part evolves into a crescendo based on synth. "Organloop" juxtaposes guitar lines while "Gush" is a guitar based interlude to "The Healing" whose slow notes evokes spiritual rest. "The Better Days" closes this release returning to territories closer to some krautrock.
Playing almost all instruments in this release, MichaÅ Åliwa, mixing influence from minimal to krautrock and aided by the mastering of James Plotking that exalts all the resonances and sustains of the musical spectrum used in the tracks, is responsible to a release in the vain of all those projects exploring slow-motion music but with enough personality not to be a clone. Recommended.
image not
available
anymore
Artist:
Flowers for Bodysnatchers
Title:
Aokigahara
Format:
CD
Label:
Cryo Chamber
(@)
Rated:
This release from Flowers for Bodysnatchers, the project of Duncan Ritchie, is inspired by Aokigahara, known as the Suicide Forest, a place with an historic association with demons in Japanese mythology. Partly departing from other release by Cryo Chamber, this release is not a typical dark ambient release but it tries to approach more canonical musical development i.e., melody, as a way to introduce elements of interest or to border territories of modern classical.
The piano opening "Prisoner of Night and Fog" is an element that recurs overall the release that is mirrored by the cello of the second part of the track. "And There Is A Darkness" is instead focuses on soundscape in the foreground rather than on the piano in the background. "Field Of Ink" is based on the reverberation of the piano while "Kuroi Jukai" is closer to a song structure with use of a japanese voice. "There Will Be Lies" is an evocative track focused on foley sounds while "Night Heroin" is a long track developing a soundscape of great suggestions. "Aokigahara" starts like a piano piece and ends as a dark ambient track, "A Rope To End It All" develops the same structure using instead a cello and "A Man Metallic" is an ambient track based on field recordings and resonances. "The Games Foxes Play" closes this release starting as an almost new age tracks but develops with sparse noises creating an atmosphere of pure tension.
Oscillating between dark ambient and modern classical, this is a release that could earn even listeners not at ease with more experimental work and the usual quality of Simon Heath's mastering exalts the variety of the musical offer. It's really worth a listen.
Artist:
-EMERGE-
Title:
Indulgence
Format:
Tape
Label:
attenuation circuit
(@)
Rated:
This new release by -EMERGE- on Attenuation Circuit hasn't any liner notes so there's any viewpoint from the artist or the label to approach this release. Indulgence is a long electro acoustic track divided in two parts: "indulgence 1" starts with static crackles which ebb and flow like the water's sea then this small sounds are echoed and layered to obtain moving masses of sound using an high level of dynamics to use moments of almost silence interleaving the track parts; "indulgence 2" starts along the path of the first movement but it slowly evolves by accumulation until the parts raise a continuous wall of sound, a short quiet interlude introduce the listener to the final part based on a reverberated drone ending in silence.
The overall result is a work exploring the complex acoustic environment that could be created by small noises immersed in a quiet silences, so it's a difficult release which challenges the listener to have a conscious ear to follow the small variations in a continuous sound palette and this is adverse to the actual trend of distracted listening. All fans of electroacoustic music will enjoy this release.
From Warsaw (Warszawa), Poland comes Gregoriev, the solo project of multi-instrumentalist Grzegorz Morawski, who has been on the Polish underground metal and rock stage since 2002 as a founder and member of numerous musical acts, such as Ex Anima, Second Nation, Tandeta and, lately, Skóra Åwiata, for which he remains an active lead guitarist. 'When Death Comes' is his first album release under the Gregoriev name, and it's Gothic Metal inspired by the novel 'From the Teeth of Angels' by Jonathan Carroll. (It's a quirky tale of four people's supernatural confrontation with the malevolent angel of death.)

I don't know if it's Grzegorz on the album playing and singing all the parts, but it does sound like a full band. In any case, Gregoriev makes an impact on opening track "Letter", which is accentuated by a fingerpicked electric guitar riff throughout over the goth metal format. Vocals are a bit different on this track any other on the album, and the hook is a good one. There is a spoken word voice-over at times during the music that I'm not sure whether is a dialogue sample or Grzegorz, but it's effective. Towards the end the instrumentation plays double-time (but not the fingerpicked riff), a technique Morawski
must really enjoy because he uses it frequently later on. "Beauty" which follows, has another significant guitar riff as its centerpiece, this time bluesy, and now we get to hear Morawski's singing as it throughout most of the the rest of the album. There is a Nick Cave-like quality to his voice, more in delivery than tone. It's actually quite enjoyable. The song has a decent hook, and the Strawberry Fields-ish flutotron is a nice touch. "Hollow Hand" reminds me of The Cure wrapped in a package with a metal bow. At this point I come to realize that Morawski is a pretty good songwriter as well as a capable and effective vocalist. "War" is proggy goth speed metal and at first Grzegorz's voice doesn't seem right for the material, then he turns his smooth, melodic pipes into a death metal growl and of course, it fits like a glove. He also offers up a blistering solo on this track proving his guitar prowess. Nice work. Title track "When Death Comes" has some nice moments in the guitar interludes but is otherwise a bit of a letdown. (This song might have worked better with a female lead vocal.) "Deceit" is a pretty cool prog-goth number that's powerful on the instrumental breaks, but vocally, a bit weak. Still, it has a certain charm. Final track, "Peace" is sort of a macabre power ballad remaining true to its theme throughout and a fitting conclusion to 'When Death Comes'.

For a debut album, this is quite good, especially in the playing, arrangement, recording, etc.) and is likely to grow on you as well. I should make mention of the keyboard work which adds atmosphere, depth and style. For those looking for something new and different on the goth-metal genre, Gregoriev would be a very good choice. I understand Morawski's in the process of putting together a live band, so nearby Europeans may be in for a treat. America might have to wait awhile, but by then Gregoriev will likely be a much more known quantity.