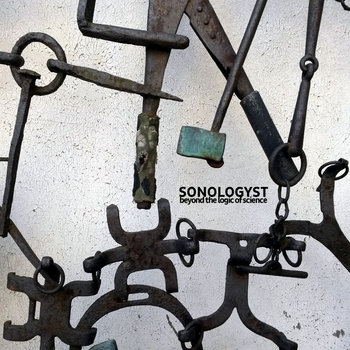 Artist:
Sonologyst
(@)
Title:
Beyond The Logic Of Science
Format:
Tape
Label:
attenuation circuit
(@)
Rated:
This album by Sonologyst is an explicit tribute to the early electronic music pioneers as it's based on samples from Karlheinz Stockhausen, Pierre Henry, Luc Ferrari, Morton Subotnick, Luigi Nono, Henri Pousseur, Bernard Parmegiani, and Bruno Maderna. This release tries to add textures to the sinewaves oriented sounds of the first years of experimental electronic giving a patina of modernity to that sound but the morphology of the original material is so pronounced that it's naturally intended to successfully fail.
When "Era Somnium" starts with the complex sinewave and the filtered voice there's that sort of suspension of time halted by the double bass of the second part which takes the track partially in the present. "Beyond the logic of science" deconstructs the sense of exploration of tones from the concern of the return of the role of mathematics into music language. "L'ordine simbolico della deferenza" reveals a subtle sense for the method to create movement into a static form, the drone. "Hommàge a Luc Ferrari" underline the use of voice manipulation while "Fragments of life" the use of tape manipulation and "Pertinence du Passè" the use of oscillators and filters. "Lost Kontact" close this release with the exploration of space in the aural field.
As an example of heterogony of ends, this release shows how this musical framework was a starting point at a sound level as a dead end at a linguistic one; from this perspective is one of the most philosophically stimulating release of the year. Recommended only for the committed listener.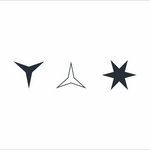 Artist:
Atrocious Filth
(@)
Title:
Moans
Format:
CD
Label:
self-released
Rated:
After al least two decades of silence, Atrocious Filth returns with a new EP that anticipates a new full album. Their sound, according to the liner notes, is deeply influenced by band as Swans or Scorn whose music was difficult to obtain in communist Poland and, while their first incarnation had two bass guitar, this new line up is apparently more canonical as it features two guitar, bass and percussion.
However the role is bass remains important in a track as "Dirty 33", the opener of this release, where it creates the rhythmic structure for the noisier parts of vocals and guitar. The compact sound of "Moans" is interrupted by the frequent interludes when vocals leads more free form parts. As a departure from the previous tracks "Tesseract I" is based on long tones and resonances and the use of soprano saxophone changes completely the spectrum of their sound. "Hubris" tries a crossover between the two forms as even the rhythmic is less metronomical while in "Angst" return to a fixed structure but so slow to generate a field where guitar floats freely introducing "Tesseract II" which close the release with an impressive sense for form as it truly closes the first part.
At the threshold between a rock band and an experimental one, this release generates a sense of wait for the full length as it seems that they are moving towards from a form to another. It's really worth a listen.
Five songs in five minutes.
From Silber's diverse conceptual series.
Ambience, violins, found sound, poetry.
Musical theatre, distortion, echo chambers.
Like five truncated album intros.
Artist:
Noise Unit
Title:
Deceit / Struktur
Format:
Download Only (MP3 + Lossless)
Label:
Artoffact
This digital re-release of a 1989 Wax Trax 12" feels strangely transitional in hindsight. The angsty, vaguely gothic, barely-distinguishable vocals of 80's unrest are tempered by a bright, energetic production which feels like it's beginning to transform into 90's pop and house music. Bill Leeb has changed musical direction a few times in his career and these two 27-year-old tracks feel like they were recorded in the middle of a musical re-think. Unfortunately it's a curiosity rather than essential listening though, but a welcome way to fill a gap in a collection.
Artist:
Chvad SB
Title:
Phenomenalism, Cartesian Doubt and Bomb #20
Format:
Download Only (MP3 + Lossless)
Label:
Silber Records
(@)
Despite album artwork that seems to channel Heath Robinson, or Henrique Alvim Corrêa's HG Wells illustrations, sonically this experimental album is firmly routed in the 1950's, citing the 1956 soundtrack to "Forbidden Planet" as an influence and sounding very akin to early BBC Radiophonic Workshop pieces.

The single 73-minute piece is programmed, in the sense that it is generated by a series of rules and loops rather than in the more common sense of programming a synthesizer. It's difficult to spot these patterns though, and the 'lead' element strongly sounds like a human being noodling experimentally on an old analogue synth in a freeform jazz style. Despite apparently being entirely generated by patterns, recognisable musical patterns are difficult to spot in the output, to the extent that I'm not completely convinced that it was algorithmically generated; I could easily believe that somebody performed this live, but that's not to its detriment. The progression throughout is very subtle and slight, and again it feels more organic than mathematical.

There's an accompanying video "response", which encompasses the whole work and which may or may not be available online (it's unclear whether this will be made public). While the audio may have strong roots in the 1950's, the video belongs in the 1980's- cheesy kaleidoscope effects, strobing video feedback loops, plasma balls and Amiga-generated graphics combine to create a visual that reacts to, but fails to compliment, the audio. The video element is expendable.

The album however is a really listenable, extremely retro-facing experimental work and a marvellous way to chill out.