image not
available
anymore
Artist:
Randal Collier-Ford
Title:
Remnants
Format:
CD
Label:
Cryo Chamber
(@)
Rated:
This new album from Randal Collier-Ford on Cryo Chamber is presented shortly as an album able to "soothe the listener into a black whirlpool of unexpected evolving sound design", but in fact is a clever reworking of the usual dark ambient format of this label. The form is consistently altered to search an almost new path in soundscape construction.
The stereo field is used as an element of bearing in "Monument", "Horns of Eden" uses small fractions of silence. "Remnants" is focused on rhythms in their relationship with drones. "Dies Illa" is a sort of reworking of martial removing all the rhetoric. "Suspension of Icarus" is based on ebb and flows of the drone pitch. "Eye of the West" uses a drone as a glue for the sample. "Black Garden" lets the samples emerge when the drones ends. "Pale Horse" is the more aggressive track as it uses noisy samples. "Decaying Sun" has a sort of sci-fi influence as it uses sharp samples. "Revelations" closes this release with a sort of dance beat.
The remarkable use of dynamics, the craft in sound construction and the variety of musical path earn this release a spot in the end of the year's list as it's an example on how to renew a genre using influence of other musical paths. The use of headphone is truly recommended to enjoy all the musical subtleties of this release. A must to hear.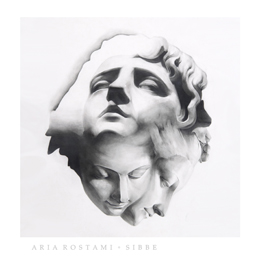 Artist:
Aria Rostami
(@)
Title:
Sibbe
Format:
Download Only (MP3 + Lossless)
Label:
Audiobulb
(@)
Rated:
As stated in the liner notes, this album is based on the relationship between America and Iran from the viewpoint on the artist's status of being a child of immigrants from Iran. This is related to the concern that his viewpoint is based on how Iran is narrated from other immigrants or media. So, this album is partly based on field recordings sent to Aria Rostami from Tehran or other Iranian cities and it's a demonstration of how technology can connect different cultures.
The gentle texture of "Delta" introduces the listener in a sonic environment centered on little bells suddenly covered by noise samples until their return in the final part of the song. "Sibbe" features recordings of folk iranian music, or so it seems. "Sibbe II" is developed from layers of samples and "Sibbe III" is a static soundscape featuring small distant beats. The sequence of the three part of this track reveals how some sounds are culturally associated to media's vision of middle east. The first part of "Nosferatuva" is based on a sample played as it's a punctuation mark while his second part is a quiet but dark soundscape. "Vietnamoses" is based on field recordings used as an introduction of a sort of oriental beat or the occidental perception of it. "Crwthrúd" closes this release reworking that sound of string instruments mostly known to be present in the OST of some iranian movie.
This is a release which reminds how sound is bound to some cultural codes of habit based on what is absent in another one. So, this is not only an enjoyable release but also an important one. It's really worth a listen.
Artist:
Guide to Bizarre Behavior
(@)
Title:
Guide to Bizarre Behavior Voi. 2
Format:
Tape
Label:
ShanGORIL La Records
(@)
Rated:
I'm not exactly sure if this project's name is Guide to Bizarre Behavior or if it's just the title of the work, or if it's a collective under the ShanGORIL La Records banner, but anywho, it consists of Brian Bromberg, Ray Bong and Suzy Creamcheeze. (I don't think that's Zappa's Suzy Creamcheese, but likely where the name came from.) These folks have a number of releases also under the names of The Bongoloids and Earl Long (named for the 45th Governor of Louisiana, not some solo artist named Earl Long) so we'll assume ShanGORIL La Records is only the label name. The music here on 'Guide to Bizarre Behavior Voi. 2' (and yes, there was a Vol. 1) was recorded in the desert of Yucca Valley, California and the swamp of New Orleans, Louisiana. Hold on to your hats boys and girls, because we're about to take a bumpy ride into some very strange territory.

Beginning with "Planner Jammer", a slightly out of tune piano plays a repetitive riff backed by a somewhat stilted drum kit and other percussion, interspersed with whistling electronic noodling. It's kind of jammy but strictly basement stuff. Oh my! "Whisper Blizzard" begins with a brief recitation by a woman (Suzy Creamcheeze, I presume) echoing off with a barking dog in the background, then a song begins with guitar and bass. Melodic soft male vocals in a kind of stream of consciousness psychedelic vein, and a few other stray elements, the female voice returns with a word here or there as it meanders, then out. "Rabbit Ear Sketch" has some interesting percussion, vocals over bass guitar chords, electronic bird whistling, and the lyrics are...definitely bizarre - "Mr. Tokyo, Mr. Squirrel, I know you'd like to play with the rabbit..." and might be the most normal of them in this tune. "Gasping For Air" is an abstract bit of acoustic-electronica that would leave the Residents scratching their heads in puzzlement, but surely the fish would get it. "Justin Timberlak" is even a stranger concoction of sounds, vocals, and lyrics loosely woven together into a song that walks that thin line between insanity and genius. In the beginning of "Kashmir Buttercup" there is a low, muffled industrial thrumming before the slurry, drunken chorus of vocals come in. Brief and woozy. "Brian Gumble" takes pop culture and consumerism, social media and the American dream and mixes it in a Daevid Allen-ish psychedelic stew. "Aura of Diamonds" is done up like an old-timey vaudeville number, but with a smattering of electro-acoustic abstractions. "Do your paintings twinkle like Thomas Kinkade's? Farewell Globe readers, we aren't your friends sittin' by the fake fire heater. I subscribe to the trend. Outrageous claims by certified doctors, calculated deals worth millions of dollars..." and on it goes. Not your average old-timey song by a longshot. Finally, we end this brief tour-de-farce with "Itchy Perky Pinkerton," a track with sequenced, echoed staccato plinky melodic percussion with some little reverse attack notes interspersed just for good measure. Hmmm...that was the most "normal' thing on this work, depending on your idea of normal.

Which leads me to the question, what is normal anyway? In music, is it adhering to prescribed conventions of genre? Expecting the familiar? Rejecting the aberrant? In that case, there is nothing normal about 'Guide to Bizarre Behavior Voi. 2', but why should there be? It would be very easy to schluff this off as amateurish avant-garde, the by-product of too many drugs and not enough practice, or a twisted psyche in need of professional help. But I'm not going to do that. This stuff is sui generis, and although influences abound, you'd be hard pressed to pin these folks down. I'm not saying that it's all brilliant. At times I found it a bit too twee, and in places, sloppy, but even that has a certain charm. Art ain't always pretty, and sometimes it can get pretty messy too. And in that respect, these folks excel at that, whether you like it or not. Available in cassette or digital download from the ShanGORIL La Records website.

Featuring 4 strings-immersed tracks ("The Old Magic", "Loki", "Ready for Rebellion", "Loki Rides Again"), "Norse" by Sieben inhabits a sonic environment of its own. Its first piece, "The Old Magic", presents itself with a stringy, yet somehow agonizing musical flood overlaid with haunting vocals but only to be seconded by the more eerie "Loki", a track guaranteed to wave a surreal Norse fairytale in the back of your mind. "Ready for Rebellion" is right back at the initial edge of this EP, with a galloping rhythm and simmering lyrics that mesh perfectly with the martial intensity of the whole track. Dwelling on a familiar loop that emerges soaked in melodic orchestration and brings the promise in the lyrics one step closer to fulfillment, "Loki Rides Again" comes to underline an already exposed lack of closure because "Norse" is, after all, an EP to be soon followed by "Britannica" EP. Rich in violin lines that intertwine in ritual patterns and with lyrics sure to toss you in a mythological mood, "Norse" may surprise you with its unexpected directions but not with its endeavor to piece together a singular vocal performance with sonic templates that alternate between intimacy and methodical disclosure. "Norse" comes as the second of three digital EPs by Sieben, produced by the Sheffield-based Redroom Studio and with artwork by Martin F Bedford. To be released on 11 November 2015.
Artist:
Black December
Title:
Vol 1
Format:
CD
Label:
Metropolis
(@)
Rated:
Opening a debut album by a song title "With this Ending", whose drum session is closer to the one of Unkle's "Burn My Shadow" and singing style of Eric "16Volt" Powell could vaguely surmise a crossbreed between the "rhythmical" style by System of a Down's Daron Malakian and the hoarse voice by Metallica's James Hetfield (particularly on songs like "The Slag", the visceral hammering of "The Division Of Hate" or the catchy "I Don't Even Know You", where Eric gets closer to the poisoned suadence of Reznor's abrasive style), could be meaningful and well-wishing after the appeal for active listening, implcitly inserted at the end of the rabidly spiteful song ("oh I'm never gonna be shit/I'm gonna never make shit/listen to me listen to me", the final strophe of "With this Ending"). So I accept the appeal and go over a really incendiary album, which got well amalgamated around a series of more or less conventional weaponry of heavy industrial rock supposedly occult sciences, that often becomes hardening glue of armored compounds. I don't really enjoyed the softened ones ("This Is Not The New" - a title which could let you think that it's in all their interest to be aware of it... - or the following "It Just Feels Right"), while the pointed stick that jettisoned on other moments of the album, particularly those ones when the synth inoculation are clearer, are more interesting. Take this first ring of three announced acts as it is. They will hopefully play more original and similarly sinewy stuff than the one they've shot on this first act.