Artist:
Chihei Hatakeyama & Dirk Serries
(@)
Title:
The Storm of Silence
Format:
CD
Label:
Glacial Movements
(@)
Rated:
This new release from Glacial Movements features one of the historical names in ambient music as Dirk Serries, a.k.a. Vidna Obmana, has released some of the key album in this field and one of the names, Chihei Hatakeyama, less known mainly for the increasingly descending longing to known new names and music rather to hear a bunch of classic seen as the cornerstone of music. This release is presented as based on the moment in winter "when nature becomes almost super linear, less expressive in color but with equal strength and severity" which is one of the key concept of ambient music: let tones resonate until they achieve a sort of independent nature as timbre.
The quiet drone of "Kulde" opens this release and introduces the listener into a landscape made out of open spaces and absent clouds. "Uvaer" is based on a drone that acts a canvas for other drones and sounds until all element gently fades into the final silence. "Fryst" seems based on the same format, however the foreground drone slowly evolves generating the evocative cover with his immersive blue. "Hvit" closes this release depicting the sense of a music working with detail instead of a form.
This is a release based on a well known form, whose however Dirk Serries is one of his builders, but reminds of how this music is based on subtle nuances rather on sonic impact and reveals how the careful choice of tones is fundamental so it has to heard with a proper equipment instead of pc speakers. It's worth a listen perhaps for everyone.
image not
available
anymore
An apt album to soundtrack Doom 5, should it ever come out. Especially the parts when your main character ventures through some narrow, dimly-lit tunnel where creatures grab at you from the darkness. Producer Kirill Rozhkov succeeds in crafting a horror narrative set in a post-apocalyptic world of desolate factories, torture chambers, unnerving subway rides, futurist ports and machine rooms, with the odd mosque-in-prayer session thrown in for effect. The opening title track, 'Meditzina Katastrof' starts off eerily enough, with vacuous noises and vintage broadcast radio voice-overs in Russian that gives way to creepy ambience and in turn is subdued by very nice power synth sweeps with a grandiose melody. 'Meditzina...' would fit perfectly on a 4AD compilation. The samples interplay nicely with heavy, electronic sweeps and canon-blast percussion. 'Sanatorium' has a bit of a haunted-house-in-a-theme-park vibe to it. An eerie wind is followed by an industral hum and what could be sinister growling or an idling mega truck. Further into the track, disembodied voices sing in chorus as austere keyboard notes from horror films join clanging from clumsy blue collar workers who cannot seem to get a firm grip on their tools. 'Island of Renaissance (Yersinia Pestis)' is rich and heavy in the low end bass and sets a tense backdrop for what could be a Russian horror radio play. Next, there is the torture chamber-esque 'Masha/Dasha' where voices dialogue calmly amidst a chorus of power tools and manic screams. To this listener, there appears to be a music box sample from the theme music to the 80's-era Twilight Zone. Towards the end of the track, as the samples hit a kind of crescendo, a heavy feedback drone washes in and sweeps the torture chamber clean for the next customers. Enter a ride on the world's most rickety and dilapidated subway train filled with workers who just finished a long stint in the salt mines and members of the Soviet arts council'on 'P424 (Snegir')'. People who murmur in Russian could be heard through cacophony of the train rumbling through a tunnel while opera singers practice vocal scales. 'Sweet Dreams' has nothing to do with the Eurythmics, rather a rumbling bass-drone is a canvas for a recitation of the opening passage of the Quaran, followed by a collective 'amen'. I will hazard a guess that the voice over is probably from a Chechyn talking about being a Mujahid (Jihadist martyr). Given Russia's ventures in Afghanistan, Chechnya, and now Syria, I could see how this could be part of the topical horror theme. Now, I realize 'Vaccination of Work' is supposed to be yet another horror-themed track, but to my ears, the power-surge generator hums remind me of the giant robots of Pacific Rim, while the chatter of men and assorted mechanical bleeping and clamor from machines could easily pass for a maintenance bay. Go robots! 'Official Version' closes the album on a decidedly sci-fi note with a bit of an eerie tinge. Wind chimes play against oscillating tones wile looped voices are steeply reverbed as if in a cavernous room. The noise could pass for a space station bay with chirps from a control station. Meditzin Katastrof is an issue of a 2003-2004 recording session in Saint Petersburg, Russia. Though the packaging is minimal, a simple cardboard sleeve, the design is a work of Industrial-esque art and hand numbered. If you are into dark, horror movie sound scapes with a tinge of sci-fi, this disc is for you.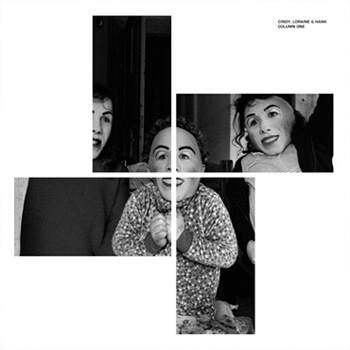 Artist:
Column One
(@)
Title:
Cindy, Loraine & Hank
Format:
CD
Label:
Zoharum
(@)
Distributor:
Alchembria
Rated:
After a long hiatus, this Berlin-based art collective returns with a long release that was in the works from almost 10 years. This album is presented as "a museum of small, lovely bastards" which means that they aims to describe that kind of people "hidden in the dirt, covered with garbage". So this is a release that asks the will to understand the small choices that create a sound palette asking from a visual counterpart to fully realize his evocative nature.
An oscillator opens "Warsaw Part 2", and this release, and it remains until the instruments, played in an unorthodox manner, create a sense of increasing dialogue until the sudden end. "Idiotenmusik" is a divertissement of synth. "4", that is the third track as a symptom of the jokes which are the center of this release, features the Zeitkratzer Ensemble whose recordings are played by this collective and include also the beginning of the session, not only the music. "Antiphona #2" is a sequence of small noises that exalts the fragmentary nature of this musical concept. In an opposition of the use of a contemporary ensemble, "Cherokee" opens with the play of an old vaudeville records which evolves in the construction of a sound palette which perhaps mocks this kind of sound but reveal his property of being transformed in something else. "Not" closes this release with static drones acting as introduction from the final recording from an old movie.
The field recordings of "Warsaw Part 1" opening the second cd are suddenly doubled by a synth line that is slowly submerged by the resonances of the metallic objects which fades for the closing samples. While the first part of "Reverend Black" is focused on object's sound and still tones, his second part juxtaposes drones as the sound of first part were blurred. "Die Truhe im Fluss #5" sounds like a sonata for small samples, noises and voices as they were the audio recording of a theatrical performance with his almost silence final part as his end. "Der Fluss in der Truhe" is the path of this form and its use field recording is really evocative as the speaking words. "Stufe" closes this release as a commentary on child's play while the final part with the sound of a ping pong match creating, in a some way, a nostalgia for those times.
This is a complex release based on a narrative plan which seems to underline the almost obscure freaks that surrounds our life almost unseen. There's also a sense of nostalgia from old times, as many samples are taken from old films or are related to childish play, or so they sound. For all fans of weird music this release is a must, the others could enjoy this weirdness but a their own risk.
Artist:
Joe Rehmer / Paul N Roth
(@)
Title:
Tensil Test
Format:
CD
Label:
Creative Sources
(@)
Rated:
The tabled double-bass that these American guys play could surmise the recumbent position of someone on the dentist's chair or on a morgue, but the sounds or the noises - it depends upon how you perceive it - by means of an amazing preparation of the instrument and a set of bows, foils, tapes, metal objects, a saxophone, a paper dog and as well as the interaction of their bodies - not only hands and arms, but also beards and some nose whistles - and surrounding chatting and reverberations (what they call "mayhem"...they nicely thank the "random theatre troupe, whose names we never knew, and whose voices you hear on track 1" in the sleeve notes) are really interesting and manage to evoke an almost ritual dimension. I wouldn't match their sound art to purely noisy experiments, as they get closer to improv music's modus operandi, and you can easily check it on this release. Named after a concept that should be familiar to engineering students - a tension testing by which a sample of some material is subjected to controlled forces until failure in order to check quality of the material itself -, "Tensil Test" collects eight more or less short untitled tracks they recorded in March 2013 in Marseille, ranging from the 10 minutes of the seventh track (maybe the more involving for its lenght, where a sort of trembling noise and a pile of easily perceivable hits and repeated rubbing got initially grasped into a somber double-bass tune - to shortest inserts that could sound like the grabbing of preparatory works.
Artist:
Ennio Mazzon
Title:
Pavement Narrows
Format:
CD
Label:
Discreetrecords
(@)
Rated:
While his previous releases, 'Xuan' and "ceriseicicles", were acclaimed as wholly conceived, and complex, musical work, this new release is completely focused on fragmentation. Instead of one long track, "Pavement Narrows" is a collection of eleven rather short track made of short sound fragments are sequenced in a way to expose their dialectic in dynamics and tones; so barely audible moments follows high volume ones and noisy fragments follows melodic one. The basic form of all track is a quiet start and central crescendo evolving in a quiet end and this framework is able to include the enormous details generated by the treatment of samples.
"Hunting souvenirs" starts quietly with a drone that is suddenly juxtaposed by a noisy loop and, after a brief moment of rest, evolves with the juxtaposition of layers of sound creating a tick mass of sound. "Add ten to nine" is a brief interlude based on a loop. "Masu", the longest track of this album, is based on a rhythmic structure variated to create a center for the samples juxtaposed. "Splay" is an interlude for drone and noise to "Salmon run" which is divided in a drone oriented first part and in a noise oriented second part which find a resting place in "War of currents" with its low volume noises. The return, in a modified form, of one of the sample featured in the first track let "Tryst" sounds as the beginning of the second part of this release focused on the exploration of details rather than impact so it features movements in the aural fields rather than juxtaposition. "American grip" introduce "Marine at nighttime" which, after the initial fragments, evolves in an almost noise wall ending with the return to his beginning. "Hideout" adds layers of drone during his development and "Syrup trap" closes this release adding instead layers of sharp noises.
This is a truly demanding work for the listener and a challenge to the current listening habit: if heard with distraction or in a noisy environment, it's probable that every nuance could be rather missed, so, it's not designed as a commodity but as a true work of art. Essential.