Five furious tracks, five minutes.
Raw, unpolished, like five demos.
Grungy teenage garage band ethos.
Jarring extracts yet no surprises.
Not long enough to explore.

As part of Silber Records' ongoing 5in5 series, where an artist creates five one-minute-long tracks to create a five-minute-long mini-release, post-punk M is We's contribution is a echo-ey, primitive-sounding collection of what feels like five potential introductions to interesting works, unfinished. The abrupt ending on some of the tracks adds to the sense of these being extracts.

Music with such a languid pace and immersive drone-like aesthetic doesn't squeeze all that nicely into a 5in5 concept perhaps better suited to higher-tempo pieces, making this feel more like a free promo sampler than a complete mini-album as others have managed.
Though identifying herself with the found sound tradition or an experimental avantgarde, from the off "Color" is a pop album. Yes, the building blocks may all be sampled real-life noises, but there's lyrics aplenty and a verse-chorus sensibility throughout that has more in common with Matthew Herbert's pop collaborations than with the darker histories of music concrete. Fans of Roisin Murphy would be the first people I'd recommend this to, but not the last.

That's not to say there isn't darkness here. Tracks like "Sift" toe a delicate line between melody and discord, with an immersive, packed production aesthetic that makes you sit up and take notice.

Raised in Brooklyn, Katie has also clearly absorbed a healthy diet of electro and hip-hop that can be felt infusing the tone of tracks like "Tuck". Blended with and playing against theatrical touches worthy of Kate Bush and a splash of Björk-like irreverence, it's a fascinating overall mix and definitely worth checking out if you like your avantgarde music with an alt-radio-friendly EQ.
Artist:
Noctilucant
(@)
Title:
Oblivion to You All
Format:
Download Only (MP3 + Lossless)
Label:
self-released
Rated:
Noctilucant, the dark ambient project of Joseph Mlodik from Wisconsin is back with a new work titled 'Oblivion to You All'. After the excellent debut, 'Back to the Mud' which I reviewed a while ago, Noctilucant will have to raise the bar or lower the water to top that one. 'Oblivion to You All' is a conceptual album of ten tracks set in a
post-apocalyptic world. Beginning with "Introspective Dissolution" Noctilucant sets the stage with deep, rumbling space drones and a recitation by Kara Phillips of the symphonic power metal band Magma Dragon about how the world after its devastation, now without power, and a poisoned water supply has entered an ice age. I'm not big on these narrations (never much cared for any of those Moody Blues spoken word bits) but Kara's voice with what I detect to be an Aussie accent lends a certain sci-fi cred, like a sample lifted out of a movie. This foreboding piece is certainly the harbinger of bad things to come. "This Day Brings Forth Our Destiny" starts with what sounds like a film projector being switched on, then white noise wind in the distance underpinned by a rumbling drone ever drawing closer, then a frozen crystalline ambience that is beautiful in its form, yet terrifying in its isolation. In capturing the audial image of a frozen world, Noctilucant definitely succeeds. "The First Light of Morning" bestows more deep drone rumbling, and gives you the feeling that...something may be out there...but you know not what. "Where Snow Remains and Light Fades" explores the cold isolation a bit more subtly, but is actually far more frightening than the previous track. Here your mind begins to play tricks, and ghostly images of past seem to eerily float around you. There is a sense of activity; possibly some scavenging, foraging. A discovery is made - "The Old Machine Shop" that once produced vital goods now lies dormant as a museum piece, its mechanical song once a paean to an industrious future is now but a rusted relic of the past. "Those Peaceful Days of Our Past?" - where are they now? Do they exist in only fading memory? A vague melody that thrums in the recesses of the brain, a bittersweet reminder of life as it once was, the songs of life that are sung no more. To escape this blighted landscape, I crawl "Back Into the Hole Where I was Born," but there is no comfort there, only pictures of my family that fell victim to this catastrophe. Soon, in despair and death, I too will be gone. It is said, that when you stare into the abyss, the abyss stares back into you. The "Devouring
Night" absorbs all into its blackness. It is all-encompassing. There is no escape, no rescue, no reprieve. And so, this is the fate to which we've been consigned. In the final frozen gasps of life, "Oblivion To You All" are the only words that are uttered. In the aftermath, "And the Far Unlit Unknown," spirits wander the cosmos in search of succor and meaning. Is there any to be found? You will never know until you get there...

Well, that's it, the doomsday scenario is complete...or is it? There's a bonus track- "She Only Comes Out at Night," a rather terrifying little number designed to ensure all your dreams will be nightmares. If this doesn't scare the crap out of you, I don't know what will. Yes, Noctilucant has raised the bar in the dark ambient realm with 'Oblivion to You All'. The only question is, where do we go from here?
Artist:
Simon Balestrazzi
Title:
Ghost Systems (for Earle Browne)
Format:
CD
Label:
Azoth
Rated:
Earle Browne is one of the key historical figure (together with Christian Wolff, Morton Feldman, and John Cage) in the field of aleatoric music and his contribution to music (particularly to New York City downtown scene) has been remarkably relevant. He was not totally against notation, but he rather reinvented it, as you can guess by some of his most famous scores: for instance the notation of "December 1952" was entirely based on a graphical notation of horizontal and vertical bars varying in length and "width" (according to Browne's notes, a bidimensional transcription could be freely interpreted as if it had a third dimension), that should freely interpret by every single performer; the score of his first aleatoric piece, "Twenty-Five Pages", consisted of 25 pages with no particular order and no clefs, so that any performer was completely free to follow its performative rules - any performance resulted in an entirely different composition! - and got inspired, according to Browne's words, by Alexander Calder's kinetic sculptures. Strictly related to the above-mentioned "December 1952", "Four Systems" was one of his latest scores and it (or better, the adaptation for four amplified cymbals by Max Neuhaus on Electronique Et Percussion) was the sparkle for this new output by Simon Balestrazzi. In spite of some resemblances with that rendition (particularly the extreme dilatation of the each single tonal length), it's impossible to refer to this release as a calque due to the aleatoric nature of the composition. The way by which Simon paid homage to Browne's score is strictly connected to his idea of making a release about time and memory. The mnemonic element came from a series of recordings (snippets and deconstructed samples related to the notion of ghosts) to be used as a raw material he held, but the connection with Four Systems score has been explained as follows: "I also used Brown's graphic score in every possible twisted way I could imagine: turned into a sort of stencil, I used it to select the samples, their length and frequencies ranges, to choose and place field recordings from my archives, as a ratio for stretching the samples and as a piano roll score to play them...". Such a combination of Browne's score and aural memories resulted into a collection of seven tracks (each of them lasting between 4 to 21 minutes), whose slow dilutions and expansions sound like a deep sonic pool, where field recordings resurface like forgotten memories and entities before disappearing again. The listening experience he provided is intense and constantly interlacing silence and sound and could plunge the listener into a cryptic journey towards unknown emotional depths.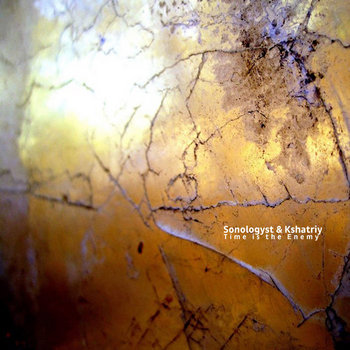 Artist:
Sonologyst & Kshatriy
(@)
Title:
Time is the Enemy
Format:
Tape
Label:
attenuation circuit
(@)
Rated:
This release from Sonologyst, the project by Raffaele Pezzella based on the development of early electronic experimentation, and Kshatriy, the project by Bulychev Sergey based on drone music, is as traditional as avant-garde. From a musical perspective, it's exactly what's expected: the juxtaposition of drone music and electro-acoustic one but the equilibrium of writing is able to create a dialogue between the two forms which are complementary in nature. While drone music is rooted in stillness, the tradition referred by Sonologyst is based on a sort of perpetual movement and therefore, if it's not trivial, it escapes from the pit of the forms.
"Unaltered Mind" opens this searching a balance between background noises, high pitches and deep drones and evolves altering this equilibrium letting emerge one of their components. "Venus Smile" is based on the juxtaposition of various drones upon a subtle background of small noises. "Self Luminosity" is focused on the dialectic between a drones and the background sounds. The slow development of "Chronopolis" reveal the sense for the details of the composers and "Time is the Enemy" closes with an use of synth and a sense of aural space which reveals a vague reminiscence of kosmische musik.
Another example on how already codified forms could be drown into modernity without any nostalgia but retaining that spirit of adventure into new musical paths. It's really worth a listening.