Artist:
UN ensemble
Title:
s/t
Format:
CD
Label:
Creative Sources
(@)
Rated:
Juliette Lacroix (cello), Thomas Lachaise (saxophones), Guillaume Ladain (analog synth), Frédéric Roumagne (electric guitar), Jean-Marc Reilla (analog synth, electronics), Didier Laserre (snare drum & cymbals), Julien Sellam (violin), Laurie Batista (vocals), Yann Saboya (electric guitar), Johann Mazé (drums), Eric Camara (bass), Jean Rougier (bass), Tanguy Bernard (tuba), Delphine Lafon (vocals), Bruno Laurent (bass), Claude Saubole (acoustic guitar), David Chiesa (piano frame), Johann Loiseau (flute, small percussions), Thomas Dubois (trumpet), Mathias Pontevia (horizontal drums), Christophe Ratier (bass clarinet), Guylaine Cosseron (vocals), Guillaume Flamen (tuba)...these are the overlapped names (and the instruments they respectively play) on the cover artwork of this enormous ensemble. It includes just six (more or less long-lasting) improvisational sessions, but both the quality of the recording and the almost theatrical vividness they collectively reached is astonishing. Before now, I only knew the name of David Chiesa, who signed a couple of sessions: an amalgamation of dynamics, timbres, resounding matters and musical quotations that he tried to organize over a time line in the exciting piece "Masses" and "The Blue Yonder", the longest session of the whole release, named after and inspired by an half-fake documentary about Werner Herzog, where a set of images taken from the archives of NASA and an Antarctic submarine exploration station go along with the interview of a fake alien, telling the story of its journey to reach out planet from his ocean-covered one and explaining its project of a giant shopping centre between two railways. The overlapping cartographies over three levels (stars, earth, and seabed) provided the instructions (including temporalities and heights) to the playing orchestra! Even its subject could be somehow demeaning, one of the most impressive session is "L'Acceptation d'Elisabeth", the opening one, which refers to the five stages of grief (denial, anger, bargaining, depression and acceptance), described and detected by Swiss-American psychiatrist Elisabeth Kübler-Ross in self-named model: the way by which they musically translated each stage is just astonishing and so vividly that it seems they managed to bridge that gap of verbal incommunicability of a person who sadly experiences them. In between the last mentioned sessions, there's a tribute to the memory of the French brilliant bass player Bernard "Beb" Guerin, where its director, Didier Lassere, tried to turn his orchestra into a sort of "humanly heated synthesizer" - as described in the inlay -, by playing on overlaying, appearing and disappearing orchestral sonic blocks. Such a sonic organization reminded to me the one adopted by Urban Sax, another conceptual orchestra led by Gilbert Artman, who involved Beb Guerin in some of its spectacular sessions. The rule of the game in Bruno Laurent's "HEIN!!!", the shortest output by UN, is likewise bizarre. The orchestra got divided into smaller groups of six players, each of them only knew the game mode and each player had to find a strategy to go from a mode to another on each instrument in a relevant manner...you could vaguely imagine how unpredictable are this interchanges. Another crazy idea is the one behind the final suite "Tenir par là: 174,6 Hz et ses multiples", where everything orbits around the frequency quoted in its title - the first of the 7 major solfeggio frequencies and, according to music therapists, the frequency that could activate DNA, muscles and organs in general by inducing them to operate at optimal performance! -, resulting in a fantastic piece where musicians turns into listeners as well and seems to contribute to the maintenance of this beneficial frequency using their breath and muscles as well.
Artist:
Born For Bliss
(@)
Title:
Falling Back to Never
Format:
CD
Label:
Echozone
(@)
Rated:
'Falling Back to Never' is Dutch band Born For Bliss's third full album coming after the 'Innocent' EP (2013) of which three of that track on that are on this album. If there is a similarity in some respect to Clan of Xymox, it's no coincidence of location; Frank Weyzig (vocals, guitars, keys, bass) was a member of Xymox from the beginning until 1994. Willem van Antwerpen (drums, percussion) was also a member of Xymox for a spell. Remco Helbers (bass, guitars, keys) came from The Dreamside. Yet Xymox 2 'Born For Bliss' certainly is not. B4B was formed in 1995 and although their ouput is not prolific, what they carefully craft in their music takes time and a lot of thought to develop. After hearing their previous releases, I can't say definitvely that 'Falling Back to Never' is necessarily better, but the band has certainly evolved, stretched out and matured. The sound of the band is still similar - lush, thick, often soaring and somewhat epic. A bit of Wezig's fire has simmered, but it's still cooking. I have to say here that I completed the review a while ago, wasn't happy with it and shelved it for later. Revisiting 'Falling Back to Never I gained some perspective and feel I can do the album some justice now. Opening strong with the exotic "Innocent," and it's looped female voice in a strange language, it's a powerful psychedelic feast with a strong chorus ("Tell me your story. Tell me you're innocent.") and backing vocals courtesy of Lori Sloan. Great stuff! That's followed with "The Narrow Place," a superb downtempo emotive power ballad, wallowing in regret of lost love. Once again Lori provides vocal support. "Underground" starts out very much an electric rocker with a truly great hook, then in the middle it slows down with verse backed by acoustic guitar, which may seem to sabotage the momentum, but is actually a stroke of genius. "Greed" is loaded with melancholy atmosphere which continues on into "Falling Back." There's a kind of Pink Flyodian vibe here, parially in the pacing, parially in the phrasing. "Hours" begins as an intimate soul-baring ballad with a evocative string arrangement until it explodes into the big huge. "Better Than Me" has a lot of Floydian characteristics (absent the bluesy elements), but it's still better than PF in their waning years. "Wrong" is reminiscent of Trent Reznor at his most introspective, circa 'The Fragile'. It's deep, sad, and you won't easily forget it. "walk on By" is a beautiful song where everything works perfectly; it's a ballad that moves from just voice and acoustic guitar to full band gradually, and the lyrics are elegant and sublime. The band charges back into the fray with "Four Horsemen," an obligatory goth-rocker but welcome nevertheless. It's like Peter Murphy standing in the Fields of the Nephilim. Great stuff! "Thorns" is almost more atmosphere than song, but still a song it is with wonderful words and melody. I think B4B should have ended the album right here...keep 'em wanting more. And that's the one problem with the album, in my opinion. The last track, "Anxiety" is just way too long at over 9 minutes. The song drags, and the lyrics don't help; rhyming words with "anxiety" ("sobriety", "inside of me", "society") gives only limited options, and not much "variety," ironically a word not used in the song. Lots of melancholia, but not much point. A shame really, when everything else was so great. Nine minutes of tedium is hard to overlook though. I wouldn't let it put you off getting the album; it's only one track out of twelve, and there aren't a lot of bands with that kind of batting average these days.
Artist:
Wilt
(@)
Title:
From Depths Profound and Inconceivable
Format:
CD
Label:
Fall of Nature Records
(@)
Rated:
Wilt is James P. Keeler: synths, bass, vocals and electronics; and Dan Hall: baritone electric guitar, acoustic guitar and electronics, from Chicago, Illinois I believe. They've been around since 1998 and have an abundant amount of releases, so many that I'm not even going to bother to count them. This is another case of "why haven't I heard these guys before?" I'm sort of the "dark ambient guy" here at Chain D.L.K., and I'm surprised that in all this time I've never gotten one of their CDs to review. I know they've been mentioned on the site, but I don't know as if they've ever gotten a full album review. So with that in mind, here it goes.

Having such a prolific discography, I could spend months wandering through their back catalog for comparisons with previous works, but that's way too much work for me. In a nutshell, 'From Depths Profound and Inconceivable' is a combination of dark ambient and power electronics/noise. This isn't always my favorite combo; for me it can be like putting hot sauce on chocolate pudding. Sometimes though, it kind of works, and on 'FDP&I' it works pretty well. With 14 tracks to this album it seems pointless to try and describe each one, although I may try to describe some of them. 'FDP&I'is one of a two part series dedicated to and inspired by the work of H.P Lovecraft. (Is there any dark ambient artist who hasn't been enfatuated with Lovecraft?) On the opening, "Buried Temple of Belial," you get low electronic drone puncuated by crunchy, distorted guitat strikes, kind of minimal but effective for setting a creepy mood. A lot more low distorted electronic noise follows in the next track, and a dense dark ambient mood with steamy noise follows after. I really like the transient piece, "Passage," with it's subliminal guitar loop, ambient dark noises, and tremelo dirty guitar strikes. Not really noisy but definitely foreboding. After that comes a lot of low, rumbling power noise that sounds like icebergs disintegrating into the ocean. "Mysterium Of Supreme Knowledge" has a certain mystique to it with a repetitious echoey guitar phrase over low drone and other dark ambient sonic effluvia. So far, this is the real grabber of the album. I could listen to just this for...well, a good long time. The next couple of tracks are a deluge of noisy blackened and blasted offerings, and if you make it through that, you will come across the spooky "Moonlit Towers of Ruined Castles." Here, a demonic organ holds sway over souls trapped from eons ago. More virulent, dense noise follows until you get to the somewhat calm "Les Fleurs du Mal," a melancholy drone dirge. Lots of low rumbling "From The Charnel Bowels Of A Putrescent Earth" which continues on with "The Pale Watching Moon," albeit a little more intensely. "Desolate Mountains" seems as though it might continue along these lines, and to a degree it does, but with some moody, sparse, low-string guitar. That's it.

In conclusion, 'From Depths Profound and Inconceivable' seems to be a worthy addition to Wilt's ouevre, and when I have time I will likely check out some of their previous releases. If you don't like noise with your dark ambient, this might not be for you, but the whole thing is very well crafted and shouldn't be dismissed just because it will rattle a pair of woofers now and then. Limited to 100 copies.
Artist:
Jean-Michel Jarre
Title:
Electronica 1: The Time Machine & Electronica 2: The Heart of Noise
Format:
CD
Label:
Columbia
Rated:
BUY from
or BUY from
I've been listening to electronic music for 25 years and have been running this very electronic music magazine for 22 years, so when a pioneer of electronic music like Jean-Michel Jarre makes a series of albums called "Electronica" featuring dozens of guests from the early stages of electronic music to the new comers of the genre, it sure does certainly not go unnoticed in my book! Quiet the contrary!

"Electronica 1: The Time Machine" and "Electronica 2: The Heart of Noise" came out in late 2015 and early 2016 respectively and truly celebrate the entire span of growth and evolution of the elctronic music genre throughout the last 4 decades by bringing together the leading voices of the genre as well as some interesting artists that have differing degrees of connection to it.

Volume 1 features some true early visionaries of the genre like the amazing Laurie Anderson and Tangerine Dream, as well as mainstream names such as Moby, Massive Attack, Armin Van Buuren and possibly unexpected names such as John Carpenter, Lang Lang, Pete Townshend and various other really interesting artists (Boys Noize, M83, Air, Vince Clarke, Littel Boots, Fuck Buttons, Gesaffelstein).

Volume 2 re-invites some of the names from Volume 1 and then takes it to the next level with an equally stunning array of names, including Pet Shop Boys, Gary Numan, Yello, Jeff Mills, The Orb as well as potentially unexpected ones such as Primal Scream, Cyndi Lauper, Hans Zimmer and then so many others worthy of attention (Rone, Julia Holter, Peaches, Sébastien Tellier, Siriusmo, Chrisphe) as well as some truly unexpected ones like Edward Snowden himself (more on that later!).

The album pretty much is a who's who of electronic music history and stylistically ranges from dance-tracks to more EDM/EBM inspired tracks with a good balance of instrumental tracks and tracks that feature vocalists. Some of the vocal cuts flirt with pop in a way that is even chart-suitable. If you know the artists JMJ is collaborating with the listening experience will be some much more fun because you can truly recognize the character and style, or sometimes simply the unique voice, of the collaborator.

I recently went to a talk event that Jean-Michel held in NYC and found out some very interesting details about these albums. One thing that truly impressed me is that JMJ insisted on making it a truly collaborative effort, so this is not one of those albums made by sending files around the globe, but rather JMJ travelled to meet with all the artists involved to be in the same room with them and actually co-write/compose/arrange everything together. Needless to say it took years and many miles of travel to finish this record, all the more reason you should check out the fruits of his labour!!!

I spent about two weeks listening to these two albums at least 4-5 times each and I've come to the realization (something JMJ also touched upon in his talk event) that electronic music is truly timeless. Some of the guests on these album are in their 20es others are in their 60es and it's hard to "age" these collaborations if you don't know who's on the track you are listening to. You go ahead and try!

One of the guests that intrigued me the most was Edward Snowden, partially because he is the only non-musical guest of the album, but also because I am a huge supporter, fan and sympathiser of Snowden, of what he's done and what he stands for (being somebody who truly believes in freedom, transparency and justice and who put his life on the line for it). Snowden met JMJ in Moscow (a meeting that JMJ explained was facilitated by the Guardian and Snowden's lawyers) and JMJ interviewed him and used bits of that recording in a track, Jarre also mentioned (in the talk) that one of his close relatives was a political activist in France and that he closely identifies with Snowden's cause. He also commented on how this collaboration was very newsworthy in Europe but seems to have been largely ignored in the US... Such a pity!

I've asked JMJ what he thinks of the future of music creation and distribution and he theorized that one of the things we might see in the future is a collaboration with machines, a sort of music-ex-machina scenario, and he even mentioned that it might be the subject of an "Electronica 3" or "Electronica 4" album, so while I hope he will get to another "Electronica" volume before machines are fully capable of making music without human intervention, at least there is hope for more volumes to come...

Stay tuned!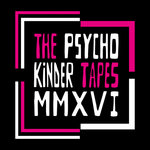 Artist:
Psycho Kinder
Title:
The Psycho Kinder Tapes
Format:
CD
Label:
Alienated Records / Fonetica Meccanica
(@)
Rated:
This release from Alessandro Camilletti, the mastermind behind this project, is the statement that synth pop is not a closed book even if there's some hint these days. The key characteristic of this release, from the codified code of the genre, is the focus on lyrics concerning the state of western civilization in times where people prefers to chat using social network rather to talk and try to change our society. For this project he collects a bunch of producers whose peculiarities doesn't break the stylistic unity of the record whose music is a support to the message.
The structure of "Stato Di Violenza" looks to the tradition of italian new wave without nostalgia. The melodic aperture of "Oltre Il Tempo" is the mirror to the experimentation of "Psycho Kinder" followed by the remix of "Vivo E Invisibile" made by Miro Snejdr who filters Camilletti's voice and so, for a moment, puts the message in the background in favor of the music. "Inviolabili E Sacri" blurs the border between art and life citing Leo (Giovanni Leonardi) in the text which is the author of the music. "With Usura" features a recording of Ezra Pound whose voice is present also at the beginning of the first track. "Viaggio Allucinato" is almost a break from the darkness of this musical journey with his upbeat. The Carnera's remix of "Il Tramonto Dell'Evidente", while being the finest at aural track, sounds sometimes too different from the rest of the release. "Essere" closes this release with an hypothesis of minimalism for the next record.
The constant level of songwriting is almost impressive and results in a release that could be enjoyed even by the casual listener if djs were more courageous than they are now. A coal turned into diamond.