Artist:
Sal Solaris
(@)
Title:
Thresholds
Format:
CD
Label:
Zhelezobeton
(@)
Rated:
Sal Solaris is the Russian electronic duo of Konstantin Mezer and Ivan Napreenko working in the post-industrial field since late 1990s. Starting its experiments with static sound exploration of unearthly landscapes, the project has embellished upon its distinctive 'modus operandi'. Now it merges powerful noisy ambient with dark techno patterns. 'Thresholds' is the first Sal Solaris solo album in 15 years marked by a variety of collaborations, splits, and minor releases.

To be perfectly honest, when I first heard 'Thresholds' I absolutely hated it. I thought it was a mess with no clear direction or purpose, regardless of the hype/explanation put out by the label and/or artist. Since then though I've reevaluated this work, and figured I must have been in a bad mood ot something, because 'Thresholds' is far from a mess and surely has something to reward the patient listener. I haven't heard anything previously by this outfit so I can't compare this to anything else they ever did, but what you will find here is rampant diversity. 'Thresholds' consists of nine tracks with no two sounding the same. "Cryptosystem" begins by sounding tinkertoy techno but morphs into a noisy beatfest that picks up steam and distortion crescendoing into an industrial flatline at the end. "Limit Value" is an eerie post industrial landscape with beats. Somehow a subtle musical theme develops making this quite an austere, dystopian cinematic piece. "Polygyny Model" is a mechanical fantasia that goes through a variety of permutations before its reductive conclusion. "Displaced" begins with a few minutes of low drone tone, eventually interrupted with some squinky electronics before it goes raving gonzo techno. "Error (Eigen's Paradox)" is a noisy cacophony of twisted sounds with an industrial technoish bent. I could hear this piece being used in Lynch film where something really weird happens. (And just when isn't something weird happening in a David Lynch movie?)

"Dark Adaptation" is the first track with vocals, done by Lusia Kazaryan. It's a medium tempo thing with squiggly electronics and the melody she sings is kind of folkish, but the music is rather gothy. Russian for sure, and the processing on the voice gives it a spooky aura. Although the title of the next track is "Pain," it is not nearly as painful as you might expect; in fact, after it gets into its groove, it comes across as a mixture of tribal and latter-day Tangerine Dream. "From Now to the New De Sitter Space" (YXYWYXY Remix) is pure, beatless post-industrial soundscape. No real surprises here but good atmosphere. Finally concluding with "Tautology" ((Myrrman Remix), an over-the-top techno number that pulls no punches, Sal Solaris proves they are more than capable of delivering the goods on a multitude of levels.

This album may be less likely to appeal to traditional technophiles than those with a taste for experimental dark electronics, but there is ample meat on the bone for those who appreciate a heady musical stew.
Waiting for the already announced commissioned output for the planetarium program "Planet of Dolphins", Tokyo-based artist Serph sprung out by his first "best of", a collection of more or less modified variations of previously released track and two brand new ones. Some remakes just features a massive addiction of overpitched and frenzy bounced stepping on rhythmical patterns or a reshuffle of mostly rearranged elements belonging to original versions, but the cheerful style, by which Serph got prominently notorious, combining piano phrasing, synth winds, electronic jazz phrasing, a brightly merry dada approach, chiptunes and wisely engineered textures, that reprise the praiseworthy work of many Japanese sound artists, who got acclaimed as music innovators for an almost scientific approach to pattern and sound processing (I could mention amazing people like Cornelius, Nobukazu Takemura, Takagi Masakatsu, Sketch Show - the project by Haruomi Hosono and Yukihiro Takahashi - and so on), keeps on being recognizable and as funny as his previous outputs. If you know previous releases by this inventive composer, you would maybe ask yourself if such a 'best of', whose best moments are Toytronic Version of "Vitt", Pilgrim Version of "Soul For Toys", Cinematic Version of "Pen On Stapler" and the graceful new track "Airplane" - the other new track "Memories" sounds like getting closer to that branch of vocal dnb-oriented UK sonorities, which could be avoided - was really necessary, as you could perceive not so many new ideas, but his music keeps on titillating eardrums by means of easily enjoyable and brilliantly cheeky overlapping of textures and grooves.
Artist:
Bell Monks + Gregory Taylor
(@)
Title:
Brocades + Palimpsets
Format:
CD
Label:
clang
(@)
Rated:
Sometimes a few elements are enough to make music that can speak to listener's soul. Bell Monks, the bicephalous project by Jeff Herriott and Eric Sheffield, mostly based on the reprise and the morphing around seemingly useless and unused musical sketches by Jeff, whose music has been aptly described as "colorful....darkly atmospheric" by New York Times, "incredibly softly, beautiful, and delicate" by Computer Music Journal and as a combination of "the minimalism of Brian Eno's ambient work with the gloomy songwriting of Low" by The Onion's AV Club, seems to be a clear evidence about such an assertion. The sonic strategy by which Bell Monks filled many albums and EPs over a decade ranging from ambient, post-rock, and pure computer music and grabbed the attention of many listeners. The description by the media as mentioned earlier voices could be applied to this release, whose primary input was based on 14 short and extremely peaceful tunes for guitar and Rhodes they composed in spring 2012 for an art event in Milwaukee. Some lines of contrabass and saxophone were furtherly added respectively by Ben Willis and Matt Sintchak, but even if this first make-up was good enough for an official release, they decided to forward these tunes to Gregory Taylor, who transformed instrumental parts using a series of computational techniques. This release is the result of the final cut by Lars Graugaard, the man behind clang's curtains, who decided to select the tracks which mostly reflected the original tracks by Bell Monks over more than 100 minutes of sonic material. The quality of selected items is extremely high. Sometimes you could have the impression that melodic lines of different tracks are very similar or almost identical - you could notice some resemblances between the lines of the lovely "Whirling Halves" and "Beacon E23" for instance - and many moments could sound like melancholic lullabies, but listeners will get instantaneously immersed by the slow catchy and wisely processed guitar chords, the sparse melodies whose sonic grasps got mirrored by the eloquent cover artwork that has been chosen for this selection. The compositional process is undoubtedly similar to the way by which Brian Eno and some similar artists in the dawn of ambient music followed, but you could find some similarities to other contemporary stuff (primarily Tor Lundvall - check tracks like "Electric Light" or the entrancing "Ether Limning" - or some artists in the roster of 12k singing interesting crossovers between field recordings and ambient - particularly in the last part of the album -) dealing with isolationist and meditative electronic music. Recommended for swimming in private mental or emotional pool.
image not
available
anymore
Artist:
Kolhoosi 13
Title:
Monuments of Power
Format:
CD
Label:
Cryo Chamber
(@)
Rated:
Kolhoosi 13 is a finnish duo whose musical output is a form of dark ambient heavily based on field recording to tie the sound to remnants of everyday life. This new release is presented in the liner notes as inspired by in idea of irresponsible power whose actions, disregarding man and habitat, are without consequences. While undoubtedly catchy, these notes haven't any real relationship with the music which is a solid dark ambient release that could be presented with any of the clichés of the genre receiving anyway the deserved attention.
The subtle sonic details of "From Comradery to Sustenance" introduce the listener into a sort of audio part of a movie; the proper musical part is a deep drone acting as a canvas for the foley sounds which seems to enact a sort military mission. "Uprising of the Spirit" is, instead, a proper dark ambient track based on the juxtaposition to various drones generating a vague sense of solemnity. "A White Sea" alternates ambient moments to field recordings, in a vague sense, so it escape boredom in stillness. "Glow From the Depths" slowly evolves alternating evocative moments and static ones. "Rainout" rework the structure of the first track but above a real musical structure. "The Monument of Power" closes this release in an almost canonical way i.e., with evocative drones slowly fading in silence.
A release whose impressive sense for sonic detail and a reasonable variety hide a somehow derivative writing. Probably when they will focus their musical structure into something really personal it could even been a masterpiece. Recommended for fans of the genre.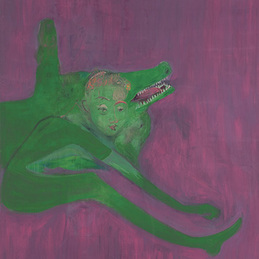 Artist:
David Grubbs
Title:
Prismrose
Format:
12"
Label:
Blue Chopsticks
(@)
Rated:
Now almost better known as a writer, after his impressive "Records Ruin the Landscape", Prismrose reminds about one of the figures that built the genre known as post-rock. However, instead of returning on paths already taken, this albums is mostly a guitar-only one, featuring only the drums of Eli Keszler and the voice of the author as an exception, and could be seen as an exploration, or a return, of a classical form in music: the piece for guitar.
The long opening track of this release, "How to Hear What's Less than Meets the Ear", reminds to a rock form that is canonical at a sound level but is avant at harmonic level: an almost simple melodic guitar arpeggio is developed by variation in the first part until is transformed in a chord leading the entrance of the others instruments. "Cheery Eh" is a guitar meditation vaguely based upon classical tunes for guitar while "Learned Astronomer" is a proper song. "Manifesto in Clear Language" oscillates between meditative moment and harsher ones using the some notes with a clear sound or a distorted one. "Nightfall in the Covered Cage" is a quiet piece for guitar and "The Bonsai Waterfall" sounds like his prosecution as if the previous piece was for single notes, this features open chords in the first part, the second part, which juxtaposes a distorted guitar line, closes this release with the fading of the amplifier.
This release underlines the writing quality of David Grubbs that publish a record that could seem far for any ground-breaking moments but reveal a concern for form which is really rare these days. For the ones which doesn't listen only "the next big thing".