Artist:
Bande À Part (@)
Title:
Caixa-Prego
Format:
CD
Label:
Creative Sources
(@)
Rated:
This release by Portuguese trio Bande à Part - I'm not sure if they named their trio after the well-known movie by Jean-Luc Godard, one of the milestones of Nouvelle Vague including the famous dance scene by Anna Karina over Michel Legrand's music - is another relatively old entry from the pile of records by Ernesto Rodrigues' imprint Creative Sources that deserves attention. The most interesting aspect of their sessions is the total lack of a real leading instrument as well as an absolute simplicity: a simple melodic or sometimes just tonal phrase is the sparkling element of each session, it defines a sort of emotional framework that sounds like a rickety ladder joining two contrasting moods, the other instruments and wisely grasped resounding objects and percussive elements by Carlos Godinho acts like a light make-up. The more lengthy suite, the elegant central piece "Chapa 3" (Chapa is Portuguese for "plate", not slang Spanish for...well, many of you should guess) shows how they can gradually interchange rules (pay attention to the interesting interaction between Joana Guerra's cello and Ricardo' Ribeiro's soprano and bass clarinets) in the same piece, a sort of bipolar attraction where they play on harmonies like they got stuck a rubber band, which got continuously expanded and contracted. The percussions as mentioned earlier and objects by Godinho mainly sound like enzymes of this interactions, but there are tracks ("Chapa 2" and "Chapa 4") where their eruptions become prominent. Another highlight is the fuzzy final track "Chapa 5", sounding like an entirely drunk version of some stuff by King Curtis or Lalo Schifrin. Amazing stuff.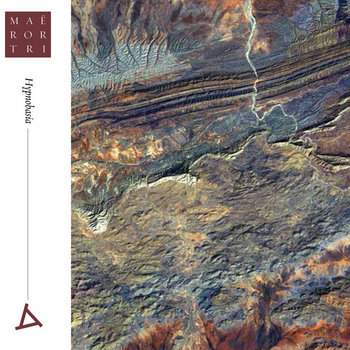 Artist:
Maeror Tri
Title:
Hypnobasia
Format:
CD
Label:
Zoharum
(@)
Distributor:
Alchembria
Rated:
The tape "Hypnobasia" was originally released in 1992 by the Italian label Old Europa Cafe and, according to the liner notes, was dedicated to all dreamers and this music is indended for nightmares and flowings. This is raw material, at the production level, so it's more visceral than thought, and is an opposite approach in respect to the one used in "Sensuum Mendacia" reissued with this release, and it's something vital.
The noises of "Vermis" open this release with an approach that overwhelms the listener as the track is a bunch of sounds piled up until they form a thick mass. "Drowning Into Hatred" starts as a more meditative track but evolves in an aggressive final part. "Tormentum" develops noises as they were sound while "Athanor" is a long drone track based upon noises slowly evolving. "Nuntius" closes this release with another meditated assault. This release collects also three tracks on compilations: "Augurium" which continues along the lines of the previous tracks, "Ecstatic Singing" which is more drone oriented and "Exilitas" that sounds as an outtake of "Sensuum Mendacia" as it's a track as hypnotic as a little unrelated to the rest of the release.
I quote the same statement written for the previous reissue: an obscure gem from the past which could sound underdeveloped at a structural level but reveals choices in the sound palette that anticipate their mature result some year later. It's really worth a listen.
Servitor is Sean Malley, formerly of Detroit, now located in Richmond, VA, and Servitor is his tribal/industrial project. I think 'The Forest Crept Back Into The City...' is Servitor's third or fourth album but I haven't heard anything previous from this artist. One thing is certain though, after 'TFCBITC' it is unlikely that any further releases by Servitor will ever be overlooked. Obviously when you think of "tribal" there have to be drums, lots of drums, and there are drums a plenty on this album, but so much more. In fact, you won't believe that this was made by one person, as it sounds like an entire tribe, and then some. Besides a wide variety of drums and other percussion intruments/elements (djembes, dunus, ashiko, riqs, dumbeks, frame drums, surdos, tambors, snares, pow wow drum, davuls, shekere, zils, cowbells, monkey drum, toms, pandeiro, tambourines, qraqebs, baritone ukulele, and zhong ruan) there is also sampling and synth programming. Don't expect this to sound like other so called "tribal-industrial" acts that bring an ersatz measure of tribal to the table at best, flavoring their industrial sound with some tribal condiments. This is the real deal. Malley's commitment to this also takes form in his physial appearance - a combination of Native American and rivethead, but what else might you expect?

Opening track, "Bruigh An Cnaipe" begins incongruously with heavenly choir and electronic buzzing before it takes off into the primitive. A salvo of hand drum, a war whoop and then the onslaught. Ferocious and exhuberent drumming (and other percussion) punctuated by whoops, cries and yelps indicate that the natives are indeed restless, and seem to be having a damn good time too. With the cathedral choir in the background you almost get the impression of some Catholic missionaries stumbling on a wild Indian party in progress. Great intro! Things get even more intense on "Branchbaila" as the drumming gets into this manic groove, subtle industrial elements emerge, and there is a growled vocal chant that only becomes clear during the break - "Underneath the concrete rising up from the earth cracks, sewing the runes with earth seed, mother come take the town back." Followed by a roar, the manic dance returns to full frenzy. All the while that heavenly choir floats in the background. "Root room DOOm BOOm" changes gear into a happy crowd stomping groove with deeper drums, negro spiritual samples, and a vocal "Rawr rawr RO RAWR!" with some musical sample repeatedly accenting the measures. There are also vocals with lyrics but I can't make them out. More happy vocal samples (pygmies chanting ?) and the beat goes on. This track would be perfect for dancing around a bonfire with painted face and not much else. "Donusturmek" is very Middle Eastern; perhaps Turkish or Afghani, but the chanting comes from elsewhere. There are exotic double-reed woodinds and a clatter of metallic percussion, as well as some monstrous industrial synths and samples. This is like nothing you've ever heard before, I'm sure.

"Kanda Ruskar" was my first disappointment on the album. Servitor moves from hand drums to snares and the result is like high school marching band frenzy, no matter how many industrial elements get thrown into the mix. There's a lingering liturgical choir in the background which seems totally out of place here. It's different; I'll give you that much. Speaking of different, the next track, "Haz Rumpus" opens with a repeated walking blues acoustic guitar riff sample, then the much heavier drum rhythm follows along with growled speak-singing vocals of which the chorus ("Walk as we WALK!") are the clearest. It's the closest thing I've ever heard to an industrial shuffle. Pretty neat once you get used to it. Over the next few tracks ("BOOm Ra Tek," "Kuzama," "Bassor Foomp") Servitor takes us deeper into the industrial aspects of tribal with more synths, sampling and a wide variety of drums and percussion. "Bli Mig Lite" slows it down a bit with an atmospheric percussive passage that could serve as an intro on a Front Line Assembly or Synesthesia album, then changes completely with an excerpt from the Swedish traditional "Grone Lunden" song where harp and violin are employed. This happens a couple of times on the track, giving it a very eerie feeling. "Sindle Spindle Six" juxtaposes intense tribal drumming and percussion with glitched-out choir samples. The junglesque "Sinte Sangaia" employs a variety of industrial sampling woven within the drumming and there's a fragmented lyric line in there somewhere too. Malley's back to the snares on "Jaeghora" and it comes across like a whacked-out funky drumline. "Kuku Cantorum" might just be the most intense track on the album with frenzied drumming, choir samples and tribasl vocal samples other (synthetic) industrial elements amidst the renegade yips and yelps. You will be exhausted after this one. "En Arca" seems to be the most industrial track on the album but still manages to maintain its tribal feel. Finally, Servitor wraps it up with "Turtle Island," a simple Native American tune with male and female vocals and a single drum.

You're going to need a lot of stamina to get through 'The Forest Crept Back Into The City...' but it will be rewarding. It would be cool if a dance club dj managed to sneak a track from this album into a set; I'd love to be present to experience the reaction. Considering that all the drums and percussion were physically played and not merely programmed, this is quite a feat. It's a potpourri of controlled rhythmic rambunctiousness, the dichotomy of tribal and industrial, forged in the furnace of the now to draw upon the power of the roots of the primal. Potent stuff, to be sure.
Artist:
VV.AA.
Title:
Ingredients:050
Format:
12"
Label:
Ingredients
(@)
Rated:
The 50th release is always something to celebrate for an independent label, but the somehow strange and almost unusual aspect for Clive's Ingredients, one of the most seminal drum'n'bass label, is the fact that it has never seen any output signed by his brilliant boss, who waited for this important goal before (co)signing his first track. The whole B-side includes "Parasite", an impressive collaborative track by Clive and the evergreen Mancunian producer and DJ Response - a collaborator of the label since 2013 as well as producer of some great tunes on likewise renowned labels such as Commercial Suicide, V Records, and Mars -. These wise beatmakers will let you move your body and your mind over worries that a player of Plague or a brilliantly paranoid mind could understand by inoculating into a foamy kicking roller a voice-over listing the most dangerous threat to humankind: bacteria, viruses, and ideas... Response also co-signed "Code 98" with Pliskin and, as the title could suggest, they dusted off a weaponry of sonorities (including those lovely drumfunk-driven bouncy rhythmical patterns) that will bring d'n'b lovers back to late 90ies. Last but not least, even if it's the tune that open A-side, "Interstate" by Duncan Busto aka Spirit is likewise vintage - I don't hear a so pervasively massive usage of flanger since ages - but similarly energetic. Happy 50th ingredient!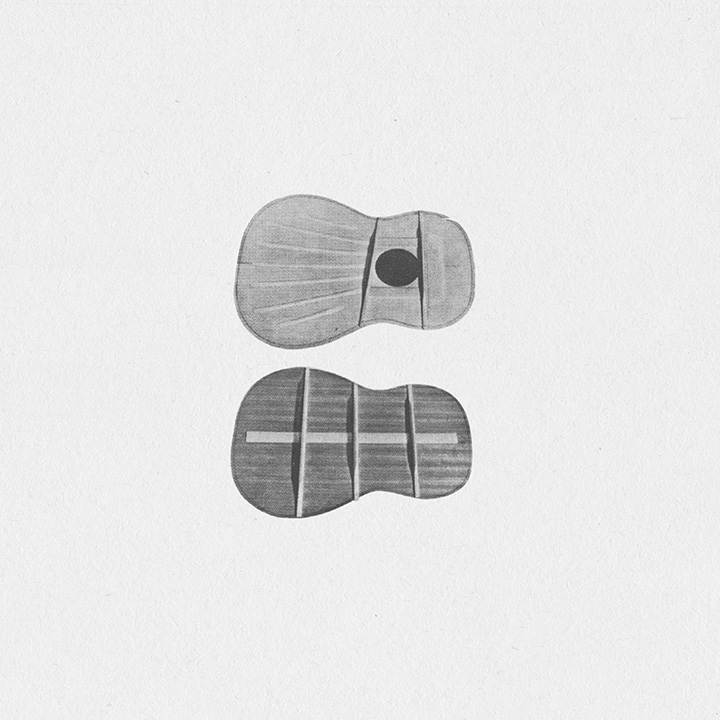 Artist:
Emiliano Romanelli
(@)
Title:
Tabulatura (Volume 1)
Format:
Tape
Label:
Terziruolo
Rated:
This release from Emiliano Romanelli, well known as a Tu m', documents a series of sessions performing an indeterminate composition for sixteen pre-recorded guitar loops and computer with custom software. This composition places itself in a path, almost a tradition, to create music using the same musical elements disposed in different ways challenging the notion of music as a written score which produces an invariable result. The musical output is a series of drones whose construction is multifaceted and demanding at aural level.
"Pattern # 45" quietly opens this release and exposes the structure of almost all track: a pivotal drone and the rest to generate resonances and peaks. "Pattern # 25" is based on doublings. "Pattern # 46" is rather short interlude to "Pattern # 22" which shows subtle nuances and a sort of movement in space. "Pattern # 38" tries a tonal movement and sound line an interlude to "Pattern # 49" which is closer, at a writing level, to "Pattern # 22" and the three track could even sound as a single track in three movements. "Pattern # 67" closes this release as a minimal track based on almost inaudible variations from the pivotal drone.
There's a research at a writing level that let the listener apparently disoriented as this release sounds new while it sounds old and this is due to the intention to push the boundaries at the meaning level rather than on the novelty one. It shows a path for further developments and it's worth an attentive listen.