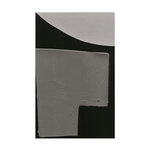 Artist:
Absent Outfit
Title:
Untitled
Format:
Tape
Label:
Canti Magnetici
(@)
Rated:
Absent Outfit is the duo of Matthew P. Hopkins, an artist working in the realm of musique concrète, and Tim Coster, a musician using synthesizers and cassette; their music is something that could loosely fit the electroacoustic genre as it's more abstract than musique concrète but it's less free form than EAI.
The first side of this tape oscillates between field recordings and tape music as sometimes the sound of the cassette player prevails while sometimes it's the synthesizer in the foreground. The emergence of some noises breaks the quietness of the track and reveals the sense of exploration instead of being a mere playback of samples. The opening piano of the second side seems to hide the underlying drone from the listener attention but the silences between the repetition of the phrase gives space for the background to emerge and start his development into a sort of juxtaposition of the synth and the field recordings. A short silence introduces the quiet second part of the track where all sounds, including the piano, seem in a relation with the underlying quietness and then the piano returns to close this work.
It's a work which tries to escape the boundaries of an already codified musical scheme revealing the subjective nature of tape manipulation rather to achieve an iperreal listening. It's really worth a listening to remember it.
Artist:
Akira Kosemura, Megumi Shinozaki & Kimihiko Nitta
Title:
For
Format:
CD + DVD
Label:
Schole
(@)
Rated:
"For" is a charming combination of different forms of art: the delicate musical style by Japanese composer Akira Kosemura, that should be quite known to our readers and focusing on the research of an enchanting balance of minimal piano melodies, close to French impressionism, gentle electronic breezes and emotionally intense alternation of tonal phrasing (sometimes resembling childplay piano of music boxes) and silence, meet the skills and the vision of two other Japanese artists, who already tried to push the boundaries of their own form of expression. We're referring to the flower artist Megumi Shinozaki, who is always searching for possible developments of decorating flowers, including garden design, fashion design, overseas villa landscape design and visual for department stores or fashion brands, and Kimihiko Nitta, a fashion and portrait photographer, who is trying to develop the concept of "moving photography" and a narrative dimension of photography since 2014 by short filming and an editing technique, which attempts to capture the portrait's "tremor" by using the natural light. The release includes a CD - featuring nine lovely tracks by Akira, who got joined by drummer, four string players and a mallet percussionist, ranging from the well-known piano melodic patterns that clearly marks his touch, and some "experiments" such as the frail trip-hop-like tune "gene" or the lovely minuet of "Waves of Light" -, a DVD and a photo book (including a short poem that highlights the concept of the album), where the former seems the animated version of the latter, featuring mostly natural sceneries and occasional urban ones, where the almost hypnotical beauty of the settings got often emphasized by the model Shin Lee, which looks like diving into nature with a naive harmony. I wouldn't say that her teardrop in the last scene of the movie found inspiration into sadness, but it looks like inspired by a sort of mixture between emotional pathos and aesthetic rapture.
Artist:
Exposure
Title:
Delicate Lives ft.Sula Mae/Sacrifice
Format:
12"
Label:
A R Records
(@)
Rated:
A new incendiary sparkle recently joined the ring of fire of the drum'n'bass scene. The firestarter is Bristol-based drum and bass producer Exposure, who dropped a couple of exquisite tunes to ignite his imprint A R Records (the awesome launching party occurred some days ago - 3rd October - at Coroner's Court in Bristol) and sign an impressive debut. I'm not sure if the sound he explored is aimed to define the one that A R Records is going to spread throughout its imprint as the label was launched as a "Drum and Bass and Jungle label", but the setting itself should feed such a supposedly wide stylistic range: all bass-driven music lovers know that, besides authentic gems of dub and having been the nest of trip-hop, Bristol saw the rising of d'n'b legends such as Krust, Dj Die, Roni Size and keeps on getting wisefully shaken by other great masters of the genre such as DLR, Dj Mako, Total Science, Break or S.P.Y.. The tune on B-side, "Sacrifice", is my favourite one as it shows the focus on detail that Exposure forged during intensive sound modelling sessions in studio, sometimes requiring huge amount of time, a worthy "Sacrifice" in his admission departing from an orchestral sample and getting more and more frenzy and corrosive, but I'm pretty sure that the tune on A side - "Delicate Lives" - has all the features that are going to find the way to dnb lovers' heart by a fantastic vocal tune, featured by the talented folk singer Sula Mae, and a perfect balance between jumped-up beats, gentle harmonies, and nervous sonorities. Big ups for this Bristolian guy!
Artist:
Katie Kim
Title:
Salt
Format:
CD & Vinyl
Label:
self-released
This is forty minutes of deeply melancholic, downbeat misery ballads, mostly just a vocal and a piano with faint orchestral frills and a subtle and extremely restrained echo-chamber production. It's very evocative of the epic rocky, windswept Western coast of Ireland.

Unfortunately, it also feels rather self-indulgent. Vocally it's like a tuned series of regretful notes-to-self. Some lyrics are hard to distinguish and in parts it feels wilfully inaccessible, as though we're not welcome to hear these private memories.

Although described as 'dark', 'droning' and 'ambient', it's none of these things in any great measure- perhaps a little bit more of a journey into the experimental would've benefitted it. It is more like standard pop ballads, slowed down and spaced down to extremes.

"I Make Sparks" and "Life Or Living" are a little more driven and up-tempo by comparison, which considering "Life Or Living" runs at around 90 beats per minute, goes to show how measured and frankly slow the rest of the album is. "Thieves" is the track that most suggests there is innovative songwriting, maybe even pop music, underneath the heavily loaded surface, scratching to get out.

Despite Katie Kim being Irish, there's a Scandinavian vocal tone reminiscent of Karin Dreijer Andersson but sadly lacking the energy or quirkiness.

It's a very honest and consistent work, but, like dipping into a stranger's private diary, it would be wrong to recommend it.
Juergen Berlakovich's "Sonic Counterpoint" is predominantly a solo acoustic guitar performance, but with the most delicate of glitchy and atmospheric electronic production touches, clicks and minimal beats, which complement and modernise its organic, classical core.

"Sun" is one of the more active, upbeat pieces, with a more regulated beat that drifts slightly towards house music, and more noticeable verse and chorus loops that might lend it credence as part of a lounge or chill out compilation. "Proton" is the track that feels most like it's an instrumental pop ballad, calling out for an aching soulful vocal to be dropped on top. Other pieces like "Ice" and "Cinescopi (Notturno)" are somewhat more abstract by comparison.

Ostensibly there's a JS Bach connection, with patterns derived from one of Bach's Cello Suites, but the gentle looping and slowly evolving progressions feel like they have more in common with a Steve Reich work and the result is both modernist and minimalist.

The seventh track "Running In The Background" is the only vocal track, with sinister, whispered stalker-like lyrics that unfortunately play completely at odds with the relaxed atmospheres that the rest of the album invoke. Unfortunately the decision to add a vocal was a mistake here- a completely instrumental album would have been stronger.

It's a thoroughly engaging listen. Thirty-six minutes races by and reaching for the 'play' button again once it's done. It's a genuinely beautiful work, not to mention a valuable asset should you ever find yourself trying to introduce electronic music to an elderly grandparent who still thinks that you can't make proper music with machines. The only exception is, I won't be bothering with track 7.