Artist:
Kim Myhr & Jenny Hval ft.Trondheim Jazz Orchestra
(@)
Title:
In The End His Voice Will Be The Sound Of Paper
Format:
CD
Label:
Hubro
(@)
Rated:
While listening to this lovely release, the result of a collaboration between inventive improviser, performer and guitarist Kim Myhr and Trondheim Jazz Orchestra, where Kim himself invited Jenny Hval to borrow her eerie vocals, you could guess they used they made a wrong gender agreement in the use of possessive adjective due to the significant part played by a voice that enchanted many listeners all over the world in critically acclaimed albums such as "Apocalypse, girl" (2015, Sacred Bones) and "Innocence is Kinky" (2013, Rune Grammofon) as well as in many different collaborative projects (particularly the ones with Jessica Sligter and Håvard Volden - Nude on Sand -). In reality the title "In the End His Voice Will Be The Sound of Paper", which could have no real connection to what you're going to listen and has no reference to the way of speaking/singing by Jenny, got inspired by a conversation about the aging of Bob Dylan's voice. Jenny's voice got astonishingly colour-changing over the wisely crafted atmospheres of the album: the 12 chords of Kim's guitar and other instrumental elements - Christian Wallumrod's piano, Tor Haugerud's drums and Morten Olsen's percussions above all - sound like rendering the intricate web of tree's branches of a dense woodland in tracks like the opening "Seed" or the entrancing "The Beak", where Jenny's voice sound like flying as a blind bird; she could vaguely resemble the languid and somehow sorrowful intensity by Beth Gibbons over some moments of "Something New"; she sings like an invisible nymph on songs like the gently trembling "Soft As Tongues" or the lovely final elegy of "Silence a Beat". Premiered at the Ultima Oslo Contemporary Music Festival in 2012 - it was described as a musical combination of improvisation, contemporary Feldmanian music, pop and spoken words on that occasion -, recorded at Rainbow Studio in Oslo in August 2014 and finally mixed at Amper Tone Studio together with technician Johnny Skalleberg, Jenny described the compositional approach and the whole collaborative experience as well as her own part for this release as follows: "Kim gave me a lot of sketches and music, I wrote the melody and lyrics, and we improvised. This is a collaborative effort, even if it is mostly Kim's music. It's his artistic vision, and it was a great honour for me to be able to take part in it, because you can learn a lot by working with fantastic people. Sometimes I feel that improvised and abstract music is trying desperately to avoid the emotional elements that can be inherent in the music. This was something I thought a lot about when we were going to work with this recording. That's why I wanted to write romantic lyrics. There is a sense of longing in these lyrics. I wanted to combine something charming, in both the lyrics and the melody, something that wants to be loved, with this more abstract and fragmentary music. I'm interested in vulnerability; the music must have a kind of vulnerability at some level.".
Assign or relate a function to music - a song for having a coffee with friends, a song for letting your children sleep, a song for a pervert night, a song for an elevator, a song to charm snakes or beetles - is an old-fashioned way of advertising records that gradually disappeared and made me smile. Many musicians have reasonable arguments against this method of introducing music, which was widely used by first ambient labels and got massively reprised by new age-focused labels and compilation pushers, that expanded the types of situation to fit sounds, songs, and any supposedly suitable audible products. Welsh label Serein introduced this collection of beautiful tracks by highlighting the perfect usability during a journey, but the quality of each track is so high and elevating for the mood and thought of listeners that most of the reviewers could turn a blind eye against this grossly hackneyed manner of speaking about music. Most of the tracks are close to that traditional interbreeding between ambient music, contemporary classical and tonal spraying that featured stylistic grounds that got fertilized in the recent past by other labels as well, such as London-based Just Music through the releases by artists such as Jon Hopkins, Echaskech, Honeyroot and Leo Abrahams, but there are many variations on the theme of escapism in this selection widening the stylistic range: tracks like Benoit Pioulard's "Alogia" or The Inventors of Aircraft's "No Returns" lap upon Boards of Canada's ethereal shores, some similarities to the pianism by Ludovico Einaudi, can be caught in the beautifully melancholic opening by Otto A Totland on "Selon", the ecstatic tension by Brambles on "Petrichor" could be matched by some divagations by Johann Johannsson, some stuff that rearranged sounds according to a fuzzier logic such as Ametsub's "Blue Loop" - I already introduced "All is Silence", one of the best output by this sound artist in this space - or the entrancing "Solaris", co-signed by Yui Onodera and Chihei Hatakeyama - other known names to Chain DLK followers - or the warm thin sonic vapor by Imprints' "Roy" or the crepuscular intercrossing with field recordings by Donato Wharton on "A Lightless Volume of Water". The mentioned tracks and the whole content of this excellent compilation will demonstrate that your mind could reach unpredictable space orbits using well-selected tunes whether or not physically traveling on rails, wheels or feet.
Artist:
Zinc Room
(@)
Title:
Window of Erich Zann
Format:
CD
Label:
Zhelezobeton
(@)
Rated:
Zinc Room is a collaboration between Alexander "I" (Prognostic Zero, and label-head of Evil Dead Productions) from Ekaterinburg, Russia, and Kein (Sol Mortuus, Church of Howling Dog, ex-Thy Repentence, etc.), and this album, 'Window of Erich Zann' symbolically marks the past 10-year anniversary of the project's activity, containing containing several re-worked compositions from Zinc Room's 2004 debut, 'Cold Corridors of Fear'. My only acquaintance with Zinc Room comes from the review I did not too long ago of Sol Mortuus's 'Extinction,' a whole different animal than this work. While Sol Mortuus is along the lines of electro-acoustic ambient, Zinc Room is harsh noise dark ambient with black metal leanings. Quite a difference, eh? So if you're not up for that, you'd better move on, because no mercy will be shown for the casual listener.

Before we get into the music, we should consider the title - 'Window of Erich Zann,' which is based on a 1922 short story written by H. P. Lovecraft titled "The Music of Erich Zann". In it, a poor university student seeks lodging in a creepy old apartment building with few tenants. One of them is a mute German violinist named Erich Zann. Over time the student gains Zann's trust and discovers the old violinist has discovered melodies and rhythms of sound of an almost otherworldly nature. Zann plays these sounds to keep back unknown and unseen creatures from Zann's window, which is said to look out into a black abyss. One night, Zann's music reaches a crescendo, and the student, staring out the window in hopes of seeing the normal world outside, instead stares into an infinite abyss. The window shatters, and an unnatural wind sweeps through the room, carrying away all of Zann's music notes into the darkness, despite the students attempts at catching them. Fleeing the house after he finds Zann seemingly dead despite his body still playing the violin, the student escapes not just the house but the neighborhood entirely.

Now you may have a better idea of what you might encounter on this album, but you're still going to need a guide, and that's where I come in. Beginning with the title track, "Window of Erich Zann," a foreboding and low drone heralds some manic cello by Kein, along with a cacophony of of metallic noises set to stun on a variety of frequencies. Noise enthusiasts are going to love this novel opening. "Cold Corridors of Fear" (presumably one of the re-worked tracks from Zinc Room's debut) has heavy cello drone with repeatedly struck cymballish noise which eventually fades while thick drones emerge, both low amnd mid-range. More repeated, echoed noise strikes begin again, and after some rumbling, it fades out on a ring-modulated spacey synthetic drone. "Dust of J. Curwen" uses distorted noisy percussive bashing and roaring bass guitar for its rhythm over which unintelligible and nasty back metal vocals shout something ineffable while feedback squeals emerge now and then. "In the Night Beyond the Wall of Sleep" is a phantasmagoria of noise, drone and misery that will test your sanity. "V-29. The Temple" is a tumultuous storm of rumbling noises with some repeating bird-like higher pitched sounds interspersed. It eventually fades into low drone and creepy organ towards the end. "The Rats in the Walls" (title taken from another Lovecraft short story) is more black metal, driven by cello drone here. The heavy, bombastic distorted cello is not to be missed!

The titles of the last two regular tracks, "The Dreams in the Witch House" and "Landscape. At the Mountains of Madness" are also taken from Lovecraft stories. For the former, I really need to quote Lovecraft -

"His ears were growing sensitive to a preternatural and intolerable degree, and he had long ago stopped the cheap mantel clock whose ticking had come to seem like a thunder of artillery. At night the subtle stirring of the black city outside, the sinister scurrying of rats in the wormy partitions, and the creaking of hidden timbers in the centuried house, were enough to give him a sense of strident pandemonium. The darkness always teemed with unexplained sound—and yet he sometimes shook with fear lest the noises he heard should subside and allow him to hear certain other, fainter, noises which he suspected were lurking behind them."

The music is sort of like that, but maybe amplified a hundred times. As for "At the Mountains of Madness," a Lovecraft tale that has always chilled me to the bone, the repetitive rhythmic clanging, the wall of drone and feedback, and other dire elements all seem calculated to drive the listener insane.

There are two bonus tracks: "Grave Abyss," a sonorous dirgy bombastic track flecked with metallic noise, and "The Evil Clergyman," with distorted intense metallic rhythm over sinister black metal dark melody. It is relentless and unforgiving. Definitely not for the meek. Yes, this is an album for harsh noise aficionados and fringe black metal enthusiasts. All others beware. Lovecraft wrote a short story titled, "The Colour Out of Space"; perhaps Zinc Room, if they want to continue along these lines might do an album titled "The Colour Out of Noise", and yes, noise does come in different colors.
Artist:
Mira Drevo
Title:
Sledy na Snegu
Format:
CD
Label:
Zhelezobeton
(@)
Rated:
Mira Drevo is the electro-acoustic ambient project of Dimitriy "Skald" of St. Petersburg, Russia, and along with Pavel of the post-rock doom metal band Sequoian Aequison, they made this live recording titled 'Sledy na Snegu' ('Footprints in the Snow') on December 25, 2015 in the St. Petersburg Sound Museum (formerly Experimental Sound Gallery, ESG-21) for one of the nights of the "Alchemy of Noise" party series. One this recording Dimitriy uses synthesizers, a sampler, authentic field and ethnographic recordings along with acoustic instruments - flute, mouth harp, and percussion. Pavel contributes some gentle guitar, quite different from the band that he's in.

Considering that this is a single,lengthy track (a little over 32 minutes), and in all probability largely improvised, this is one remarkable piece of music. This isn't just your "drone on, and add a few other sounds to the mix" kind of ambient. This is musical ambient that seems almost an outgrowth of nature; a kind of melodic environment. And of course, performed on Christmas night (well, our Christmas, Russian Christmas is January 7th) what else would you expect but a winter piece? From the music though, you don't get the impression of icy cold, but rather a calm, placid, and nearly cheerful environment. I can picture snow gently falling, hear people walking through the streets conversing, the occasional cry of a snow-bird flying overhead, and other things you might associate with the lighter side of the season. Throughout the piece there is a slow-moving melodicism that is subtly woven through the ambience. This to me is what raises this piece above a lot of the ambient music of this kind that I've heard previously. In a way too, it is rather hallucinatory, but never what might be described as "mind-bending," but more "mind-flowing". Most of 'Sledy na Snegu' has no real rhythm track, except the last few minutes where there is a minimal beat, and the culmination of a psychedelic melody, like very, very laid back Pink Floyd. The only vocals are incidental dialogue in Russian, indistinct enough to just be part of the ambience. The whole thing is quite remarkable, and fortunately no applause was recorded, so unless you already knew (as I have told you) you would never know that it was live. This is the first and only thing that I've heard from Mira Drevo, but after this, I'm certainly up for more. A limited release available in two formats: 77 copies on pro-CDR in a cardboard slipcase, or 55 copies on cassette (even numbers white, odd numbers black). Worthy.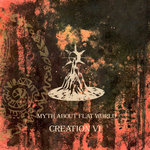 Artist:
Creation VI
(@)
Title:
Myth About Flat World
Format:
CD
Label:
Black Mara
(@)
Rated:
This release from Creation VI is based on the symbol of the Flat World which, according to the liner notes, was chosen as it's tied to a whole mythology whose sense emerged from the idea of a bounded territory whose third dimension, the mountains, was the dimension of Gods. The overall music results stand on that form of post industrial where the use of drone is mediated by the use of almost ethnic elements which give a sense of displacement as it were recorded on another continent.
A quiet drone opens "The Flat World" and the listener is slowly introduced into a sonic landscape where elements unfold from an apparently quiet ground. "Ancient Wind" uses sparse drum and flute sections to give a distant element of reality into a structure that could seem constructed. "Mountain Roots" starts as a sort of song as it features whispers as a sort of ritual. While the first part of "Keepers of Existence" is focused on the evocative properties of sound, his second part is focused on deep drone, in an almost didgeridoo register, to underline a sort of religious setting. "Beside The Tree of Life" closes this release with layers of drone to generate a sense of departure.
While it's not a ground-breaking release, this release features an almost mature sense of form and bases his form of the evocative properties of sound and a recognizable, almost reassuring, form. Perhaps not only for fans of the genre.