With its car-locking beeps and door slam hits, I think there's a sense of fun lurking underneath the surface of lead track "HOL". Not that this isn't music that takes itself seriously, it's definitely earnest in its ambition to blend the deep recesses of dark gothic punk attitude and the pounding jackhammer beats of straight-up techno into one attention-grabbing, conversation-shattering attack. It's bold, in a way very simple, and pretty effective. Structurally, it's ideal for just one thing- playing on headphones after you've had a really crap day. I can't see how it would creep out to a public audience, but as a private catharsis, it's got strength.

The other tracks "AGES" and "REDU" are mild by comparison- experimental noise workouts that you might have heard from French avantgarde musique concrete pioneers if they'd been born as millennials and brought up on a rich techno diet. It's artful, and it's danceable in an awkward, "f*** you" way.

At twelve minutes, this is a succinct but rich EP that doesn't outstay its welcome. The promo blurb puts great stock in the "counter-cultural energy" that fuelled this release and while I wouldn't over-state the political credentials, it's a fine bit of extremely dark beatwork.
Artist:
Fe
(@)
Title:
Sucker Mule's Dreadful Murder
Format:
12"
Label:
Suitcase AudioVisual
(@)
Rated:
Fe-male Fou is Italian artist Filomena Rubino, formerly of Rome, Italy, now relocated to Atlanta, Georgia. She began this project in 2013, and the music is dissonant atonal avant garde guitar and voice using ambient drones, lo-fi melodies, and likely lots of electronic processing. Previously she's had a string of CDr releases and cassettes, but this limited (to 300) vinyl release might be construed as Fe-male Fou's first official release. Once you get past the abrasive "nails on a chalkboard" opener "Pagan Revelry," the songs on the A-side of this album are a strange mix of improvised sing-song psychedelia with Velvet Underground drones and Alice down the rabbit hole vocals. It's a nightmare vision that penetrates deep into your psyche, far more frightening than any horror flick you may have seen recently. Fe-male Fou's guitar style is rudimentary but twisted into some gordian knot for which there is no solution. The more you listen to it, the more intriguing it becomes. I shudder to think what this might sound like on hallucinogenics.

While side the A-side is kind of a no-wave extravaganza, the B-side is far more industrial and noise-oriented. In some ways it is reminiscent of Lou Reed's 'Metal Machine Music,' or parts of it anyway. Rubino's looping techniques are an essential component to the compositions on this side, especially "Slaughterhouse Overdose," and the lo-fi methods of achieving Fe-male Fou's sound produces results that probably couldn't have been done any other way. Rubino's voice, where used on this side seems to blend in as an instrument, perhaps more for effect than anything else. For industrial noise, these pieces aren't quite as abrasive as you might think, and become an ambient sound sculpture that sounds cohesive and powerful in its own right. Sometimes lurching, sometimes slithering and oozing, it's like a demonic train headed for an unspeakable destination. I found that listening to it from a distance (in another room) actually seemd to enhance the audial experience rather than confronting it head on.

Because of its diversity, unusual nature, and released on limited vinyl, I do believe Fe-male Fou's 'Sucker Mule's Dreadful Murder' is destined to become a collector's item. If this intrigues you, you better hurry up and purchase a copy before they're all gone.
Artist:
War Anyway
(@)
Title:
War For Peace
Format:
CD EP
Label:
self-released
Rated:
As far as I can tell, War Anyway is a French Martial/Industrial duo and I think 'War For Peace' is their debut release. According to their press release, War Anyway says "Loudness and war songs are the way to bring the necessary war for peace." To me that's kind of like saying "the sounds of sniper fire and songs about shooting cops is the best way to end gun violence." Okay, I get it. Industrial music has a long history of war-themed songs, both real and imagined. But here, we have a rather artless attempt to make a name for a clichéd-sounding industrial act with their scorched-earth policy of all out war themed
tracks. Beginning with "Crossing the Rubicon," the band starts out with a kind of percussive apocalyptic ambience before crunchy guitar and abrasive growl-shout vocals take over. I guess you're supposed to be imagining Caesar's soldiers marching into glory, but it sounds more like an army of Blutos in search of a Popeye to pound. "We Are the Army" takes a Front 242 beat with more Bluto vocals (occasionally morhping into screamo) but injects this light tinkertoy melody over the top. WTF? Maybe they were striving for irony, but the incrongruity is just overwhelming. "Actions Have Consequences" samples about half of Obama's March 2011 speech on the Libya intervention (let's face it, it was a fucking invasion) over an martial-industrial music background. Does anyone really want to hear that crap again? I think not. And that's the entire song, lock stock and barrel. "The Rise of a Tyrant" has plenty of staccato industrial guitar stabs with more agressive growly vocals. Final track, "The System is Down" is the only track that shows a hint of promise with its cyber-techy ambience, until those Blutoid vocals come in and and render the whole thing into some parody of an industrial band. You know, I really like industrial music, good industrial music that has been done by many class acts over the years, and even some new lights on the horizon, but this, this is just sub-par. Unless these guys can come up with something a whole lot better for their next release, they better not quit their day jobs.
Acoustic-electronic and electro-acoustic modulating duo Jospeph Cramer and Noe Cuellar aka Coppice, recorded Cores/Eruct, the audio equivalent of wandering through a vast robot fabrication and repair facility. Things start slowly with opening track, "Bluing", as if the facility is just starting-up first thing in the morning with more tentative machine noises going through a boot-up sequence. Yet, one can almost feel high voltage power build up, a kind of omnipresent hum permeates. The closest analogy is when one approaches a power transformer or power lines where electricity is felt as much heard. The power build up and tension is strong, looking for the machines to fully awaken for the discharge. "Son Form" is more animated with machines going through a preliminary integrity check, but the following "Seam (Kinder)" is where the facility is in full swing. If you put Cores/Eruct on a decent home stereo, you really can give your neighbors the impression you are running a mechanical factory from home. "While Like Teem Or Bloom Comes (Tipping)" is where I realize that Coppice reminds me of Pan Sonic, albeit less software and more electronics as they use Transmitters, a "modified boom box", a "prepared pump organ", "funnels" and "tape processes" though I do see a laptop in promotional documentation so I figure there is some software manipulation. These electronics are arranged in clever melodies and rhythmic compositions, much like Pan Sonic, only Coppice works with more visceral textures. The final track "Blueing", is similar to opening "Bluing", only it gives the impression of the plant winding down instead of up. End of work day. If you are into Pan Sonic but prefer more 'acoustic' mechanical textures, as in real machines, this disc is for you.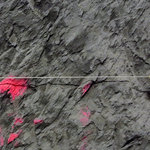 Artist:
Stefano De Ponti
(@)
Title:
Calce
Format:
CD
Label:
Kohlhaas
(@)
Rated:
The title of this project, the italian term for lime, reminds of the building material that is obtained by a relatively long process in which various materials are used. So, this releases is made by two distinct elements a book made by Nina Haab where black and white pictures, color images of stones and texts remind of a period when the extraction of limestone, the primary element for lime, was a source of income as well as related with a tough life. The same elements are used in the audio part made by Stefano De Ponti.
The material's noise that is the base of "le premier son qui vient", the first track of this release, is the background of a complex track where various samples are used to generate a tension between sounds from a time which was and the noises, so it mirrors the structure of the book in some way. While the beat in the first part of "il ronzio degli insetti" remind to the extraction's work, the final voice of the track with the words "scream" and "whisper" announce the final part of the track whose complex sinewaves introduce "K'AN / airy abysmal" whose second part is focused on the words "stay at the peak of the jam if you wanna see" ("stay at the top of the cliff, if you wanna see" is one of the topic of the book) screamed upon a soundscape of great impact resolved in a sort of jazz session. "Spoken stones" is a long track developed upon sounds of stones, a sort of slowly moving drone and sparse samples in the first part while the second is focused on a suspended atmosphere generated by the tones which was in the background in the first part. "HSÜ / haunt of waiting and nourishment" closes this release as a song, for a bunch of seconds, interrupted by stone's samples in a quiet silence until a string quartet seems to close this release only to leave space to a final stone's sound.
It's not usual to write about a release whose visual and audio part are so intertwined but with a meaning dealed with separately. The continuos correspondences between the two works create layers of meanings that have to be discovered with a committed approach of contemplation. Absolutely essential.