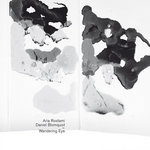 Artist:
Aria Rostami & Daniel Blomquist
(@)
Title:
Wandering Eye
Format:
CD
Label:
Glacial Movements
(@)
Rated:
This new release from Glacial Movement is the result of the collaboration between Aria Rostami and Daniel Blomquist whose working process lasted over a year and a half. The various sound materials which were created using sources as samples, filed recordings, piano and synthesizer were sometimes played live and sometimes constructed sending files back and forth. The result is something between ambient and certain modern classical, as sometimes they try to develop proper melodies rather than rely on the impact of a predictable structure for crafted sounds, and takes song titles by a paper which highlights the best places to observe space with sharpness and clarity.
The first track, "Dome A 80.37° S 77.53° E 4083m", juxtaposes a gentle melodic synth line and crackles from, perhaps, field recordings so the result balances the quietness of the sound with the movement of the noises. The first part of "Dome C 75.06° S 123.23° E 3233m" relies on old recordings of piano to generate a sense of displacement on the first part while in the second part relies on rarefied drones. "Dome F 77.19° S 39.42° E 3810m" tries some distorted sounds, probably guitar sounds, prior to return to quiet and clear soundscapes. "Ridge B ~76° S ~94.75° E ~3750m" starts with subtle windy sounds upon sparse note and seems to develop in a noisy track until they decide to act with subtractions instead of additions. "Dome B 79.0° S 93.6° E 3809m" is a gentle ambient watercolor until a background noise emerges to end the track in a dissolving silence. The first part of "Ridge A 81.5° S 73.5° E 4053m" is based on detuned samples whose small noises generate a sense of distance interrupted by the emergence of field recordings.
Quite impressive in the aspect of sound craft, it's able to give the impression to recreate the place where it was composed. Pure cinema for the ears.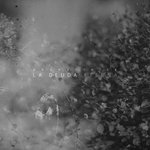 Artist:
Dramavinile
Title:
La Deuda [Eterna]
Format:
CD
Label:
manyfeetunderconcrete
(@)
Rated:
Dramavinile is the project from Vincenzo Nava based on a sort of Lo Fi personal aesthetic which refuses the crystal clear digital sound in favor of a warmer one influenced by the typical background noise of analogic equipment that creates some charming aural artifacts.
The soundscape of the first part of "La Deuda [Eterna]" which opens this release is an almost complex juxtaposition of drone, samples and small noises whose result oscillates between ambient and glitch while the guitar's insertions reminds to some electoacoustic's fields which are at the core of the meditative second part of this track that is based on small samples upon sparse guitar noted immersed in a relative silence. "UP-Nea" is instead a short track based upon a couple of drones and field recordings creating a sense of displacement. "Elephant" oscillates between quiet drones and distorted guitar taking the listener's attention. "Untitled" is a quiet soundscape while "Seven" seems to be his continuation until the guitar start as a reminiscence of a certain post rock. "Ropes" closes this release as an almost pure guitar track developed as the juxtaposition of long tones and melancholic phrases.
Whilst he reworks well known elements and forms, Vincenzo Nava tries to develop a personal form exorcising the ghost of his influences with a work focused on atmosphere and narrative which captures the listener's attention. Recommended.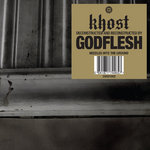 Artist:
Khost [Deconstructed And Reconstructed By] Godflesh
Title:
Needles Into The Ground
Format:
CD
Label:
Cold Spring
(@)
Rated:
This release is a reworking of Khost's material by Justin K. Bradrick of Godflesh, one of the key figure of modern music. The first three tracks are the result of the application of the formal structure at the core of Godflesh output while the fourth one is a new track by Khost, a duo made up of Andy Swanc and Damian Bennett, which left almost unchanged my opinion about them.
The first track of this EP, "Inversion", shows the main element of Godflesh music: a square and hypnotic rhythmic cage where all sounds are united in a thick mass. The noise element is, instead, the element which at the base of the relatively shelled form of "A Shadow On The Wound" that acts as an introduction to "Revelations Vultures Jackals Wolves" where the rhythmic articulation is applied to noise, so creating something distant from typical noise music that is close to the stream of consciousness. The Khost's track, "Deathsset", sounds as an homage to Godflesh being so close to the sound of this band to let the impression to be an outtake from one of their classic album.
These four track is a statement of a form which isn't aged in all those years perhaps because it was too personal to generate a scene and become popular. Another sure pick for Godflesh's fans.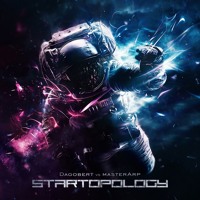 Artist:
Dagobert Vs MasterArp
Title:
Startopology
Format:
2 x 12" vinyl
Label:
Dominance Electricity
Rated:
Twenty years have passed since Dominance Electricity started to burn the flame of electrofunk in Germany and after Jackal & Hyde's 12" they just released the newest Dagobert album. The last Dagobert Howe release was out five years ago and was a MLP titled "Astronauten" which he did collaborating with Kalson. The last proper album "Sonic Sound Of Bass", instead, have been released back in 2003 and was a double LP issued always by Dominance Electricity, as most of his stuff. The new album "Startopology" seems to be a collaboration with a new project MasterArp, just to discover that it's always him using a different name for his stuff more electro influenced, while Dagobert is more Electro-Breakbeat oriented. Anyway... The new album, available on 2LP (black or transparent blue), CD and digital formats contains thirteen new tracks (the digital release has a bonus nine minutes megamix of the album) which alternates or mix various influences: breakbeat, electro ("Booster" reminds me of Kavinsky), sci-fi soundtracks and also pop. The track which is somehow showing them all is "Mein Kosmos", because it has ambient background sounds, electro mid tempos and breakbeat vocals and, I don't know why, it made me recall "Freestyler" by Bomfunk MC's. If tracks like "Megatron 3000" or "The Restless Invader" are classic electrofunk songs, "Lost Transmission" or "Deep In Love" are really different, as the first one is a short sci-fi sounding intermezzo and the second is an electro pop song with hard beats and melodic vocals. Also "Dagonaut Theme" and "Across The Stars" are particular ones, because mix electro rhythms and spacey sounds. They sure have soundtrack approach which is kinda new for the genre. So, prepare yourself to different listenings to appreciate in full the new Dagobert sound.
Artist:
Ultraphallus
Title:
The Art of Spectres
Format:
CD
Label:
Sub Rosa
(@)
Rated:
After a couple of self-produced albums - "Lungville" (2005) and "The Clever" (2008), being the latter the one which included most interesting ideas, even if partially listened in the 90ies in the stuff of bands like Starfish Enterprises - and an album - "Sowberry Hagan" (2010) - on the English label Riot Season, the Liege-based Belgian band Ultraphallus -made up of Phil Maggi (vocals, samples, electronics, trumpet, percussion...maybe some Chain DLK readers met his name as he signed some outputs on Idiosyncratic, a label I keep on following, wisely managed by Phil himself), Julien Bockiau (bass, drums), Xavier Dubois (guitar, bass), Ivan Del Castillo (bass) - moves towards intriguing and definitively more experimental stylistic rough terrains. Even if there are many common factors with so-called sludge metal bands (mainly some political and sociological issues, developed as if they got filtered through a cynical lens and a visionary distorting one, abrasive guitars close to stone rock and shouts that featured former outputs of the band), I won't label - thank goodness! I would have already skipped all tracks... - them as a proper sludge band. On this album, whose output was initially announced for the beginning of 2015, they wisely melt death core, doom metal, noise, art-rock, dark ritual ambient, music of western movies, deviant declensions of blues (check the second part of "Let Him Be Alistair") and electronic movie music and replaced avalanches of riffs that featured some of their previous outputs by pernickety jobs on guitar-driven spindles. I could vaguely describe them as a strange hybrid between an abstract interpretation of Ramesses' music and some stuff coming from Gent-based label Delboy (Blutch, Black Cobra and so on). The hyper-amplified convulsive guitar-driven opening "The Blood Sequence", where the really spectral voice by Phil Maggi seems to give voice to a personal manifesto, sounds like the appetizer of the piercing sound by which they drill the almost tribal mantra of "Madrigal Lane", the hyper-cynical debunking hymn of the above-mentioned "Let Him Be Alistair". The track in the middle of the album, "The Death of Mark Frechette", evokes some stuff by The Residents, but the choice of the reference - Mark Frechette was the American actor that became notorious after interpreting the leading role in Antonioni's "Zabriskie Point", who died in prison after having been suffocated by a barber that fell on his neck... - sounds like a merciless grin on the jokes of fate. The spleen of "Whitewasher" precede the likewise cynical sad portray on "Eva Ionesco" (the well-known baby model), and the ghostly feast of the final "Sinister Exaggerator" are some of the highlights of an assay of spectral art.