Artist:
drøne
(@)
Title:
Reversing Into The Future
Format:
12"
Label:
Pomperirossa
(@)
Rated:
"A very hot day in the hills above Los Angeles… only possible to work in the mornings because of the sweltering afternoon heat, so all a bit frantic, but with a kink in time. There is no wifi-controlled air conditioning; the car is electric-powered and charging up. It has barely rained for months, (if not years) and the hoses are working overtime. Its an analogue session; Mark's modular synth set up is working furiously and overheating. We are pushing sounds through and seeing what works… and things gradually take shape. The forms seem to determine themselves; how much control do we have? How much do we want? Some peculiar things start to happen and the haze bends. Some of the sounds seem alive and are quick to reform as we struggle to contain them, like trying to stuff snakes into a bag. The sounds moan and sing, forming their own phonemes.". I guess these words got written by Mike Harding, being the other half of this bicephalous project Mark Van Hoen, mentioned in the third person; if you try to render the described heat and the set and the setting where this recording sessions supposedly occurred, you'll better get deeper into the amazingly mutating drones these guys wisely forged before delivering them to Anna von Hausswolff's imprint Pomperipossa. Anna herself described it as "a unique jewel". The vinyl format they've chosen required a split into two parts, but it should get perceived as a continuous track, where the initial set sounds like a rising crescendo: the heating fed a sort of tightness and a burden that got mitigated by slightly "airy" moments of the drone recurring like temporary flurries. Some short wave radio disturbed voices in the second part sounds like ghostly entities that are parts of the hallucinatory torment, inspired by a mirage, which suddenly turns into like a kind of report from a mystical experience, whose phonemes gradually begin to get more and more intelligible...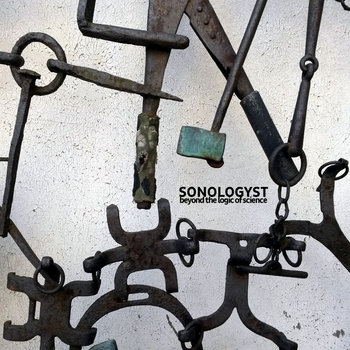 Artist:
Sonologyst
(@)
Title:
Beyond The Logic Of Science
Format:
Tape
Label:
attenuation circuit
(@)
Rated:
This album by Sonologyst is an explicit tribute to the early electronic music pioneers as it's based on samples from Karlheinz Stockhausen, Pierre Henry, Luc Ferrari, Morton Subotnick, Luigi Nono, Henri Pousseur, Bernard Parmegiani, and Bruno Maderna. This release tries to add textures to the sinewaves oriented sounds of the first years of experimental electronic giving a patina of modernity to that sound but the morphology of the original material is so pronounced that it's naturally intended to successfully fail.
When "Era Somnium" starts with the complex sinewave and the filtered voice there's that sort of suspension of time halted by the double bass of the second part which takes the track partially in the present. "Beyond the logic of science" deconstructs the sense of exploration of tones from the concern of the return of the role of mathematics into music language. "L'ordine simbolico della deferenza" reveals a subtle sense for the method to create movement into a static form, the drone. "Hommàge a Luc Ferrari" underline the use of voice manipulation while "Fragments of life" the use of tape manipulation and "Pertinence du Passè" the use of oscillators and filters. "Lost Kontact" close this release with the exploration of space in the aural field.
As an example of heterogony of ends, this release shows how this musical framework was a starting point at a sound level as a dead end at a linguistic one; from this perspective is one of the most philosophically stimulating release of the year. Recommended only for the committed listener.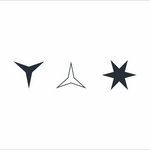 Artist:
Atrocious Filth
(@)
Title:
Moans
Format:
CD
Label:
self-released
Rated:
After al least two decades of silence, Atrocious Filth returns with a new EP that anticipates a new full album. Their sound, according to the liner notes, is deeply influenced by band as Swans or Scorn whose music was difficult to obtain in communist Poland and, while their first incarnation had two bass guitar, this new line up is apparently more canonical as it features two guitar, bass and percussion.
However the role is bass remains important in a track as "Dirty 33", the opener of this release, where it creates the rhythmic structure for the noisier parts of vocals and guitar. The compact sound of "Moans" is interrupted by the frequent interludes when vocals leads more free form parts. As a departure from the previous tracks "Tesseract I" is based on long tones and resonances and the use of soprano saxophone changes completely the spectrum of their sound. "Hubris" tries a crossover between the two forms as even the rhythmic is less metronomical while in "Angst" return to a fixed structure but so slow to generate a field where guitar floats freely introducing "Tesseract II" which close the release with an impressive sense for form as it truly closes the first part.
At the threshold between a rock band and an experimental one, this release generates a sense of wait for the full length as it seems that they are moving towards from a form to another. It's really worth a listen.
Five songs in five minutes.
From Silber's diverse conceptual series.
Ambience, violins, found sound, poetry.
Musical theatre, distortion, echo chambers.
Like five truncated album intros.
Artist:
Noise Unit
Title:
Deceit / Struktur
Format:
Download Only (MP3 + Lossless)
Label:
Artoffact
This digital re-release of a 1989 Wax Trax 12" feels strangely transitional in hindsight. The angsty, vaguely gothic, barely-distinguishable vocals of 80's unrest are tempered by a bright, energetic production which feels like it's beginning to transform into 90's pop and house music. Bill Leeb has changed musical direction a few times in his career and these two 27-year-old tracks feel like they were recorded in the middle of a musical re-think. Unfortunately it's a curiosity rather than essential listening though, but a welcome way to fill a gap in a collection.