Artist:
Venetian Snares
Title:
Traditional Synthesizer Music
Format:
CD
Label:
Timesig
Rated:
I've heard that the expectations of many fans of Winnipeg-born electronic music composer Aaron Funk, better known as Venetian Snares, weren't fully fulfilled by "My Love Is A Bulldozer", the album by which he broke a silence that was lasting more than four years. I honestly don't understand the reason and I can't believe that some followers opted for s sort of puritanical ostracism after having listened to the more romantic refrain of that output on the title-track ("Only you / can make my dick feel like this"... I won't scandalize by the fact that some words could come from an overexcited hippocentaur, the image chosen for the cover artwork!). Coached in a title that sounds like the one of a collection of mawkishly tedious folk songs, his new output by the Canadian giant, who can boast of both his remarkably physical height as well as by his likewise high creative flair, seems to remain faithful to a couple of "traditions", which manage to bring reciprocal benefits to the point they can't sound too aged. I'm obviously referring to the instrument that he widely handled on this collection of tracks that he exclusively created and performed on live stage, his own modular synthesizer, whose sound taste like those traditional flavours, that keep on charming many electronic composers, including Richard James (Aphex Twin), a sort of sonic kindred spirit of Vsnares - tracks like "Decembers" or "She Married A Chess Computer In The End" could resemble AFX's "Analords" -, but I also refers to the "template" of many moments of this collection, which is close to the style of his very first outputs, where polymorphic breaks and deconstructed rhythmical patterns - in between breakcore and IDM - cling to likewise frantically mutations of acid sounds and bleeps. You'll see the reference to a numbered sequence of version after the title of some songs (e.g."Dreamnt person v3", "Magnificent Stumble v2", "Can't Vote For Yourself v1", "Anxattack Boss Level19 v3" and so on); they supposedly refer to the fact that Aaron made many different variations of each song and the one you'll find is the take he selected. Highly recommended!
Artist:
Le Révélateur
(@)
Title:
Hyper
Format:
12"
Label:
Dekorder
Rated:
Dekorder's griffin seems to have been rested for a while after its 10th birthday, but its first flutters over the rugged land of electronics of 2016 are really interesting and feed the Hybrid Vinyl Series that came after the celebration of the first decade of Marc Richter's imprint. One of these flutters - the ninth of the above-mentioned series - came from Le Révélateur, a project I've never heard before, led by Roger Tellier-Craig, formerly a collaborator of many Montreal-based bands (Set Fire To Flames, Godspeed You! Black Emperor and Fly Pan Am) and soundtrack of many nice clips by video artist Sabrina Ratté. This picture single-sided vinyl includes just a couple of tracks, where he digs into interesting (supposedly laptop-driven) electronic explorations, where sets of seemingly amorphous and sometimes disorganized buzzes, bleeps and clangs sound like ascending and finding a sort of ethereal mirroring in the initial "Imagineers Are Governed" and shaking like crazily unstable particles in a molecular accelerator, whose structures are like fractured holograms that got pushed towards annihilation on "Fakeaway Haptics". Once upon a time, someone could have labelled releases (or revelations) like Roger's ones as "glitch"...
Artist:
Asylum Sisters
(@)
Title:
A Faith Called You
Format:
CD EP
Label:
self-released
Rated:
Asylum Sisters is a band from Melbourne, Australia and 'A Faith Called You' is their self-released sophomore EP after 'Educate Consciousness' (2015). This duo contains no "sisters" per se, but consists of Caitlin Mary Cunningham (vocals) and Martin Pike (instruments - synths, beat programming, guitar) who seem to be kindred spirits. They're a young band, but a savvy one from what I'm hearing on 'AFCY'. The EP is seven tracks, and takes you through a variety of moods and motifs. Beginning with "Chaos," there is a solid techno influence here in the music with Caitlin's processed vocals riding over the top like a valkyrie. On "Push" Caitlin alternates between rapping and speak-singing over abrasive synths about the futility of the work ethic, while vocals and music pick up in psychotic intensity. "Your Mind" adds in industrial guitar as Caitlin's voice turns neo-punk, Brutally danceable for the most part, yet somehow seductive. Track four has a symbol for a "triangle" (I don't have the font to show that) and is a bit of a glorious mess, incorporating dubstep, electro-rap, industrial, and even some pretty electric guitar. Caitlin's vocals range from lovely (processed) melodic to raging screamo. There are moments of Nine Inch Nails dark moodiness, especially in the sparse piano of "Sequel," showing the band has depth and introspection. "The Prophecy" was the first song that played up the goth element in Asylum Sisters' music, likely due to the guitar. Finally, "Safest Space II" is different in tone and temperament than previous tracks, the anger and turbulence absent, Caitlin's voice near ethereal, and ending with a blazing guitar solo courtesy of Timmy Klein. Melancholy, but maybe hopeful?

This is an EP that really has the scope of an album. While there were some things that didn't particularly tickle my personal fancy (rap and screamo aren't my favorite forms of vocals style), there is no doubt that 'A Faith Called You' is very well done, and should garner the band some attention if they can capitalize on it.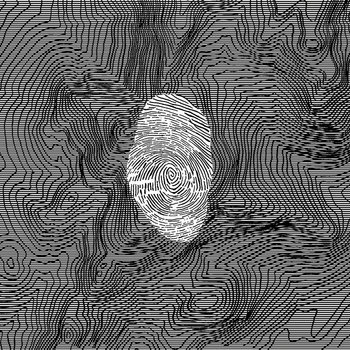 Artist:
Strom Noir / Micromelancolié
(@)
Title:
49°05'19,3"N 22°34'04,0"E
Format:
CD
Label:
Zoharum
(@)
Distributor:
Alchembria
Rated:
The coordinates of the enigmatic title "49°05'19,3"N22°34'04,0'E", according to Google Maps, refers to a place at the borders between Poland and Ukraine or it could be a place between Poland and Slovakia, the countries of the two artists responsible from this release, Strom Noir and Micromelancolié. The cover art is an hint on fingerprint as the theme of the release, not only cartography as it's based on an altimetric chart, so it could be a metaphor of security concerns related to migratory flux.
The first track, or part, of this release starts with a drone which is juxtaposed by field recording from something walking and a whistle introduces the first sparse note of the guitar of Strom Noir and suddenly the atmosphere became darker and a sense of stillness pervades the listening as something has to happen. In fact, there the depiction of the exploration of an uninhabited area or a moving from a city and, so, the track ends with sparse noise and the reverberated sound of the guitar upon a bright drone which slowly evolves and fades. The second part of this release starts with a drone that evolves on a crescendo while the underlying field recordings continues to generate that sense of exploration and, after its peak, it became to descend upon some metallic samples as someone plants a pole or a fence as this recording is present when the drone ends to close this release with the last beat on the fence.
The sense of work of art is on the ambiguity which alludes to something outside of it and challenges the listener. This release could be a report of an exploration or about a reflection on borders that are strengthening every day passing. This is obtained from a series of subtle interactions between samples, sound and artwork and it's something aiming to something else than a mere work on a codified form. Almost a masterpiece.
image not
available
anymore
Artist:
SiJ & Textere Oris
Title:
Reflections under the sky
Format:
CD
Label:
Cryo Chamber
(@)
Rated:
This new release from Cryo Chamber is a collaboration between Textere Oris and SiJ which could be classified in the path of the recent releases from this label as it's focused on illustration of musical story where field recordings have a key role. This kind of sounds are used as a way to portray something that could not be seen, an usual technique used in cinema.
The drones of "Near the Dam" open this release in a dialectic relation to small evocative noises. "Behind the window" is based on the development of static tones, rather than proper drones, so it's something closer to a form of meditative music or a blend of ambient and field recordings. The cinematic quality of this music is confirmed by "Lost" where birds' samples, drums and noises generate a movie without images. "In the Rain" is a quiet interlude, based on drones, to the second part of this release. The recording of a snowfall if the skeleton of "First Snow" whose sound evokes that sense or going to sleep evoked also by the bell sparsely heard. While "Ortuo" is focused on a slowly developing drone, "The End" closes this release with a drone acting as a background for a declaiming voice, perhaps from a priest's sermon, prior to the ending heartbeat.
An impressive release as the sound quality makes evident all the nuances of the field recordings and the musical development generates that sense of a story as it references a language close to cinema. Absolutely recommended for fans of this label.