Artist:
TESLA BOY
Title:
Thinking Of You
Format:
Download Only (MP3 + Lossless)
Label:
Mullet Records
(@)
Rated:
Coming from Russia, Tesla Boy are a band that is able to compose the finest dance pop wave around. Being heavily influenced by 80's dance music (which was still carrying the echoes of the late seventies funk music) Tesla Boy mix past and present into an energetic formula that you have to check to believe my words (their debut album has been just released by Mullet Records on CD and that is the label's first release to gain that format). Coming from "Modern thrills", THINKING OF YOU is here presented into four different versions: we have the "Radio edit" (it lasts four minutes instead of the seven of the album version) where the Russian trio mix a bouncing bass line along with catchy synth spatial leads and heavy drum beats. All this to support the great vocal melodies of Anton Sevidov (try to imagine a male Donna Summer meeting Simon Le Bon). Along with the original edit we have three mixes: Casio Social Club (the project of Mullet Records' boss Justin Winks) kept the original flavor but doubling bass line and drum rhythms and switching real drums with a blasting bass drum/snare drum 4/4 and bass guitar with a fat synth bass. Perfect to start the dances... Baxter kept the spatial sounds and the bass line upfront, making a great dance tune with the song's structure intact. Mam, made of it a funky electro song that is able to compete with Daft Punk but he played a little more with stops and go and repetitions. We have only one song but each version is a valuable one... Check it at Juno, iTunes, etc.
Artist:
Laurie Anderson
Title:
Homeland
Format:
CD + DVD
Label:
Nonesuch
Rated:
Full disclosure: I have worked with Laurie and have worked on this record as well, so I am partial to her music and it'd be hard, if not impossible, for me to say anything negative about such an amazing person and artist. I will however attempt to give you just the facts so you can make an informed decision about whether to purchase this CD or not (spoiler alert: you most definitely should!).

Laurie Anderson needs no introduction: a visionary, a pioneer, a true and complete artist whose approach to art encompasses music, story-telling, visual arts, sculptures and more. Her previous studio album "Life on a String" came out in 2001 and she's been busy touring, writing new material while on the road, releasing a book, creating videos, installations, pieces for museums and being actively involved in a number of other artistic and political events.
If you've been a fan of her work, the long wait for a new studio album is about to pay off. "Homeland" is possibly one of the most versatile, complete, personal and mature records in her discography. It is also possibly one of the most political ones. This might come as no surprise if you consider that her previous release was the 2002 double CD "Live in New York" recorded less than 10 days after 9/11 at Town Hall in New York; and that while she was writing new material for this album she's obviously been heavily affected and inspired by those events and the unfolding of the follow-up war and the "W" parade/tyranny.

On every one of her albums, Laurie Anderson takes you on complex journey through her visions and her ideas. Listeners become the privileged travelers who get to take a peak inside her beautiful mind. This album is no different, with all its great story telling, inspiring words and unmistakable truths.
With true poets and musical story tellers of our times (people like Bob Dylan, Lou Reed, Laurie Anderson and others) I always feel sad for the non-english speaking people who can't really fully appreciate such great records until they find a good translation of the lyrics. But especially so with Laurie, even if you don't speak any english and you were to never look for a translation (which would be a shameful mistake on your part, especially since they do exist!), strictly musically speaking "Homeland" is so gorgeous that you'd probably still end up taking this record to your deserted island.

Its ethereal atmospheres, organic textures, synthetic pads, sub-sonic pulses, orchestral arrangements and worldly influences create a beautiful, timeless and incredibly heterogeneous record. When you look at who's played on the album, that too should come as no surprise. For the most part the core band on tour and on the record consisted of Laurie playing all electronics and violin accompanied by Eyvind Kang on viola, Peter Scherer on keyboards and Skuli Sverisson on bass; but several songs feature Rob Burger and Kieran Hebden on keys, Shahzad Ismaily on percussions and bass, Omar Hakim, Ben Wittman and Joey Baron on drums and even three mongolian throat singers and igil players. So many musicians have leant their incredible talents to the making of this record in its various and many permutations, that the resulting equation of Laurie's creative mind enhanced by all these people's musical inputs rubbing off on her and shaping these pieces really produced a genius' masterwork. And on top of all of that, other very special guests also leant their talents: Antony on vocals, John Zorn on sax, of course Lou Reed (who also produced this record together with Roma Baran) on guitar and percussions and even Lou an Laurie's dog Lolabelle on piano!

"Homeland" comes as a CD+DVD. 12 gorgeous audio tracks plus a DVD disc that includes a 41 minute long sort of "making-of" video (featuring interviews with Laurie, the producers and some of the musicians) and a 7 minute long interview with Laurie about her violin.
If you haven't gotten the point of all of the above yet, the gist of it is: go out and buy this record if it were to become the last record you buy before the music industry completely crumbles!
Duncan Patterson with the newest Ion album IMMACULADA is ideally continuing the path started with 2006 album "Madre potregenos". This time the eight ballads of IMMACULADA have been inspired by Duncan's travels between Ireland and Greece and for this reason the Gaelic influences of his music, this time, meet the rhythm percussionism of Mediterranean tradition. Tracks like "Adoration" or the following "Damhsa Na Gceithre Ghaoth" show very well the blend created where Celtic guitar and flute melodies meet joyful or ritualistic rhythms. As for the previous album, Duncan, has different vocal guests. For IMMACULADA he has been joined by her sister Aoife Cuthbert, Mark Kelson (of The Eternal) and gothic/alternative muse Vic Anselmo as well as other voices from Argentina, Mexico, Romania or Brazil. The final result is a sort of world melting pot where ethnic instruments (flutes, uillean pipes) meet cello, violin, acoustic guitars, keyboard pads and piano just to form a musical experience where Duncan's feelings are exposed to the audience.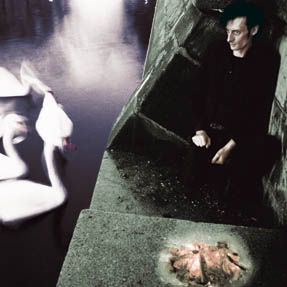 Artist:
STEVE MORELL
Title:
Loneliness
Format:
12"
Label:
Pale Music
Rated:
LONELINESS anticipate Steve Morell's album 'The Life and Death of Jimmy Pheres and his Rise from the Underworld'. This 12" don't function only as an appetizer for the forthcoming album but offers, along with the original version, three remixes that are really worth the purchase. Let's start from the original, it is an acoustic dark ballad which takes the mournful atmospheres of Nick Cave to a new level thanks to deep vocals and a haunting piano/guitar arrangement. The first mix of the track is a doom version made by Einsturzende Neubauten's member Alexander Hacke, who filtered the original vocals making them sound like coming from six feet underground and added a distorted bass guitar during the whole tune. I really enjoyed also the orchestral intermezzo he put on the middle of the song. Punx Soundcheck, instead, did what they do best by making of it an electro guitar driven song with drum machine rhythms and deep bass lines. Luiz Miguilez (Glamour To Kill) made an electronic version which keeps the original flavor of the original but adding pumping rhythms.
Artist:
INFORMER
Title:
Black Propaganda
Format:
CD
Label:
Pale Music
Rated:
Originally formed in Los Angeles in 2007, Informer are a trio consisting of longtime friends Johanna Sadonis (vocals and also a member of Berlin's Potok), Rayshele Teige ( vocals and bass) and Ashburn Miller (programming and guitars). When Johanna moved back to Berlin in 2008 they didn't split and decided to work at distance to this album due to the popular demand by DJs and Clubs in Los Angeles and Berlin. BLACK PROPAGANDA has eleven tracks that sound like a blend of post punk ("Crimes" recall me melodically early Siouxsie & The Banshees and "Not a game" a bit Blondie), electro and 80s dark wave. The band mix energetic guitar riffs, synth sweeps, electro minimalism (like on "Murder", which sounds good for the reformed Soft Cell) and spy atmospheres. Songs like "Mods boys", "Electric" and "Wires" are instant alternative dance floor killers but the whole album reserve more than a surprise thanks to a well balanced tracklisting. Offer your neck to Informer's black gloves...