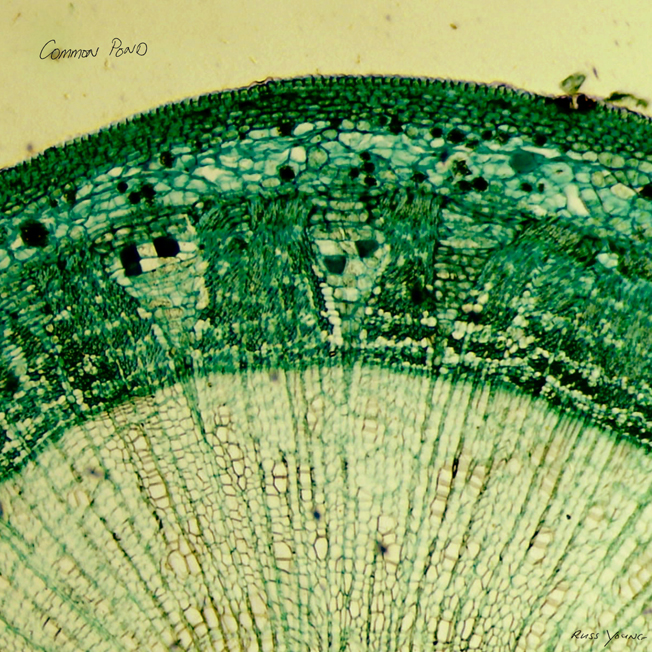 Artist:
Russ Young
Title:
Common Pond
Format:
Download Only (MP3 + Lossless)
Label:
Audiobulb
(@)
Rated:
This new, download only, release from Audiobulb is from an UK producer that introduces himself as someone "trying to create forms out of found audio" i.e., everything recorded in some form. According to the linear notes this release "try to create an image by assembling manipulated audio sources" that is a engaging statement as, in order to express image, there's a necessity to use strongly recognizable sources and a way to made the references clear to the listener. Unfortunately this is not always obtained through all this release.
The gentle sounds of "Cricket Pitch" and "Hewson Road" opens this release depicting a quiet landscape using two elements: a drone acting as a canvas and found sounds creating forms. "Lamy's Sound & Light" is a static soundscape while "Belmont Transmitter" is based on a single loop with little variations. "Common Pond" and "East Bight Stones" return to the form of the first tracks while "Phil's House", entirely based on field recordings, sounds as the only track that properly fulfills the linear notes' premises. The drones of "John's Bike" acts as a prelude to recording of a starting bike and "Observatory Roof" closes this release with small samples and sounds gently closing this relase as it started.
Due to the variety of sources and musical development it sounds more like a compilation than a proper album but this acts a costant reminder for the listener, only with headphone is possible to note the layers of small noise creating the textures of the track. Not only for fans and collectors.
The obscure abrasive bass, the dragging on drums and the menacing saxophone vents on "Dust Devil", the opening track of this astonishing release which got recorded in 2012, premiered at the 2013 EFG London Jazz Festival and released on late 2013, even if it recently reached my desk as a part of the pack of records coming from University of Huddersfield's CeNeReM - The Centre For Research In New Music -, could evoke some stuff from adjoining stylistical fields like the obscure trip-hop by Sofa Surfers or some excellent outputs by Dj Krush, but the following tracks of "Silent Spoke" render the elegant sonorities that this fourtet masterfully explores by drawing elements from doom metal, free jazz and electronic wells. Cymbals and winds keep on saturating the sonic sphere like an odourless poison gas, a subtle trepidation shines through the faint electronic blanket of their music, curvy stretches of dark tonal roads got slowly climbed by trumpet and clarinet with occasional accelerations, propelled by octopus-like drumming over broken grounds such as on the astonishing "Mobile Piece" makes this listening experience really adventurous, while hanging in the balance between haunting delicate beauty and obscure billows. The prowess by Slice in feeding this catchy musical procession got easily explained by the background of their members: the name of Canadian composer and performer Pierre Alexandre Tremblay (bass guitar, electronics), founding member of the no-tv collective, which preaches a life without tv-sets, should be known by all those ones who follow my reviews for a release on Empreintes DIGITALes I introduced and is strictly connected to University of Huddersfield where he teaches Composition and Improvisation; the name and the style by Norwich-born Dave Smith (drums, percussion), one of the co-founder of Loop Collective, is mainly known for his work with traditional Sabar drumming from The Gambia, Afro-Blues group Juju and Robert Plant presents the Sensational Space Shifters; French saxophonist and clarinettist Robin Fincker (tenor saxophone, clarinet, guitar amp), who also co-founded Loop Collective, got described as a dynamic "project instigator and in-demand sideman" and such a reputation got confirmed by the impressive number of projects he belongs; last but not least, British musician Alex Bonney (trumpet, trumpophone, electronics) is a leg of a critically acclaimed improvising duo with bassist Dave Kane, often appears as a sideman in several London-based bands (Brass Mask, World Sanguine Report, Nostalgia 77 and many more) and works as a producer and mix engineer for several record labels. Highly recommended listening experience!
A sense of playful naivety makes a splash since the very first minutes of this release on Japanese label Schole, which derives from a soud-visual performance by visual artist Koichi Nakaie, whose curriculum got filled by a plenty of experiences as a stage producer and fashion brand designer, and composer Kaname Suzuki, a classically trained pianist and keyboardist whose roots in the fields of jazz, J-pop and progressive tunefully resurface on Akisai. The sprightly rhyhtmical patterns, a seemingly innocent candor, the iridiscent variations they weaves over simple melodies could be vaguely associated to a possible crossbreeed between the compositional freshness of Keigo "Cornelius" Oyamada, who sounds mirrored on the brisker moments of this album like the opening "Line", the graceful weaving of a melodious guitar with a simple four beat-based pattern and a lively keyboard on "Synchrotronica" or the low-pitched sounds of "Yumecasy", some piano-driven acts of French electronics such as Nova Nova and some UK chilled electronica acts like Middleton's Amba or Bruce Bickerton's Alucidnation. It could be interesting to check how Suzuki's music reacts to Nakaie's visuals, but the way of rendering the abstractness of "emotions" by means of a multicolored bouquet of melodies results into a pleaseful listening experience in any case.
Artist:
The Great Saunites & Attilio Novellino
Title:
Radicalisme Mècanique
Format:
12"
Label:
discreetrecords
(@)
Rated:
This new release is a one sided lp that last a little less that twelve minutes and is the result of the collaboration between Attilio Novellino, a sound artist, and Great Saunites a duo, playing bass and drum, working in the field of developing melodic lines out of traditionally rhythmic instruments.
A lowly distorted guitar line and cymbals introduce the listener in the initial part of this track where samples and a drum giving the rhythm of the track create the frame for the other instruments for the development of the track. The almost hypnotic overall mood is vaguely reminiscent of krautrock, his most rock oriented paths at least, and is conducted by the string instruments, guitar and bass, developing their lines slowly until a sax is left almost alone, at a low volume acting as a sidekick, and starts the second half of the track, while the beat continues assuring the cohesiveness of the track. When the guitar enters again, the sax stops, and the last part of the track begins in a crescendo that creates a sonic mass that slowly ends to let the sax ending the track in solitude upon a noisy soundscape.
This release sounds more like a live recordings of a concert rather than a fully conceived release and, for someone, this is one of the best statement available. If only it lasted a little more...
Artist:
Mike Cooper
Title:
New Globe Notes
Format:
12"
Label:
NO=FI Recordings
(@)
Rated:
If you appreciated the recent album "White Shadows In The South Seas" by 72-years old odd musician Mike Cooper, whose particular declension or proper manipulation of exotism that whisk together lap steel, tape music techniques and field recordings that he collected during his journeys over Pacific islands could let you think of his style as the possible sonic outputs of a Tiki devotee, who has to face the mutation of his own tropical escapism after Moruroa-like nuclear tests, you can get this tidbit from Italian indipendent label No=Fi out of your hand. "New Globe Notes", which sounds even more dazzled than the above-mentioned release on Room40, includes nine experiments by Mike Cooper, which got previously released on hiw own personal imprint Hipshot Records as well as a 32-page booklet with texts and images by Mike Cooper himself and an introduction by David Toop, where weird guitars, chirping birds, occasional lopsided percussions and other symptoms of exotic fever are parts of wonky collages that render, in Mike's own words, 'imaginary, exotic, ambient soundscape of places that didn't exist'. Lovely and somehow disquieting musical tchotchke!