Artist:
France Jobin
(@)
Title:
Singulum
Format:
CD
Label:
Line
(@)
Rated:
Electronic music composers get portrayed or portray themselves as icy mannequins, ataractic or ghostly entities or robotic hybrids. Even if there's always a reason of similar (self)portraits and more or less aware representations, a certain humanity could look like a disrupting element of such a cliche, particularly when the technical canon seems coherent to a desired idea of excellence. When Montreal-based minimalist composer and sound artist France Jobin will gradually make her way into your eardrums, she doesn't opt for brute attacks or epic introduction, but she lets a glimmering breathe of piano tones and light electronic buzzes peep out by a strategy that you'll be tempted to label as shy. But such a shyness got matched to a grace, that is going to magnetically attract towards her surprisingly interesting sonic world, where sonic particles gently flow till the moment they sound like sparkling a significant process in a rarefied environment. France's way to organize these fascinating sonic particles seems to have been inspired by quantum physics: in her own words, "quantum physics inspires me to draw a parallel between the fundamental building blocks of physics, sounds and music. I put field recordings through a series of editing and manipulation processes which result in very different sounds from their origins. These manipulations affect time, timbre, harmonics and the essence of each sound, whereas composition influences how they relate to each other.". I don't really know how these scientific matters influenced her sound, but I'm pretty sure that she managed to find a path by which minimal electronic music can gracefully sound even more immersive than over-stuffed sonic outputs.
Artist:
Daniele Brusaschetto
(@)
Title:
Radio Stridentia
Format:
CD
Label:
Bosco records
Rated:
Daniele Brusaschetto has been a staple in Italy's sad and ever-more-shrinking industrial/rock scene for at least 20 years now, and honestly I lost count of how many records he's made... he just keeps putting them out, as he should!
The latest one is called "Radio Stridentia" (full disclosure: I did master this CD) and is a collection of 6 songs, some in Italian and some in English, featuring guest drummer Bruno Dorella on two tracks, guest e-bow guitarist and synth-player Francesco Lurgo and guest synth player Marco Milanesio (of DsorDNE fame) on two tracks. This CD even has a Leonard Cohen cover, which I hadn't initially recognize.
Musically I would say Daniele revisited his darker and moodier songwriting and orchestration chops... the guitar is ever present, being his main instrument, and so is his peculiar vocal style, of course, but the surrounding instrumentation and arrangments are a bit less abrasive than in some of the previous releases, so the focus is back on the lyrics and the ambiance... The opening tune sounds like it is came straight out of one of the quieter Einsturzende Neubauten releases (think "Haus Der Luge" but with Daniele's languid, smooth and less atonal voice) but then turns into a mixture of that and a more nordic, almost Autechre/Boards of Canada sound. Right after that the fuzzy guitar comes at you strong to keep you on your toes and remind you what you just signed up for. This is maybe one of the hardest and harshest songs with a four on the floor almost techno-industrial beat that is subdued by the industrial fierceness and distortion. Then the strident radio tunes back into something initially more approachable, and by track 4 you even get a glimpse of a nylon string guitar (if not a first, definitely a rare sight in the Brusaschetto world). This is also the first track in English and it eventually turns into a drum'n'bass opus with a reverberated distorted synth line that kinda hovers over the interesting chord changes that evolve and devolve around the initial chord progression. Very interesting track. The punk roots of this artist sometimes shine through but never really make themselves known in a clear or obvious way or just hide under the noise-rock umbrella. When he goes from his low register to his falsetto singing and throws in clean arpeggios of electric guitar there are almost some echoes of Radiohead, or even The Cure (on track 7), but Brusaschetto always retains his harsher nature and his bedrock of industrial activity and art-rockerism, and he likes to remind you of that with a great closing track that has a bunch of guitar overdubs over some kind of repurposed and highly treated drum beat that carries one of his more melodic vocal performances.
If you are tired of the usual industrial rock or of the usual rock or of the usual industrial, and definitely if you are tired of the usual Italian music, you must check this guy out!
Artist:
Tobias Meier
(@)
Title:
Interesting
Format:
10"
Label:
Wide Ear Records
(@)
Rated:
A sort of Escherian tonal stairwells opens this collection short experimental pieces by which Swiss alto sax player and composer Tobias Meier tried to catch sonic events in between instruments and microphones, resulting in amazing interferences and interceptions by/from inside/outside the instrument itself. Besides the sonic "strategy" to grab any interesting events occurring outside (check the second miniature of the first track to have an idea about Tobias's way to interbreed field recordings and instruments) or inside instruments by means of microphones, the lack of that kind of homogeneity, which commonly characterises compositions, got widely balanced by digressions in the stylistic field in between avant-garde-jazz, field recordings, Morton Feldman's pathways and contemporary classic music, where a sort of dark-ambient claustrophobic incipit could be the introductions for airy classical harmonies, sinister scratches over strings on the threshold between noise and silence could be embellished by the occasional tweeting of surrounding birds, Colin Stetson-like repetitions can gradually turn into a sort of tribal tapping over sax keys - have a listen his additional "another microscopic thought" on B side -. I fully agree with Berni Doessegger's introductory words, when he says that the choice of vinyl "gives an additional sensual dimension to the subtle structures of this microscopic harmonics world", which features the contributions by Frantz Loriot (viola), Silvan Jeger (cello) and Dominique Girod (bass) as well.
Artist:
Ryan Choi
(@)
Title:
Three Dancers
Format:
CD EP
Label:
Accretions
(@)
Rated:
Ryan Choi is a composer, improviser and multi-instrumentalist from Honolulu, Hawaii. After a years-long hiatus from music, he presents his latest work, 'Three Dancers' is based on Pablo Picasso's painting, 'Les Trois Danseuses', although it evolved conceptually over the last fifteen years. Here Choi employs baritone ukulele, percussion and electronics. That's right, ukulele, Hawaii's most popular instrument, but you won't be hearing any "Aloha Oe" hula tunes on this recording. The music is avant-garde, and I'm willing to be you never heard the uke played like this! This EP consists of three pieces- "Preparations I and IV," "Apollo at Eros," and "Three Dancers". Choi's compositions draw as much from literature and visual arts as they do from musical tradition (he designed the CD cover illustration - "Aquarian", if that's any indication) and the music may be as much sound installation as it is conceptual audio.

The first thing likely to be noticed is that Choi's compositions are very busy. I don't know how much multi-tracking was done for the ukulele, but I have a hard time believing that it wasn't overdubbed as there is just so much going on. There are influences here that stem from traditional Asian and African playing; it's very rhythmic, snd the tunings are obviously not Western. The little melody that you may discern is a hybrid of jazz and avant-garde classical with an Eastern touch. This is a guy who really knows his way around the ukulele too, evoking things out of the instrument I never considered possible. Choi utilizes a combination of strum, finger picks, slides, and bends (sometimes seemingly simultaneous) in his improvisations. Some segments seem to have a familiarity in form while others are just completely abstract, but there is a cohesiveness to it all. In that cohesiveness though, there is a similarity throughout that may have the casual listener thinking, "this all just sounds the same". I assure you it's not. "Preparations I and IV" seem to have a more traditional bent to them, in both the hard strum technique and individual notes. There is no other rhythmic component than the uke, which is generally sporadic. "Apollon at Eros" brings in the hand percussion (some kind of flat sounding drum) to anchor the piece while the ukulele stretches out exploring a variety of different motifs. As far as improvisation goes, it's absolutely marvelous and never stumbles, laying out at times while the percussion remains in effect to gather new energy and momentum. "Three Dancers" is the most abstract of all pieces, and this is the only one where I can hear the (subtle) electronics in play. It almost sounds backwards at times, with a certain rhythmic quailty that isn't quite obvious. Any concession to melodic form, even in the abstract, is absent here for the most part as Choi explores terrain hitherto unknown.

These pieces play remarkably quickly for about 20 minutes worth of music, likely because the playing has a lot of rapid motion. While certainly not for everyone, those discriminating listeners who enjoy avant-garde music that is purposefully conceived and carried out should find 'Three Dancers' fascinating.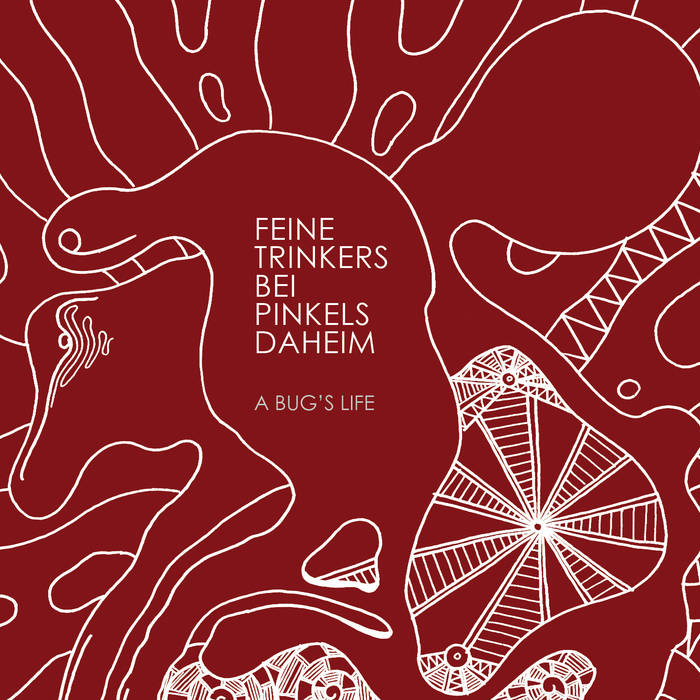 Artist:
Feine Trinkers Bei Pinkels Daheim
(@)
Title:
A Bug's Life
Format:
CD
Label:
Zoharum
(@)
Distributor:
Alchembria
Rated:
As liner notes states, this Jürgen Eberhard's project celebrated 25 years of artistic activity so his first full release on Zoharum is an hint of, even in times when net advocates states that everything is known or accessible, there's always obscure gems to (re)discover. The musical offer by this project is an almost irksome blend of drone music and musique concrete and this album has been constructed using mainly sounds of insects.
The voice introducing "Dokugumon" states the starting point of this release as sound is important for mosquitoes as wings of males and females beats at different frequencies; after a moments of plunderfonia from perhaps a scientific program, the tracks really starts as a track rhythmically oriented where reverberated samples generate a sense of void filled by the fly of the mosquitoes from the left to the right channel. The first part of "Grankuwagamon" is based on field recording of a female singer suddenly overlooked by a drone halted by the recording a man hoarsely singing introducing a second part based on the alternation of subtle soundscape and almost harsh noises. The introduction of "Kuwagamon" is based on phrases that could be usually found on school text for English language and the rest of the track is based on the juxtaposition of insects sounds creating a wall of sound undermined by the resonances underlining their abstract form, at least for our habit. The first part "Metallifekuwagamon" sound almost ritualistic as his background is a song for voice and drum while his second part develops the same feeling from the samples of the insects using the sound of the wings as a drum pattern. "Ookuwagamon" let emerge something as a human voice from loops of samples while the first part of "Sandyanmon" develops rhythmic structures from a silence slowly developing into noise. "Tentoman" is based on a static drone acting as a background for field recording of water and closes this release with a question mark.
Instead of being a typical field recording release, it's a complex work where noises and plunderphonic elements are used to generate the sense of a parallelism between the life of a bug and the life of a man in present times. The result is work of great depth but it's something for someone willing to listen rather than hear something that could be superficially sound as an immersive soundscape but, in fact, is something else. Truly recommended but not for everyone.