Artist:
Celer & Machinefabriek
Title:
Compendium: Collected Singles and Remixes
Format:
CD
Label:
Irrational Arts
(@)
Distributor:
Bandcamp
Rated:
"Compedium: Collected Singles and Remixes" compiles the six tracks recorded by Celer and Machinefabriek for their trilogy of 7" singles which were self-released throughout 2012. It also includes one new track and a series of remixes by Stephan Mathieu, Sylvain Chauveau, and Nicolas Bernier. This album is almost tailor-made to be experienced upon first rise in the AM, or when a 50 minute reboot beckons.

Celer and Machinefabriek's collaborations are highly ambient; there is barely a pulse anywhere in their collected works. Most of the tracks feature prolonged, alluring swells that seem to prescribe evenness and harmony with just a delicate touch of tension from time-to-time. All of the trilogy tracks blend well together in both sequence and timbre. Some compositions -- notably 'Penarie' with its ominous, sweeping, low-end distortion -- billow within the first 90 seconds, percolate in their discord, and finally arrive at their well-timed beauty.

Conversely, the long additional track 'In/Out' deep-dives into ambient bliss straightaway, then slowly transcends into an alluring, splendidly-phased distortion. It accomplishes a great deal in just under 3 minutes, and sounds complete. As for the remixes, I did not notice significant deviance from the source material, though two of them (Chauveau's remix of 'Sou' and Bernier's remix of 'Mt. Mitake') have an edginess that suggests the separation process has begun.

Though it is a collection of works, "Compendium" is well-integrated, focused, and worthy of front-to-back consideration.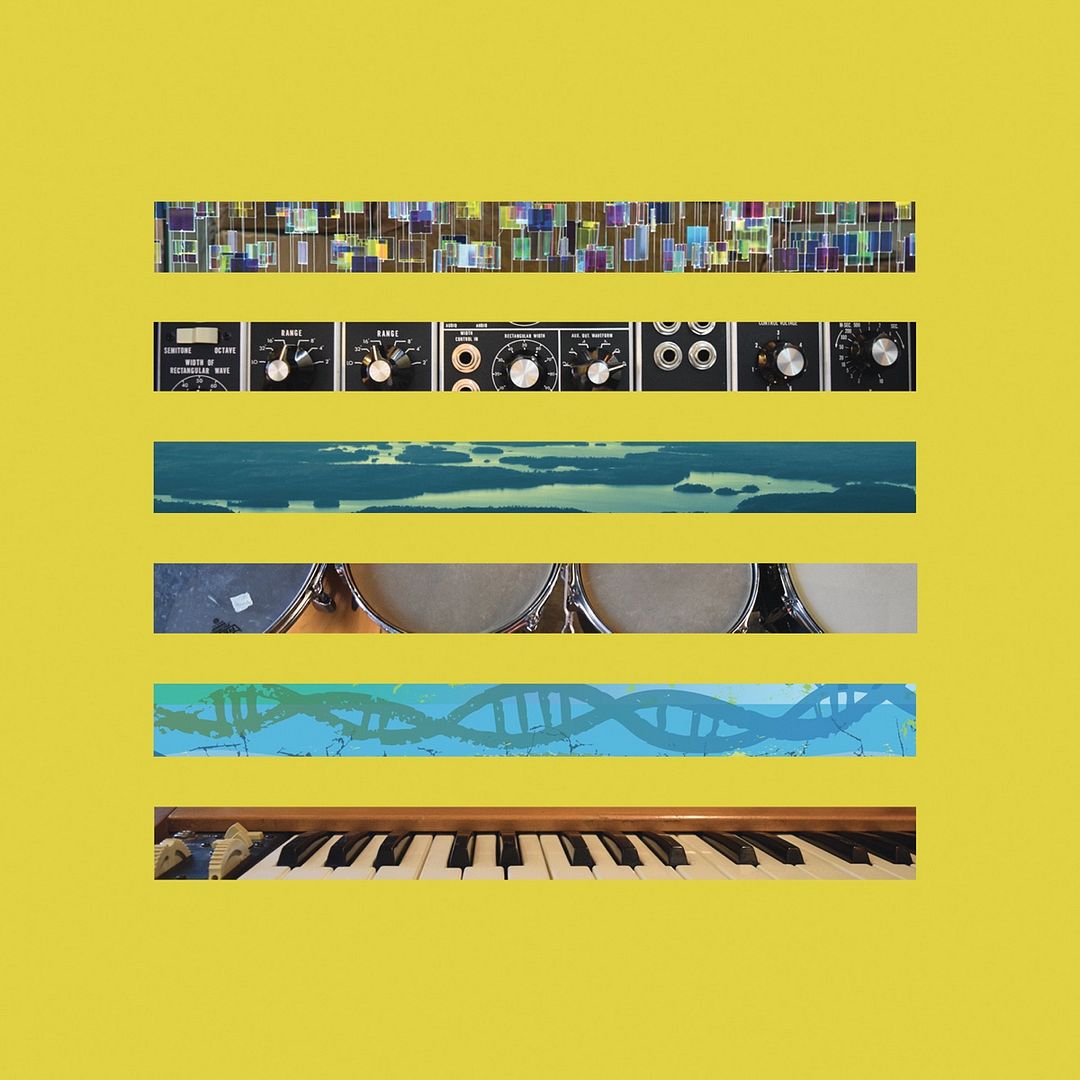 Artist:
Mike Olson
Title:
Six Projects
Format:
CD
Label:
Innova Recordings
(@)
Distributor:
Naxos USA
Rated:
Mike Olson's "Six Projects" provides just as many, if not more, compelling reasons to revisit the album. Even though at times audible information is sparse, and the album is perhaps on the long side at just over 55 minutes, I often found myself captivated, wondering what would happen next. I kept wanting to descend deeper into the sonic trove of his fragment-based compositions.

'What They're Doing', which was created from preexisting musical fragments performed by the contemporary music ensemble Zeitgest, very successfully invokes the spirit of Frank Zappa's so-called 'xenochrony' style of composition. Said fragments are layered and re-orchestrated to create a work that sounds simultaneously totally random and highly deliberate. And impressive!

20-minute-long 'Noopiming' is a single-movement a cappella choral piece in which the title of the work also functions as the text. Beautiful, brilliant chord voicings pierce the soul and ebb and flow in the form of primordial-inspired vocalizations. 'Noopiming' was inspired by the Boundary Waters Canoe Area Wilderness in Minnesota, a locale I have actually been to, albeit 20+ years ago.

'Implied Movement' and album-closer 'Shift' are similar in that Olson utilizes a Minimoog for both. Hello Minimoog: meet minimalism courtesy of a Big Muff distortion box! 'Implied Movement' has the distinction of employing repeated ostinatos, and though there is rhythmic similarity throughout, the patterns are slickly orchestrated by what the composer describes as "chance operations," which are created by random voltage applications. The driving motif of 'Shift' reminded me of a John Carpenter score, slowly pulsating amidst mutated voice samples.

"Six Projects" features performances by Zeitgeist New Music Ensemble, current and former Rose Ensemble singers, Dave King, Heather Barringer, Tom Kehoe, and Mary Danna.
Artist:
Coppé (@)
Title:
20rpm
Format:
CD + DVD
Label:
Mango + Sweet Rice
Rated:
BUY from
Coppé is one of the most eccentric and eclectic electronic music artists to come out of Japan, although she might as well be an alien from outer space... and although you might not have heard of her or her species in the western world she is actually celebrating her 20th anniversary with a very beautifully packaged and ambitious release available as a double colored vinyl LP + DVD or a CD + DVD occasionally even packaged and delivered in a soft see-through netting-type cloth with pins that you can put on your clothes or bag.

"20rpm" starts out with her 45 seconds "happy anniversary" prelude opera and then goes into 20 tracks of mad bubbling electronica with her vocals (and occasionally some guest singer) and music that was created in with her collaborators, including Hilotoshi, Atom, Nikako, Luna 9, Kettel + Secede, Terry D, Plaid, Lentils + Senzafine, Tone, Camel Season, T'mouse, 666, D3PTHS, Takachie, Chibaty, The Kitchen Cynic, Nico, Dijkin, DF Tram, Taz, Christ, Jacob Koller.

It's hard to describe music when the music is so collaborative and contains the experiences, influences and inspiration of so many guest artists, but the overarching common thread is obviously electronica, one that dances around edm ("Beethoven in Antennae" with Atom), flirts with trip-hop ("Golden Crushes (Luna 9 remix)" with Luna 9 and Nikakoi), pays homage to jazz ("urmythrill" with Kettle+Secede, "Ajisai [disguise]" with Jacob Koller), visits the intersection of pop/r&b/urban/hiphop ("I fall in Luv remix" with Luna 9), fumbles in dark cinematic ominous ambient ("777" with Nico & Dijkin), entertains corky glitch electronica ("Illegal Lingo" with DF Tram).

Coppé sings in English and sometimes in Japanese ("Ajisai" and a few other tunes only), which I find cool and actually gives the music and even more unique aura when she does. The DVD contains multimedia menu with information on her 17 records to date and retrospective of 20 music videos (dated between 1998 and 2015) directed by a number of different, mostly American, directors which come in all sort of varieties and styles (from odd, corky, weird to experimental, from absurdly Japanese to very futuristic and high tech). The DVD also contains 4 video footage bonus clips from an album release party in Tokyo, and a few mini features.
She releases all her records on her own label Mango + Sweet Rice. Coppé is a mover and a shaker and she is unstoppable and independent. If you wanna know more about her crazy eccentric career check out her Wikipedia page.

If I had to describe Coppé in one short and easy sentence I would probably say that she is the Japanese Bjork, and just like Bjork she is super talented and not contained within or limited by one musical genre. She collaborates with so many artists that it is only normal every album, or even every track, that she releases sounds a little bit different and is a sonic world of its own that Coppé orbits around with her alien spaceship making contact and engaging with the other species of the planet.

This is intergalactic planetary music for the future!
Artist:
Adam Gołębiewski
(@)
Title:
Pool North
Format:
CD
Label:
Latarnia
(@)
Rated:
The first question I asked myself when I received this record was quite obviously related to those unidentified tools on the cover artwork. What are thy? A full torture equipment of mad dentist? Primitive fireplace pokers? Mysterious tools for the cleaning of furnaces? Whatever they are, they supposedly landed on the table of the Poznan-based musicologist, sociologist and experimental drummer Adam Gobiewski, who wisely used them to forge one of the most extraordinary sets of really experimental percussive tracks that recently titillated my eardrums. Even though listeners, who cannot really understand this extreme experiments, could tag "Pool North" as the artifact of a sadistic sound artist, this output by Adam, which can not be considered a rhythmical exercise at all, is the exploration of a huge pack of remarkable percussive effects that quickly reaches the threshold of pure disturbances. In the seven tracks of the album, Adam melts over-amplified noises, somehow cacophonous drones, violent scrapes and other bizarre resounding strategies to squeeze intense listen experiences, that unavoidably stimulates the imagination. You could imagine the crazy attempt to hybridize a snare drum, a triangle, a trumpet, a doorbell and who knows what else on the clashing "Decay" or you could experience what a woodworm could feel when his humble abode got turned into toothpicks on the ironically titled track "Ellington Tradition" or you could even think that a hellish monster looking like an elephant seal is trying to enter in your house by forcing an old door and its rusty hinges, while listening to the scary "Manner and Timbre". Some ears could bleed, but it'll be worth.
Artist:
Christian Fennesz & Jim O'Rourke
Title:
It's Hard For Me To Say I'm Sorry
Format:
CD
Label:
editions Mego
Rated:
Two gentlemen of electronic and experimental music like Christian Fennesz and Jim O'Rourke don't need any introduction. If you never heard about them, you should definitively revise your knowledge of contemporary music. Pairing them in a release is a pure act of devotion to high-quality music, and they fully meet expectations in a record where they interbred their own sonic arts. One of the most interesting aspects of this release is the fact that both cover artwork and the titles unveil some features of their output. Gently pitched guitar glide over great harmonics, electronic droplets sound like watering the mute hisses of the machines, balanced sounds occasionally mirror lukewarm beams of light that got deformed when meeting uneven surfaces, seemingly different intersections seem to find peace into blossoming ethereal cells. They manage to sound experimental without being too intrusive, and their deviations from some standard could look like the action on the artwork, where the tenderness of that lovely pet is so overwhelming that you can stand for its nibbles. The perfect symbiosis by Fennesz and O'Rourke in this release results into an involving emotional listening experience, that is going to talk to listener's soul: the second half "Wouldn't Wanna Be Swept Away" is more "nocturnal" and lulling than the first one "I Just Want You To Stay", but both of them are wonderful alternations of becalmed moments and huge sonic waves that succeed in flooding the whole sonic sphere. This simply beautiful release got already published by Commmons, the imprint founded by Ryuichi Sakamoto and Max Matsuura (the Japanese edition includes the bonus track "Encores" as well), but it should be available on Rehberg's Editions Mego since 24th June!