Artist:
Ferrochrome
(@)
Title:
Ferrochrome [Sampler]
Format:
Download Only (MP3 only)
Label:
House Of Analogue
This three-track sampler, available on Soundcloud, brings together Aidan Casserly's distinctive, capable-yet-vulnerable vocal style with the crisp and unusual electronic production of Dirk Krause, and it's a really promising blend that bodes extremely well for an album "Under The Tongue" which is still being developed.

The almost flippant, bright pop structures play well against the darker lyrical content and the unusual bleeps, bloops and, from what I can hear, heavily processed actuality effects. The result is deeply unusual, quality pop music.

"Medusa Water" reminds me strongly of the songs of Venus Hum and Tony Miracle, which is absolutely a compliment. "Shoot The Freak" has a bit more grit and has Depeche Mode influences, more Dave Gahan in the vocals and slightly more Vince Clarke in the production. The restraint and space in the mix is classy, confident work.

The title track from the forthcoming album "Under The Tongue" completes the trio- a ballad that Boy George would love to have sung, with Aidan's strong vocal control coming to the forefront whilst Dirk coordinates a sympathetic digital orchestra with film-score sensibilities.

A very exciting teaser for a forthcoming album.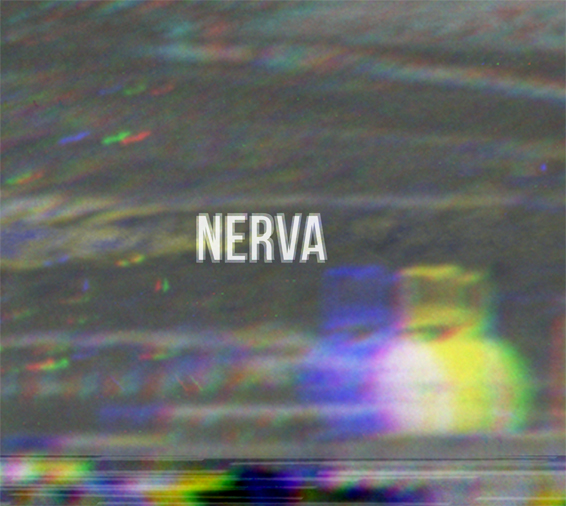 Artist:
Nerva
(@)
Title:
s/t
Format:
CD
Label:
Final Muzik
(@)
Rated:
erva is the project of Andrea Bellucci (Red Sector A) and Andrea Gastaldello (Mingle) whose name is taken from the Nuclear Engine for Rocket Vehicle Application, a NASA effort of the '60s. The result is something in the tradition of certain minimal techno based on rhythmic impact and aseptic sound which are icily charming.
The first track of this release, "Landed", shows immediately the sonic coordinates of the duo: a squared rhythm, a deep bass and various samples and bleeps to modify an already immutable form. "Myocardium" continues in the same vain but with a more constructed aural spectrum. The crystal clear sound of "Deekay" evolves in "Lato" trying to modify the rhythmic cage into a flexible one while "Yas Grid" returns to a more predictable structure. While "Lizard Mask" relies on the hypnotic effects, "Divided Minds" relies on the minimal one and "Obscura Thule" closes this release with an atmospheric track based on drone able to capture the listener's attention with subtle nuances.
A remarkable work at the sonic level which leverages already canonic structure to publish a release with will please all fans of minimal and techno with his careful writing. It's worth a listen.
problems
with image
availability
At once evocative of mid-to-late 90's era Autechre with nods to Alec Empire and Apex Twin among other artists such as Arovane and Phonem, but countered with more ambient-abstract textural palettes for a dynamic listen. T. E. S. O. are a Milan-Italy based duo Matteo and Jacopo who mostly self-release digital files, cassette tapes, and CD-R's of their abstract electro-acoustic atmospheric excursions, melded with construction-site-grade beats. However, they also have releases on Fat Cat, who put out music by exemplary artists. Over A Neutral Landscape tends to alternate between darker ambient atmospheric and frenetic IDM from track to track, but when the two styles blend, the result is marvelous. Case in point is the opening track, 'Jaz' which is akin to a robot or machine going into system malfunction and circuit overload whereas "Parte Prima" is an eerie bit with creepy audio samples, perhaps culled from a horror film with intermittent aortic beats. However, "Matin" is a standout track and easily my favorite; a melodic piece with intricate beats haunted with the ghosts of Burial-style dubstep and lovely keyboard hooks. That one goes for inspires repeated listens. In the following 'Catalogue', we are taken into subterranean passages through winding, dusty tunnels and sustained horror movie soundtrack tension. Still further yet the following "Pgm-Tik..." and "Akrp..." we are in pure abstract malfunctioning IDM beat territory with frenetic robots and unmaintained machines. Occasionally there are moments of melodic overtone as in the following track "Lezione su nastro", but around this time we are more into Confield-era Autechre. The final track 'K', starts off ambient but over the course of nearly the next twenty minutes, gets noisier and gradually dissolves into madness. Over a Neutral Landscape is a CD-R release with handmade packaging, but that in no way diminishes the album, which is excellent. I look forward to listening to more fine material by T.E.S.O. who are clearly a talented duo bringing new things to the IDM genre.
You may recall that not too long ago I reviewed Hawaiian baritone ukulelist Ryan Choi's initial release, 'Three Dancers'. For those not familiar with Choi's style, clear your head of any notions of traditional ukulele music from Hawaii. This certainly is not that. Think of it as more akin to improvisational classical and jazz guitar with some avant-garde leanings. Although 'Three Dancers' and 'Whenmill' are both CD EPs, the similarity ends there. For one, 'Three Dancers' was very busy, and all over the map at times. It was as Choi was attempting to showcase his skills and various techniques throughout the EP. Here on 'Whenmill,' Choi seems much more confident in his improvisations and hence, the music is only busy when it has to be. There is also a marked classical tone throughout, signifying a serious, rather than playful attitude. 'Whenmill' consists of four pieces - "Quixano" (2012), "Inn Blue" (2012), "Whenmill" (2013), and "South Aleksandr" (2011), the last being the longest at 12:23, while the others are well under six minutes each. "Quixano" has a distinctly Spanish flavor, and although it employs numerous classical guitar techniques, it never develops a distinctive theme or motif. "Inn Blue" seems far more introspective and oblique, and somewhat enigmatic. "Whenmill" pushes even further into the obscure, and just when you think you've got a handle on this piece, Choi changes it up and blows away any preconceived notions you may have had about it. The playing here ranges from strictly genteel to hard-charging. "South Aleksandr" is the show-stopper though, with Choi starting out in a rather mellow vein, but then moving into a fantasia of differing forms. As it progresses, Choi strays from the classical leaning previously exhibited moving into jazzy and bluesy territory without ever being solidly grounded in either. Towards the end, Choi's playing becomes harder and more intense, really wailing on the uke. Played live, this piece would likely bring an audience to its feet by its conclusion. 'Whenmill' shows Choi's growth as an artist composer with his uncompromising vision. It may be a little more difficult to grok than his previous release, but for those who do, ultimately rewarding.
Artist:
Deadrow77
Title:
Dark Waves for Little Greys
Format:
2 x CD (double CD)
Label:
Facthedral's Hall
(@)
Rated:
Deadrow77 is Fabien Della Roma, a farmer who grows organic saffron in the Oriental Pyrenees mountains. And no, the album was not made exclusively using farm implements, but exclusively using a MiniLab 25 Arturia synthesizer. This is the second release by Deadrow77, the first going all the way back to 2005, called 'Mi-Figue/Mi-Raisin'. Man, that was a long time ago. I haven't heard that one, so I can only tell you about 'Dark Waves for Little Greys'. It's a double album (2 CDs) comprised of 29 instrumental pieces. Don't let that doggie on the cover fool you; I can't find any connection with the animal and the music. The label, Facthedral's Hall, describes the music as "a mix of of electro-ambient, electronica, dark, cosmic, psychedelic, tribal, medieval..." In places that may be true to some extent, but overall, that seems like a stretch. What you're really getting is simple, quirky, melodic synthesizer pieces, with a slightly dark tone. Now the impressive thing is that the majority of these spontaneous improvisations were recorded in a single take. When you consider that, it makes a big, big difference. The CDs are ordered 2013 (CD1) and 2014 (CD2), which I would assume to reference when they were composed. Some of the track titles pay up the whimsical quirkiness as well - "My First Caroussel," "Blind Tightrope Walker," "Pariah's Groove," "Knockin' D. Lynch's Door," "Psychic Bleeding," "Sabatik Salsa," "Birthnight Today," "Carbon Circus," and others. As for what it sounds like, well, imagine if you will, a instrumental collaboration between Tonto's Expanding Headband (Malcolm Cecil & Robert Margouleff) and The Residents. It might sound something like this. The melody and structure is ultra-simple, but there is a wide variety of sounds employed. Often there is rhythm but it is electronic rather than any conventional drums or drum machine. Some of these melodies sound very serious, while others are sort of goofy. Circus fantasy, carnival, medieval, klezmer, Kraftwerk, and numerous other influences are at work here. To some extent, certain forms hearken back to the electronic experimentalism of the 70's and 80's. There is one track ("TechNoLogic Future") that utilizes a similar rhythmic impetus as Wall of Voodoo's "Ring of Fire." Occasionally some of the electronic sounds employed resemble real instruments, but mostly it does not stray from its synthetic origins. Undoubtedly the listener will find some compositions more interesting than others. Due to their completely improvised nature, some tracks sound more like ideas for songs (demos) rather than completely fleshed-out songs. Still, it might serve well as background music for mimes or other non-verbal theatrical pieces, maybe even animation. It's possible that the album could have been distilled down to a single CD's worth of the best stuff, but the buyer who's looking for the most bang for the buck should be amply rewarded. If you're into peculiar melodic synthesizer compositions, then Deadrow77's 'Dark Waves for Little Greys' is for you. Limited to 500 copies.