Artist:
White Shadow
(@)
Title:
Panopticon
Format:
CD
Label:
self-released
Rated:
It's been a while since I've heard anything from Baltimore-based Industrial-Metal outfit White Shadow. I reviewed their 'The Wastelands' album back in 2010 and found it a so-so affair. I never heard their 2012 EP, 'Zugzwang', but 'Panopticon' is definitely a big leap
forward from what I heard previously. While DXNero (vocals, synth & drum programming) is still the ringmaster in this cyanide circus of sound, the band lineup now consists of Kryptych (bass, guitars, guitar synth, drum & synth programming); Nytro (guitars); Wahkeen (sound design, additional programming) and Marowit (live drums). On this recording there are additional performances by Crawford (bass), and Julia Beach (piano on "Six Months of Sundays").

'Panopticon' is a concept album based on 18th century English philosopher Jeremy Bentham's conceptual prison by the same name. For the unfamiliar, the idea behind the design was to allow a single watchman to observe all the inmates of an institution without the inmates being able to tell whether or not they are being watched. Through the paranoia of not knowing whether or not one was being observed, the inmate would be forced to conform, being on their best behavior at all times. Bentham himself described the Panopticon as "a new mode of obtaining power of mind over mind, in a quantity hitherto without example." The concept itself is a timely one in this age of ever-growing detention and surveillance. The album opens strong with "Slipgate", roaring with the power of a locomotive (and interjected "HEY"s) DXNero spits out the lyrics with machine-gun precision (something he's really good at) and muscular guitars provide fuel for the engine. The song goes through some changes- a quiet break with acoustic guitars and calmer vocals (progressive for an Industrial Metal group), alt-metal, then back to the locomotive. Very dynamic and creative. "The Fix is In" keeps this train chugging along nicely with heavy slabs of industrial guitar chords and nifty synth work. A very cool tune filled with appropriate malice and anger. (Something else DXNero is very good at.) "Zugwang" is another powerhouse number with
a great chorus hook - "Zugwang"- if we want to live, We all know something's got to give, Zugwang - even if it hurts, It's the only choice I know will work..." Next track "Crowd [Control}" continues the on-target assault, albeit with a few twists in the quieter passages. DXNero comes across with an appropriate amount of nastiness and it's kind of reminiscent of Disturbed here, maybe with a touch of Reznor. "I Don't Know Who I Am" features more engaging synth, and intersperses the metal aspect of the song with some more thoughtful and progressive passages. "10,000 Masks" alternates machinegun metal with less hyper and more melodic movements. Good hook too. The effected transitional piece "Ingress" offers a spoken word PSA in the Panopticon before you actually get into the title track, which is the first installment of a three part Suite. Some slidey guitar alludes a little to Pink Floyd in a brief instrumental break, but don't expect Mr. Gilmore. Part 2 of the
Suite, "Six Months of Sunday" is a piano-based confessional ballad, but DXNero's voice is all wrong for this track; he comes across as whiny and pathetic. Perhaps that was the intention but it's painful to listen to. Part 3 - "Cold Ground" is low key but somewhat better than the preceding track. It becomes obvious that DXNero is at his best with a full head of steam as opposed to trying to evoke pathos. "Egress" is another brief ambient transitional track leading into "Addicted to Despair". I feel a little ambivalent about this one; it has a quirky rhythmic groove, but the vocals are problematic. Some of it is
crooned in that typical alt metal style, some manic, and some rapped. I'm getting a NuMetal vibe here and for me, it took a bit of the wind out of the sails. It all ends with "Temple" and by this time I'm a bit fatigued, and it's showing in the music too.

At times White Shadow conjures up the best of what I recall of Stabbing Westward; a band with some great tracks and a lot of potential. 'Panopticon' kicks off with a bang and blazes through six dynamite tracks. After that though, it falters. Still, that's quite an achievement in my book. In an oblique way, DXNero does manage to carry off the panopticon concept, but still the songs stand on their own without being weighted down by said concept. I don't think the same could be said of most other rock concept albums.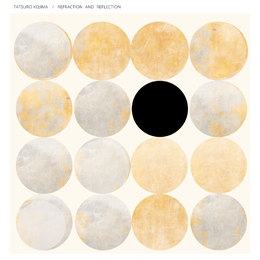 Artist:
Tatsuro Kojima
Title:
Refraction and Reflection
Format:
Download Only (MP3 + Lossless)
Label:
Audiobulb
(@)
Rated:
Tatsuro Kojima describes himself as composing in visual terms rather than musical ones as being trained as a visual artist. This release has been constructed using "field recordings and synthesizer sounds and processed them in various ways to alter and reconstruct the original". However, rather than sound as a complex intertwining of sounds, this release is almost linear in his development from more complex tracks to more linear ones.
The first half, starting with "idea" is closer to some forms of post-glitch where the noises and the samples are arranged, rather than exposing their discontinuities, to recreate a sort of blurred edge. "Surface of the light" uses a drone as unifying elements for the field recordings. "0405" is a clever sequences of samples while "neutral" is a static and metronomic one. With the piano notes of "0203" starts the second half of this release, oriented toward gentle ambient miniature mostly based on loop, "blank space" is a gentle noisy soundscape while "fiction?" is focused on the dialogue between the hypnotic carillon like background and the noise upon with a remarkable result. "Yuki no ato (28/11 9 a.m.)" is almost a lowercase tune while "kokoro / asu wa you hi" is almost a proper piano piece ending with the resonances of the last notes which occupies almost half of the track. "Owari ni" develops the distortion of a drone. "Fish-eye" is an hypnotic track based on a drone and field recording acting as almost a loop.
Even in a well defined and known musical form, Tatsuro Kojima develops enjoyable moments of clear charm almost compensating his lack of originality. Only for fans, or collectors, of ambient and glitch-pop.
Artist:
Nick Grey & The Random Orchestra
(@)
Title:
Breaker of Ships
Format:
CD
Label:
Milk & Moon Recordings
Rated:
This new album by Nicolai Riccardo Moldoveanu, better known as Nick Grey, and his Random Orchestra sounds like a sweetened declension of bitterness, the written tales on a wet diary after a storm by a mercenary captain everyone would like to save from a shipwreck or maybe the wheel, whose spinning top costantly swing around enchantment and disenchantment. The opening title track evokes that dark beauty you'll find in some stuff by Sofa Surfers or Massive Attack, but its musical skin soon changes colour and turns towards obscure bluesy, heavenly pop halftones, lush natural and exotic soundscapes, temporary ecstatic ablutions, a space-rock break-in; the puzzling electronic dark-pop, where kraftwerkian nuances meet pitched tones and 8-bit melodies from vintage videogames, on "Of Ghost & Women", inoculates an element of pervert opacity, while the somber "The Archivist" is a wonderful portrait of someone, whose distance from reality, turned himself into a vaguely henpecked shell of a man and better express one of the distinctive trait of this release by Nick Grey: even if I can't consider it a conceptual work, it's clear that Nick wisely braids a dilemma between the eagerly aesthetic yearning of being endowed with all the beauty you'll find in this world, the concern for the impossibility of accomplishing such a task and the dangers behind getting trapped by its mortal hug by means of meaningful lyrics, which got appropriately dressed by Random Orchestra. The dark tones of the above-mentioned "The Archivist" digs deeper and deeper on the bittersweet tones of "Vanisher", whose holy nihilism sound like echoed by the heart-rending storytelling on the final "Ghost Rain", whose speaking ghost marks the most hopeful moment of the album, on the dual portrait of a woman, which appears like a fairy on "Juliet Of The Spirits" and as a silent corpse on "Juliet Of The Bones". Scanner joined this glomily seducing album by a likewise seducing remix of "Here He Comes Now".
Artist:
Peter Brötzmann
(@)
Title:
Münster Bern
Format:
CD
Label:
Cubus
(@)
Rated:
You don't need to be a raving fan of free-jazz or free-improvisation to know the name of German musician Peter Brotzmann, as his name begun to dig the grooves of European scene since the end of 60ies, when he shaked many sould by means of his notorious "Machine Gun", a release he made with his octet (featuring Buschi Niebergall, Evan Parker, Fred Van Hove, Han Bennink, Paul Rutherford, Peter Kowald, Pierre Favre, Sven-Ãke Johansson and Willem Breuker) which included clear references to war in Vietnam an European political situation and made sense if you consider it was released in Berlin in 1968, and his way of paying saxophone as well as clarinet and tarogato (the Turkish pipe) has beeen so unique that many Free jazz circles use the adjective "brotzen" to describe something closer to his style. Swiss label Cubus gives the chance to listen a solo performance by Peter, which got recorded on 2th October 2013 in a unique location like Berner Munster on the occasion of zoom in, a quite known festival for improv music, and the fact he didn't interact with anything but the surrounding reverbation of that "sacred" hall and his instrument is a chance to better appreciate his way of performing, which didn't lose his evocative energy and his strong hook to reality over years, where reality could sound like a desert ground on which his sound, melting jazz phrasing, Turkish traditional music as well as piles of squeals and screeches, which suddenly pierce listener's soul throuh their spurious obliquity and unexpectedly mellow vaults, flies like a desperately lost seagull. My personal favorite moments of this recording are the raging torn schemes of "Chaos Of Human Affairs" and "Crack In The Sidewalks" as well as the astonishing final "The Very Heart Of Things".
Artist:
Maciek Szymczuk
(@)
Title:
Music for Cassandra
Format:
CD
Label:
Zoharum
(@)
Distributor:
Alchembria
Rated:
A Friedrich Schiller's quote, "Give me back my darkened senses, I'll be gladly blind by choice", reveals the theme of this release: the mythological figure of Cassandra. As a concept-album, the tracks are conceived as movements of a long piece and apparently feeble tracks make sense in the context of the other tracks.
The musical tale starts with "Serpents' Tongues", an introductory track to "She Who Entangles Men" and the musical form is suddenly exposed: upon an almost ambient texture a mid-tempo beat tries to collide with the overall sense of sadness. "The Seer" reveals an almost synth-pop influence with the melody of the second part of the track while "Helen's Golden Veil" returns to a more solemn melody and "In The Belly Of The Weapon" is a dark ambient interlude to "Spoil Of War" whose guitar introduction is resolved in a track, "Infinite Sadness Of Being Right", entirely based on a beautiful synth line slowly developed. The resonance of "Let My Life Be Done" marks the final part of this release with the return of drums. "Last Lament In Death" is a static dark ambient subtle texture and "I Am Free" close this release at the crossroad of ambient and synth-pop.
The uncertainty of the musical direction is the result of the effort of depicting the many sides of the myth and exploit this sound palette to escape from a mere mimesis of the story. It's worth a careful listening.