image not
available
anymore
Legiac is the electronic duo of Roel Funcken and Cor Bolten which creates a sort of ambient music with a certain use of field recording creating complex soundscapes. This release is inspired by the Voynich manuscript, an early 15th century hand-written and illustrated codex, and aims to be something more multifaceted than ordinary release of this genre.
The juxtaposition of synth and field recording in "Bycam Fosfane" is constantly moving his sight while "Troven Briangular" is mainly focused on synth with the other elements in the background. After the first seconds of noises "Sirius of Procyon" seems to develop into a dance track but is exactly one step away to be bound in a rhythmic cage while "Transcendental Sea" features spacious drones and "Inzantum Feaner" more meditative, and dark, ones. The almost pop moments generated by the melody of "Bognitive Cypass" are balanced by the background noises which are even more effective in "The Voynich Manuscript" which result impressive in his crescendo. "Vellular Cito" oscillates between quiet moments and harsher ones while "The Din Skided" reveals a marked rhythmic structure. After the first part based on field recordings "Jefre Tropod" evolves as a meditative track based on slow synth melodies and "Ambikythera Mechanism" closes this release in an almost solemn mood with the synth melody vaguely reminiscent of the slow movements of the organ and the evocative field recording.
A carefully crafted release which is better enjoyed with headphones to catch the many elements in the background that could be lost in a noisy environment and perhaps require more than a listen to be appreciated. Not only for fans.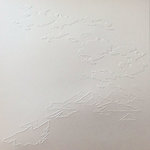 Artist:
Glauco Salvo
Title:
5 haiku
Format:
12"
Label:
Kohlhaas
(@)
Rated:
Haiku is a traditional form of japanese poetry based on three phrases and Glauco Salvo uses it as a reference for a musical form based on banjo, e-bowed zither and playback devices. The result is an evocative juxtaposition of field recording and folk music.
The flowing water is the background of "Haiku 1" where the banjo exposes a melodic phrase with slight variation which sounds as an accompaniment of the sounds of the place where the track was played instead of the vice versa. The silence of "Haiku 2" is suspended by a ambient's background sound and sparse notes of banjo as an almost literal translation of a poem. "Haiku 3 - Haiku 4" is a single track in two movement: the first one is based on a strumming that is progressively overwhelmed by a background noise while the second is based upon the zither acting as a canvas for the banjo to paint. "Haiku 5" closes this release starting quietly with a distant variation of the phrases of "Haiku 1" which are almost inaudible as buried by the foreground noise that becomes louder until it abruptly ends.
A release requiring a subtle and attentive listening to not become a mere relax's background and miss his delicate request for attention and hear the necessity of silence for words instead of screaming with nothing to say. An antidote to city's noise.
"Nighttime Times" is a smooth and straight-up ambient blend. There are gentle synthetic washes, melodies looping at a beautifully casual pace, distant sonar-esque pings and long mellow guitar-like notes wandering politely across your field of hearing.

Electric Bird Noise has a long CV of post rock and darkwave, and the press release threatens that these nighttime tides carry the threat of an imminent tidal wave of noise, but it never arrives. There are no jolts, no surprises, barely even any progression- just the soothing patterns and patternless elements, ebbing and receding through the night, acknowledging that no man can stop the tides.

It's almost a stereotypical ambient release, harking back to Brian Eno, or Jean-Michel Jarre's "Waiting For Cousteau", and it doesn't bring anything new to the table; but sometimes innovation isn't a prerequisite in music, and this is one of those cases. This is an extremely mild, chilled-out, luscious audio environment, far gentler than some of the other material on Silber, and I will be happily falling asleep to it many times in the future.
Though branding themselves as "noise-gadget pop", The Gomb's 10-track album is not nearly as fun as that description suggests. It's an earnest, downtempo collection of piano ballads, heavily decorated and embellished by acerbic synths and experimental noises and ambiences. It's quite consistently bleak and slow in its tone, but there's also a organic warmth and indulgence to the production that offsets that somewhat.

At times, the sincere nods to 70's prog rock, whilst remaining ensconced in a digital environment, are reminiscent of later Pepe Deluxe or some Amorphous Androgynous pieces- but with a much lower energy level. "Mental Yoga" opens with strong hints of Yello about it, in a good way, and is certainly a highlight track despite wandering off in unexpected directions towards the end. The close, intimate vocal style heard on tracks like "No One Has Ever" is not dissimilar to Air.

It's a succinct little package, ten tracks coming in under forty minutes, with tracks like "Your Monster" feeling like single ideas rather than fully-formed songs, and certainly not overstaying their welcomes.

For promotion, The Gomb are giving away a remix of title track "Amends" free on Bandcamp. The "Stomp remix" has a synthwave energy which, if it had been siphoned into the main album, would certainly have lifted it. So, let me know when the remix version of the whole album is out...
Claiming to cross the divide "between moody club music and experimental sound design", I would genuinely love to visit the club where either of these four-minute-long tracks could be dropped without clearing the dancefloor faster than you can say "is it broken?" I really enjoy both of these tracks for home listening, but only the second track "Hostage Blood" is even remotely DJ-friendly, and even then, barely.


"Reebok Blood" has an epic opening, opening into a cathedral of industry which then bites aggressively with percussive bursts for a minute or so, before spontaneously dropping into a light bit of soundtrack-y synthwave, which in turn gets interrupted by a manic synthesized and distorted guitar lead. Structurally it's almost incoherent, paying no attention to any convention of build or drop.


"Hostage Track" has a slightly more regulated and hip-hop feel to it, boosted by the super-brief rap snippets and the near-militant snare. The sounds of smashing glass and bells become the groove, and it's a sparse, sudden-change-free alternative to "Reebok Blood", that feels composed and measured and makes the first track seem messy by comparison.