Artist:
Hyperbubble
(@)
Title:
Music to Color By
Format:
CD + Book
Label:
Pure Pop For Now People
(@)
Rated:
I have to hand it to Jeff and Jess DeCuir; not content to just crank out their "usual stuff", the usual stuff being quirky synthpop songs with vocals, they've tried their hand at movie soundtrack albums, a live album, and now, with 'Music to Color By,' an instrumental synthesizer album, and a coloring book to go with it. (Sorry, you'll have to buy your own crayons.) I was laboring under a misconception about Hyperbubble; for some reason I thought Jeff handled all the synths and programming and Jess did all the vocals, but Jess actually plays synths too, along with theremin. There are no vocals on this album though; maybe they didn't want to distract you from coloring inside the lines.

Let's take a look at the book first (which was drawn by both of them). It's kind of a mish-mosh psychedelic pop art affair with synthesizers, cats, robots, Jess & Jeff, and psych designs all done up in cartoony fashion. Black & white of course because you're supposed to provide the color. It's only 16 pages but on heavy paper and full-size 8 1/2" x 11". My favorite page is "Moloko Velocat," a feline take on the Korova Milk Bar from 'A Clockwork Orange'. Ar the bottom of the front cover it says San Antonio Museum of Art where they apparently had their release party for this, and where you can also find it for sale. To my knowledge, not many (if any) rock bands have put out coloring books, although there is a Punk Rock coloring book and an Indie Rock coloring book that I know of, so maybe this is a first for an individual band. Kitschy pop art, and a neat novelty item.

Tracks on the CD are named for colors, such as "Sunburst Yellow," "Poppy Red," "Lime Peel," "Nectar," "Periwinkle," etc. I was a little disappointed to not find a "Mango Tango" or a "Jazzberry Jam" but you can only have so many colors in ten tracks. All tracks are somewhat brief (nothing over 4:19) so you're only getting a half-hour's worth of music but it's sufficient. The music is expectedly simple in the rhythm and melody departments, but varied enough in the arrangements to be entertaining. Think very 80's - Giorgio Moroder and Yellow Magic Orchestra with a touch of Kraftwerk and Telex. It's all pretty up
and happy stuff with the possible exception of the last track, "Spanish Orange," which sounds like an unused demo by Gary Numan or Ultravox. So Hyperbubble remains true to their formula with the content here, but I felt they could have done more with it- at least one lengthier track synthetically adventurous and spacey, inspiring synesthesia in a non-pop tune format.

So if you're already a Hyperbubble fan, you will probably like this. If you don't care for them, 'Music to Color By' will not change your mind, and if you're on the fence, just buy it, be happy, and get out your crayons.

image not
available
anymore
Artist:
Column One
(@)
Title:
Boiling Pool
Format:
12"
Label:
90% Wasser
(@)
Rated:
As stated in the liner notes, this new release from Column One "consists of 953 fragments, 722 situations, 952 interruptions & countless sources, intensions & beings" and, while it's not completely original the idea of underline the modular nature of writing, this historic collective takes the concept on a new level. Instead of doing a condensed version of their discography, they create an entire new opus with a sort of self-plunderphonia or a new joke for the listener.
The first side of this release, "Pooling", is a frenetic cut-up where voices are used to unify samples of drums, saxophones, field recording and quiet moments with long fragments relaxes the rapid succession of sources, mostly resulting in a deliberate mockery of the expectation of the listener and are even able to laugh it off. The second side, "Boiling", is instead more experimental and results in a sort of reflection on the nature of juxtaposition as they tied parts where they explore meditative moments with drones and resonance with parts of impressive movement.
When phrases as "so we need to do another soundcheck with you again" recur on both sides of this vinyl and mark precise moments in the development of this release, the Burroughs' quote assumes a precise meaning for this release. Compressing elements from a time period of 45 years is a result of a concern about writing and time: something that was discarded years ago, it's suitable to the musical content now and therefore what is written is not separable from when it's done as what's used is tied to what's said. When a record is able to raise this questions, there's only one critical judgement: masterpiece.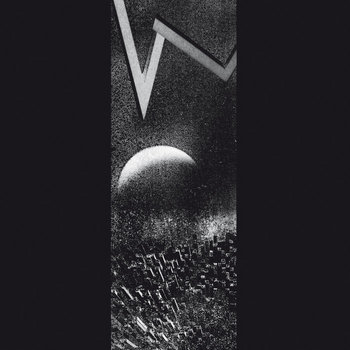 Artist:
Rara
Title:
W//\TR
Format:
CD
Label:
Zoharum
(@)
Distributor:
Alchembria
Rated:
While Rara started as a solo project by the guitarist Rafa Skonieczny, it's now a trio with Micha Pszczókowski, guitar and synth, and Mikoaj Zieliski, bass, and the result is a sort of avant rock music where the canonical pop song is deconstructed to permit some free departures. While there's a couple of instrumental tracks which are more experimental in nature, the major part of this release is focused on long section for guitar mostly developing what is called in other contexts as process.
The slowly deployment of "Echo planety" stands at the crossroad between drone and ambient filling the aural space until the listener is completely floating. "Pasaerowie wiatru" is instead almost a rock track based on acoustic guitar featuring a crescendo resolved in a second dance part based on beat and synth. The acoustic guitar recorded on a beach, or so it seems, of "Szepty w gowie Elly Brand" introduces the first proper song of the album followed by a brief atmospheric interlude, "Za mg bia #1", and another quiet track "Przynie to z nocy" featuring the voice of Kuba Zioek and catchy synth lines. "Budowniczy ruin" returns to territories closer to some rock but with a sense for development closer to minimalism. "Za mg bia #2" is another atmospheric interlude while "Gen planety" closes this release with a pop song.
Almost equally divided in experimental aims and pop allure, even if it won't turn up in any end of the year playlist, it would stay in the cd player for a while. This is music for the masses but not popular.
Artist:
The International Nothing (...and something)
(@)
Title:
The Power Of Negative Thinking
Format:
CD
Label:
Monotype
(@)
Rated:
Flaubert dreamt of writing a book about nothing, the Berlin-based clarinet players Kai Fagaschinki and Michael Thieke managed to create a band referring to the idea that charmed the mind of the French writer. Kai and Micheal overreached this idea: they've given a sort of global dimension by calling their collaborative project, involving the precious contributions by bass player Christian Weber and drummer Eric Schaefer, 'The International Nothing (...and something)'. By means of the persuasive power of the language, they even coined an unusual title for this release, possibly subverting the dogma of contemporary sentimental education (please excuse this further quotation), according to which the so-called negative thinking is something that must be condemned and combated by any possible expensive means by a flimflam psychotherapist. Besides any possible matching, "The Power Of Negative Thinking" features seven bizarre sessions, where the sound of clarinet, together with crooked stressing by bass and drum, looking like belonging to a dark-jazz ensemble in slow-motion, portrays sinister and somehow deviant soundscapes in between melting elongations on single tones, gently sneaking grooves, bipolar microtonal clarinet beatings, softened hits and other helpful tricks that succeed in rendering a mysterious atmosphere, reaching its acme in the almost disturbing choked crescendo of "Long Bow Glowing", the hypnotic minimalism of "What You Need To Know About Drowning" and the thin and almost lulling dissonance spurting in tracks like "The Golden Age Of Miscommunication" and the final "Nothing's Gonna Last Forever".
Artist:
thisGREY Hates The Sun
(@)
Title:
s/t
Format:
CD
Label:
Final Muzik
(@)
Rated:
The first full length album by thisGrey Hates The Sun is a sonic journey wandering between noise and ambient where the author manages influences from various field of experimental music into an almost coherent view. This album is based upon two long track, the first and the last, and short tracks which explore elements from them so Giordano Rivolta, the mind behind the project, even if he uses mostly synth and guitar he doesn't rely on a single formula but achieves a reasonable level of variety.
The minimal pulse of "In" introduces the listener into a sonic framework where the author proceeds by accumulation creating a soundscape able to deflect the attention from the foreground to the background. "201.2b" is a short assault for samples and feedback. After the first part of "Broken", based on a noisy guitar, the track has an interlude based on silence and samples to return on the territories of the first part. "No Good Situation" is a minimal track based on drones and sinewaves while "From" use the same structure using noises. "The End Of The Labyrinth" is an apparently simple track based on sparse synth notes generating the sense of being played in a distant place. "Trying To Metabolize A Tragedy" is a slowly evolving track whose sonic nuances require attention. "There Is A Message Here" oscillates between quiet moments and noisier ones. "Austen" is an introduction to "Moments & Directions" whose guitar drones, with an heavy reverb,hypnotize the listener awakened by the solemn notes of "With Other Eyes".
An uneasy listening, even if it moves along almost familiar path, as some of the musical content is not rooted on sound but on how it sounds and so it requires a proper listening habit and a clear mind. It's really worth a bunch of listening until all details are discovered.