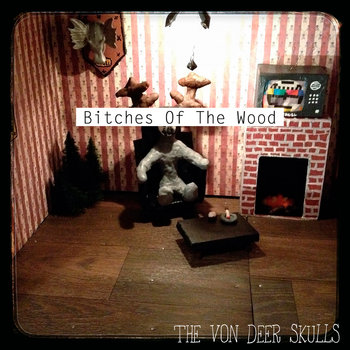 Artist:
The Von Deer Skulls
Title:
Bitches Of The Wood
Format:
Download Only (MP3 + Lossless)
Label:
Wraith Productions
(@)
Rated:
Apparently the Von Deer Skulls is a strange band whose members come from France, Germany and Canada and their free form rock is aided by a visual artist, Peter Skull, to create a visual experience declaratively influenced by filmmakers as David Lynch and Tim Burton. Musically speaking it's a sort of crossover between psychedelic rock and noise nock that seems almost instrumental as the voice is pretty inaudible.
The spoken words of "Bitches of the Wood" open this release as a background for a mutating sonic foreground oscillating between quiet accompaniment, furious rock explosion and even an electronic interlude to a second part of the track which is based on slow an hypnotic arpeggios until the return of the electronic starts the final noisy seconds of the track. "The Way To The Shadow" is a musical pendulum where one pole is hypnotic guitar notes and the other is the energic riff. "Outro" closes this release with sparse noises accompanied by a piano.
Odd enough to be interesting and brief enough to be enjoyable even by ears unaccustomed to such free forms, it's a perfect introduction for a band which could produce really interesting stuff. It's really worth a listen.
Artist:
Akira Kosemura
(@)
Title:
Tiny Musical (remastered)
Format:
CD
Label:
Schole
(@)
Rated:
Akira Kosemura was only 22 when he released his solo album "Tiny Musical" in 2008, the second in his career, but after almost a decade, it's still considered its masterpiece, besides the fact it recorded a significantly high number of sales that was quite unusual for an instrumental album. This digitally remastered edition is a gift in itself: if you never had the chance to listen to it, you'll fully understand why its launching got announced as related to a "new style of music for daily life", where a wide range of genuinely human emotions got translated into melodies, whose extreme conciseness enhances its power of speaking to listener's soul. The gently inverted piano tones of the opening "Ouverture", which got poured into the delicate rhythmical patterns and rising radiant sonorities of "Departure", will open the gate of Akira's musical gardens, where you'll find tenderly moments of relieving serendipity (a breeze that sounds intensely vibrant in the three collaborative tracks of the album - "Parterre", the home version of "Light Dance" and "Just a Few Minutes" -, featuring the acoustic guitar by Muneki 'paniyolo' Takasaka), almost entrancing delicacy ("Seaside"), awesome piano-driven exercises of resounding melancholy ("Moon", "Smile") and joyful explosions - my favorite moments of the whole album - close to J-pop tronica sonorities ("Sky", "Remembrance" - that hiccuping guitar could vaguely remind the sound by Cornelius, another brilliant Japanese musicians, which became popular in Europe and US for its innovative music - or the bubbling sequence of electronic crystal particles in "Shorebird"). This remastered edition also includes "Light Dance", the piano work by which many listeners feel in love with Kosemura's sound, and - this is the second welcomed gift - he decided to attach the score of this excellent composition to give the chance to play it on piano or keyboard as well as some linear notes (in Japanese only) by Akira itself.
Artist:
Lenny Fontana feat. D-Train
Title:
When You Feel What Love Has
Format:
Download Only (MP3 + Lossless)
Label:
Karmic Power Records
This is the second time in a week that I've reviewed a Karmic Power release and described it as a massive 1990's throwback. If this is what they're all about, then they can keep 'em coming. It's a full-on cheese, and I'm aware I'll be in danger of undermining ChainDLK's sincere underground sensibilities if I keep praising this kind of stuff, but it's a guilty pleasure- a very safe combination of soulful yet fairly meaningless male soul vocals over a traditional party house recipe of beats, claps and house pianos following a formula that has barely changed for the last 30 years.

The Leon Wolf & Niko De Vries mix is the standout one. If you're going to do euphoric, soulful, hands-in-the-air house, this is the way to do it- with a lot of brightness and polish. This would slip very neatly into a recent Hed Kandi or Ministry Of Sound compilation.

The Klubjumpers mix uses the same ingredients, playing it safe with a straight-up house piano and bouncy bass combo, but just ends up running a little flatter by comparison.

The Francois remix also pulls it right back to the 90's house vibe- even Robin S didn't sound as much like Robin S as this does- with funky almost marimba-like bass, plenty of short builds and cymbal crashes and the most straightforward hands-in-the-air breakdown I've heard in ages.

The Twism & B3rao remix has a slightly more modern twist, with faintly glitchy underground vibes, still showing the 187 Lockdown influences but with slightly more 21st century in the production.

If you're intolerant to cheese, don't bother, but if you need more main-room party tunes in your life, this is a safe and steady, pre-packed cheese sandwich.
Artist:
Simon Balestrazzi
Title:
Asymmetric Warfare
Format:
CD
Label:
Azoth
Rated:
Some months ago, the inventive Italian producer Simon Balestrazzi (most of our readers should know he was the mind behind the electronic curtains of T.A.C. and more recently in the likewise exciting projects Candor Chasma and Dream Weapon Ritual) decided to pour his visionary and genuinely cinematic approach to electronic composition into a personal label, Azoth, and the first ring of this hopefully long chain of releases was this astonishing release that displays his strong focus on cultural, political and social themes. This output is a sonic rendering of the somehow thoughts and worries of the whole worldwide community, which are gradually turning into a sort of perpetual state of mind for many people and are deeply marking this somehow unencryptable phase of human history. The title is also the conceptual framework of Simon's release: "Asymmetric Warfare" - defined in the inlay as that "warfare in which opposing groups or nations have unequal military resources, and the weaker opponent uses unconventional weapons and tactics, as terrorism, to exploit the vulnerabilities of the enemy" - is an interesting interbreeding, where what gradually became a sort of existential dimension, fed by media and the obscure threatening shadow of Daesh/Isis, whose origin are so obscure that attentive people and analysts have more than one doubt regarding the typically rendered iconography of the people behind it, intersected the unconventional sonic weapons in Simon's lab. The intersection of a series of audio recordings related to Middle East conflicts he grabbed from the web and the sounds and sometimes disturbing noises he created an impressive set of effects, mics, synths and objects (including EHX ring modulator, crystal earpieces, a Doepfer analog synthesizer, piezo pickups, contact mics, tapes, a vintage magnetophone microphone, mallets, bows, small electric motors and so on) built a set of abstract and concrete at the same time narrations, where disturbed broadcasting, noisy rogue agents, cryptic noises and subtly disquieting sonic collages. All these significant elements that seem to have been squeezed by the above-sketched elements of our age seem to flow into a dark pool of drones and magmatic fluid that could be considered as the indelible ink by which an obscure essayist is writing contemporary humanity's history.
Artist:
Sam Dewit & Josh Jayden
Title:
Something Something
Format:
Download Only (MP3 + Lossless)
Label:
Karmic Power Records
(@)
This track sits right in the centre of the revival of late-90's-era tribal house sounds, remisicent of Danny Tenaglia or Peter Rauhofer and currently making massive in-roads back into clubs and charts. They say music used to go around in 20 year cycles, this track would definitely seem to support that theory.

It's a classic combination of claps, stabs, straight-laced kicks and a relaxed soulful vocal that has a slightly improvised, ad-libbed feel to it. The slightly euphoric house piano is good fun, it scores almost zero points for originality but high marks for energy, enthusiasm and polish.

There are only two tracks, the original (which comes in at under five minutes anyway) plus a traditional radio edit that tightens up the pop song structure without adding anything new. This'll work perfectly well in the middle of a party house set, but it won't be a highlight.