image not
available
anymore
Artist:
The Exaltics
Title:
Das Heise Experiment 2
Format:
CD
Label:
Solar One Music
Rated:
An alien who fell to earth, the creation of a new destructive weapon, two scientists who want to save their laboratory, an experiment gone bad and The Exaltics, an alien race that is surveilling the earth. This is the plot behind "Das Heise Experiment 2", the new album by The Exaltics. The Heise experiment saga started five years ago with the first part released on vinyl by Abstract Acid. The eight tracks of that album were more influenced by acid, having a TB303 upfront sound. For the second episode, which has been anticipated by the three tracks (six on the digital version) picture disc "Das Heise Experiment 2 [The Prequel]", released the last year by Solar One Music, besides the story and the music we have to talk about the different formats, first. The new album, which is number six, has been released on double 10" with twelve tracks, CDr with thirteen tracks and a special metal box edition containing three splatter transparent green 10" (with seventeen tracks) plus the CDr. Every format is sold along with the 26 pages comic book written by Nico Jagiella and drawn by the guy behind the Godspill nickname, Mehdi Rouchiche, most known for having drawn most of the Creme Organization covers. The thirteen tracks of the CDr I have are in balance from dark electro/techno and eerie ambient soundtrack atmospheres with a bit of experimental approach. On most of the tracks the rhythm is king and we have different layers forming a complex web where few melodic pads help into defining the horrific atmosphere. The effect created is particular, as for the old releases there's melody but at the end of the track you won't remember it. Another particular stuff, as for the prequel, on "Das Heise Experiment 2" the titles seems to be codes but I don't know what they are referred to. Also, as well on the prequel, we have a track in collaboration with Rudolf Klorzeiger, a.k.a. Gerald Donald, Heinrich Mueller, etc of Arpanet, Dopplereffekt, Drexciya, Der Zyklus fame (just to name few). Due to pressing plant issues this album had six months delay but it was worth the wait.
Artist: Timothy Clerkin
Title: Knife Edge Heart
Format: 12" vinyl + Download
Label: Ransom Note Records

Formerly half of Eskimo Twins, Timothy Clerkin continues his solo output with a 4-track EP that's house music, but with a bright pop sensibility. The title track is straight-faced verse-chorus synthpop in a club friendly format, with steady house grooves, a walking-paced bassline, pads and the very welcome vocals of Natalie Reiss. It's a catchy hook short of super-pop but it's still a very polished and enjoyable affair.

Reiss also appears on second track "With You", but this time with only two words to sing (bet you can't guess from the title what the two words in the lyrics are), a more stripped back affair that sounds a little like a dub version of a full song but which still works in its own right, before the instrumental "Divisive" chugs along, walking a line between techno and synthwave that's got an endearing feel-good quality to it.

The package is rounded off by a Gabe Gurnsey remix of "Knife Edge Heart" that twists off in an unexpected direction, foregoing most of the vocals in favour of a dubby, delay-heavy, glitch-decorated rolling drum affair that makes a strong companion piece which I'd only fault by suggesting that it runs out of ideas at the end.

Great walking-and-dreaming music for when your head can be in the clouds but your feet have to stay on the floor.
For some time I've been losing my taste for harsh noise/power electronics, partially because it seems I've heard all that can be done with it, and partially because I find most of it just so fucking annoying. Then along comes an artist in the genre who's trying to put a different spin on it. Fri(G)id is the solo project of Simon Severe from New Orleans, a place not really known for industrial noise. As a project, fri(G)id has been performing in New Orleans since 2015 in basements, underground venues, theatres, houses and bars. 'The Terminology is Flawed' (2017) is the first recorded release by fri(G)id. It's 74 minutes of harsh noise with themes of sexual inner conflict. I can't say that everything on this album was interesting but it had its moments. "IntroEXTro" opens the album and all it is is a repetitive short screaming feedback loop with rapidly pulsing square wave. It has the hell manipulated out of it over time but still wasn't very creative in my estimation. "Strait Talk" (w/FatPlastik) is an assortment of industrial style noises with recorded voices talking over, under and around it. Now I'm reminded why I really don't like noise projects. Boring and annoying. I was about to give up on this thing entirely when "Mirror Mask" came on. There's a frequency in it which just resonates with my tinnitus and I wasn't sure if it was in my head or in my speakers. There's just so much going on in this extreme noise piece that I thought I was going crazy. You know, if something affects you, even negatively to this extent, it must be effective. "Winter" was an interesting track; a little under 2 minutes of women (it may have been only one woman with the voice processed and overdubbed) speaking in a stream of conscious manner on some strange, indecipherable topics along with repetitive fast-pulsing noise. "3+5" once again puts female voice(s) into the mix, with some backwards noise looping and other processed noise. Over time the noise gets heavier and more intense ending finally with the female voice saying "Im ashamed of what I became."Huh...me too. The jittery noise on "Does it hurt?" is as grating as fingernails on a chalkboard, and there is some sporadic male/female dialogue interspersed. (Gender-bending mixed with circuit bending?) Although it was hard to make out the words, it seemed to have been of a sexual nature. I particularly liked the end though when the semi-rhythmic beats with intermittent metallic noise feedback was all there was left. "the Talk" begins with a female voice asking "Do you think you know everything about sex?" followed by buzzy noise and beats, which intensifies over time, interspersed with male and female voice talking about sex. You probably won't be able to make out much of the dialogue, but I can see this working on two levels - the subliminal, which only your subconscious mind is hearing, and the obvious, in which your conscious mind strains to hear most of what is being said. When it comes listening to people talking about sex, I think most people have this Pavlovian instinct to eavesdrop. I really don't know what "Efficacy (penis envy)" was supposed to be about, for the sonics seem to have nothing to do with the title. Perhaps the intermittent "drilling" sounds has something to do with it, especially as it picks up speed. I couldn't make out any of the painfully processed vocal toward the end, but maybe that had something to do with it as well. More tumultuous noise on "True Love Weights" with fairly distorted, loop-echoed processed voices, swelling into a repetitive echo-feedback mess. It ends with a female voice clearly stating that "This is a reminder that keeping yourself pure is important." I'll bet it is. I expected things to be a little buzzier on "Vagina Wasp," but I ought to know by know that in fri(G)id's world, you can't judge a track by its title. The (processed) voices in this piece are totally muddled, the noise- more processed static than anything else, and nothing much stood out about it at all. I think that by any standards 'The Terminology is Flawed' is an uneven album. Still, noise enthusiasts may find it interesting, even though it's not going to change my perspective on the noise genre. The CD comes with a bizarre little 8-page booklet which may (or may not) shed some light on the voice samples used. You can also get it in digital download or cassette format.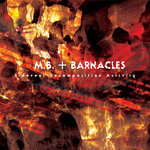 Artist:
M.B. + Barnacles
(@)
Title:
Sidereal Decomposition Activity
Format:
CD
Label:
Artoffact
(@)
Rated:
It's almost a decade that Maurizio Bianchi, which needs no presentation for readers of this zine, and Matteo Uggeri, mostly known as a member of Sparkle in Gray, collaborates in some form. As their previous collaboration this are based on relatively quiet framework where the ambient textures of the late M.B. are introduced in a more constructed sound building.
While many could expect an harsh noise wall, "Infinity Cosmic Eruption" introduces the listener into a release where ambient music is bound in a rhythmic cage that is at the crossroad between hip hop and dub, so it's impressively dilated in time and takes in the background the noisy element which is used to create a subtle sense of movement in an apparently static rhythmic development; its quiet ending introduces "Sidereal Decomposition Activity" whose catchy noisy and almost psychedelic melody is underlined by the rolling beat interrupted when it's time for a break prior to the final dreaming end. The metronomic beat of "Astral Fall Dynamism" is the set for the dialectic between noise and folk guitar melody of the first part of the track while the second one tries to bury the melody with synthetic layer only to close the track with menacing oscillators. The crescendo of "Unearthly Armagheddon Energy" is as linear as it's ended leaving only the element that creates tension without the elements that has rhythm or mass.
Moving towards a more developed music style rather than a impressive mass of sound or quiet ambient, this release shows two artist that are willing to evolve rather than simply publish another record. Recommended.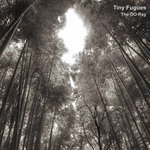 Artist:
The OO-Ray
(@)
Title:
Tiny Fugues
Format:
Download Only (MP3 + Lossless)
Label:
Audiobulb
(@)
Rated:
The OO-Ray is the alias of Ted Laderas, an improvisatory and experimental cellist, whose playing style is self defined as "chamber drone". This really means that his music is based on the electronic treatment of the instrument so the melody, rooted in a traditional instrument, is transformed in a sort of texture which evolves in a much more clear way than canonical drone. He also use a custom-built software which creates a rhythmic layer vaguely reminiscent of glitch music.
The framework of "Liminal" introduces the listener into a sound field based on dilated tones, or long loops, and ephemeral resonances while "Stuttertest" returns to the destructured lines of glitch and "Fiftytwo" use pseudo romantic notes of piano. An interlude for reverse tape, "Hoh", is followed by "Reveal", a static and ethereal track, and "Semifinal" where a sort of catchy melody emerges and is closed by "Worden" which sounds as the second part of "Hoh". "Largesse" seems to dilate chamber music and "Downwards" folk music. "Circular" with its use of strings borders modern classical territories while "First Frost" returns to more canonical ambient territories and "Adaptation" evolves in a static way. The crystal clear melodies of "The Drowned World" and the resonances of "Afterimage" close this release with a sort of glitch classical.
The lack of a path which ties the track togheter, instead of creating confusion, generates a pleasant sense of variety which escapes boredom. Nothing ground-breaking but a good musique d'ameublement. Recommended for fans of ambient and modern classical.