Artist:
Sigh Of Relief
Title:
Injection
Format:
Download Only (MP3 + Lossless)
Label:
self-released
After over two decades of indie rock and shoegaze guitar work as part of Bedhead and The New Year, Bubba Kadane here tinkers with an instrumental ambient side project under new alias Sigh Of Relief, from which this is the first release.

"Injection" is a single-track, 40 minute, purely electronic work of resolute quietness. Gentle synthetic textures ebb very slowly back and forth, with gradual shifts so slow as to be imperceptible to the passive listener. In parts it sounds breathy, and faintly vocal-like, but at other times there's a greater emphasis on long sustained synth keys that loosely contemplate adhesion to rhythm. At another, this feels like constant industrial or electric hum that has been reverberated into unrecognisable waves; although it is generally quite lightweight, low on bass drone and more frequently to be found whistling casually away at higher frequencies. Every sound remains distant and hard to pin down.

The volume levels are deliberately low throughout, as though the sound openly invites interaction with other ambient sounds that may be present during listening. With noise-cancelling headphones, this release would border on sonic deprivation therapy at times.

As a first ambient release goes, it's a 'safe' release that fully understands the value of simplicity and doesn't attempt too much, either musically or meaningfully. Uniqueness or distinguishing characteristics may not be present in abundance, but nevertheless it's an extremely well executed ambient piece with a powerful capacity to relax the mind.
Artist:
Unsub vs Alexis K
Title:
The Misadventures of Pilbourne Delaney
Format:
Download Only (MP3 + Lossless)
Label:
Pure Heart Dirty Mind Records / NexGen
(@)
Rated:
Amidst many bass-driven music, one of the most interesting is this album by Uk-born, New Zealand-based Lily Luck or this apparent collaborations of Alexis K (under this moniker, she became very popular for her dubstep version of Linkin Park's popular song "What I've Done", which was played almost 7.5 million times on YouTube) and Unsub (a moniker who managed to reach the charts by many good hits), two of her artistic identities, that she almost consider as two different soul sharing the same body. Besides these details that could meet the interest of psychologist obsessed by patients suffering from multiple personality disorder (not so rare between artists, fortunately or unfortunately), she (or they) managed to do a very awesome output, that is going to delight many listeners of hybrid forms of drum'n'bass. To be honest the listening of the opening title-track "The Misadventures of Pilbourne Delaney" (someone could think it's another personality... who knows?) made me think to a clone or something shaping the sound pattern of The Upbeats, considering the fact these well-known and appreciated dnb knights should be neighbours of Lily, and such an impression was just slightly blunted after the listening of the following track "April 12", as it could surmise many melodies of the wonderful album "Nobody's Out There" by the partners in art Dylan Jones and Jeremy Glenn. Things become more and more interesting on the dark-tinged kinda dubbed piano-driven ragtime of "Sophies Breakfast Blues" and on the following "Blindsided", where Lily and her inner friends managed to forge an elegant fusion of that dark-jazz that musicians like Ian Simmonds used to spread and cinematic nuances. The attractive sonic palette of "Candles Under The Sun", that could ideally swagger around the act of chewing gums by a cyber cowboy, get partially eclipsed by the recipes of the following "Osiris", where the distorted swirling on a synth sax is the element that mainly grabs the attention over a flat melody, and the likewise flat dubbish "State Of Play". The quality level dramatically rises on "Empathy" - a track that seems to squeeze the best juices by the more boring episodes that precede it... - and "Blushing Pilgrim", a frantic drum'n'bass track whose sonorities could delight the fans of many Planet Mu champions. Similarly interesting the trippy "Dysania", the lullaby of "Soul Traffic", the mad breaks of "Alive (VIP)" before the adventurous "Wild Tigers I Have Known" acting like an outro and a confession at the same time.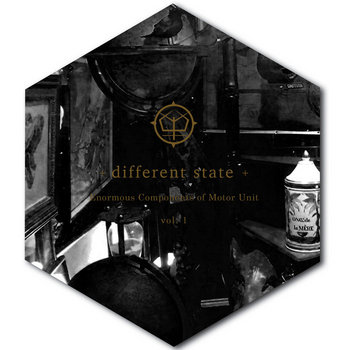 This release marks the return of Different State with new music after several reissues on Zoharum. While the other project by Marek Marchoff, 23Threads, has a clear sound, "Enormous Components of Motor Unit" is characterized by raw, and almost low-fi, textures so the music in an intermediate state between the song form and the experimental one.
The linear crescendo in amplitude of the static framework of "Motor Unit" introduces the listener towards "Electricus" where the voice of Ingrid Swen balances the noisy and mechanical accompaniment. "Knar | Rank" proceeds by accumulation with a mechanical beats, samples and loops until in the final part distorted note of bass closes the track. "Within" is almost a catchy pop tune based on the voice of Marek Marchoff upon a danceable loop. With a cleaner sound "Mental" is an incursion on psychedelic rock territories while "Additional Components" in post industrial one with a more claustrophile sound. "An Absolute Necessity" alternates hypnotic resonances with noisy interludes while "Effector (Zenial)" closes this release with a quiet atmospheric introduction to a main part based on a metallic beat and distant voices.
While it's not exactly easy listening, the wandering among genres implicates a multifaceted listening experience that will mainly be enjoyed by fans of industrial music but could well draw a larger audience. Recommended.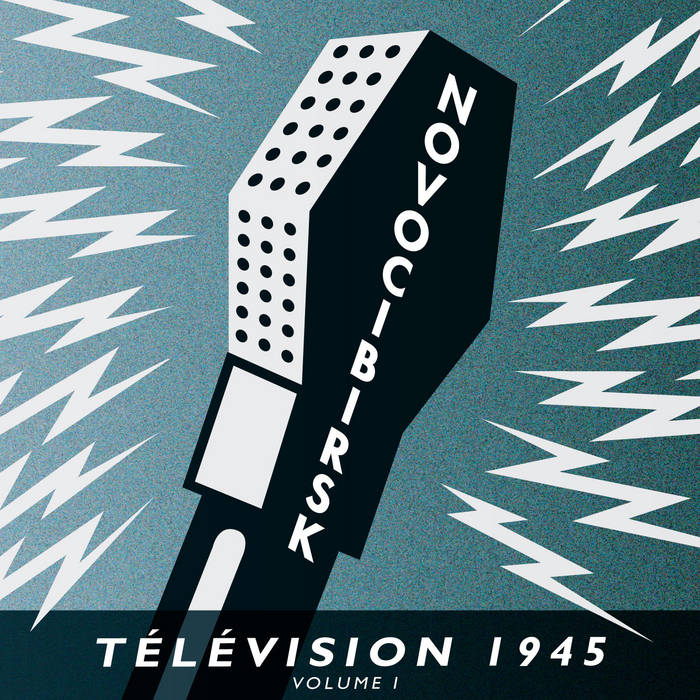 Artist:
Novocibirsk
Title:
Télévision 1945 (volume 1)
Format:
LP
Label:
ProductionB
Rated:
One famous phrase of the philosopher George Santayana was saying: "those who do not remember the past are condemned to repeat it", well on a less serious circumstance, I'm happy that since we didn't have the occasion to check nice stuff that didn't see the light in the past, we are able to check it now. Many labels are digging in the past to find what we left uncovered and they are doing a nice job by giving some late "fame" to bedroom producers: people that maybe weren't interested into finding their space into the labels' rosters but that were producing their music to satisfy their need to express themselves. One recent example is Rx-101, Dutch techno/electro/acid producer which has seen released some old recordings by Suction Records. The same is happening with Novocibirsk, a project that Hervé Isar run from 1982 to 1993. On those years he recorded many tracks which he later saved on DAT tapes (unluckily many haven't been recorded and are lost forever). Time ago, he took some from his DAT tapes archive and self-released some CD-rs. Now, some of those tracks have been cleaned and remastered and are seen the light properly distributed and publicized by ProductionB, sublabel of Boredom Product which is starting their activities with this release. Novocibirsk music is taking us back to the times of the Groupe de Recherches Musicales (GRM), the pioneering French public center in electro-acoustic research founded by Pierre Schaeffer in 1958. That experimental approach has been taken as inspiration by Hervé and mixed with some other influences of the likes of Klaus Schulze, Jean-Michel Jarre (see "Train To Novocibirsk") as well as Kraftwerk (like on "Die Stadt - Novocibirsk II" or like the vocoder experiments on "Télévision 1945" which are recalling me "Autobahn") or Telex (see "Flugzeug"). Luckily these sounds are not lost forever and more are going to follow! Welcome ProductionB, we wish you a long life full of great releases! P.s. "Télévision 1945 (volume 1)" is available on LP, CD and digital download/streaming.
Artist:
Alessandra Eramo
Title:
Tracing South
Format:
12" vinyl + Download
Label:
Corvo Records
On "Tracing South", Berlin-based sound artist Alessendra Eramo focuses very heavily on experiments with her own voice, in a theatrical and not over-processed manner that harks back several decades. Eramo repeats words and phrases, overlapping, looping, and counterpointing both linguistic and a-lingual vocal noises, often as the sole instrument. Around this work is a fairly light smattering of more modern-sounding electronic elements to add occasional extra textures- found sounds, and on rare occasions theremin and harmonica (all played by Eramo herself).

It all works best when it is either at its most playful, tinkering with sonic ideas, or most simple. "Really Very Gut!", with its over-effusive repetition of the 'really very', is bordering on childish, but very likeable, while the more electronics-heavy "My Favourite A Train" is probably both the most accomplished and most unusual piece here, while final piece "When I Look Into Your Eyes" is a purist singer's showcase.

When it 'goes serious' then it is perhaps more of a mixed bag. The juxtaposition of curt grunts with longer vocal drones on "Vacio" is very nicely executed, while the pure vocal performance at the root of "Primitive Bird" is both beautiful and impressive. However at times, such as on "I Cannot Neglect The Sea", there's a certain amount of self-indulgence to the introspection, which doesn't seem to sit as well as it might.

"Song For The Sun (Carnival Rites)" takes a totally different tack, blending together recordings of carnival music and celebration that devolve weirdly into radio white noise for a middle-of-the-album track that sounds like it's been lifted from a totally different work, but which is intriguing in its own right.

An applaudable collection of pieces from a very strong experimental vocalist.