The core of "Resonance Night" is an instrumental piano album, around which is built a very high-end electronica production full of sharp digital noises and sampled breathing. There's a strong emphasis on melodic leads, often sparse rather than lyrical, some catchy, some improvised. The net result is somewhere between Planet Mu, Leaf, Chilly Gonzales, Brandt Brauer Frick and the rich contemporary vein of experimental soundscapes.

Though the press release cites "piano drones", I don't wholly agree. Rhythm is a frequent presence here, and there's often a steady and assured drive and pattern, whether it comes from the piano itself in pieces like "Resonance Train" and its partner piece "Resonance Night", or from the heavy drum programming on "Sweet Glissando". Atmosphere-led pieces like "Intermezzo 80 Hertz" are in the minority.

"Melancholy Modulation" encapsulates the album's common tone nicely, opening with clipped stabs of the piano's lower register before transitioning halfway through into romantic chords and calmness, before boom! The following track, the standout "Anarchic Piano" kicks in, more bass piano stabs, rumbling kick drums, percussive effects, and complex chord stabs. It's an album full of energy and variety and it's not afraid to wander between emotional territories.

There's a strong and obvious sense of travel, most expertly played out in "Start Of Journey" (the final track!) where the heavily processed rhythmic bed, that may itself have evolved from a piano, is strongly evocative of rolling wheels, while interim piano notes are akin to passing scenery. It's not a unique idea but it is expressed in a warm and mesmerising fashion.

When I was sent this release, I'll be honest, I first approached it cynically. The mainstream classical music industry seems to thrive on young, attractive-looking new performers for their marketability, sometimes slightly regardless of their abilities; was such a base commercial effect in danger of drifting into more avantgarde classical territory as well? Well don't worry, once I'd listened to the album I slapped myself hard on the wrist and chastised myself for being so cynical. While there is certainly a slight degree of ego here- few artists in this field put photos of their faces on their covers- this is absolutely NOT a case of style over content.

Check out ChainDLK's interview with Angelina Yershova from last week for more info about the artist's personal history and thoughts on the work.
Most of you have probably never heard of 156, self-described as an "industrial junkyard outfit" in the tradition of Einstürzende Neubauten, Test Dept., Z'ev and other similar entities. 156 is masterminded by Adel Souto, a Miami musician based in NYC. So far 156 has released one CD, four cassette EPs, and one 10" (this one I presume), but Souto has a long history of participating in, and/or leading experimental and avant-garde music projects all the way back to 1985. Those with releases in any format include: Violent Deed (Miami sXe band, 1987); DÄÄb-Soul Destruction (Denver, 1991); Hangman aka Timescape Zero (Miami, 1992); Shroud (improvisational jazz-doom-punk outfit, 1992); None Dare Call It Treason (metalcore sludge band, 2001); Martini Kulture (experimental tape collage project, 2002); Sound 4 Sound (2003-2007, 2009); and also vocals to a track on DNME's 'Last of A Dying Breed' LP,and drums for The Goslings on an album and EP. That's just Adel's musical resume. He's also a writer, artist and photographer as well as occasional lecturer.

Now I've never heard these bands and music projects that Adel was involved with, but for the purpose of this review it really doesn't matter. I did listen to some other work in 156's discography (for comparison's sake) and found them quite interesting, although very
different from 'Memento Mori,' mostly because of the "instruments" employed on this disc. (More on that soon enough.) Prior recordings were more organic industrial ambient with rhythms being banged out or scraped on metal, glass, concrete, and found objects, as well as field recordings, voice, etc., much of it being more "out there" and edgier than any of 156's influences. Much of it is closer to true "industrial music" than anything put out by (synthesizer/guitar) bands that are often ascribed that label. Now although 'Memento Mori' is quite different than the others, some of the techniques Souto employs on it are similar to ones used in 156's previous works. On 'Memento Mori' the instruments used are only human bones. Yes - skulls, femurs, vertebrae, bone whistles, and Tibetan thighbone trumpets (kangling). Now that might give some chills (especially if one pauses to consider that these "instruments" were once living human beings) but in the context of what this music is supposed to be (Meditation music for metalheads) it makes sense and has an aura of purity as well as a spiritual connection about it. Over the nine tracks on this 10" EP (recorded at 45rpm but playable at 33rpm for the Thunderdrone versions) you will hear breath bone drones, scraping, rhythmic clacking, whistling and bone tinkling in a variety of tempos, textures, and terrains. Sometimes the bones are even able to emulate other instruments such as cymbals. The overall effect is one of primitive ritual, something far more ancient than any contemporary music form. I'm reluctant to call it "tribal" because
of the overused genre-tag associated with it. When slowed down to 33rpm (Thunderdrone versions) the pieces take on a different flavor, although (obviously) the components are the same. So at least you have options in your experience of them.

Granted, this kind of music is not for everyone. (Not much in 156's oeuvre is.) And although one might expect 'Memento Mori' to be inherently "dark side" music, I wouldn't call it that, especially in relation to some of 156's other works which definitely are. Ethnomusicologists will have a field day analyzing, dissecting and categorizing this recording as well as attributing which (primitive) cultural influence is in play in which piece. (Track names such as "Kokoro," "Demeter and Persephone Run From Hades," "Winds of Vayu," "Dance of the Ophites,"and "Chodpa" certainly add ethnic flavor from ancient Greece to Asia.) So what we have here is more ancient World Music than anything else. The recording is excellent, in part because it was mastered by James Plotkin, a name you ought to know from Scorn ('Evanescence,' their best work in my opinion), and numerous other projects, collaborations and solo recordings. This 10" comes on bone-colored vinyl with a lavender sleeve and is limited to 489 copies. Not cheap, but worthy. If you prefer, it is also available as a digital download from 156's Bandcamp page where you can preview any and all tracks. I would highly recommend that. I believe 'Memento Mori' is an
important work that brings ancient musical tradition to light in a way seldom heard in this day and age.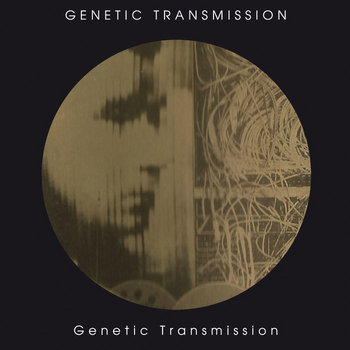 Artist:
Genetic Transmission
(@)
Title:
s/t
Format:
CD
Label:
Zoharum
(@)
Distributor:
Alchembria
Rated:
This release marks the beginning of a series of reissue of the works by Genetic Transmission after the release of "Last" which closed the adventure of this polish band. The first one in this series is the debut tape released in 1997 and constructed using only analog sources and instruments at the down of the digital age. Since then Tomasz Twardawa developed his career with a bunch of releases that perhaps deserved a closer attention.
As all the track are untitled this album sounds as almost a single track in 9 parts. The first one starts with a menacing atmosphere which seems created by tape loops while the second one deals with noises and a pulsating background. The third one is centered upon a mechanical beat and the fourth is even more obsessive. The fifth track returns to a more noisy environment based on distorted sounds and filtered vocals while the sixth one is closer to certain dub manipulations and the seventh is a tireless juxtaposition of sounds. The eight track revolves around a rhythmic cage which surrounds the synth and the ninth one closes this release with a barrage of sounds.
The impressive aspect of this release is that it sounds fresher and newer than a great part of releases under the term industrial so it's a sort of melancholic postcard of an era where artist were more used to confront themselves with an audience rather than wheedle it with a codified language. Almost essential.
image not
available
anymore
Artist:
Unsettled Dust
Title:
Formless Realm
Format:
CD
Label:
Black Mara
(@)
Rated:
Unsettled Dust is one of the few artists that could be well described as 'underground' as no information is available on the web for this artist and there's no liner notes for this release so the listener is left alone. This release is a typical dark ambient release that is centered on the development of an atmosphere and the development of a drone with slight modification to escape, or underline, stillness.
The soundscape of "Formless realm" which opens this release is as canonical as crafted: layers of sound are juxtaposed until they sound as static as moving; every section of this long track is marked by a layer in the foreground while the previous slowly enters in the background. "Stream enterer" is based on slowly moving drones which hypnotize a listener with a proper attitude. While the first part of "Appeasement" is perhaps too predictable, the second one tries to bother with subtler sounds until there's a return to the first part of the track. "Accomplishment" closes this release with a sort of field recordings immersed in a slowly moving drone which surrounds silence.
This is that kind of release that will be loved by fans of the genre as will let uncertain the listener searching for the next big thing. Nice but only for fans of the genre.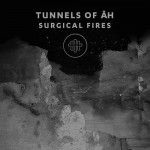 Artist:
Tunnels Of Ah
(@)
Title:
Surgical Fires
Format:
CD
Label:
Cold Spring
(@)
Rated:
According to the liner notes, the title of this release, "Surgical Fires", alludes to psychic surgery and, so, it probably marks a reference to the first days of industrial where a theme as mind control was central but this album doesn't present any explicit message but instead tries to build an atmosphere of conflict and inconvenience from the beginning to the end.
The mechanical sound of "Demonic Forms" opens this release and introduces the listener towards a relatively canonical industrial sound which evolves in a noise crescendo in the second part of the track. The development of "Purging Process" is almost meditative even if using noisy sources while "One Hundred Gates + Eight" is even more subtle in his construction with the juxtaposition of voices above a deep drone and sparse samples. The contrast between ambient and noise is further developed in "Mind As Corpse Bearer" and "Release Of The Burning Mouths" where the second element is never able to overwhelm the first while in the foreground of the central part of the track. "Black Air (Exhale)" is a return to the abrasive framework of the first track while "My Love To The Lordly Cobras" which features the vocal contribution of Soror Anji Cheung skims the territories of certain ritual music but without the hypnotic effect. "Emission Through A Hole In The Head" closes this release starting as noise track and evolving into a sort of song when the voice seems to start chanting accompanying the development of the noise towards a resonance.
This new release by Stephen Ah Burroughs marks a development towards a personal and crafted sound even in a codified tradition so it's something that could well fit the taste of fans of old school industrial but also fans of more modern approaches. It's worth a listen.