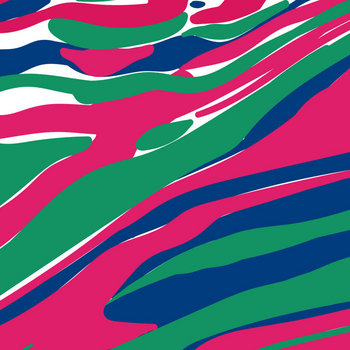 Artist:
WIDT
(@)
Title:
s/t
Format:
CD + DVD
Label:
Zoharum
(@)
Distributor:
Alchembria
Rated:
WIDT is an audiovisual project of two sisters, Antonina Nowacka and Bogumila Piotrowska, so the visual part of this release is not separable from the audio part. This work is based upon a fixed structure for both his parts: the audio track is based on voice upon an electronic background based on noises and synth while the video part is based on simple geometric figure and color manipulation. The result is as old fashioned as coherent as it's a way to construct an artistic experience with the minimum of the means.
The audio part of "Soma" based on the evocative processed voice of Antonina Nowacka is interpreted by Bogumila Piotrowska with abstract geometric movement originated by a central blue line. "Bogurodzica" is based upon modification of a blue screen almost synced with the transformation of the track when noises begin to interfere with the voice and (ir)regular shapes with the appearence of other colors. "Sole Thithu" is focused on modification of a circular figure obtained by his movement matching the audio structure based on the dialectic between the voice and the noisy accompaniment. "Bardo" is apparently using the same structure but with a rectangle and it's slower as it has to deal with a rhythmic track whose obscurity is broken when the voice appear and the screen begin to be noisier as the audio spectrum. "Bharpa" alternates minimalistic parts with a black background and a red point with moving colors so it's the background moving instead of the red point while the audio part moves from an ascetic minimalism to an hypnotic second part based on rhythmic noises and tones. The figure of a rhombus is the base of "Joleusa" an evocative tunes based on resonant tones and voice and, while the sound begin more stratified, the changes in the colors begin to blur the figure until it became no more identifiable. "Ailaja" features a triangle which appears and disappear while the audio track unfold as the voice takes the track from a pulsing quietness to a noisy stasis.
While reworking old artistic codes, it unfold the concern that it's not a release that aims to be ground breaking but an idea of art based on few element to be creatively used rather to impress the listener with void special effects. To be enjoyed without any expectation but with a clear mind. A radical release.
This new digital-only release by Audiobulb is from a French composer, Laurent Girard, at the threshold between pop and ambient music. This new release is presented as constructed using different background noises from various media as sound sources and seems a constructed release as the eleven track are named from "int1" to "int6" with five interlude from "sn1" to "sn6".
A track as "int1" introduces the listener into the framework of this release: the noise are used to generate a background while the synth develops a typical ambient structure while "sn1" contradicts the premises of this review: this five tracks are the core of this release as they are longer and whose samples are placed to generate a sort of narrative. So, "int2" is a gentle piano track introducing "sn2" whose editing underline the rhythmic element. The notes of "int3" are a meditation which introduces the even stronger rhythmic structures of "sn3". The quiet guitar of "int4" influences the reception of "sn4" that sounds as an almost techno tune. The almost vintage sound of "int5" is mirrored by the more classical avant-garde mood of "sn5". The drone of "int6" close this release in an almost canonical way.
An incredibly enjoyable release even if it doesn't use any particular pop form but the idea of using the interludes to isolate the most experimental tracks is able to balance complexity and simplicity. Recommended.
Artist:
Pleasure Symbols
Title:
Pleasure Symbols
Format:
12"
Label:
Avant
This is the debut EP from the Australian duo of Phoebe Paradise and Jasmine Dunn. The tracks on the flip side, "Ultra Violence" and "Control", were released digitally in 2014, but technically it's still a debut.

It's pop music but not as most people would know it. While their promo photos suggest something a little more modern and alt-pop, sonically this owes a lot to 1980's alternative music- thick, cold guitar twangs channeling Joy Division, uber-simple drum patterns, distinctly analogue-ish synths and a raw, live feel to the use of reverb in the production. The lyrics are barely distinguishable and it's deeply sincere and straight-faced. It's "Control" that shows the greatest pop sensibility of the set and leaves you wondering what would happen if you pumped this band full of caffeine and let them loose.

It's not oozing in originality either in the sonic arrangement or the songwriting, but it's still a worthy, deeply chin-stroking lo-fi release full of angst and nihilism, for teenagers who've inherited their parents' genetic disposition towards post-punk rebellious goth-pop, regardless of whether their parents have admitted it to them yet or not.
Maybe the cover artwork doesn't help in guessing the content of this interesting hybridization that Norwegian drummer Paul-Nilssen-Love and his Large Unit, a super-group of fourteen musicians - including two drummers, two saxophonists, one trombonist, a trumpet player, two percussionists, two tuba players, one guitarist, two (one electric, and one acoustic) basses and, last but not least, a guy on electronics -. It could look like the cover artwork of a techno album, but what this ensemble began to plan just some hours after a superb concert at the Oslo Jazz Festival in August of 2015 is one of the most striking crossbreeds of Western contemporary jazz and Brazilian music. It coincidentally occurred something that enhanced the listening of the whole album: just some minutes before pressing play, I watched to some clips, which documented the protest against the Olympic Games by some Brazilian people, who threw objects against torch-bearers surrounded by local police and some of the "skronkest" moments of this release, particularly the ones featuring the second part of the final "Circle In The Round", which could be the perfect soundtrack of those scenes. Besides this totally casual association, this fabulous suite, where an important stylistic and tonal dosage of Brazilian music came from Paulinho Bicolor (cuica, triangle, and tamborin) and Celio de Carvalho (congas, bongos, tamborin, pandeiro, berimbau, caxixi, and drums), as well as by the way by which some wind instruments performed, combined some astonishing polyrhythmic sessions, really eruptive electronic grasps, unexpected instrumental explosions, the bizarre dynamics of free jazz and some more or less energetic and joyful phrasing of different styles of Brazilian music (particularly the sonorities of Bahia). According to Nilssen-Love, the bridge between his musical searching and Brazilian music lies in the fact that both of them could be considered as "a celebration of life – a celebration that should be loud, rhythmic and intense" and such an intensity is vividly perceivable in the whole sonic stream that this enlarged team managed to render (superlative the 28 minutes of the main suite "Riofun"). It could deserve a place on the podium as one of the fuzziest free jazz outputs in recent times.
Artist:
VV.AA.
(@)
Title:
Now It's Dark - David Lynch Tribute
Format:
CD
Label:
kultFRONT/Zhelezobeton
(@)
Rated:
'Now It's Dark' the David Lynch Tribute is an album of 11 tracks by 11 Russian artists who explore the darker side of Lynch's oeuvre. I readily admit I'm a Lynch fan, but not a fanatic. The release of this album caused me to visit David Lynch's filmography, and I came to realize that I was more of a dilettante than a connoisseur of the Lynchian world. Sure, I've seen Eraserhead, The Elephant Man, Dune, Blue Velvet, Wild at Heart, Industrial Symphony No. 1, Twin Peaks - Fire Walk with me, Twin Peaks TV Series, Lost Highway, Mulholland Drive, The Straight Story, and even Inland Empire (yeah, I sat through the whole three hours of it, plus the bonus material) but Lynch's body of work extends even beyond that. Here, the emphasis is on DARK, not absurd, surreal, quirky, or merely strange. For the most part, these pieces are dark ambient industrial, but there is some variety. You won't be hearing any Angelo Badalmenti style noir jazz or Julee Cruise warblings (which is sort of a shame) on this album, but nevertheless, there is some interesting music. Light Collapse kicks it off with "Homunculus of Henry Spencer" (Eraserhead), a piece that juxtaposes chaotic industrial noise with struck ringing bellish tones. Dvory contributes "Dark Eye" in which sustained, mournful trumpet notes float over gloomy dark ambient drones. "Prelost" by Povarovo features sparse reverberated and echoed piano notes and chords with breathy saw-like ambience. DMT's "Lynch2712" is a lengthy, rich, industrial dark ambient track with deep, shuddering drones that goes through a variety of permutations to keep it interesting. Wonderblock's "U-Turn to Lost Highway" is a spooky, muted dark ambient track punctuated by a low, dull, percussion loop. Great atmosphere. Skripp introduces "Lynch Law" which consists of a thick wall of medium to high industrial drone over pounding heartbeat low percussion. Sal Solaris's "Garmonbonzia 2.0" begins with a factory machine loop, then a bell ringing over seething low drones. More diversified factory ambience presents itself until the track's conclusion. Relic Radiation mines some "Arrakis Cinnamon" (don't know why they didn't opt for Melange) in this Dune homage, which is the spaciest track on the album with cosmic synths and sequencer, reminding me a lot of the psy-trance genre. Actually, this one is sort of my favorite track on the album. "Mind in Motion" by Kryptogen Rundfunk starts out as menacing dark ambient, then introduces a Lynch-load of staticy noise, a manipulated sample of the Mentat Mantra from Dune- "It is by will alone that I set my mind in motion..." and a lot of other sonic effluvia. Reutoff calms it down (at first) with the seemingly meditative "Blue Room with No Doors" that morphs into a rhythmic industrial piece with an abstract bellish melody. Nice. It all ends with "Eraserhead's neighbors" by Arcuation, which relies heavily on muscular feedback, along with discreet percussive elements. Overly long and unpleasant.

No doubt this compilation has its highs and lows, and what appeals most to me may not to you, but it has some merit in its differences. As a David Lynch tribute though, I didn't find it completely satisfying, and thought it could have used some more traditionally musical, but equally dark contributions. It may however, bring to light darkside Russian artists who might not otherwise have gotten the exposure due to Lynch fans seeking out anything to do with him. The cover by the way is a fragment of a painting by Chris Mars titled "Special Agent Gordon Cole". Limited edition of 200 copies in a glossy six-panel digipak.