Artist:
Teruyuki Nobuchika
Title:
Still Air
Format:
CD + Download
Label:
Oktaf
"Still Air" is a mellow and relatively modest 27 minute collection of gentle electronic ambience with a familiar construction- melodic drones, long reverberant bell-like sounds, quiet glitchy white-noise-sourced light rhythm patterns, sparse far-away piano notes, occasional sustained plaintive string sounds, and natural-world found sound for ambiences. It leaves you with the feeling that either you've heard it before, or you've heard something very similar to it before.

But while it might not be a deeply original recipe, it's still a lush end product. The elements work together well, and there's a steady progression between the tracks. It's beautiful, but it's somewhat curtailed. "Le Reve", for example, under three minutes long, should have been allowed to go on its own journey, extrapolated out to eight minutes or more to explore what would have been possible by wallowing in the atmosphere for longer. As it is, on tracks such as "Into The Silence", it feels more like a sampler disc. I had to check online to make sure I wasn't reviewing a "radio edit" version of the album.

A highlight for me would be "Erosion", one of the more tense pieces, with its muted distant orchestral build, repeatedly arriving and dropping into nothingness.

If the pieces on this album had been allowed to breathe and evolve into an hour-long work or more, it would have made for a luxurious, immersive listen. At under half an hour, there's a slightly under-baked feel to it.
Artist:
Fractional
(@)
Title:
Tepes
Format:
CD
Label:
Raumklang
(@)
Rated:
Belgian electronic music artist Fractional, aka Pierre Remy, aka Eugenie has been putting out albums since 2004 and 'Tepes' is Fractional's 5th album (not counting the 'Blood Remixes'). Much of Fractional's previous output has been atmospheric electronica with excursions into breakbeat and jungle, some dark, some light, some tracks better than others, but always interesting, and definitely experimental. Fractional's 'Tepes' is more focused on the industrial with a harder edge and razor keen incisiveness. Gone are the breakbeats (for the most part) and noodly synth lines that sometimes appeared in previous compositions. In their place is a pervasive heaviness and doom that shrouds the entire album. I'm not saying this is a bad thing; quite the contrary. The stately staccato, near classical chord progression that open the album on "Tess" give way to an industrial trudge with squalls of synth noise that just steamrolls over you. "Lahle" begins almost as a dark ambient piece which builds into a crushing industrial rhythm with occasional atmospheric breaks. Music for Godzilla to be sure. Title track "Tepes" gives me the impression of what Bill Leeb's Noise Unit could have been if he was more focused on the industrial and less on the ephemeral. Fractional has a way of taking tired old progressions and breathing new life into them on this album; simple in concept but utterly awesome in execution. Another thing Fractional seems to excel at is incorporating weird sample loops such as native chanting and Tarzan yell mixed with hard rhythmic industrial beats as on "Thirsty". Synth sounds are more industrial than Fractional has ever used before, often with plenty of overdrive and distortion. Not to say there is no let up- brutal passages are often juxtaposed with quiet ones for good contrast. My favorite track on the album though has to be "Vampyr" with its old world flavor combined with potent pounding beats and virulent feral rhythm. It is the incorporation of melodramatic antique piano and violin along with odd dialogue snippets that really makes this track crackle. It captures the essence of the vampyr as bestial predator, as opposed to the latter day sparkly romantic Twilight creatures. Immediately following "Vampyr" is an over 9 minute excursion into sub-bass dark ambient, infrequently interrupted by some brief electronic sonic effluvia. No rhythm here and the unwary listener is likely to be lulled into a state of narcolepsy. This is just the uneasy calm before the storm that erupts on "Cestje" pummeling you senseless with all the industrial prowess Fractional can muster. If you thought THAT was heavy, just get a load of "Lod," a track with total overkill in brutal beats and noise. "Vine" continues the electro-industrial assault, and maybe by this time you've had enough. Maybe not. Final track "Field" comes across like hard industrial dubstep with a heavy hand on the mod-wheel, and a little dirgy. It's probably the weakest track on the album. I would have preferred it going out in a blaze of glory. Be that as it may, Fractional gives industrial music fans a lot to chew on with 'Tepes' and all without the support of vocals and lyrics, remaining engaging throughout.
Artist:
The Thought Criminals
(@)
Title:
Dirty Electro
Format:
CD EP
Label:
WTII Records
(@)
Rated:
Not to be confused with the Aussie punk band from the late 70's, early 80's by the same name, these Thought Criminals are a London, UK-based electropop band formed in 2005 with Kirlian Blue (synths, backing vocals), Rocky Goode (vocals, lyrics) and Danny Fades (bass). 'Dirty Electro' is their 5th release since 2007 counting an album and three
maxi-singles. This is a band with plenty of attitude, as evidenced by titles of previous songs such as "Cyberslut," "Date Rape Lovers," "Pappa's Got a Brand New Gun," "My Baby's a Suicide Bomber," etc. I wouldn't say that their style has changed much over the last decade, but the 'Dirty Electro' 5-track EP does find the band a bit more focused, and perhaps more serious. Being produced by veterans Tony Messenger and Rob Henry likely helped as well.

Beginning with the guaranteed club hit and title track, The Thought Criminals conjure early 80's style electropop in the vein of Soft Cell, Frankie Goes to Hollywood, New Order, Gary Numan, OMD, etc. Killer hook, and a slowed-down instrumental break make this a potent track indeed. Some might argue the slowed-down instrumental break kills the dance momentum, but I disagree; it's what make the song really stand out. While "Dirty Electro" is upfront and in your face, "Watching You" sounds a little distant, as if it was recorded down the hall. A song about the paranoia of surveillance (and London is one of the most surveilled cities on earth), nobody's gotten as much mileage out of the words "watching me, watching you" since the Thompson Twins. Still, it delivers. The somewhat spare "Depression" offers plenty of clever lyrics ("Low grade depression, look at my expression, I'm three of the nicest people that you'll ever meet...") and still kills it for the
dancefloor. The big surprise though is "Into the Lebanon," a messy instrumental track that just may be the most creative thing on the EP; a cornucopia of wiggy analog synth sounds cooked up by Mr. Blue reminiscent of the earliest Human League. Final track "Eat Me on the
Dance Floor" makes good use of Rocky's cheekiness in the vocal and lyric department, even though it's a definite B-sider. So if you like your electropop with a bit of attitude you will undoubtedly like this EP
Artist:
Leighton Craig
Title:
Green Coronet
Format:
Tape
Label:
A Guide To Saints
(@)
Rated:
Eight years after "11 Easy Pieces", his debut album on Room40, Brisbane-based sound artist Leighton Craig comes back on A Guide To Saints, subsidiary magnetic tape-focused label of Room40 itself, by an album that got named after the Phase 2 amplifier by the Australian company Coronet, whose fuzzy tones got used during Craig's home studio recording. The four long suites he recorded features are just apparently narcotic, as listeners will soon understand that he lets collide and merge the gently melodic lullabies with the field recordings he grabbed by means of microphone who stole mostly natural (but also "artificial") sounds in the places where Leighton recorded them (Kindling House, Brisbane, Australia, in August 2015 and Taupo Bay, Aotearoa, in January 2015). This process of amalgamation gradually bring to a sort of contamination of the unnatural narcosis, induced by the aquatic loop of the opening "Green Shroud", the hypnotical almost flat tones of a kind of synth-organ and a line that resembles something in between a clarinet and an ocarina of "Drowned World", the caressing touch of the ethereal loops of "Arc The Solar Causeways" (whose quiet sonorities seems to get gradually polarized) and the bizarre dizziness of the final "Divided by Zero", the track where the contrast between a kind of unreal subtropical laziness and a disturbing scream-like noise escalates. I could describe the idea that such a listening could inspire by portraying a guy, who leads a life of so clouding bliss in his own tropical isle, that he doesn't consciously care if the poison of a scorpion could paralyze his body, the jaws of a shark could tear it to pieces or a forest fire reducing it to ashes, even while one of these tragic happenings will occur.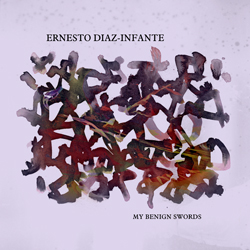 Artist:
Ernesto Diaz-Infante
Title:
My Benign Swords
Format:
CD
Label:
Public Eyesore
(@)
Rated:
"My Benign Swords" marks a partial depart by this guitarist from his previous release as, instead of his usual strumming, he tries a more complex framework. From this point of view, "My Forgotten Stars" sounds as traumatic start with his unidiomatic lines. The extended technique that opens "Fear of Love" introduces sparse notes as a distorted version of some romantic tune so, when the strumming returns in "Fear of Going Crazy", there's a sense of confort as an expectation fulfilled but it's suddenly ended at the middle of the track when, with a sort of tapping, he returns to unorthodox territories. The quiet lines of "Yin" sound as a sort of rest while "Moving Away From My Mind" returns to his recent style based on the sustain of his guitar and "The Inside Answers" returns to his strumming playing mode able to hypnotize the listener while "Where are you? Hope you're okay?" sounds as a glitch version of his music but without a laptop involved and the brief "See you soon" quietly closes this release with some questions about where he's going to go.
Experimental enough with his courage to go into new territories, he escapes those vague sense of repetition which could arise in his last release to puzzle the listener if he's thinking to go into even free jazz territories. It's really a surprise.