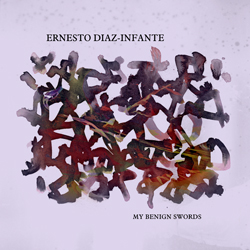 Artist:
Ernesto Diaz-Infante
Title:
My Benign Swords
Format:
CD
Label:
Public Eyesore
(@)
Rated:
"My Benign Swords" marks a partial depart by this guitarist from his previous release as, instead of his usual strumming, he tries a more complex framework. From this point of view, "My Forgotten Stars" sounds as traumatic start with his unidiomatic lines. The extended technique that opens "Fear of Love" introduces sparse notes as a distorted version of some romantic tune so, when the strumming returns in "Fear of Going Crazy", there's a sense of confort as an expectation fulfilled but it's suddenly ended at the middle of the track when, with a sort of tapping, he returns to unorthodox territories. The quiet lines of "Yin" sound as a sort of rest while "Moving Away From My Mind" returns to his recent style based on the sustain of his guitar and "The Inside Answers" returns to his strumming playing mode able to hypnotize the listener while "Where are you? Hope you're okay?" sounds as a glitch version of his music but without a laptop involved and the brief "See you soon" quietly closes this release with some questions about where he's going to go.
Experimental enough with his courage to go into new territories, he escapes those vague sense of repetition which could arise in his last release to puzzle the listener if he's thinking to go into even free jazz territories. It's really a surprise.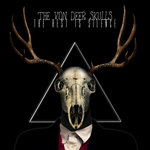 Artist:
The Von Deer Skulls
(@)
Title:
The Rest Is Silence
Format:
CD
Label:
Wraith Productions
(@)
Rated:
Listening to this new release from The Von Deer Skulls is something similar to listen to a couple of albums simultaneously as they write songs where a Doom Metal section is followed by a Post-Rock one, an Ambient moment by an Industrial one with a Prog attitude acting as a glue for all this pieces. The result is somehow puzzling and challenging and it's not something that could be simply categorized while asking an active attitude from the listener.
"Strong And Fragile" opens this release alternating moments of calm with explosions of fury and is resolved in an almost ambient moment. The spoken words of the first part of "The Fall Of The Raven" introduces a track mostly based on a sort of theatrical vocals upon a doom metal which evolves in a sort of progressive music while "Twilight Of Innocence" is more canonical in his structure and "Birth Of The Freak" creates an evocative atmosphere between ambient and post-rock. "Tabula Rasa" is a rhythmical tour de force while "The Fake Me" starts as a continuation of the previous track and ends with impressive accelerations in a noisy framework. "Personal Hell" is a relatively canonical doom track while "Swan Song" revolves around a bass lines until the guitar enters and takes the track into more experimental territories. "Ritual" closes this release with a rhythmical track where the drum is in the foreground and the other instruments creates a sort of soundscape when the attention is elsewhere.
A complex release where all the influences aren't blended into a single, and personal, form but arise almost singularly taking the listener's attention. A sure pick for listener of unorthodox music.
Artist:
Sun Ra | Merzbow
Title:
Strange City
Format:
12" vinyl + CD
Label:
Cold Spring
(@)
Rated:
Recorded music is able to generate a fistful of dreams and this is one of them: when Sun Ra died in 1993, Merzbow was beginning to be known outside of a niche of noise fan as his music was published by european or american label, instead of ZKF, and for some oddities as the merzcar. So, a collaboration between the two was unlikely to exist but, as Cold Spring obtained some rare and unreleased tracks from the Sun Ra archive and asked to Masami Akita to remix them, time collapsed by means of recording music. The result is a release in two format with different music for each medium.
The CD is composed of two tracks and few notes of sax in "Livid Sun Loop" introduce the noise part of Masami Akita which, instead of overwhelming everything, tries to create a dialogue with the music of Sun Ra which is one of the layer of the usual sonic merzbau. And "Granular Jazz Part 2" is even more effective in the development of a sort of noise jazz as, when the music of Sun Ra emerges more clearly, it doesn't sound as an alien element. But the real surprise arrives with the LP as "Granular Jazz Part 1" stands upon the more music oriented output of this release as the noise has a real development trying even some small dynamics while "Granular Jazz Part 3" has even some "quiet" moments and "Granular Jazz Part 4" close this release sounding leaving sometimes the illusion that this recording was real.
Instead of being a noise release using the name of Sun Ra as a smoke and mirrors, it tries to fuse the two language and it's a reminder about some jazz purists called free jazz as noise. Recommended but handle with care.
Artist:
Will Samson
(@)
Title:
Lua
Format:
Download Only (MP3 + Lossless)
Label:
12K
(@)
Rated:
I have never experienced a general anesthetic. Fortunately. The people who tried such an experience described the awakening after that induced sleep as a state of mind between a vague sense of shock and an ecstatic feeble-mindedness, where the surrounding entities seems like coming from a kind of muffled wonderland, where nurses could look like smiling seraphic beings, and the surgeon takes the semblance of a gingerbread man. I recalled the seemingly enjoyable pleasures of numbing anesthetic, as the sparkle for this release by Will Samson (British composer and singer, known for a style combining lovely simple melodies, folk-like ballads and a way of singing that could resemble what a friend of mine labels as "post-castration style" such as the one by Bon Iver or Sigur Ros' Jonsi) was an accident occurring while he was relocating from the UK to Portugal, a traumatic injury to his mouth and teeth that forced him to drop the use of voice. I'm not sure he needed general anesthetic but I guess that during what he defined as "the surreal 48 hours in a Portuguese hospital bed" following that injury, some pitiful nurse should have given him some strong painkillers and they could have inspired the compositional process that let the sound flow like a leather in the air. According to Samson own words: "The whole process was about being open and allowing the music to flow out naturally, without letting my analytical mind become involved. To just press record on my tape machines and see what happens. This experiment allowed me to produce some honest documents of how I was really feeling at the time with all that was going on in my life. "Père" was recorded the day after returning home from hospital, with my friend Beatrijs De Klerck adding her violin parts a week or so later.". Besides the track mentioned by the author's memories, this brief release includes other four tracks: the opening "Antepassado" activated an old musical memory for some strange reason ("Tundra", a track signed by Patternclear, a relatively old tricephalic project by Kim Cascone, Don Falcone and Paul Neyrinck), while "You Are An Ocean", the lovely track that got co-signed by Benoit Pioulard, evoked the impressive clip for Samson's "Sanctuary". The delicate crystalline bells of "Electric Parade" and the gently burnt granules over a bright symphony, fed by strings and pad, of "Lua," perfectly render that blissful dazedness I described at the beginning of this introduction. The delicacy of this digital release could easily explain the reason why some cartoons feature flying and tweeting orbiting birds after a character experience a thunderous blow to the head!
Artist:
Lawrence English
(@)
Title:
Approaching Nothing
Format:
CD
Label:
Baskaru
(@)
Rated:
On the occasion of the release of his "Wilderness of Mirrors", the hyperactive Australian producer Lawrence English (the head behind label Room40, who signed many releases on excellent labels such as 12K, Sirr, Cronica, Touch, Line, Important) described that output as "an invitation to anyone who hears it to join me" in a related interview for our webzine. The release I'm going to introduce briefly could be somehow related to that kind of sensorial metempsychosis, a sort of corollary of that invitation, he was referring to, a process that he clearly described in his essay "Relational Listening: The Politics of Perception": "relational listening provides a systemic framework through which artists and other concerned practitioners can explore the conditions of their listening, specifically in the context of the desire to transmit those listenings". The strongest connection of this album, as most erudite listeners would have grabbed by reading its title "Approaching Nothing", is the one that Lawrence established with one of the miliar stone of that branch of sound art that incorporates concrete sounds, Luc Ferrari's first part of "Presque Rien" (French for "Almost Nothing"), an output that was considered as one of the most controversial by GRM scholars themselves, as concrete music got mostly based on the manipulation of real sounds to the point that it was sometimes difficult to understand the source. The recordings that Ferrari grabbed an unknown and sleepy village, Vela Luka (formerly in Yugoslavia, now in Croatia) in the middle of summer in 1967, came almost as they were, so that his work got initially labelled as a sort of aural documentary and nothing else, but most of GRM composers didn't initially understand that Ferrari's revolution was lying on an entirely different approach, a concept that took years to be understood and assimilated. Lawrence traced back Ferrari's steps and decided to go to the same village in 2013 to grab some field recording and follow the same "compositional" approach, where the role of the composer is limited to editing and juxtapositions of the recorded material. Likewise his famous predecessor, "Approaching Nothing" is going to be perceived by the listeners as a sort of contemplative and authentic walking in the streets of Vela Luka, where all the sonic elements have been left totally untreated and consequently easy to recognize. Don't make the mistake of labeling it as nothing but a sonic documentary.