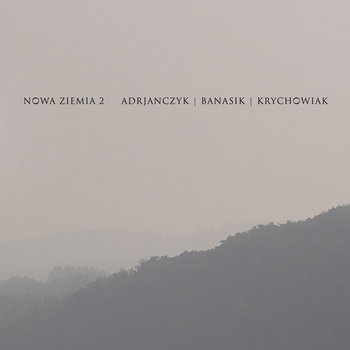 Artist:
Nowa Ziemia 2
Title:
Adrjanczyk | Banasik | Krychowiak
Format:
CD
Label:
Zoharum
(@)
Distributor:
Alchembria
Rated:
Nowa Ziemia is the project of Artur Krychowiak, a guitarist who seems somehow influenced by certain post-rock. After his first obscure releases, Nowa Ziemia 2 is the name of this collaboration whose result is two duet with Dawid Adrjanczyk and Micha Banasik. This music stands on the path of some post-minimalism where the basic form is modified with the introduction of elements from ambient and especially EAI.
The first track, "Banasik & Krychowiak", starts quietly with a drone in the background and a sort of guitar loop and it evolves slowly as the noises in the background starts to emerge from the musical settings, the guitar begin to articulate small phrases and the drone continues his evolution. The field recordings which close the track introduce the listener into the second track of this release, "Adrjanczyk & Krychowiak", which starts as an abstract track based of continuos mass of sounds, closer to continuous tones rather than drones, and during this evolution the guitar evolves into a strumming until, at half of his length, the track returns to a drone and reverberated chords of the guitar and goes into a sort of meditative psychedelic rock.
Apart from some lenghtiness, this tracks shows some ideas to escape the limits of a writing that is derivative of his models and underline how improvisation could be useful to add some color to a grey palette. Nice but only for collectors.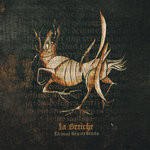 Artist:
La Breiche
(@)
Title:
Le Mal Des Ardents
Format:
CD
Label:
Cold Spring
(@)
Rated:
La Breiche is a project that could be classified in the Pagan Folk's genre but their music is not rooted in the canonical form of song, so they are clearly more inspired by ancient form of European music whose minimalism arose by the sound palette of instruments like the hurdy gurdy; so, "Le Mal Des Ardents" is a mostly instrumental album and it remembers how music was an accompaniment to other ritual activities rather than a form of entertaiment.
When the hurdy gurdy starts "Le Mal Des Ardents", the listener is introduced into something that is as tradition as not usual folk music as it's intended today as it's something tied to the usual form of song using voice and guitar. La Breiche use instead relatively complex melodies bound to a regular rhythmic structure. The hypnotic chant of "La Nef Des Fous" reveals the sense of atmosphere which is at the core of writing at the tension towards the creation of drones. "Apôtres Du Chaos" is an obsessive introduction to "Froide Lune" whose large section of quietness enhance the resonances of the gong while "Enfers" seems experimental as they border dark ambient territories using acoustic instruments. "L'Oracle Du Soleil" is an harmonic chant that creates a sinister atmosphere and "L'Antre Du Pesteux" closes this release with a sense of sound with is a traditional characteristic of electronic music rather than folk even if its final part return to a more canonical folk form.
Honestly, this is not a record for everyone especially those who expect to hear songs after reading the word folk in the description but it's recommended to curious ears that could find how the seed of minimalism, now narrated as a result of modernity, has a much longer story. Listen with care.
Artist:
5TimesZero
(@)
Title:
0K
Format:
CD
Label:
Echozone
(@)
Rated:
5TimesZero is a five-man synthpop band from Essen, Germany, and 0K (that's "zero Kay", not OK as in "okay") is their debut album. The one good thing about having five guys in the band is that in live performance there should be less reliance on computer assistance. It also makes for a fuller sound. The five guys are:
Attila Schuster, Carsten Rehmann, Hendrik Stefenhag, Jürgen Merkel, and Michael Hanses. They like to categorize the band as dark electro but it doesn't sound that dark to me. Fortunately these guys sing in English (with one exception in their native German, but it's a really good song) and '0K' is somewhat mature, but not necessarily totally serious synthpop. The production is really stellar here which is a great thing for a debut album. The majority of the tracks are club-friendly with some of them being real dancefloor burners. Vocals are pretty good and effective of carrying the melodic content. I'm hearing shades of Gary Numan, Frankie Goes To Hollywood, Heaven 17, New Order, Pet Shop Boys and to a lesser degree, Depeche Mode and Kraftwerk. While not every track is going to stick in your head like a gummy bear, there is enough variety and enough hooky melodies and vocals to make you come back for more. Best tracks are "Unimportant" (with a Freezepop sort of groove), "Don't Push Me," "Instrument," "Pyromaniniac," "Frozen," and "Augen der Grosstadt." Worst track is the goofy "Naked," an obvious joke with the lyrics "We are going to the strip club dressed in flip flops..(totally naked)...we are going to the strip club dressing the girls up." Overall though 5TimesZero is refreshing change from a lot of the newer synthpop bands on the scene these days that are just trying too hard.

Artist:
Descendants of Cain
Title:
Conversations With Mirrors
Format:
CD
Label:
Echozone
(@)
Rated:
Over the course of their existence, from 1998 on, London, UK-based band Descendants of Cain have released five albums prior to 'Conversations With Mirrors,' the music being mostly in the eclectic/esoteric gothic rock vein. Led by the enigmatic DM Kruger, the band seems to have evolved over the years refining their music and moving away from what could be called traditional goth rock into more art-prog territory, and with this album, a less culty and more commercially viable sound. Not to say they've gone pop, for that certainly isn't the case. Opening strong with "Shapes in the Mist," this is a song of comrades in arms, something I could hear being used in the pirate series "Black Sails," or maybe even a contemporary war movie. Its bold chorus of manly voices makes it somewhat anthemic, nothing like I've ever heard from D.O.C. before. (It's also the longest track on the album as well.) In "These Hands" DM channels the emotiveness of Peter Gabriel, and in a different way, this song is nearly as strong as the opener. "Lost in the Woods" gets kind of gothy-metal without succumbing to excess. "Unbreakable" is rather draggy and maudlin and "Scaring Crows" is similar but with a nice memorable chorus. "Shallow" reminded me a lot of Roger Waters in a down mood which is kind of typical for Waters. Thinks pick up dramatically with "Let Go" and its standout hook, along with some snazzy bouzouki. "A Thousand Years" introduces Nikola Jackson's lovely voice for some nice contrast, and this is another song I hear Waters' influence in, along with another band I can't seem to recall presently. "Defiance" once again recalls Peter Gabriel in a melancholy mood, augmented by a great string section. Final track "Lost to the Noise" is the only real bummer on the album; sparse plaintive piano melody with a woman crying in the background. Just sad. On 'Conversations With Mirrors' D.O.C. has a more massive sound than previously, and Kruger's voice is more varied than ever before making for an interesting time of it. I like this better than their prior albums ('Songs From a Vanishing World,' 'Hell Bar Blues') but I think there's still room for improvement. Its richly atmospheric, deeply emotional and introspective, and although many will dig it, there are some that probably won't, thinking it's too self-indulgent. Still, 'Conversations With Mirrors' is a work of art and the work put into it shows. Moving away from the strictly gothic into more alternative territory is always a risky move for a band with a cult following but if you don't take the chance when you really feel it, how will you ever grow?
Artist:
M. W. Wild
(@)
Title:
The Third Decade
Format:
CD
Label:
Echozone
(@)
Rated:
Unless you're really familiar with the German Gothic rock scene you probably never heard of singer M. W. Wild, and his previous band, The Cascades. They released four albums between 2001-2006 and although they received some acclaim in Europe I don't think they made much of a dent Stateside. As a prelude to this review I listened to a few of their songs and wasn't really impressed by them. Wild's 'The Third decade' is an entirely different matter though. Better recording, production, better musicianship, better songwriting, better all the way around. I tell you though, if you didn't know what you were listening to, you'd swear this was the new Sisters of Mercy album. The thing is, there is no new Sisters of Mercy album, and according to Andy Eldritch, there probably won't be one anyway because he's just not motivated to put another one out. IF the Sisters did put one out though, I bet it would sound a lot like this. Mr. Wild's baritone vocal style is uncannily close to Andrew's, and the songwriting, phrasing and overall performance is a dead-on match for the sisters. There are no "killers" akin to "Temple of Love," "Vision Thing" or "This Corrosion." There are however, some damn fine songs. "Red Carpet," "Marionettes," "Nobody," "Fly With Angels," and "Russian Roulette" are easily the best out of the thirteen tracks on 'The Third Decade.' The only downer is the overwrought ballad, "Turning Leaf," which isn't a bad track record, all things considered. I suppose beside the Sisters comparisons could be drawn to bands such as Red Lorry Yellow Lorry, The Merry Thoughts and 69 Eyes, but it sort of seems superfluous to me. MW Wild could have included a female vocalist on the order of Patricia Morrison to enhance the sound but maybe that would have just been to darn close. (Hey, I would have liked it though :-) So if you're hungering for some classic goth-rock ala Sisters, this ought to do the trick. Nicely done!