Artist:
Yellow6
Title:
Merry6mas2016
Format:
Download Only (MP3 + Lossless)
Label:
Silber Records
(@)
Alright so January 31st may be a little late or exceptionally early to be reviewing a Christmas release, but this "Merry6mas" compilation is about as festive as a brick wall. This package of unreleased or rare Yellow6 tracks is, like a dog, for life not just for Christmas. Specifically, it's for chilling out deeply at the end of the day, because it's 84 minutes of mellow, plaintive, reassuring sound space. Casual guitar strumming is deeply washed in thick effects and atmospheres. Four-chord patterns loop round at a sedentary pace.

There are 8 pieces, most around the ten-minute mark, all fully-formed complete works; this isn't a "scrapings from the studio floor" compilation. Each one has a unique pattern but they're all in the same sonic ballpark. The extremely distant drums of "dry#1" aren't enough to break the soporific mood, while the faintly twangy "Father" does sound a little close to what you'd get if you paid Mark Knopfler to make an ambient album in a day.

Despite being ordered alphabetically, they segue very neatly as a coherent album, with the more sorrowful "Window Through The Grey" and "Zooday" wrapping things up rather beautifully.

In a way the noodling of tracks like "Passing Thoughts" could be seen as self-indulgent, but when in the right frame of mind, you'll be very forgiving of that and happy to go along for the ride. Maybe it's bathtime music, maybe bedtime music, maybe cathartic, but it's worth having this in your music library.
It's the anxiety ray talking or pervading the tracks of the second ring in the chain by British Berlin-based producer Jake Woodhouse aka Pris. Following 'This Heavy Heart', its 4-track landing on Avian, the imprint by Shifted, alter-ego of Guy Alexander Brewer (mostly known to drum'n'bass lovers as a leg of the notorious project Commix together with George 'Endian' Levings and Conrad 'JJ' Whittle), 'Love, Labour, Loss' could be considered its sequel under Pris' own admission. Both of these releases seems to have been inspired by the sometimes painful process of growth, accelerated by the relocation to a foreign country, but I would also argue that the self-evident anxiety as mentioned earlier soaking Pris' sound is an irrational but sometimes logically consistent emotional response to the days we mostly experience. Anxiety sounds like gurgling in between the mechanical stress by which he pack the flailing and ghostly entities of the opening "Ad Infinitum", matching to the controversial ridgeline of technology as a tool of liberation and enslavement at the same time while listening both the excerpt and the extended versions of "Divinity"; it (I mean anxiety) almost becomes a subdermal electrical pulse leading to mystical experience in the ambient track "Crux", wraps the sonic wheezing in the suffocating electronic haze of "Sunk" and awakens the dormant instinctive side in the evoking industrial-veined techno hitting of "Feral Calling". Pris' masterfully assembled textures manage to counterbalance this overflowing of anxiety at least!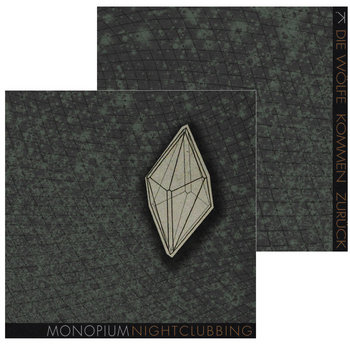 Artist:
Monopium / K.
(@)
Title:
Nightclubbing / Die Wölfe kommen züruck
Format:
CD
Label:
Zoharum
(@)
Distributor:
Alchembria
Rated:
This split release features two of the most interesting projects around: Monopium, with their crossover between music concrète and improvisation, and K., with their music centered on hypnotic rhythmic structures. For this album, they were inspired by krautrock but Monopium worked on the most experimental side of it while K. on the typical rhythmic structure known as motorik.
The Monopium's side, called Nightclubbing, is opened by "Kraut Rock", a track developed upon field recordings of a crowd, some noises and the typical drumming of the period, so it sounds as a sort of live recording in a club with a sharp channel separation (two noise generators for the two channels and the drum in the middle). While the previous track was mostly noisy, "Nightclubbing" is more meditative and based on samples manipulation of a voice recording which moves upon the stereo field. While "The First Impression" uses a voice samples and his manipulations on the left channel, noises on the right, "The Other" is a noise crescendo based on sinewaves and radio.
The K.'s side is based on another structure: the first track, "Introwolf", is based on an hypnotic melody developed upon single reverberated notes and a peculiar rhythmic structures which seems repetitive but has various skidding. The first part "Steppenwolf" is closer to kosmische musik as it's based on layers of synth until the drums marks the second part of the track where the guitar creates a rock environment. The almost martial beat of "Outrowolf" is the base for atmospheric synth lines which create an impressive sonic spectrum above whom the beat evolve into a completely deconstructed one.
While Monopium confirm themselves as one of the most interesting project around, K. is the surprise of this release which sound as travel though time and a celebration of a landmark period of music. Almost a must for everyone.
image not
available
anymore
Artist:
Mrako-Su
Title:
Путь В Белое
Format:
CD
Label:
Black Mara
(@)
Rated:
The short liner notes of this release state that "is dedicated to the loss of human nature […] for another condition in the lunar Winter" and so there's large margin for the interpretation of this complex vision of dark ambient. The structure of this release is a juxtaposition of drone mainly generated with wind instruments, like flute of didgeridoo, and percussions so there's a sonic link with certain folk, or ritual, traditions.
The opening track, "–––-–--––- –-––", is a long soundscape at the crossroad between ambient and certain ritual music as the wind instruments have a key role in the composition. "–––--" is based on an equilibrium between sound and silence while "–--––- ––––" juxtaposes elements in sequences so it's more like a journey while the previous track was closer to a building. The sustained tones of the first part of "––– –––--– –––-–– ––-–" introduce a second part where sound events beats time. When it seems that "–––––" closes this release with a drone, a rhythmic part introduce the flute melody which ends the track.
As a release with a certain sonic personality, it sounds different with the majority of dark ambient releases based on a certain numbers of clichés and the search for moments of disruption of the plain surface which is the image of this genre makes this release an oasis in the desert. Truly recommended for fans of the genre.
Artist:
Sote
(@)
Title:
10inch04
Format:
10"
Label:
REPITCH Recordings
Rated:
A sympathy for hardcore and gabber sonorities and maybe of the so-called pink elephants by Iranian producer Ata Ebtekar aka Sote was evident since some tracks and playlist he posted and played here and there. As in recent days, we're surprisingly witnessing a reprise of supposedly dead sonorities within techno scene; this outputs including a couple of long-lasting hyper-frenzy tracks, dating back the first of the second half of the nineties when the phenomenon of gabber-fuelled or hardcore-jungle rave parties was still booming. The most surprising aspect of both tracks is its quality, higher than the average one of the outputs orbiting around those sonorities. Sote compressed heavily distorted buzzes, thumping claps, amphetaminic pumping, rattling electronic bleeps and unusual insertion of breathtaking pad-synths in the 10 minutes of the massively punching hardcore techno "Neuroenhancer" (built in 1995), whose expanding decay and entropy correctly flows in "In Music I Trust" (a collaborative track he assembled with San Francisco-based DJ and producer in 1997), a bombing tune in between hardcore-jungle and so-called jump-up drum N bass that becomes more and more elastic and corroded (a spaced-out Prodigy-like yell and the abrasive distortion by which these guys filtered a piano string are really bizarre choices) after a somehow disorienting chilling incipit. Nicely dissonant meditation on conventional sonic fuel for old ravers.