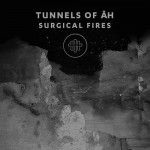 Artist:
Tunnels Of Ah
(@)
Title:
Surgical Fires
Format:
CD
Label:
Cold Spring
(@)
Rated:
According to the liner notes, the title of this release, "Surgical Fires", alludes to psychic surgery and, so, it probably marks a reference to the first days of industrial where a theme as mind control was central but this album doesn't present any explicit message but instead tries to build an atmosphere of conflict and inconvenience from the beginning to the end.
The mechanical sound of "Demonic Forms" opens this release and introduces the listener towards a relatively canonical industrial sound which evolves in a noise crescendo in the second part of the track. The development of "Purging Process" is almost meditative even if using noisy sources while "One Hundred Gates + Eight" is even more subtle in his construction with the juxtaposition of voices above a deep drone and sparse samples. The contrast between ambient and noise is further developed in "Mind As Corpse Bearer" and "Release Of The Burning Mouths" where the second element is never able to overwhelm the first while in the foreground of the central part of the track. "Black Air (Exhale)" is a return to the abrasive framework of the first track while "My Love To The Lordly Cobras" which features the vocal contribution of Soror Anji Cheung skims the territories of certain ritual music but without the hypnotic effect. "Emission Through A Hole In The Head" closes this release starting as noise track and evolving into a sort of song when the voice seems to start chanting accompanying the development of the noise towards a resonance.
This new release by Stephen Ah Burroughs marks a development towards a personal and crafted sound even in a codified tradition so it's something that could well fit the taste of fans of old school industrial but also fans of more modern approaches. It's worth a listen.
Artist:
George Lewis & Splitter Orchester
Title:
Creative Construction Set™
Format:
CD + Download
Label:
Mikroton
Comprising three more-or-less twenty-minute long improvised journeys, distinguished only by number, "Creative Construction Set" takes a well-established avantgarde orchestral performance format and sprinkles small amounts of live electronics in, but stays well within a moderately timeless and analogue structure that gives relatively little indication of its 2016 recording date.

The majority of the pieces are spent at peace- slow, mellow strings, soft hits, layers politely taking their turn, percussion sat at the back of the room never overpowering anything, and so on. But there are regular exceptions. Sixteen minutes into piece '3' (the first one- they're out of order), chaos arrives, cacophony happens. When it does, it's brief, very theatrical and borderline comedic, with an increase in the proportion of squeaks, slapstick clanks and clarinets quacking like ducks. Perhaps it's actually deeply political high art and it wants to be taken excruciatingly seriously, but to me it's quite endearingly childish in its un-virtuosity in these moments.

The other two pieces both have similar 'chaotic events', louder than anything else in the piece, as though everything that comes before it is patience and everything after it is recovery. (Longest piece '1' does have two such events, in a way, though the second one is less abrasive.)

The title "Creative Construction Set" (with a trademark symbol, though I don't know if that's genuine) implies a modularity which is fairly true in parts, as sections within each piece are quite discrete at times, but no more so than in other experimental pieces of this ilk and the title in a way is a fairly simple and not indicative of anything unique in the music, or seemingly in how it was created.

The twenty-five credited musicians include mostly traditional instruments, primarily string instruments like violins and cellos that are a common go-to sound for both tense plucking and sustained, otherworldly sobriety and for that 'strung out' feeling (pun sadly intended). The minority of musicians are credited for 'electronics', and even a 'reel-to-reel tape machine' and 'turntables', adding to the sense that this improvisation could easily have happened in 1976 rather than 2016 and would still have sounded spiritually very similar. With the exception of a brief reportage-sampling intro to piece '2', this is largely a familiar layout that was groundbreaking half a century ago but more commonplace, and not in a bad way, today. The interplay between patterns looping at different speeds across different instruments is at times very beautiful, at times raw and at times seemingly just loose.

This is a fresh but familiar-tasting collection of avantgarde modern classical that would certainly be worthy of gracing some of BBC Radio 3's experimental through-the-night programmes. I don't know if it was meant to, but it made me smile.
Artist:
Jessy Lanza
Title:
Oh No No No EP
Format:
12"
Label:
Hyperdub
This is a collection of three remixes of different Jessy Lanza tracks, bringing out some 'very Hyperdub' flavours- super-deep bass and atmospherics, complex rhythm patterns and minimalistic aesthetics dominate.

Morgan Geist's remix of "I Talk BB" is an odd hybrid of a slow, soulful, romantically-toned ballad and a cold, overtly digital tonal quality. It wanders surprising close to 'sexy slow' cliché territories at times and surprisingly, despite Geist's credentials, is the least successful track in the pack.

The radio-edit-like DJ Taye x Spinn remix of "Could B U" is in like with the thread of modern pop that's spacious, shiny, and which revels in its own simplicity; less is more here. The unexpected twist is the relentless pounding subbass, which listeners on smartphone speakers won't even hear- it's the focal point of the track and without which it's about as minimal as I've ever heard from pop music.

"Going Somewhere" seems to be a collection of YouTube beauty tip soundbites rather than a song, with DVA [Hi:Emotions] structuring their own brand new, Funkstörung-like sci-fi electro-glitch moodscape out of it. Bleeps and whirrs and mindtwisting panning ride over a staccato rhythm.

A neat bundle of super-deep reworkings for a serious bit of late-night, eyes-closed, headphones-on action.
This is a re-issue of a 6-track mini-album originally issued on Sijis in 2005, now remastered and reissued on Hauf's own Shameless label. A jokey and tongue-in-cheek press release accompanies a seriously deep set of tracks that sound like minimal techno that's been disassembled, then rebuilt in a slightly different order with half a dozen of the pieces missing. Many of the tracks are bookended, front back or both, by slightly industrial sonics and ambiences, but at the core of each track is a faint bassline and a drum pattern from which you could identify the original techno DNA long after it's been charred, chopped and microwaved extensively.

A steady beat steps in on second track "Mind Tapes" that momentarily suggests we're wandering into more mainstream house music territory, but don't worry, everything is under control, carefully metered and always restrained. "Le Chien" is also on the sedate side, a chance to enjoy a softly resonant kick pattern for several minutes, and "Violet Moon" strips things back even further to mere tones and the suggestion of rhythm, before final track "Corona" returns to a kickdrum, now resembling a heartbeat, as the bed for white noises and glitches falling like digital rain, before a distantly apocalyptic finale of far-away explosions.

"Clark" is perhaps as far removed from techno as it's possible to be whilst still being able to justify labelling it as techno, which I will, but this is an extremely deep, insular journey that benefits from focussed headphone listening. Releases like this have been appearing more frequently lately but for a 2005 release this was well ahead of the curve and its release is certainly justified.
Artist:
Anthony Burr & Anthony Pateras
(@)
Title:
The Long Exhale
Format:
CD
Label:
Immediata
Rated:
Well, try to imagine a couple of fictitious scenarios. The first one: you are inside a white room, and besides you, there's only one painting hanging on one wall; whenever you focus on a detail of the portrayed scene (any scene), it disappears and this process loop till only the framework or other relatively insignificant detail. It's like that piece of art or representation gradually lost its function without any other relation in an empty world. The second scenario: the initial conditions are the same of the first one, but instead of disappearing each detail you focus on detaches from the scene or changes by itself into something unimportant like a spot of color with no relation to the other portrayed elements. You could find such a preface slightly elusive, but for some mysterious reasons, the music your eardrums will meet in this output by Australian pianist, composer and electro-acoustic musician Anthony Pateras developed with his fellow countryman, the clarinet player Anthony Burr, whose path has crossed the ones of well-respected and well-known big names of American avant-garde and minimalist scene such as Alvin Lucier and La Monte Young, could get sticked to the above sketched scenarios. Belonging to the planned 15 volumes series of extremely limited CD edition on Pateras' dedicated imprint Immediata ('The Long Exhale' is the seventh ring of this chain), the seven meditations on clarinet, piano and electronics orbit around that declension of minimalism embodied by latest outputs by Morton Feldman, where any tonal life signs of each instrument are sometimes rare, as if they got narcotized by other likewise thin elements of the composition. It's what you'll notice on the opening "some association I didn't know about", where a sort of perpetual ARP oscillation acts like the opiate that drugged other instruments up, or on "that wasn't the idea at all", where thumping piano chords on lower keys seems to hamper any attempt of sketching a melody by the clarinet. Similar dynamics resurface on the other meditations, sounding like an attempt of making chamber music in a room filled with opium smoke. As for previous outputs, Pateras also included a 16-page booklet including the transcription of a long interview/conversation with Burr intended to focus on Burr itself by means of extensive talking about many different subjects (they covered the Brisbane underground in the 80ies, experimental rock of Chicago in the 90ies, hip hop, classical music marketing, and Burr's collaborations with Alvin Lucier and La Monte Young).