problems
with image
availability
Artist:
Docetism
Title:
Breaking The Circle Of Life
Format:
CD
Label:
Tavern Eightieth
(@)
Rated:
I had not heard of this Polish project, but the label explains that the album 'explores the idea of a peaceful escape from life and the service of impulse and desire, aiming to express the possible contents of such an escape. The result is a set of gentle, moving ambient productions combining forest field recordings and murky choral samples with dubby bass and thick, droning strings.' Sounds good, so let's get into the music. 'Poisons' kicks it off with a 2 minute track of peaceful dark ambient. Then 'Parsifal' shifts gears as the clouds part and the sun appears overhead. Peaceful, hypnotic music with a bass line buried low in the mix (at first I thought it was coming from the car next to me). 'Forest Monks' brings the beat to the forefront with a prominent bass drum and voices singing and chanting. The overall feel is still pretty chill, though. Next up, 'The Wheel Of Ixion Stands Still,' a title which comes from the Schopenhauer quote in the liner notes, keeps the mellow vibe going with slow moving, peaceful ambiance and ethereal female vocals. Finally, 'Samadhi' features heavily processed spoken word that seems to be guiding a meditation session at the beginning, middle, and end. Singing bowl tones open and close the track while heavy drone permeates the track. A bass beat runs through it like a heartbeat, adding to the contemplative feel. The best way to describe this disc is something to put on when you need to slow everything down. Very chill stuff. This album is limited to 100 copies and weighs in at around 32 minutes.
Artist:
mic&rob
Title:
Archi Cons
Format:
CD
Label:
Amok Recordings
(@)
Rated:
I couldn't find much on this duo from France. The label describes them thus: 'mic&rob is live experimental electro-dub-jazz techno music by Nicolas Boutines and Pascal Gully.' Yes. That clears things up. So let's dive right in. 'Allegro' kicks it off with glitchy music reminiscent of 8-bit video games and toy voice box synthesis over warbling, heavy bass drone. It's fun, but at over 18 minutes it seems to go on a bit too long. Next up, we have 'Adagio,' which reminds me of Negativland's sample-heavy music, only without the humor or political commentary. We have snippets of Bach's 'Jesu, Joy of Man's Desiring,' but performed through a slowly disintegrating midi file, which is then joined by samples of the horns from Masterpiece Theater, and eventually a children's choir joins in the ruckus. "Menuet" gives us some of the 'electro-dub-jazz techno' as we even have something of a beat here, although it is not really much you could dance to. Heavily processed voices mix with the occasional clear sample (e.g., 'the bass drum'). Finally, we have 'Rondo,' with clattering noises and percussion throughout, which seems to slow down over the course of the song. There's a lot going on here, but I found it to be less engaging than the rest of the album. Thankfully, this was the shortest track on the album. Overall, this was a pleasant listen. This album weighs in at around 55 minutes.
Artist:
Fanum / Karna
(@)
Title:
Something Else
Format:
CD
Label:
Zhelezobeton
(@)
Rated:
I was not familiar with these Russian acts, but I have enjoyed the material that Zhelezobeton has put out over the years so I was interested to see this addition to the label. Before you even put the disc in the player, you'll notice a quotation on the disc from Y. Mamleev that states 'We have to know how to suffer without a reason... We have to master pure suffering, have to learn to suffer amidst happiness.' This may give some indication of the feeling that they are trying to evoke here. Thankfully, this was anything but suffering. First up, we have Fanum, with the track 'Final.' This is a nice slab of spacey dark ambient that the label describes as 'an unhurried drift through deserted mechanized spaces, slow loops of soft noises and streams of vibrant drones. It seems like birds singing somewhere? Or is it just a rusty flap creaking in the wind?' It's pulsating and gritty, and at time it evokes the feeling of being in a factory with machinery creaking, whirring, and humming all around you. At other times it shifts to a more spacey feel, with deep, rumbling bass drone. Nicely done. Next up, we have Karna with 'Afterworld,' which the label describes as 'a monotonous post-apocalyptic soundscape imbued by cold moonlight. Lifeless space, painted with pulsating low frequencies and grainy crackling of the electrified air.' The piece kicks off with an air raid siren before diving into noisy, droning ambiance. Over time, it slowly shifts to a more structured feel, with a slow, pounding beat, before dissolving back into diffuse drone. Although they are different in style, they are similar in feel. As such, this hangs together better than one could expect from two different bands. If you have enjoyed the dark ambient music coming out of Russia in recent years, this will be right up your alley. This album weighs in at around 53 minutes.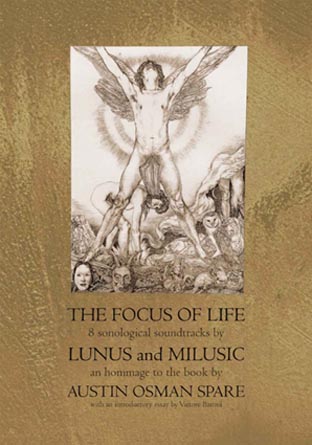 Artist:
Lunus And Milusic
Title:
The Focus Of Life
Format:
CD + Book
Label:
Old Europa Cafe
Rated:
Artist, magician, precursor and eccentric man for his Dickensian times, Austin Osman Spare brought the unconscious to conscious thanks to his automatic drawings and sigils methods. His paints were evocative and mysterious and despite he lived almost in poverty, he made links with Crowley (he joined shortly the Botherhood Of The Silver Star a.k.a. Aregenteum Astrum) and in the 50s with Steffi and Kenneth Grant, who after his death became his literary executors. Talking about the CD by Lunus and Milusic, I think that the first one doesn't need a long introduction, as Denis Granziera is active since the 90s with musical project such as Teatro Satanico, Abra Had Abra, Bass Tards!, Lvnvs, Necrophonie, Officina Elettromagnetica, S. Biasin Trio, the latest New Processean Order, etc. Milusic is Roberto Migliussi and musically hasn't been really active, but he was the founder of Idola Tribus, a fanzine published in the 80s that was dealing with music, iconic historical people (as Hassan-I Sabbath) and more. In the last decades he became publisher and translated different Grant and Spare writings as well became a Peat therapist (Peat is a method of energetic psychology perfectioned by Zivorad M. Slavinski). Anyway, back to the music, "The Focus Of Life" contains eight tracks inspired by the Austin Osman Spare book. We have a sort of spoken word with an electronic soundtrack where synth pads and mid tempo rhythms create the core of the tracks while noises, chants, hypnotic melodies enhance the formula. The release has also a 38 pages book with introductory essay by Vittore Baroni and reproduction of the work of A.O.S. from 'Focus of Life". I enjoyed the release and in my humble opinion would have been perfect with the lyrics read by a professional actor.
Artist:
Simon Balestrazzi
Title:
Ultrasonic Bathing Apparatus
Format:
CD
Label:
sincope
(@)
Rated:
Since the opening "First Immersion", this new release by Simon Balestrazzi sounds like the sonic report from a sort of altered state of consciousness which makes the brain experience reality as a close web of interferences, resonances, brainstem feedbacks and electromagnetic fields, an augmented perception that listeners catch as if it's inside a Faraday cage; the title of the release, which follows the last amazing act as Dream Weapon Ritual - another artistic alter-ego of former T.A.C. pulsating brain -, could let you surmise it could just be a sort of representation of technology-driven human perceptual prophylaxis by quoting ultrasonic cleansing, an electrochemical process that got extensively applied in jewellery, optics, dental and surgical cleaning and electronic musical instruments as well. The buzzing low frequency that saturates most of the release is quite similar to the noise that devices for ultrasonic cleaning usually makes, but besides undefined metallic objects, Simon seems to soak organic field recordings and foggy vocal radio broadcasts as well as a pile of instrumental parts from prepared toy psaltery, tsimblaty, tabletop guitar, horizontal steel cello, bulbul tarang, a prepared piano and even a broken metronome that appears on the meaningfully titled track "In My Own Transfigured Time" into his ultrasonic pool. The alternation of ablutions (three immersion before the last one) and three risingly hypnotical interplays ("Oscillation", "Osmosis" and the above-mentioned "In My Own Transfigured Time") seems to suggest he wisely follows a sort of gradual purification till the thirteen rarefied minutes of "Last Immersion" where the residual sonic impurities and memories keep on resounding in between cavitation bubbles.