image not
available
anymore
Artist:
Metatron Omega
(@)
Title:
Sanctum
Format:
CD
Label:
Cryo Chamber
(@)
Rated:
The follow up of "Gnosis Dei" is another exploration of esoteric and religious traditions in the framework of dark ambient and from the liner notes it seems influenced by templar like orders where elements of warrior's culture were mixed to monastic ones. So, tones vaguely similar to the gregorian ones are particulary evident but are balanced with menacing ones as if there was a hidden enemy.
The solemn opening of "Transductio" evolves from a background of field recording of birds into a drone in the second part of the part to generate a sense of journey to a place to another. "In Search of Lost Wisdom" exposes an inverted structure: while the first part is based on drones with a rich structure, the second one is based on long and sustained bass tones. While the first part of "Cultus" has a sort of religious atmosphere, the second one has a menacing one as sometimes the track approaches silence. The bells of "Trinitas" introduces another track with more or less the same structure and exposing an acute sense for small evocative noises. "The Eastern Star" slowly evolves as a sort of journey with all the elements of the previous track but a sharper sense of narrative. "Sanctum" closes this release juxtaposing drones until an apparent return to solemnity preludes to silence.
This is a solid release in the path of the previous by this label which continues to publish releases that could not apparently present particular differences between them but are developing a sense of narrative which lacks only a visual element. While "Gnosis Dei" lacked a variety of structures, this one shows a progress from this perspective so their next release could even be something remarkable but this one is recommended only for fans of the genre.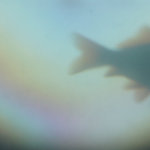 Artist:
Marco Marzuoli
(@)
Title:
Appunti
Format:
MCD (Mini CD)
Label:
éter
(@)
Rated:
After some really good releases with How To Cure Our Soul, it's time for the first solo release of Marco Marzuoli. "Appunti" is a quiet short sonic watercolor focused on loop rather than drones but the hypnotic effect of his output remains intact.
The track revolves around a melancholic bass guitar loop tying together another bass guitar loop and a fistful of effects which create an aural spectrum similar to the cover image i.e., while everything seem static, something begin to evolve. The structure is able to escape the boredom that could arise in a so minimal framework with a sort of poetical afflatus created by the underlying drone slowly generated by the resonance which is fully audible in the background of the second part of this release.
This is a release whose radical writing could be not so well received by listeners accustomed by entertaining sound that reawakens the attention as soon as possible in a sort of thought's privation. Music for humble meditations.
Minimalist house label LessIsMore serve up a stacked EP here, four original tracks plus two remixes.

The four original tracks are all thumping, tribal affairs with heavy kicks, vocal grunts. With two-bar and single-bar stabbed riffs and sparing use of twinkling upper-end effects, it's a familiar and comfortable set-up that satisfies without being exciting.

"Brick House" has a repeating vocal snippet saying "house" (possibly an Eddie Amador sample, I'm not sure) which feels like a throwback to late 80's Chicago sounds. There are tricks reminiscent of old Deep Dish mixes in the rhythms as well, giving things a distinctly retro flavour at times.

"New Religion" is already the most floaty track in the pack, and Herman Cattaneo & Soundexile's remix softens things up somewhat in the drum department, and brings some unusual glitchy breakdown effects around the five minute mark, but essentially these are subtle dressing changes on the original recipe, rather than any kind of radical rework.

Gideon's remix of "Man In The Sky" adds a little urgency to proceedings and re-addresses the builds and drops in interesting ways, treating the track to an evolution rather than a revolution.
"Aven"'s foundations are field recordings of underground glacial activity in Iceland. Like a visit to the glaciers themselves, it's a humbling, epic experience- and also, assuming you don't go to one of the tourist spots, a very solitary, plaintive, and even sinister experience too. "Aven" captures all of this absolutely beautifully.

Walking directly along the borderline between found sound and composition, these geological sounds are supplemented by the subtlest of string instrument notes- gentle, pure single notes, ebbing and flowing at a speed that is sometimes barely more than glacial itself. It's very nicely moderated, with subtly and space at its core. There's rich, echo-ey production that allows sounds to decay gracefully.

There are five tracks on the album, but the promo version of this album was provided as one continuous file, so it's difficult to be sure where one track is intended to end and another begins, but it doesn't matter; first and foremost it's a complete, 28-minute work that makes me yearn for another Icelandic adventure.
Tom Terrien's recipes make jazz, but eschew the traditional double basses and trombones in favour of the building blocks of glitch, trap, dubstep, breakbeat, chin-stroking electronica and more. The result is hectic, achingly modern music that seems to be striving to be all things at once.

There's a tongue-in-cheek energy at work here, as heard in "Need For Spleen", not merely from the title but from the content also. In some parts this is computer game music- frenetic, loopable, and dramatically quite variation-free. Some of the cheekiness strongly reminds me of Luke Vibert's Wagon Christ sounds. Warp and Planet Mu are cited as influences on the PR sheet and they're not hard influences to spot, there's a definite cross-appeal audible in tracks like "Royal (4Pj)".

"Mai en Aout" is an absolutely beautiful solo piano work that sits almost at the end of the album, to catch you emotionally unawares, as though Terrien was determined to demonstrate that his musicality hasn't been compromised by technology- and it works. Closer "Pygz" winds everything down and knits everything together in a blend of smooth and cut-up that's akin to Craig Armstrong with a heavy migraine.

Dedicated followers will be sure to pick up the limited edition teal-coloured cassette (oh yes it is), but for anyone else, I'd definitely recommend tracking down the pay-what-you-want digital download. And don't just click '0', this release should be highly valued.