Artist:
Daimon
Title:
s/t
Format:
CD + Download
Label:
Metzger Therapie
(@)
Rated:
This one seemed to have slipped in when I wasn't looking; I can't find the one-sheet or any promo material on this CD if it was ever accompanied by any. Be that as it may, Daimon is an obscure deep drone audio-visual project run by Paolo Monti (The Star Pillow), Nicola Quiriconi (Vipcancro, Lisca Records), Simon Balestrazzi (T.A.C., Kirlian Camera, Dream Weapon Ritual, etc), and this is their self-titled debut release. Tracks are titled "a call," "he's seeing you," "take the telescope and go," "almost blind," and "by this basement." As you might surmise, they are fairly lengthy with nothing under nine minutes. The music is somewhere between dark ambient and dream ambient, fairly grey and minimal for the most part. Although there is a somber tone throughout, I would call it more ominous than malevolent. Sometimes these dronescapes have subtle incidents or events such as distant children's voices, whispers, clicks and taps, squeaks and squeals, and other nebulous indeterminate sounds. These are rather hazy isolationist environments best listened to at low volume. Some tracks give the impression of small workshop environments without being mechanical or machine-oriented, more along the lines of minor physical manual labor. Various types of reverberation as well as feedback play a role in making these ambiences sound dramatic and all-encompassing, It's possible that this was created to be accompanied by some type of visual stimuli, but you can imagine it in your own head. For a debut release, 'Daimon' has merit and is well worth seeking out.

Artist:
David Arkenstone
(@)
Title:
Beneath a Darkening Sky
Format:
CD
Label:
self-released
Rated:
Perhaps there is no other New Age artist who has a larger discography than David Arkenstone. With sixty-one studio albums, one live album, and four soundtracks, this is a composer to be reckoned with. Arkenstone has also been included on four compilation albums, and released an additional four albums with his trio, Troika. Additionally, he has composed a number of songs for the game World of Warcraft. He's been at this game a long time since 1987, and 'Beneath a Darkening Sky' is a long way off from the glimmering shimmer of albums such as 'Valley in the Clouds,' 'Spirit Wind,' and 'Atlantis.' Then again, without creating some of these symphonic opuses, Arkenstone would never have been able to come up with 'Beneath a Darkening Sky'. While not what I would call a true dark ambient album, Arkenstone embraces enough elements of shadow to make you think this couldn't possibly have been made by such a high profile New Age composer. There is less attention to melody and more to atmosphere than on many other Arkenstone releases giving him the opportunity to go in deep, and weave long sonorous ambiences that are not at all cheery and star-twinkly. For the most part, the seven tracks are cinematic, melancholic and Gothic; a certain sense of mystery, and ominous foreboding permeates the music. From the deep drones and breathy voices of "The Fog," to the swirling icy ambiance of "The Wind from the North," Arkenstone conjures chilling atmospheres that transport you to other realms; places where danger lurks and survival is something not taken for granted. Forget fairy castles and enchanted forests; Arkenstone's world in 'Beneath a Darkening Sky' is much gloomier and cimmerian. In a cinematic way it seems to relate more to a Game of Thrones than Lord of the Rings type environment. (Although David dedicated the track "They Are Coming" to J.R.R. Tolkien.) Celtic and Middle Eastern flavors are also combined here and there giving the music an exotic quality. Choral voices as well. Arkenstone spares no attention to detail with his sound palette here. I really don't care much for New Age, but this music is "Another Age," and for that we can be wistful Beneath a Darkening Sky.

Artist:
Floating Di Morel / ULF/FDM
Title:
ULF / FDM
Format:
12" vinyl + Download
Label:
Play Loud! Productions
This is a mini-album of two halves reflecting a transitional phase for Sabine Blödorn and Kai Drewitz, with the first three tracks their last working with Thorsten Neu, and the latter three tracks work with Ulf Goretski. The change in sonic identity is noticeable, but ultimately it all still sounds music at which you could throw labels such as dreamwave, lo-fi, shoegaze or dark wave and some of those would stick. Strumming drone guitars, slow sparse drum patterns and meandering spontaneous vocals swim together into something very insular and quite muddy.

The first three tracks comprise two short, almost poppy three-minute numbers in "Dragil" and "Pantomime Dog", and the longer, slightly quirky steps of "White Nights o.t.m." which was originally recorded for a documentary about Donna Summer, but certainly doesn't sound like any Donna Summer record I've ever heard.

The last three tracks are more indulgent and more spacious (all 6 minutes or more). The feminine vocals are more accessible (relatively speaking), the mood a little dreamier, a little brighter. A frustrated-sounding "Instability" is followed by the steady pulse of "Lost", which in turn gives way to broader, slightly more sci-fi tones in "Frost".

It's an interesting way to mark the changing of a band line-up, and it ends up being a surprisingly coherent listen, but falls a little short on energy and invention that might have got you excited for the new or nostaglic for the old.
Artist:
Torba
(@)
Title:
Laavg Drjòt
Format:
Tape
Label:
Monorail Trespassing
(@)
Rated:
When Monorail Trespassing releases a new album from an artist I have never heard I usually end up frantically searching the web for more information about them. Jon Borges is probably one of the top 3 label curators in my personal opinion.

A new name (for me) that appeared on his release schedule was Torba. I was very interested in the project when I saw the Musique Concrète label attached to the genre and I also discovered they have been around since at least 2009, shame on me for not finding him sooner.

This tape titled Laavg Drjòt contains samples of several experimental artists from over the last century, these artists include Philip Corner, Curtis Roads, Mercury Hall and Uroruro.

The first track Laavg starts out with some quiet field recordings which are extremely relaxing sounds, I could personally be convinced that the sounds are of a boat resting on a lake at night and also of crickets in the surrounding area. After a few minutes of that unsettling but peaceful sound we are driven into a solid blast of noise.

The second track sounds almost like a continuation of the first but it has more quiet distant spoken parts and more expertly crafted noise.

Torba is a force to be reconned with and I'm sure he will not disappoint in future releases.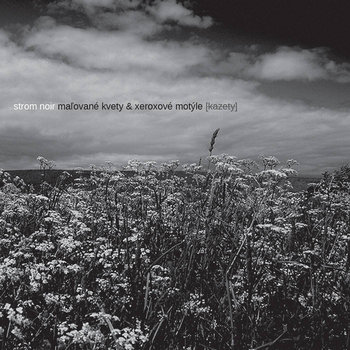 Artist:
Strom Noir
Title:
Maľované Kvety & Xeroxové Motýle
Format:
CD
Label:
Zoharum
(@)
Distributor:
Alchembria
Rated:
"Maované Kvety & Xeroxové Motýle" collects two unpublished works originally recorded with the intention of releasing them on cassettes. The first one, "against a dwarf", was completed in 2016 and is essentially a drone release while the second one, "painted flowers and xeroxed butterflies", is more oriented towards quiet noise territories as it's from 2011.
The first part is opened by "Widely Opened Window", a track based based on slowly moving drones juxtaposed in such a way that resonates each other and create a suspended atmosphere. "Rozkyv Duše" is based on a similar structure but the drones are substituted by noisy tones. "Saturday Is Gone" develops highly reverberated lines of guitars, or so they sound. "Against a Dwarf" proceeds by accumulation of drones until there's quiet and wide mass of sound that seems firm but it's constantly moving. "Echo v Tebe" closes the first part of this release with a static drone.
The second part is opened by "Tlkot Dreva & Bzukot Kovu" where the guitar tries to emerge from a background of small noises until it covers the sound spectrum becoming a drone. "Painted Flowers & Xeroxed Butterflies" seems to continue in the same path but it remains in a dialectic with the background evolving without a resolution. "Shattered Like a Glass Goblin" is an ambient track divided in a quiet first part and a noisier one. The almost unfiltered guitar of "Ttoollosk" is the base for the most evocative track as the overall sound search an impossible hook with a distant past using the reverb to obtain a sound vaguely similar of an old record's one. "Pure II" closes this release with a juxtaposition of guitar notes and a sort of noisy field recording.
This is a really good release for fans of the project as it doesn't sound at all as a collection of outtakes, as it's usual for this kind of operations, and the first part could be well received by fans of drone music and the second part by fans of experimental music. It's worth a listen.