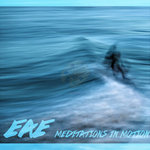 Artist:
Electro Acoustic Ensamble
Title:
Meditations in motion
Format:
CD
Label:
Manza Nera Label
(@)
Rated:
The Electro Acoustic Ensamble is the project of Fred Casadei (double bass), Bruno Romani (alto sax), Francesco Manfrè (cello) and Daniele Onori (guitar) which is born after a fistful a jam sessions. The result is something in the vein of certain experiment between composed and improvised music as perhaps it's not exactly free jazz but has its flavor so almost all tracks are called "meditation" as they were part of a single composition.
After the first whistles of the string instrument the phrasing of the flute opens "Meditation number one" as a melodic element above the fragmented lines of the other instruments while the dialogue of "Saxophone at the mirror" is more equilibrated. The guitar accompanied by the cello and the double bass is the focus of "Meditation number three" while the cello is the main element of "Meditation number four". While the structure is closer to jazz when the sax is the main element, the string instruments moves the balance towards contemporary music and a track as "Meditation number five" is paradigmatic of this framwork and when Bruno Romani uses the flute, as in "Meditation number six", with relatively long tones or with slower phrases shifts the musical equilibrium towards a more cohesive one. The unstable setting of "Meditation number seven" with all the instruments not in an accompaniment role is balanced by the short duration and "Meditation number eight" is a quiet interlude to "Meditation number nine", practically a flute solo spectrally balanced by the cello. "Ligeti" sounds like an homage with his suspended tones and "Meditation number eleven" continues under this path with his use of extended techniques and "Meditation number twelve" is a partial return to jazz form that is completed in "Meditation number thirteen" which features percussions as the form is more rhythmically structured. "Meditation number fourteen" and "Meditation number fifteen" are almost a single track in two part as they share similar elements as quiet moments based on a single instrument at play. "Scratch and loose" is developed upon a suspension generated by the cello while "Meditation number seventeen" tries even some noisy moments with some use of dissonances while "Meditation number eighteen" is a return to form and "School out musicians" closes this release as a sort of divertissement.
While apparently is a cohesive release based on a canonical approach, the tension between the subtle differences that is generated by the double bass and the sax, rooted in a relatively traditional jazz language, and the string instruments, reminiscent of a more unstructured form, sometimes generates something close to a personal language. It's really worth a listening.
Artist:
Alexis Tyrel
Title:
Rebecca Loos
Format:
Download Only (MP3 + Lossless)
Label:
LessIsMore
This is a re-release of a 12" issued in 2006 on the Weave label, with both the original and the Gui Boratto remix both being 2006 vintage (coincidentally the same year I ended up working on a farm with Rebecca Loos herself, but that's a different story). Only the "New Chapter" mix is newly added to the package, but it is a chance for the two older tracks to get a digital outing, which is welcome. Obviously there'll be a public demand for the Gui Boratto remix, but the original mix is also worth checking out- a bouncy, sedate house affair with a lot of delicate piano work over a perky lightweight groove and rubbery bassline. The progressions are slow, the general attitude is smooth and rather mesmerising.


The New Chapter remix is smoother and benefits from ten-years-later production values, but it isn't a complete re-imagining. There's an extra feeling of floating in space, with the vocal sample more distant. The rubbery bass pattern has been transposed into a bouncy synth and it's all a little sci-fi, and a little short on progression in parts.


The Gui Boratto remix from 2006 is rather timeless thanks to its simplicity- a super-tidy house groove, and simple gradual layering of twinkling loops, dropping at the two-minute mark to a rich, expertly simple sustained bass notes. The interview sample is used less frequently and only as a fill, which is a sensible move.


This is at least the third outing for "Rebecca Loos"- there was another remix package in 2010 on the Grayarea label, including a Gideon remix and extra variants on the original mix, but none of those appear here.


The track is named after pseudo-celebrity Rebecca Loos because of the short repeated interview sample of Ms Loos describing some of the sordid details of her affair with David Beckham, which at the time of the 2006 release would still have been quite topical. The breathy delivery and sexy but non-explicit sample gives the whole thing a gently soft-porn, "Fifty Shades Of Grey" flavour that has been a mainstay cliché of mainroom trance music for many years. I expected that the LessIsMore label might have been classier than that; it seems like a bit of an obvious PR move rather than a really well-chosen sample from a musical point of view. But despite seeming like a bit of an excuse to re-milk the old Gui Boratto remix for a third time, it's still worth checking out.
Artist:
VV.AA.
Title:
Okqo - Form_1
Format:
Download Only (MP3 + Lossless)
Label:
Okqo
Despite being the Oqko label's first compilation, "Form_1" is one of those collections that's so well curated and consistent in its sound that you might easily believe that it was one musical artist releasing an album under eleven different monickers. Like-minded individuals have all offered up different recipes from similar ingredients, melting together techno rhythms, glitch techniques, melodies borrowed from ambient, and large doses of experimental electro-punk attitude.


Smog's "Tesla" is a strong opener, setting off with a heavy tribal electronic beat that gradually makes space for a rich ambience before coming back apace. Rodrigo Sigal's "Brain In Pulse" is a similar but darker concoction of sub-bass and glitchy flashes of melody.


It's not all bang bang bang bang of course. Khan Of Finland's catchily-titled "endlosrille_st012" is a more pondering, downbeat affair, and Astvaldur's "For Now" is a more melancholic affair with seemingly improvised synth leads. "Tender Tone" by Lvis Mejia is a super-steady slab of measured, near-beatless techno with fleeting romantic violin lines.


There are also some more formless and experimental numbers. Bugaev's "Raw" is a rich drone layered with glittering microseconds of white noise. José Gallardo's "Sinfonia para un hombre solo en su casa" is an angry bombast of square waves and thumping steeped in distortions and delays.


The review promo didn't include a physical product, but only photos of it, and it's deeply unusual-looking. It's not even a music product per se, there's no disc or tape involved. You get one printed transparency for each of the tracks on the compilation, housed in a large anti-static bag. Each track has been represented as a rectangle of black-and-white binary data, with the most prominent musical changes visible as changes in patterns within the rectangle. Printed on transparencies, you can then layer any or all of them against each other to create new patterns. It's an innovative idea and one I'd have been interested to play with.
"Rather Not" is a half-hour mini-album of light-industrial techno-pop operating at a brisk walking pace, rather than a driving pace. There are strong influences from 1980's Depeche Mode, Cabaret Voltaire, early experimental OMD, and some of the other familiar names. This is a path that's certainly been well trodden before, and unfortunately there's not much that distinguishes "Rather Not" from the pack- and while OMD and Depeche Mode had an ear for great hooks, sadly that's not on display here.

The often indiscernible and formless vocals are a distraction and sometimes even an irritant over the semi-clean, steady musical underbelly. Frankly a proper 'pop' vocal, or even no vocal at all, would have allowed the tunes to plant themselves firmly on the ground. Instead, there's a loose, raw feeling to it which I could generously describe is punk, or ungenerously describe as half-baked. The slightly motorik beat of "I'm Not The Same" and the unusually syncopated "Spiraling Down" are both prime examples of an appealing groove spoiled by vocals.

If there were an instrumental version of this album available, I'd be recommending it as a sincere exploration of the early 1980's electro-synth world.
image not
available
anymore
Legiac is the electronic duo of Roel Funcken and Cor Bolten which creates a sort of ambient music with a certain use of field recording creating complex soundscapes. This release is inspired by the Voynich manuscript, an early 15th century hand-written and illustrated codex, and aims to be something more multifaceted than ordinary release of this genre.
The juxtaposition of synth and field recording in "Bycam Fosfane" is constantly moving his sight while "Troven Briangular" is mainly focused on synth with the other elements in the background. After the first seconds of noises "Sirius of Procyon" seems to develop into a dance track but is exactly one step away to be bound in a rhythmic cage while "Transcendental Sea" features spacious drones and "Inzantum Feaner" more meditative, and dark, ones. The almost pop moments generated by the melody of "Bognitive Cypass" are balanced by the background noises which are even more effective in "The Voynich Manuscript" which result impressive in his crescendo. "Vellular Cito" oscillates between quiet moments and harsher ones while "The Din Skided" reveals a marked rhythmic structure. After the first part based on field recordings "Jefre Tropod" evolves as a meditative track based on slow synth melodies and "Ambikythera Mechanism" closes this release in an almost solemn mood with the synth melody vaguely reminiscent of the slow movements of the organ and the evocative field recording.
A carefully crafted release which is better enjoyed with headphones to catch the many elements in the background that could be lost in a noisy environment and perhaps require more than a listen to be appreciated. Not only for fans.