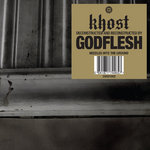 Artist:
Khost [Deconstructed And Reconstructed By] Godflesh
Title:
Needles Into The Ground
Format:
CD
Label:
Cold Spring
(@)
Rated:
This release is a reworking of Khost's material by Justin K. Bradrick of Godflesh, one of the key figure of modern music. The first three tracks are the result of the application of the formal structure at the core of Godflesh output while the fourth one is a new track by Khost, a duo made up of Andy Swanc and Damian Bennett, which left almost unchanged my opinion about them.
The first track of this EP, "Inversion", shows the main element of Godflesh music: a square and hypnotic rhythmic cage where all sounds are united in a thick mass. The noise element is, instead, the element which at the base of the relatively shelled form of "A Shadow On The Wound" that acts as an introduction to "Revelations Vultures Jackals Wolves" where the rhythmic articulation is applied to noise, so creating something distant from typical noise music that is close to the stream of consciousness. The Khost's track, "Deathsset", sounds as an homage to Godflesh being so close to the sound of this band to let the impression to be an outtake from one of their classic album.
These four track is a statement of a form which isn't aged in all those years perhaps because it was too personal to generate a scene and become popular. Another sure pick for Godflesh's fans.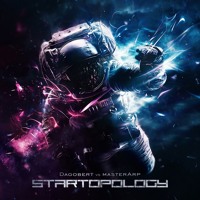 Artist:
Dagobert Vs MasterArp
Title:
Startopology
Format:
2 x 12" vinyl
Label:
Dominance Electricity
Rated:
Twenty years have passed since Dominance Electricity started to burn the flame of electrofunk in Germany and after Jackal & Hyde's 12" they just released the newest Dagobert album. The last Dagobert Howe release was out five years ago and was a MLP titled "Astronauten" which he did collaborating with Kalson. The last proper album "Sonic Sound Of Bass", instead, have been released back in 2003 and was a double LP issued always by Dominance Electricity, as most of his stuff. The new album "Startopology" seems to be a collaboration with a new project MasterArp, just to discover that it's always him using a different name for his stuff more electro influenced, while Dagobert is more Electro-Breakbeat oriented. Anyway... The new album, available on 2LP (black or transparent blue), CD and digital formats contains thirteen new tracks (the digital release has a bonus nine minutes megamix of the album) which alternates or mix various influences: breakbeat, electro ("Booster" reminds me of Kavinsky), sci-fi soundtracks and also pop. The track which is somehow showing them all is "Mein Kosmos", because it has ambient background sounds, electro mid tempos and breakbeat vocals and, I don't know why, it made me recall "Freestyler" by Bomfunk MC's. If tracks like "Megatron 3000" or "The Restless Invader" are classic electrofunk songs, "Lost Transmission" or "Deep In Love" are really different, as the first one is a short sci-fi sounding intermezzo and the second is an electro pop song with hard beats and melodic vocals. Also "Dagonaut Theme" and "Across The Stars" are particular ones, because mix electro rhythms and spacey sounds. They sure have soundtrack approach which is kinda new for the genre. So, prepare yourself to different listenings to appreciate in full the new Dagobert sound.
Artist:
Ultraphallus
Title:
The Art of Spectres
Format:
CD
Label:
Sub Rosa
(@)
Rated:
After a couple of self-produced albums - "Lungville" (2005) and "The Clever" (2008), being the latter the one which included most interesting ideas, even if partially listened in the 90ies in the stuff of bands like Starfish Enterprises - and an album - "Sowberry Hagan" (2010) - on the English label Riot Season, the Liege-based Belgian band Ultraphallus -made up of Phil Maggi (vocals, samples, electronics, trumpet, percussion...maybe some Chain DLK readers met his name as he signed some outputs on Idiosyncratic, a label I keep on following, wisely managed by Phil himself), Julien Bockiau (bass, drums), Xavier Dubois (guitar, bass), Ivan Del Castillo (bass) - moves towards intriguing and definitively more experimental stylistic rough terrains. Even if there are many common factors with so-called sludge metal bands (mainly some political and sociological issues, developed as if they got filtered through a cynical lens and a visionary distorting one, abrasive guitars close to stone rock and shouts that featured former outputs of the band), I won't label - thank goodness! I would have already skipped all tracks... - them as a proper sludge band. On this album, whose output was initially announced for the beginning of 2015, they wisely melt death core, doom metal, noise, art-rock, dark ritual ambient, music of western movies, deviant declensions of blues (check the second part of "Let Him Be Alistair") and electronic movie music and replaced avalanches of riffs that featured some of their previous outputs by pernickety jobs on guitar-driven spindles. I could vaguely describe them as a strange hybrid between an abstract interpretation of Ramesses' music and some stuff coming from Gent-based label Delboy (Blutch, Black Cobra and so on). The hyper-amplified convulsive guitar-driven opening "The Blood Sequence", where the really spectral voice by Phil Maggi seems to give voice to a personal manifesto, sounds like the appetizer of the piercing sound by which they drill the almost tribal mantra of "Madrigal Lane", the hyper-cynical debunking hymn of the above-mentioned "Let Him Be Alistair". The track in the middle of the album, "The Death of Mark Frechette", evokes some stuff by The Residents, but the choice of the reference - Mark Frechette was the American actor that became notorious after interpreting the leading role in Antonioni's "Zabriskie Point", who died in prison after having been suffocated by a barber that fell on his neck... - sounds like a merciless grin on the jokes of fate. The spleen of "Whitewasher" precede the likewise cynical sad portray on "Eva Ionesco" (the well-known baby model), and the ghostly feast of the final "Sinister Exaggerator" are some of the highlights of an assay of spectral art.
With its car-locking beeps and door slam hits, I think there's a sense of fun lurking underneath the surface of lead track "HOL". Not that this isn't music that takes itself seriously, it's definitely earnest in its ambition to blend the deep recesses of dark gothic punk attitude and the pounding jackhammer beats of straight-up techno into one attention-grabbing, conversation-shattering attack. It's bold, in a way very simple, and pretty effective. Structurally, it's ideal for just one thing- playing on headphones after you've had a really crap day. I can't see how it would creep out to a public audience, but as a private catharsis, it's got strength.

The other tracks "AGES" and "REDU" are mild by comparison- experimental noise workouts that you might have heard from French avantgarde musique concrete pioneers if they'd been born as millennials and brought up on a rich techno diet. It's artful, and it's danceable in an awkward, "f*** you" way.

At twelve minutes, this is a succinct but rich EP that doesn't outstay its welcome. The promo blurb puts great stock in the "counter-cultural energy" that fuelled this release and while I wouldn't over-state the political credentials, it's a fine bit of extremely dark beatwork.
Artist:
Fe
(@)
Title:
Sucker Mule's Dreadful Murder
Format:
12"
Label:
Suitcase AudioVisual
(@)
Rated:
Fe-male Fou is Italian artist Filomena Rubino, formerly of Rome, Italy, now relocated to Atlanta, Georgia. She began this project in 2013, and the music is dissonant atonal avant garde guitar and voice using ambient drones, lo-fi melodies, and likely lots of electronic processing. Previously she's had a string of CDr releases and cassettes, but this limited (to 300) vinyl release might be construed as Fe-male Fou's first official release. Once you get past the abrasive "nails on a chalkboard" opener "Pagan Revelry," the songs on the A-side of this album are a strange mix of improvised sing-song psychedelia with Velvet Underground drones and Alice down the rabbit hole vocals. It's a nightmare vision that penetrates deep into your psyche, far more frightening than any horror flick you may have seen recently. Fe-male Fou's guitar style is rudimentary but twisted into some gordian knot for which there is no solution. The more you listen to it, the more intriguing it becomes. I shudder to think what this might sound like on hallucinogenics.

While side the A-side is kind of a no-wave extravaganza, the B-side is far more industrial and noise-oriented. In some ways it is reminiscent of Lou Reed's 'Metal Machine Music,' or parts of it anyway. Rubino's looping techniques are an essential component to the compositions on this side, especially "Slaughterhouse Overdose," and the lo-fi methods of achieving Fe-male Fou's sound produces results that probably couldn't have been done any other way. Rubino's voice, where used on this side seems to blend in as an instrument, perhaps more for effect than anything else. For industrial noise, these pieces aren't quite as abrasive as you might think, and become an ambient sound sculpture that sounds cohesive and powerful in its own right. Sometimes lurching, sometimes slithering and oozing, it's like a demonic train headed for an unspeakable destination. I found that listening to it from a distance (in another room) actually seemd to enhance the audial experience rather than confronting it head on.

Because of its diversity, unusual nature, and released on limited vinyl, I do believe Fe-male Fou's 'Sucker Mule's Dreadful Murder' is destined to become a collector's item. If this intrigues you, you better hurry up and purchase a copy before they're all gone.