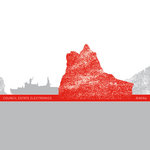 Artist:
COUNCIL ESTATE ELECTRONICS
Title:
Arktika
Format:
CD
Label:
Glacial Movements
(@)
Rated:
According to the liner notes, COUNCIL ESTATE ELECTRONICS is the attempt of Justin K Broadrick and Diarmuid Dalton to pay a tribute to the music of their youth which is basically dub and krautrock. Obviously, this project is musically close of the impressive releases as Techno Animal (with Kevin Martin) but without the rhythmic emphasis and with a sharper sense of the underlying soundscape.
"Urals" opens this release exposing the musical structure which ties all the tracks: a dub rhythmic cage containing samples and soundscape so it's something as listenable as danceable and features even some abrasive moments. "567 foot 33,500 ton" is implacable in his hammering development while developing the track at the dynamic level. "Type LK-60YA" is based on somehow nostalgic synth line while "Rosatom" returns to the industrial framework based around a mechanical beat and a fistful of loops while "50 Let Pobody" seems closer to dub as the noiser elements aren't present and "Polar Star" exposes sonic nuances typical of more avant-garde field. "Liquified natural gas" floats without the rhythmic cage tying all the sounds and "60 megawatts" closes this release moving even further the most abstract elements of the dub canon.
As usual, while apparently there's all the canonical elements of Broadrick's music, something new, at least a detail, emerges and gives a sense of not been the routine of someone without anything to prove. Another clue that he's perhaps one of the most underrated artist alive. Recommended.
image not
available
anymore
Artist:
ProtoU
Title:
Khmaoch
Format:
CD
Label:
Cryo Chamber
(@)
Rated:
ProtoU is the project of Sasha Cats focused on a relatively canonical dark ambient setting even closer to classic ambient as it's something really quiet and enjoyable. The research of images evoked by the sound is something really present during the listening of this release and it's the greatest quality of this release eclipsing the predictable development.
"Bridge of Storms" opens quietly this release with a sourceful of sounds moving in the aural field generating a sense of immersion in an somehow hostile field. "Stygian Vortex" is as simple in his structure as evocative in his palette. "Skar Mekh" is a physical journey rendered as a sonic journey. "Voices of the Water" use sparse element to generate an impressive soundscape. "Pel" is perhaps the only track with a marked rhythmic structure and without evocative sounds. "Dai Robsa Preah" slowly evolves unfolding drones while "Stones in Snow" closes this release revealing a subtle sense of sounds.
Honestly this is a somehow too derivative release at a structural level but it's so well crafted to let arise the question about how it could be if some of the efforts made at a sound level were done at writing level. Nice but only for fans.
Artist:
Chris Abrahams
Title:
Climb
Format:
CD + Download
Label:
Vegetable Records
Distributor:
Proper (UK)
Chris Abrahams' fifth solo piano album, his first in ten years, has a veneer of innocent simplicity, under which lies a complex but sensitive musical experimentation.

Pieces like "The Sleepings And The Drifts" start out as conventional, almost cliché-sounding piano ballads- they feel improvised, comfortable and quite lounge-y, and at points have some very lyrical, catchy lead melodies. However they slowly progress over time, patterns shifting, melodies morphing, with a meandering musicality.

Each piece has its own character. "Overlap" sets off from a rhythm not unlike the work of Christian Prommer, or even Vince Guaraldi's "Linus And Lucy", and evokes a fast but steady journey. "Fern Scrapes" also wallows in the lower register, but with more urgency and chaos. On the other hand, "Dog Rose" and "Shoreline" are light, poetic numbers bordering on easy listening.

The overall tone never wanders excessively far though. Generally, there's very little discordance, very little challenge or difficulty in it.

So, intentionally staying within a sonic comfort zone, what you're left with is a plaintive and relaxing 43-minute-long "chill out" album, but with well-above-average accomplished musical credentials and depth.
Artist:
Fade
(@)
Title:
Xenomorph/Wounded
Format:
Download Only (MP3 + Lossless)
Label:
Free Love Digi
Rated:
Faded label boss, the Ukrainian drum 'n' bass producer Fade, should have some interesting in chemical elements, as one of the two tracks by which he keeps on stuffing Free Love Digi catalog, "Xenomorph," seems to have been inspired by the properties of the quoted noble gas. Colorless, odorless, almost undetectable, but incredibly dense, this gas emits an intense blue light when electrically excited. Similarly to xenon, it's pretty impossible to define the style he explored, but as listener can describe the almost physical features of the track and notice the similarities against xenon: Fade filled the pattern by very dense sonorities, hyper-compressed compression as well as a nebulized pad-synth that could resemble the noble nature of this gas as well as its "invisibility". The second tune 'Wounded' will maybe attract attention of DJs looking for exciting and somehow imaginative headbangers: the first part features a switching between a dark electronic melody and a catchy break, that got gradually infected by distorted synth tones; these two elements got gradually (and wisely) merged till a short, obscure cliff-hanger that prepares the ground for the definitive activation of a drum 'n' bass trigger. Very weird bass-oriented bullets.
Artist:
Out Out
Title:
Swan/Dive?
Format:
CD & Vinyl
Label:
Artoffact
"Wake up America, think for yourself; don't leave the fact-checking to nobody else" is the main vocal refrain in opening track "Shut Up!". On an album release four days before Donald Trump was voted President of the USA, it could hardly seem like a more timely warning.

This is an aggressive but still fundamentally quite poppy EBM release, laden with distortion on the guitars and vocals but not steering completely away from its industrial synthpop core. There are a few modern production touches sprinkled over a musical format that otherwise can still hark back to Cabaret Voltaire and co.

The music itself feels like it's acting as a tonal underlay for the aggressive lyrical fury which is really the centrepiece that Out Out wants everyone to pay attention to. It's often political but sometimes personal (and sometimes it's hard to tell), it's mostly either angry or frustrated. Mark Alan Miller is clearly a man who feels rage against the machine. It's a heartfelt vocal performance, albeit not all that challenging, but the production leaves a lot of his vocal just a decibel or two lower in the mix than seems appropriate. There are moments, such as on "Like William Tell", where the off-beat poetic delivery and repetition of short phrases is extremely reminiscent of Karl Hyde.

This isn't a one-trick-pony album though by any means. There are a few notable exceptions on the tracklist though, and plenty of variation between tracks like a 'proper' pop album ought to have. "I Think You Know" leaves wide gaps between the vocals and ups the ante with the lo-fi and glitchy production. "Bleak And Hollow" is practically nu-metal, with moshing-friendly beats, while final track "The Overload" is a more extended, introverted, and atmospheric affair.


However there are also some weaker points, but not many. "S.Y.O. Version 2" has a half-hearted, slightly by-the-numbers feel to it, while "Falsified" sounds a little like an underbaked demo rather than a totally finished track.


It's a little bit light in the 'catchy hook' department and some of the production is a touch muddy, but otherwise if you're in the mood for nearly an hour of angry, attitude-laden industrial pop-beats, this is pretty satisfying.