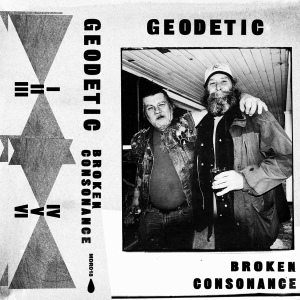 Artist:
Geodetic
Title:
Broken Consonance
Format:
Tape
Label:
Maple Death Records
(@)
Rated:
Geodetic is the project of Claudio Rocchetti and Jukka Reverberi (which need no presentations) that sounds as based on a sort of nostalgia for what was called as 'cassette culture', so the artwork of this tape has that apparent slovenliness typical of the releases of the period. The need to circumvent the technical limits of tape format to self release music has forged entire subgenres and there's the (false?) perception of a more creative era compared to the present when, theoretically, there's could be no differences between DIY and regular releases. Apart from this considerations, the musical form of industrial and dub, centered upon characteristic rhythms, are at the core of this release and recreated with evident respect and knowledge.
When "I" starts, the listener is introduced into a sound field that, rather than the punk rock hinted by the cover, is a sort of post-techno with a noisier sound obtained with the distortion of the beat. "II" is a little more abstract in his initial part to develop in a mechanical rhythm upon the underlining synths. "III" could even be described as a synth pop track that could even be better with a vocal line reminiscent of the canonical 80's sound. The B side of the tape is opened by "IV" based on a sort of trip hop rhythm with hypnotic resonances. "V" is slow and solemn track based on sparse metallic beats and a transparent soundscape in the background. The echoes of "VI" constructs a dub version of a noise track.
This is a sort of time machine with an eye on the future, that will be enjoyed from fans of an era when artists searched for their own distinct voice rather than follow the stream to obtain a fistful of like with a post on the web while the others will listen otherwise anyway. Touching as a postcard from the past.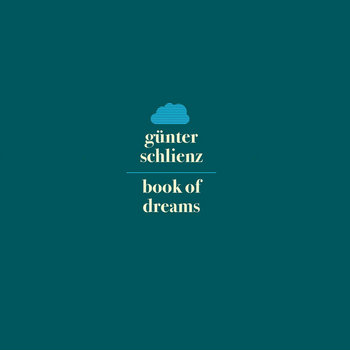 Artist:
Günter Schlienz
(@)
Title:
Book of Dreams
Format:
CD
Label:
Zoharum
(@)
Distributor:
Alchembria
Rated:
A Jack Kerouac's citation introduces this release: "the fact that everybody in the world dreams at night ties all mankind tighter"; "Book of Dreams" is an expanded cd reissue of a vinyl release and is based on a musical form that is based on modular synth and this means that is something familiar to those accustomed to a musical flux spanning from Kosmische Musik to new age. The quietness of the music which should facilitate dreaming is obtained with simple and catchy melodies and the absence of any dissonance, so it's something that requires considerable writing skill to avoid trivial results.
When "Just Silhouettes" starts, the listener is introduced into a sound field as synthetic but warm and organic even if there's any melody to follow but it's something cradling someone so "The Female Coffee Drinking Dwarf" sounds like a lullaby for heads in the clouds with his simple and hypnotic melody. The droning tones of "Kafkaesque Speeches" hugs the listener while "Mushrooming" is more experimental in his reminds of old sci-fi movies. "Stillleben" is a quiet and static ambient tune. The two new tracks, "The Girl with the Cloud Coloured Shirt" and "Diving into the Orange Pool", are a gentle track for cello, the first one, and a minimal pop divertissement, the second one. The hypnotic loops of "Two Big White Dogs" and the nostalgia of "Awaken", closed by the sound of an alarm clock, closes this release with a vague feeling of play again the play track.
While it could be the typical release that could be criticized by the fans of avant-garde with the classification of new age, this is that kind of release whose brilliance of writing let the listener enchanted. Practically recommended to everyone.
Artist:
Psycho & Plastic
Title:
Planet Seductron
Format:
Download Only (MP3 + Lossless)
Label:
GiveUsYourGOLD
"Planet Seductron" is a slice of funky mellow electrohouse, centred around a crisp bit of guitar, a fairly languid beat, and theremin-style high synth melodies. It's around 124bpm with a confident and assured swagger and a bassline that's borderline lazy. Halfway through, a deep and rich male rap starts looping around as the centrepiece. Lyrically it's rather cliché but as the peak rather than the core of the track, it works. It's certainly not the sexiest piece of house I've ever heard.

In a two-track package, you get the original plus a long remix from Der Schmeisser, Tietz & Mano Meter (three names, one remix) which brings a bouncier percussion pattern, more energetic bouncy bassline and stretches the transitions and progressions out into a more spaced-out result. Careful sprinklings of small snippets of the vocal and a rich extra rubbery bassline flow around in a way that stays interesting.

A strong track-and-remix package from GiveUsYourGOLD, and a great advert for the forthcoming Psycho & Plastic album due in October.
Artist:
Gabriel Saloman
Title:
Movement Building Vol. III
Format:
12" vinyl + Download
Label:
Shelter Press
Gabriel Saloman's recently prolific output continues with "Movement Building Vol. III", a 55-minute 8-track work that has evolved and expanded from music composed for a contemporary dance, "What Belongs To You", by Vanessa Goodman.

What's most striking about this release is the variety of sounds used. A heartbeat theme pervades throughout most of the pieces but everything else is, for the most part, sonically very diverse. Opener "What Belongs To Time" is a gentle arrangement of long bowed string drones under which a heartbeat-style kick slowly and irregularly paces, with a strong sense of foreboding. "What Belongs To Bass" carries a similar atmosphere, but this time structured around slowly plucked, slightly twangy guitar steeped in echo. Key piece "What Belongs To You"- presumably the seed piece for the whole work- starts off again more sinister, but the heartbeat effect gradually begins to accelerate, then race, then… sort of peters away into hollow windy ambience, before looping back around and building it up all over again.

"What Belongs To Love" utilises distant sounds that may be music boxes or church organs before breaking out a fairly complex drummed breakbeat that's very contemporary-dance-friendly. After the brief guitary interlude of "What Belongs To The Fire", longest piece "What Belongs To The March" begins with a waspy, alienating ambience, then swaps over into a sparse arrangement of distant keys and the returning heartbeat, which sets the tempo for the arrival of a military snare drum pattern which suggests the arrival of a crescendo we may have been waiting almost an hour for- but it never arrives. It tapers away, leading into the slow gentle wooden hits of "What Belongs To The Line". Final piece "What Belongs To The Sleep", as the name suggests, closes proceedings with a calm somnambulant ambience.

There's a fairly rich variety of instrumentation going on throughout this sinister and slightly theatrical soundscaping. While none of it really breaks new ground, and while at times you get a sense that you're only getting 50% of the experience because you can't watch the accompanying dance, it's a very accomplished and dark collection.
Artist:
Gebrüder Teichmann
Title:
Lost On Earth
Format:
CD & Vinyl
Label:
Noland
On their third full-length album, Andi and Hannes Teichmann serve up a bit of light home-listening techno, taking the crisp sonic elements from minimal and a touch of synthwave and twist and rework proceedings into something more suited to a long slow walk than a dance.

There's a wide variety of collaborators, recorded across multiple continents. After the quite leisurely opening of "Identity Check", previous collaborator Wura Samba brings a soft African percussive sound and vocal to "Transist" and while the vocal is rich, the groove still feels European somehow. The same approach on "ChakachaMaasaiMbili" also works well and feels a touch more organic.

"Tiny Cracks" meanwhile brings unusual time signature patterns into a hip-hop groove complete with cleverly timed and strangely compelling rap vocals from Max Turner, Sasha Perera and Amman Mushtag (one of whom may not actually be a vocalist, that's unclear). "Mindfields" and "Higher", with other guest MC's, are a bit less distinctive, arguably bordering on flat.

When not collaborating, the brothers seem to wander a little further off the leash, such as in the quirky, not un-funky "Stylomezzo" or the odd 12/8 stepping patterns of "Dzoka". The boys are presumably keeping it in the family with Uli Teichmann's unspecified appearance, probably the quiet spoken word bit, on the nicely dubby final track "Für Fred".

The ten-minute long Abe Duque collaboration is a mini-opus in its own right, initially a very steady and deep bit of techno, but it goes bizarre in the second half with some bold synth-arpeggio breakdowns before looping back to its original understated groove, then disassembling into lo-fi oddness to conclude.

Don't be put off by the fairly unappealing artwork- this is an accomplished and strangely luxuriant hour-long listening album experience that puts the 'I' but a little less of the 'D' in 'IDM'.