Artist:
Irmler / Oesterhelt
Title:
Die Gesänge des Maldoror
Format:
CD & Vinyl
Label:
Klangbad
Assuming my German is just about adequate enough to understand the press release correctly, "Die GesÄnge des Maldoror" is a mostly-instrumental musical setting inspired by the six cantos of the influential Isidore-Lucien Ducasse writings of the same name from 1869.

It's a startling and dynamic six-part epic composition combining a compact traditional orchestra with a sprinkling of added ingredients ranging from prog rock-style heavily effected guitar through to electronic ambience.

After a deceptively calm start, the first and longest part is a multi-sectioned affair full of percussive shifts and tension, with a theatrical flavour. The short second part pushes the prog rock elements and will appeal to King Crimson fans, before the third part shifts gear boldly into a pared back near-minimalist environment of soft drone, distant indistinct solo choral voices and gentle bells- towards the end of which, the German spoken-word reading of the text sharply jolts the listener's complacency.

In some ways, the second half mirrors the first. The fourth part brings back the orchestra, with gentle plucked strings, before yet another unexpected diversion into analogue synth noodling reminiscent of very early Kraftwerk, that then somehow hops into downtempo jazz. The fifth part, another highlight, loops us back round to the rock guitar, with added sharp-edged cuts and distortions, which fades as the more conventional orchestra returns, before the sixth and final part offers us a sombre analogue-electronics-heavy finale.

Every time you think you've settled into the listening experience of this album, things shift- but in a non-brutal way that keeps you along for the ride. It's a fascinating, expansive, melodramatic and high-budget affair which deserves a lot of attention.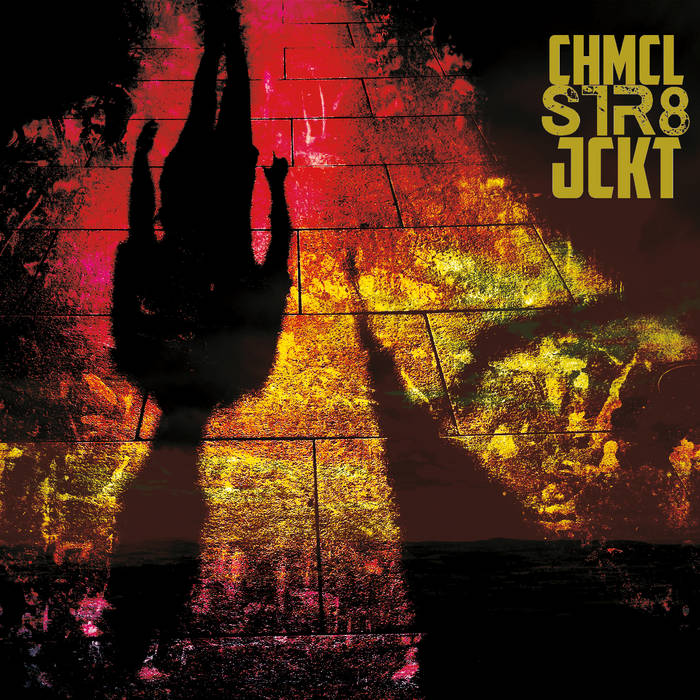 Artist:
CHMCL STR8JCKT
(@)
Title:
s/t
Format:
CD + Download
Label:
self-released
Distributor:
Bandcamp
Rated:
That is a fine-chosen and very Industrial-minded band-name for a newcomer-project out of Hawthorne, NJ.
CHMCL STR8JCKT is a duo consisting of Kevin Snell (programming / vocals) and Mike Cairoli (guitars) and they present us with this self-titled 8-tracker their debut. You'll get a varied produced onslaught of Electronic/Industrial music pretty much inspired by some prominent top-acts of the Coldwave-scene like Imperative Reaction, Mindless Faith, SMP, or Idiot Stare.
Always with a Metal-oriented background in mind, this release offers multiple dark and sinister moods along all known paths of Industrial music and themes. What can be positively noted is their tendency to balance their Electronic-minded side to a same level to their gritty guitar-oriented side. There are several good ideas in their compositions included to keep the blood boiling although it definitely needs a bit development. Some of their used electronic bass-lines or lead sounds haven't been cooked with the freshest water available. "Dressed to Kill" with its stuttering old-school synth-bass-lines is a promising warm-up, while "One Last Salute" with its grinding guitars should set fire under the roof. Here hides the next point I tend to criticize, because especially "One Last Salute" could be much more efficient if it gets a tougher and more punching outfit. "House Upon the Hill" would be a fine tune to play a bit with the Harsh-Electro junkies out of the Terrorbanana-camp but unfortunately it still misses the needed drive. Overall a good and recommended debut and I really enjoy the sinister and hauting expression while it isn't at all flawless.
Some refreshments have to be made, maybe a foreign and experienced producer / sound-engineer could be helpful too with hints for further development. But fairly enough produced for a debut.

The four-piece behind "Fracture Mechanics" compare their musical processes to an alchemy where base elements are woven into sonic gold. With a mixture of conventional instruments- saxophone, zither, flute- alongside more ambiguous credited instrumentation including iPod, "objects" and "air from another planet contained in terrestrial glassware", it's clearly a unique blend of elements, does it achieve chrysopoeia?

After the brief conversational ambience of "Transubstantion", proceedings start in earnest with 25-minute-long "Pebble Snatch". Soft electronic interference, buzzes and hums meander in and out. Slowly bowed harsh string tones and gentler bell-like notes plink away with a rhythm that's extremely slow but definitely present. Metallic scratches become slowly more apparent, as does Paul Vogel's glassware contributions which give things an extremely faint, strangely Aboriginal-sounding distant blown percussive flavour.

"Pendentive" is a touch more abrasive, with high-pitched squeals and tinnitus-like modulations more sharply juxtaposed with the guttural tubular elements sourced from deep sax notes and single drum hits. Throughout all the pieces there's a respectful abundance of space and the whole thing is fundamentally quiet, drawing your attention into the sonic details and allowing an interaction with any other sounds that may be present with the user.

This arrangement continues into final, half-hour-long piece "Transmogrification", which pushes back drops the lower register tones in favour of just the difficult squeals, at times leaving just the high resonance that's so close to the edge of perception that you begin to question your own ears.

This is a work that's on the difficult side of avantgarde, lengthy, awkward, and revelling in frequencies that can't be described as comfortable. It's a bold work, and while I don't think the result has an atomic number of 79, fans of extremely fractured, nails-gently-down-a-blackboard-style experimental music will definitely appreciate it.
Vlad Dobrovolski's first full-length album under his own name is built purely from modular and analogue synths and a combination of DAW and tape work, giving an overall flavour which blends both the crisp and the digital with something a little fuzzier and warmer. Long synth notes glide and shift slowly along like a melancholy synthetic symphony, while bleeps, whirrs and digital bubbles play around on top. At times, atmospheric sounds like waves crashing on a beach provide a gentle watery bed. Contrary to what the album title might make you assume, there are absolutely no drums in it (with the extremely minor exception of some soft cowbell-like hits in "A Blue And Oily" which eventually morph into xylophone tones).

The sonic range does feel somewhat narrow at times, which to give it a positive spin, means it's a consistent listen. The glitched delay on "Million Wrinkles of the Sea Under the Moonlight" give it a dubbier tone, at times very reminiscent of some of The Orb's most relaxed moments. "A Blue And Oily" hops slowly around with a bouncing, semi-random plucked bass sound (and, most annoyingly, a completely out of place siren at the eight minute mark which completely jolts you). Final track "Drifted Past The Bows" is the brightest, with energetic and higher-pitched arpeggios giving a slightly more euphoric and satisfied feeling.

This is a chillout album with a certain degree of timelessness, that, save for a few minor production details, could have been released as part of the chillout boom in the 1990's. It's smooth, it's decidedly out there, and there's just a hint of playfulness about it. So while it can't contend that it is breaking much in the way of new ground, as a soporific sonic relaxation, it really works.
image not
available
anymore
Artist:
Daily Planet
Title:
Play Rewind Repeat
Format:
CD
Label:
Progress Productions
(@)
Distributor:
Border Music
Rated:
2017 seems to be a perfect year for friends of Synthpop music generally just if you look on the latest releases of global players like Mode, Erasure, Alphaville, Pet Shop Boys or O.M.D. Although the Swedish duo of Daily Planet doesn't play obviously in the same league than the mentioined veterans, someone could come to the impression to get with "Play Rewind Repeat" one of the true pearls this late spring- / early summer-time has to offer. It's kind of a deja-vu and comparable to the release of their second album simply entitled "Two" in 2014 with which they broke their nearly 18 years longing time-out after their highly acclaimed debut "The Tide" released during the heydays of the long out-of-business Swedish Energy Records label.
Johan Baeckström and Jarmo Ollila surely have found lots of inspiration to return with this new album which features 12 tracks of finest and perfectly produced classic Synthpop music. Baeckströms programming skills surely follow the works of idols like Vince Clarke to his being in Depeche Mode, Yazoo, The Assembly until his successful early years with Andy Bell under the Erasure moniker. But don't think that you'll get a retro-/mid-80s oriented Pop-/Wave-album - the studio perfection of the current times don't allow any reminiscences of long gone days.
You know that phenomenon but it is an unwritten law that Scandinavians still offer the finest and catchiest tunes for this genre and so Jarmo Ollila does his best to provide the required human warmth with his nice timbre into the synthetic sound of his partner. Both are teaming up perfectly and offer usable stuff to the dancefloor-addicts with the faster tunes like "Grains of Sand", "Set Me Free" or "Vicious Circle".
Deeper impressed I am with their more mid-tempo based and richly-detailled arranged tracks like "Fire In Me" (this one must be their secret "Any Second Now"-dedication track...) "Drown" and the brillant balladesque "Weeping" to close this album sentimentaly.
If you have heard the to my opinion excellent new Erasure-album "World Be Gone" and if you miss on it a bit more nostalgia into arrangements and a bit more rhythm-/percussion-work then you should definitely check out this brillant produced album of Daily Planet. Classic Synth- / Electropop cannot be produced much better than on this one.