Artist:
Siavash Amini
Title:
Tar
Format:
CD & Vinyl
Label:
Hallow Ground
"Tar" is a collection of four long experiments that meld electronic drones and atmospheres with more cinematic strung-out sounds. It's deeply melancholic and barren-sounding, a forty-minute-long journey into the expansive desert of the subconscious.

Tar itself may be sticky but "Tar" musically has a variable texture- sometimes polished and smooth, at other times rough-hewn with slightly bubbly tones that do successfully evoke the title substance. The windier sounds of opener "A Dream's Frozen Reflection" make way for harsher undercurrents in "Rivers Of Tar", but throughout, the authentic string sounds give proceedings a generally rich quality that is what make the release shine best of all.

Final track "The Dust We Breathe" is notably more harsh than the preceding pieces, opening with a cacophony of noise like an army of angry mechanical bees. It settles gradually into the more typical uneasy dischord of strings and drones but it's certainly dark and less pleasant overall.

It's a very successful synergy of modern classical and electronic, and definitely among the best in its class.
Artist:
Carlos Casas
Title:
Pyramid Of Skulls
Format:
2 x 12" vinyl
Label:
Discrepant
"Pyramid Of Skulls" is a Tajikistan-based field recording experiment in four parts of around seventeen minutes each. Found sound from a variety of different sources is layered and looped to create environments that manage to feel both familiar and implausible at the same time, as spoken word conversations blend with fireside crackling and light industrial machine sounds, melding overall into something that wanders in and out of making sense. The sound of the proverbial kitchen sink may be somewhere in the mix too.

To further complicate matters, Persian-sounding instrumentation such as the pamiri rubab and the ghijak are added, bringing folksy tones but played in strung-out and drone fashion, totally disassociated from their musical roots.

This isn't purely ambience- this is deliberately and conscientiously layered and juxtaposed sound. Percussive elements are digitally looped and EQ'ed to make them unnaturally deep, bordering on organic techno. The vocal wails at the start of "Triune God" and the bizarrely lo-fi and distorted (possibly backwards) instrumentation alienate the folk tone from the original poem, exposing and twisting it into something warbly and alien. Certain editing, such as the abrupt cut at the end of "Avesta", is seeking your attention in a way that soundscape works often don't.

"Avesta" stands out for its increased use of analogue electronic noise, with white noise and primitive-sounding oscillations ripping through the soundscape with an abrupt determination, and a second half which is relatively sparse compared to the cacophony that has preceded it.

"Sinpoj Variations" gives a lighter touch to the editing, allowing some of the singing (credited to 'Jonboz') to breathe a little more naturally, with drones and plucked instrumentation meandering alongside. This slightly more minimalist approach continues into the final piece "Dargilik Variations", where hollow reverb gives a more reverent and church-like tone, but the anachronistic electronics have not fully disappeared.

Overall it's a bold clash of ethnically-sourced and 'rustic' sounds with an attitude-laden production aesthetic that demands attention and which isn't afraid to break the context of the recordings even if it might seem disrespectful. And the net result is a success- bold, distinctive, and unusual, it's a rare beast of a soundscape work that commands your attention and keeps you guessing, without detaching from its authentic origins.
Artist:
Emerald Suspension
(@)
Title:
Divination
Format:
CD
Label:
self-released
Rated:
Emerald Suspension is an experimental electronic music project from Minneapolis, Minnesota and 'Divination' is their second release after 'Playing the Market,' an album based on patterns found in the stock market and other economic data. Haven't heard that one. Here though you will find a cornucopia of weird samples juxtaposed and interspersed with a sort of post-industrial musical melange, ala People Like Us (Vicki Bennett), Nurse With Wound, Coil, Einstürzende Neubauten, Jib Kidder, and other similar music artists of thus cut 'n' paste sample style. So touting this as something new and groundbreaking just isn't on the table. If you're comfortable with the adhan (Islamic call to prayer) in combination with struggling metal shopping carts, this could well be for you!

The first red flag though comes on the cover of Sonic Youth's "Mildred Pierce" (here titled "Mildred Pierce/Millard Fillmore") where not much changes from the original except for the "Mildred Pierce" sample (switched from male to female) and the noisy bits towards the end. Strange song to cover for a project like this. Elsewhere you'll find odd dialogue samples over big beat drum & bass loops, squinky electronics, ticking clocks, looped mechanical samples, bicycle bells, a Joplin rag, buzzing sounds, electronically manipulated voices, looped instrumental passages, PSAs and lots of other sonic effluvia.

While some might hail this as audio madness genius and hallucinatory psychedelic splendor, I'm not completely sold on it. There's just too much on 'Divination' that doesn't make any sense. It also makes me wonder just how much of the musicality is Emerald Suspension's and how much was pilfered (sorry, borrowed) from others. Granted, they do occasionally get into some interesting territory, such as the woozy electronic weirdness of "Krofftwerk [H.R. Pufnstuf]," but overall I wasn't duly impressed. For example on "Not Available" various samples of "This content is not available" and a female pop singer singing "I want to feel it," "Sweet sweet love, yeah, yeah yeaaaah" and "Keep on movin'" ride over a bass & drum rhythm section. How mundane. This is exactly the kind of crap that any yahoo with Audacity or similar audio programs can do easily with a bit of time and effort.

The bottom line is, if you like strange sound collages, you might find some interesting material on 'Divination'. Personally, I'd prefer something more substantial. At least they gave credit where credit was due in the liner notes.
Artist:
Schwarzschild
(@)
Title:
Radius
Format:
CD
Label:
Echozone
(@)
Rated:
From the Ruhr area of Germany comes Schwarzschild, and their aptly titled debut album, 'Radius'. (Google "Schwarzschild Radius" and you'll see what I mean.) They call themselves an industrial/gothic/synthpop band, but I have a slightly different take on the genre classification, and we'll get to that in a moment. The band consists of Dino Serci and Peter Daams, and the album features 11 tracks in which the guys address social taboo subjects such as addictions, bullying and euthanasia. It's a good thing for the accompanying one-sheet or I never would have known that since Schwarzschild sing only in Deutsche. Das ist eine Schande, weil ich die Texte wirklich verstehen möchte. These songs seem compelling enough to actually make me want to spend some time translating the lyrics, but not enough to go full Rosetta Stone. As noted on the one-sheet, the band was playing a release concert (May 13th, Crowded House in Oberhausen) so Schwarzschild isn't just some studio project. That's admirable.

The overall ambiance of 'Radius' is sci-fi, and the machine-voice sample in the intro ("Gravitationswelle") with dark electro backing sets the tone. When the beat kicked in with "Auferstehen" and the raspily spoke-sung vocals (by Peter, I'm guessing) I thought I was in for some Leaether Strip/Wumpscut style EBM; but then Dino comes in with this great soaring melodic voice on the chorus, and know I know this for what it really is - FUTUREPOP! Yep, Apoptygma Berserk and VNV Nation move on over. Assemblage 23 get the hell out of the way because here comes Schwarzschild! Now the one thing I've always found in Futurepop is that once a band in this genre settles into its groove, I develop a certain sense of ennui about them. Not really so here. The songs are varied in pacing, arrangement and melodic content. Although Peter's synths aren't anything you haven't heard before, it is all very well done, top notch in fact. Not every track is danceable, but that's a good thing in my estimation because it allows for a variety of moods and emotions you can't necessarily get from club hits. There IS plenty of hit potential on the album though, some of the most outstanding tracks being "In meinem Blut," "Ruf der Nacht," and "Mein Feind." The rest is really good as well; wonderful moody melodic content. And yeah, something for the (trad) Goths too - "Ruf der Nacht" ("Call of the Night") and "Das Erwachen" both about Anne Rice-style vampirism. Dino has a great voice and he really knows how to put the material across. So this band seems poised to make their mark on the scene, but (and I hate to say it) singing only in German is going to hinder this band from becoming an international dark electro sensation. So maybe who cares about those Englisch sprechendes anyway? Their tangerine bad-dream presidente insults us. Most of them don't even know what the hell goth-industrial music is, and if they saw us in the street, they'd probably spit on us. Fuck-em!...Maybe we should learn the language and move to Germany, where a lot of the really good music seems to be coming from these days. Then again, they've got their hands full with real refugees, so just buy the album, grab the lyric sheet, click on Google translate and enjoy.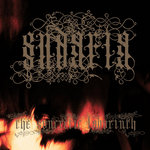 Artist:
Sudaria
(@)
Title:
The Syncretic Labyrinth
Format:
Tape
Label:
attenuation circuit
(@)
Rated:
Sudaria is a Spanish project that could be seen as a crossroad between black metal and experimental music if this two categories weren't now a little too wide to be completely descriptive. The black metal influence is present in certain atmosphere and in the constant escape from the monolithic form with some deviation into meditative territories and in the bare palette of sound. The experimental influence is present in the absence of the song form while all track are almost free form or ambient ones.
The first track of this release, "Veils of the Syncretic Maya", sounds quietly with distant noises until a pulsating noise emerges and drawn distant notes of piano. "Broken Holograms" is a quiet soundscape which serves as an introduction to "Kapala", an almost industrial track based on a metallic rhythm with random insertion of distorted vocals. The guitar of "Malediction" reminds to certain path of metal where the sustained notes of the guitar are used to create a certain king of menacing atmosphere interrupted by "Ecstatic Somnambulism" where the electronic manipulation evolve in an almost complete silence acting as a bridge to "Beyond Fields of Transgenic Wires" based on quiet an almost dreamy drones while "Cremation" is closer to the Dark Ambient form. "The Pulse of Endlessness Sinking inside the Immortal Binary Clock" used the regular rhythm evoked by the title in a noisy form while "Ghastly Eaves" sounds as a rock track distantly recorded so it sounds as an electronic or abstract track.
Using some trick to loosen the thick noisy cage of some track and oscillating between noisy moments and quiet one, this release could be a nice pick for fans of industrial or experimental music. It's worth a listen.